Famous Fives Register Five Points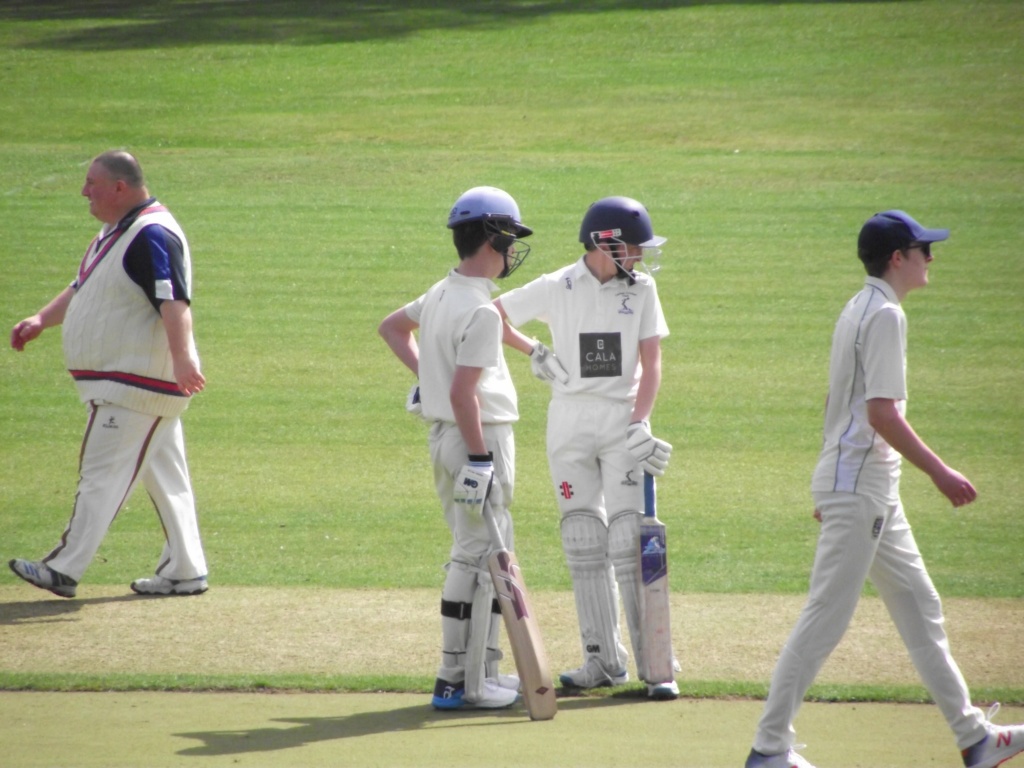 Ah, the glory of a new season. The possibilities! The optimism! The teas! The vague existential dread of potentially going on a fifteen game losing streak!  All these thoughts were writ large as the Famous Fives gathered, somewhat shocked at the prospect of an opening match on the hallowed turf of Grange Loan.
A score was swiftly tallied.  Early season absence of skipper Shaun?  Check.  Stand-in skipper Keith with a valiant second place at the toss? Check.  33 Teamer call-offs resulting in a wide-ranging search for a keeper?  Check.  Six enthusiastic, nimble juniors ready to fling themselves around the field?  Check.  Five cynical, arthritic seniors ready to let them?  Check.
Boroughmuir 2s – their aspirations of topping the all-but-pro level ESCA Division 7 laid bare courtesy of covert intelligence from a Hutchinson camp riven with divided loyalties – invited the Fives to have a bat in the customary glorious April sunshine.  Skipper Keith, possibly still padded up from Thursday's nets, led his nephew Gav to the crease.  No-one dared breathe a word about potential run-outs.  Mindful of previous seasons' failures to set decent targets, Keith and Gav dug in and set about posting a total.  Alas, Keith's solid start was cut short by a controversial lbw – is there any other kind? (K Murray 10).   The more junior of the properly-spelled Euan axis came to the crease and showed the results of all that hard work in the nets over the winter, a hugely confident and skilful knock only cut short by a rapid inswinger which kept down (E Keatinge 12).  Ian Thompson took the reins as the responsible adult.  When Gav was sent back, skewing one into the leg side (G Murray 23), the experienced Clement joined Ian and the two put on an important partnership of 40.  Tough work in the middle overs against an array of accurate left-arm spin, and Clement was eventually bowled by Sillar looking to up the rate (C McGeown 18).  Dougie Firth made hay with a quick-fire 8 (D Firth 8), rapidly followed by a very encouraging cameo from Issac Foley (I Foley 8) – both juniors looking well at home in the middle.  Your correspondent could only manage to eek out a few extra runs from the death balls (E Murray 4*).  Ian finished undefeated, if slightly out of breath, having anchored the innings for 28 overs (I Thomson 22*).  The Fives finished on 124/6 – a few light, perhaps, but equally a total that has won plenty of Division 7 matches.
Tea featured the requisite quotas of empire biscuits, pakora and sensational home baking – some serious competition here from team Dancu to rival the Beattie/Ledingham efforts of years gone by.  Representations are now being made to ESCA for tea-based bonus points in the league – if successful, expect the Fives to be featuring in Division 2 come the 2024 season.  Many thanks to Anne for helping put on the finest innings-break show in town.
As ever, fielding was really all about the juniors.  Issac and Mark McKay opened up, and the two young seamers worked hard to create openings against some rock solid Boroughmuir batting.  Mark was unlucky to go wicketless despite producing a number of threatening deliveries (M McKay 5-0-31-0) while Issac found a way through to remove the Boroughmuir opener, snaffled brilliantly over his head by Ian in the covers (I Foley 5-0-19-1). A still-tacky surface suggested that the leg-spin of Euan K would be effective first change, and so it proved with the youngster causing no end of problems in a sensational spell that had some very experienced batsmen groping blindly for the ball (E Keatinge 8-0-31-1 – no justice in those figures, this could have been a five-fer without any stretch of the imagination). Zaara Dancu took over from the other end, and overcame some early nerves to grow strongly into an excellent spell – backed by tigerish fielding from Isaac and Mark in particular. Two wickets just reward for her efforts, the second pure poetry.  The set-up ball drew the batsman forward, left him late with pace and had him fishing aimlessly in the channel. The coupe-de-grace ball looked the same, but went the other way and kept low.  Desperately attempting to re-adjust, the batsman could only collapse in a heap and was pinned rather awkwardly "leg" before wicket, Zaara's scrupulously polite appeal answered definitely in the affirmative (Z Dancu 5-1-17-2).  Your correspondent and the endlessly patient Craig Burgess bowled the last rites overs for no reward (E Murray 3.1-1-20-0; C Burgess 1-0-3-0), Boroughmuir ultimately cruising home in the 28th.
A hugely encouraging first outing for the Fives against what may well be the league's strongest side.  Lots of good starts with the bat and some genuine devil with the ball to give plenty of hope for our prospects in the season ahead.  Great to see the Carlton juniors applying their skills ever more confidently and effectively in league cricket.  A word too for Boroughmuir, excellent opponents as ever both in skill and their approach to the game, and well deserving of an opening victory in what will surely be a successful campaign.