All primary school players receive a white Carlton polo shirt included with their membership. These are
ordered via the junior membership form and are inscribed with initials/name/nickname.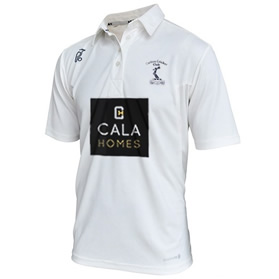 Players in senior school will need a white playing shirt (sponsored by Cala) when they play in matches.  Primary players in hardball teams can choose to wear their primary school shirt, or to buy a white playing shirt.  White playing shirts can be ordered using the order form below.
Other items available to order, embroidered with the Carlton logo, are:
| | |
| --- | --- |
| Bright blue girls' hardball shirt | Embroidered white trousers |
| Navy blue training shorts | |
| Embroidered white sweater | Embroidered white sleeveless sweater |
… and the ever-popular navy hoodies, which can have the child's name added either on the front or back.
Samples of all these items will be made available to try on for sizing etc. at the registration day on 15 March and at the first Wednesday primary session in April.
Alternatively, if you would like to order straight away, please email an order form to frances.burgess@btinternet.com.