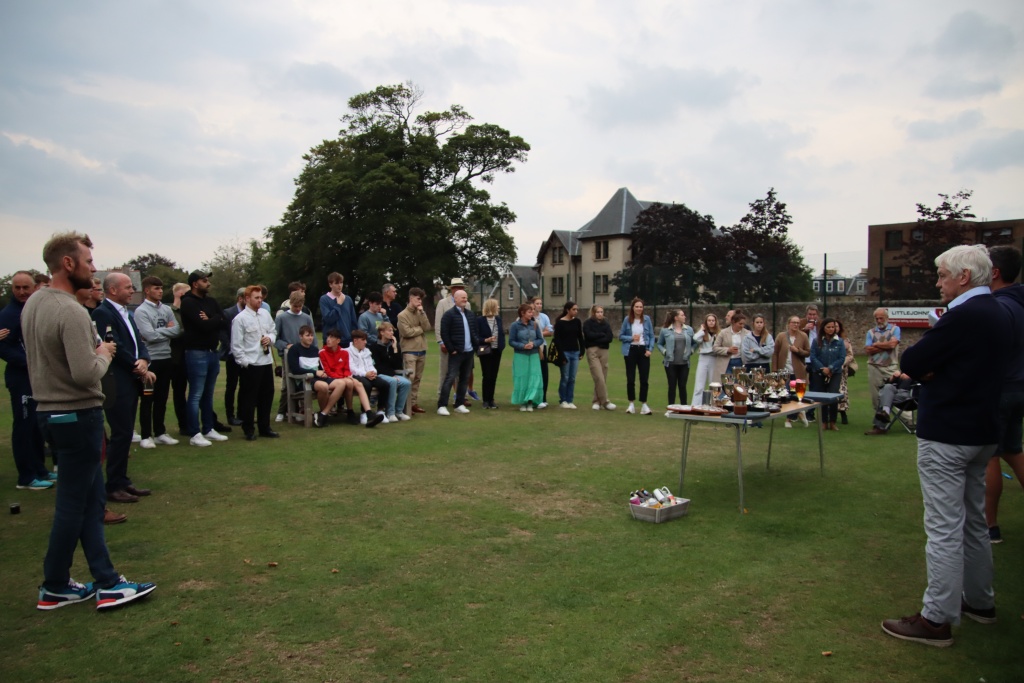 Saturday saw another highly entertaining Sixes competition with 5 teams battling it out in a variety of colourful fancy dress for the much coveted Martin Flynn Memorial Trophy with 1st XI sponsors Pizza Geeks on hand to refuel the players & spectators.  Anish Amin's A-Listers lifted the trophy after finishing second in the league section behind Charles Stronach's Sixers but prevailing in the Super Over final.
It was then onto the Senior Prizegiving compered by outgoing Director of Cricket Fraser Watts.  The various team captains gave a brief review of their season and then the batting, bowling and fielding awards were announced including two hat-trick trophies.  There was also a presentation to retiring head groundman Colin Smith,  Head of Coaching Stevie Gilmour then gave out the various club-wide playing awards and Hugh Parker revealed this year's winner of the Jappy Trophy.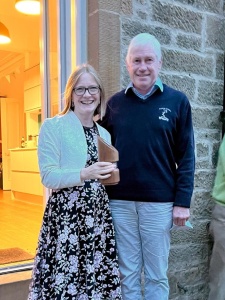 After the Prizegiving came a 3 course dinner, expertly served by Kerry Simpson, Karen D'Ulisse, Caroline & Richard Allardice and Sarah Ledingham featuring a choice of curries courtesy of the Khadse family.
The full list of prize winners is as follows:-
| | |
| --- | --- |
| 1st XI Batting |   TOM SIMPSON |
| 1st XI Bowling |   ANGUS BEATTIE |
| 1st XI Fielding |   ARUN PILLAI |
| Women's 1st XI Batting |   ABBI AITKEN-DRUMMOND |
| Women's 1st XI Bowling |   MAISIE MACEIRA |
| Women's 1st XI Fielding |   JANIE HEMSLEY |
| 2nd XI Batting |   KYLE MACPHERSON |
| 2nd XI Bowling |   CHARLES STRONACH |
| 2nd XI Fielding |   BEN D'ULISSE |
| 3rd XI Batting |   BEN THURMAN |
| 3rd XI Bowling |   KYLE BURGESS |
| 3rd XI Fielding |   EUAN KEATINGE |
| 4th XI Batting |   RORY LEDINGHAM |
| 4th XI Bowling |   FRASER KENTISH |
| 4th XI Fielding |   JOE WARD |
| 5th XI Batting |   KEITH MURRAY |
| 5th XI Bowling |   ANGUS TURNER |
| 5th XI Fielding |   ROBBIE MURRAY |
| Women's 2nd XI Batting |   ASHLEY ROBERTSON |
| Women's 2nd XI Bowling |   HOLLY SLADEN |
| Women's 2nd XI Fielding |   STEPH READ |
| Wicket Keeping Trophy |   TOM SIMPSON |
| Club Fielder of the Year |   ARUN PILLAI |
| Six Hitting Trophy |   ALI SHAH |
| Best Individual Performance |   ALI SHAH |
| Best Introduction to Senior Cricket |   DANIEL MOWAT |
| Young Player of the Year |   MAX D'ULISSE |
| Player's Player of the Year |   KEITH MURRAY |
| Women's Player's Player of the Year |   MAISIE MACEIRA |
| | |
| Jappy Trophy |   AMELIA BEATTIE |