5s Meadows misery continues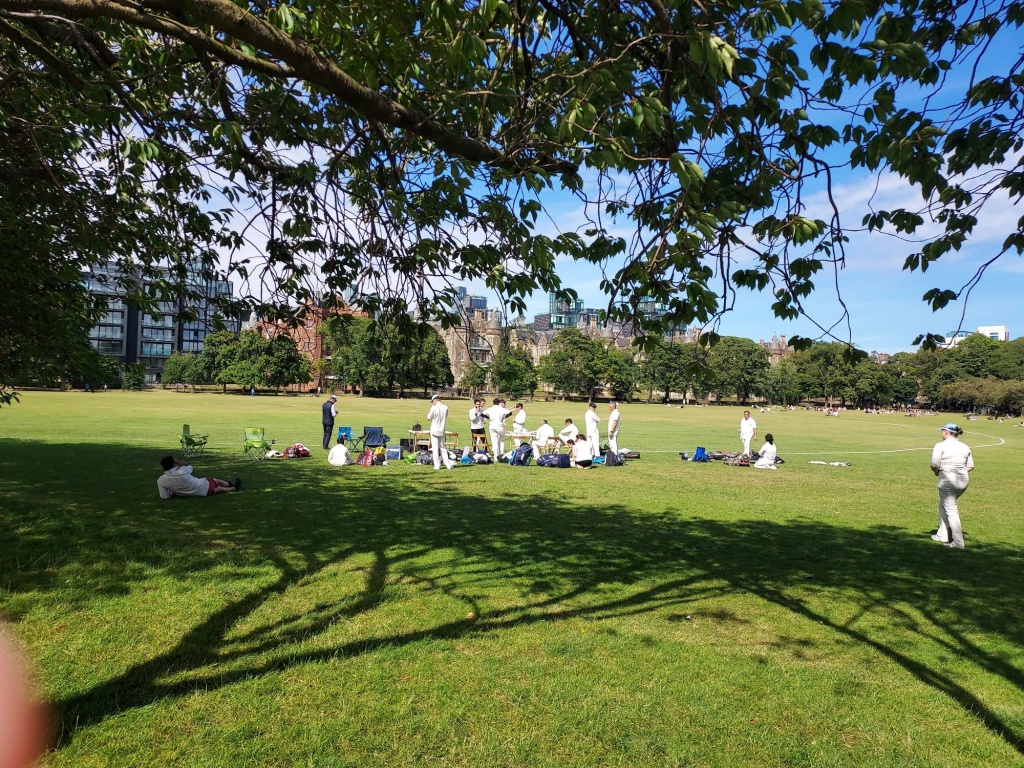 The Famous Fives assembled for their latest Division 7 encounter against Clackmannanshire 2s at a sunny and hot Meadows. This week's father and son combos were Keith & Robbie Murray and Rahul & Aadi Khdase, and there was a welcome 5s debut for Janie Hensley. The 5s also welcomed back Gus Turner fresh from his holidays and Ian Thompson for his first league outing of the season. The senior quota was completed by Martin Robertson, and the other juniors were Zaara Dancu, Dan Mowat and Kieran Glass. Paul Bailey also kindly agreed to help out by umpiring both innings.
As the skipper strode out to do the toss, with the sounds of the nearby drum band bashing out arythmically, the Clack Captain advised him that two of his team were likely to be late and he was minded to bat first. He confirmed this when Clack duly won the toss, after a somewhat perfunctory inspection of the wicket. The skipper would have definitely bowled first, so this was quite satisfactory, or so it seemed…
Robbie opened the bowling, as has been customary this season, and immediately hit his lengths. Zaara opened at the other end and also caused problems, getting the first wicket in her second over with one that jagged back and kept low. The Meadows wicket was not playing any better than in previous matches and Robbie got a well directed ball to lift off back of a length, which the other Clack opener failed to avoid, resulting in a sickening thump as it hit him on the side of the head. He retired hurt, regretting his decision not to wear a helmet. The openers both continued to bowl well and after 10 overs, Clack had only scored 20 runs. The skipper then turned to Gus and Aadi, who both produced wicket maidens in their first overs, Gus trapping the quick running Compton LBW and Aadi clean bowling Nalla. However, a solid partnership then developed between Arshad and Calman and at drinks, Clack had moved on to 44 for 3.
The tiresome drummers were finally replaced by a much more tuneful jazz band, who serenaded the teams for the rest of the match. After drinks Dan and Kieran continued the good work, but could not dislodge the obdurate Clack pairing (K.Glass 4-0-0-8). The skipper turned again to Gus, who broke the partnership with his first ball, a rank long hop slapped by Arshad to point, where Robbie took a decent catch. Not Gus's best wicket, but an important one. This brought opener Oliver back to the crease, this time wearing a helmet, and the skipper reintroduced Robbie, who induced a number of edges from him before one went to hand, well caught by Dan at fly slip (R.Murray 8-0-1-14). Gus had time to clean bowl another bat before he was bowled out, finishing with superb figures (A.Turner 8-4-3-6). Aadi bowled another tight over (A.Khdase 6-1-1-23) and Zaara returned to bowl another Clack batter, which was no less than she deserved after bowling so well (Z.Dancu 8-1-2-21). Dan finished off at the other end, finding a great line and length to bowl yet another batter (D.Mowat 6-1-1-19). Clack finished on 97 for 8, in large part down Calman's dogged 38*. Rahul did well behind the stumps on a very difficult wicket and an extras total of 13 was pretty good.
The players enjoyed a splendid tea in the warm sunshine, jigging to the jazz drifting across from the café. The Clack total looked challenging, but not insurmountable, although the skipper was alarmed at the number of balls that had misbehaved towards the end of the Clack innings.
Keith and Martin made a cautious start against accurate Clack bowling, until Martin was bowled in the 5th over from a ball that jagged in (M.Robertson 5). This brought Janie to the crease and she defended obdurately, successfully seeing off the opening bowlers. However, the change bowlers also proved accurate too, and were making the most of the now frequent variable bounce. McConchie Senior induced an error from the skipper, who misjudged a straight one and had to depart (K.Murray 7). Janie then got bowled by another difficult ball and Carlton were in trouble at 18 for 3 (J.Helmsley 5). Out came Robbie, who took a different approach and confidently put bat to ball, hitting 10 off his first 14 balls. Ian defended solidly at the other end, but found scoring much harder. Together, they pushed the score on to 37 before Ian was well caught at cover trying to clear the field just before drinks (I.Thompson 1).
Zaara was next in, but was done by a shooter and trapped LBW after being hit on the helmet by a lifter a few balls earlier (Z.Dancu 1). Robbie was still scoring comparatively freely and he formed a productive partnership with Gus, who hit a number of much needed boundaries. They pushed the score on to 73, before Robbie got bowled off another unplayable ball and had to depart for a very useful knock in the circumstances (R.Murray 24). Aadi came out, but took a nasty blow to the shoulder off another lifter. He bravely batted on, but played on to his wicket a couple of balls later (A.Khdase 0). Rahul joined Gus and they pressed on as the rate began to climb, before he was trapped LBW in the second last over from one that kept low (R.Khdase 4). Gus finally went too, bowled round his legs trying to smack another boundary off the last ball of the penultimate over (A.Turner 24). This left Dan and Kieran to try and hit 10 off the last over to win. They managed to get 5, but it was sadly just not enough (D.Mowat 3*)(K.Glass 1*). The 5s lost by an agonising 4 runs.
A very frustrating loss, once again at the Meadows. The team had all bowled very well and largely fielded well too. The pitch did appear to play worse as it dried out over the course of the afternoon. By the end, around three balls an over were misbehaving and it was very difficult to score. Both Robbie and Gus batted very well in the circumstances, but the top order had been unable to set a decent platform and they were left with just too much to do. It is always a pleasure to play Clacks and the match was played in very good spirit. Many thanks to Paul for his long stint umpiring in the sunshine. As ever, he was scrupulously fair to both teams. The Five Star award this week went to Gus for his superb bowling figures, energy in the field and runs that got us so close to the winning line, but well done to everyone for their efforts. We are delighted to be at Grange Loan for our next match.
Keith Murray