For International Women's Day 2022 and the campaign to "break the bias" the club is delighted to feature two members of the women's team who had a delayed start to their cricketing journey.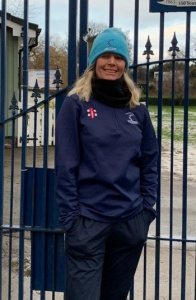 Sarah Beith only took up cricket recently. As a late convert she says she recognises that she needs to make up for lost time by practice, practice, practice. So it is highly likely that if you see someone in the GL nets in any weather at any time of year, it will be Sarah. But in between times, like a true convert, she has been taking cricket elsewhere. 'I work at The Donaldson Trust which is a Scottish Government Grant Aided Special School for young people with complex additional support needs including autism, sensory impairment and communication difficulties.
'Over the last few months I have been coaching our young people how to play cricket. They love the sessions and are improving every week including learning some of the basic rules!! 'We are playing with plastic equipment but they are eager to play with the 'hard' ball. Maybe I should have left my kit at home because they are now referring to the equipment we have as "the toy stuff"' Sarah's work at Donaldsons has been warmly commended by the disability team at Cricket Scotland.
Amelia Beattie reflects on her experience of the sport.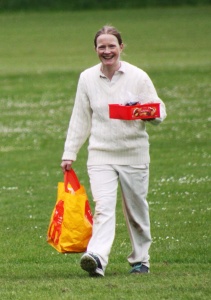 In my early 40s I had the following on my work intranet personal profile: "I used to play sport and go to parties, but now I facilitate my three children to do so".

But all that changed when Carlton announced in 2012 it was starting a Women's Team and I bravely ventured along to the first Taster Session. I became a participant as well as a spectator, and I'm much the better for it.

10 years on, I'm still trying to learn how to play cricket and I've had a lot of fun (and a fair bit of frustration) in the process. I realise I'm the longest serving member of the team, and love being part of Carlton Women. I've had many good times with a diverse range of excellent women and girls.

As I evaluate my career to date, I reflect that I didn't give it my full attention for the first 7 years. However, as the Old Bats grew in number we spurred each other on to learn and improve, to believe in ourselves, and we've had a hoot in the process. There is a lot of time to make up, so no off-season for us – we can be found in the nets throughout the year, running away from the tedious responsibilities of middle-age by trying to master the sweep shot.

Now I'm 53 my personal profile could be revised as follows: "Yoga and running have their place, cold-water swimming may be on-trend for women of my age, but quite frankly I'd rather play cricket"
Both Sarah and Amelia were part of the Carlton side that won the Scottish Cup last September, completing the double for the 2021 season.