Mixed Dev honour England legend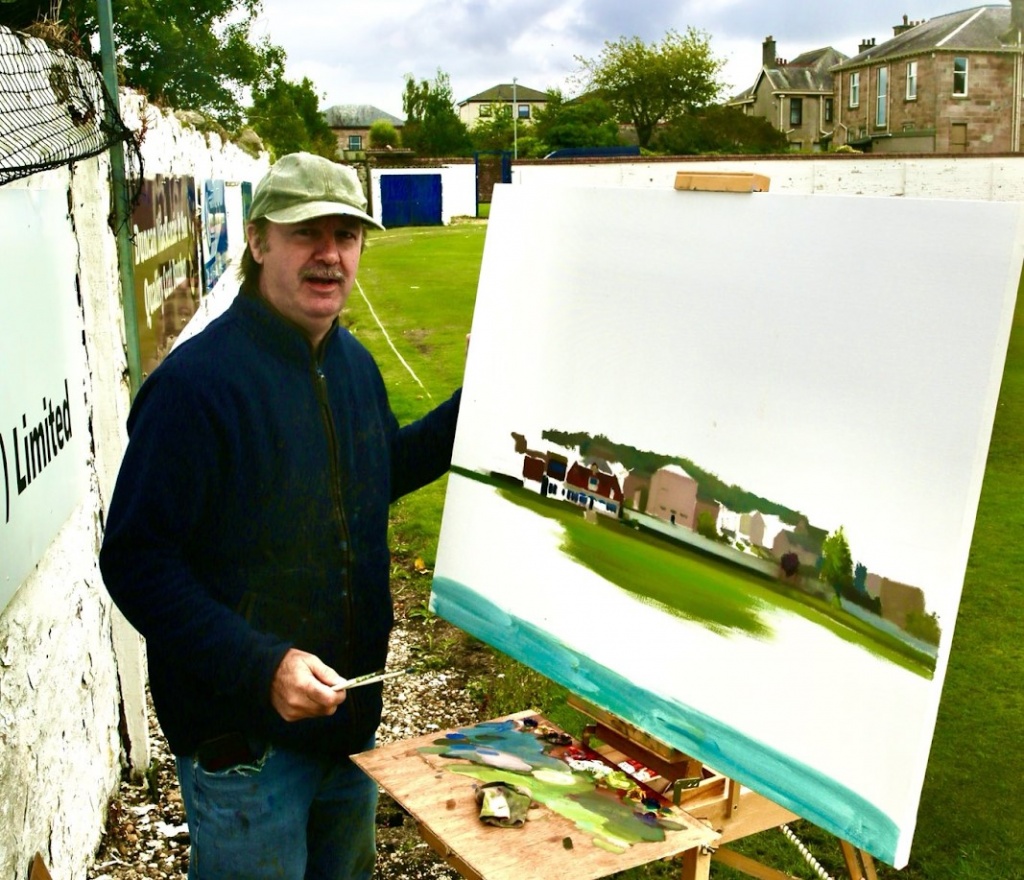 Jack Russell MBE, one time GOAT English wicket keeper, acknowledged eccentric and now painter of some repute was seen at Greenock CC, brushes in hand on Saturday.  Jack's birthdate is the following day – 15 August – which by no coincidence at all was determined by ESCA to be the day on which Carlton's Mixed Development Team should take on the might of Drummond Trinity 5
There has been a popular movement in recent years that 15 August should be designated Jack Russell Day and a public holiday declared; a  Jack Russell Festival is being planned in which all participating do honour to the great one by imitating his greatest eccentricities – thus they would wear their oldest cricket hat; use a single tea-bag throughout the festivities; soak their Weetbix for a exact determined time and ensure that they dry their underpants on the lampshade. 
But until the happy day that the world comes to right and sees these proposals implemented, it was left to the Carlton MDXI – the Fifteen Elevens – to make their own tribute to the great one.   That this came in the form of anointing demon left arm wrist spinner Joe Ward to perform behind the sticks might be thought of in more austere circles as taking a liberty, if not the mickey.  But the Fifteen Elevens skipper assured the assembled crowd that there was no such disrespect intended – to either Jack or Joe.  It was a matter of expediency – similar to the need Jack felt to dry his underpants on the lampshade.  The selection committee had told the skipper a wicket-keeper had yet to be identified in the hand-picked squad.  Then Joe confessed that deep in a trunk he had a pair of gloves.  No more thinking by the skipper was needed (not that any had actually taken place – but you get the point) . That Joe's gloves split apart at the first practice catch did not matter.  After all, Jack Russell's own gloves were held together by several rolls of duct tape and super glue.  It seemed a fitting tribute.  
It would seem a further failure of Carlton's Senior Leadership Team (as these things are called these days) that they were unable to persuade Jack Russell to visit the Inch with his easel.  But perhaps they knew best.  The Inch at most times would make a fitting subject for a painting tree lined, pastoral, easy on the eye.  Not yesterday.   As the Fifteen Elevens arrived they found the ground covered by footballers, BBQ stands, ice-cream vans and all manner of entertainments.  There was even a bouncy castle.  A charity football tournament was under way – and in the manner of these things these days could not proceed without highly amplified drum and bass throbbing through the trees.  That at least drowned the noise from the adjacent rugby training session.  So the Inch was far from the tranquil oasis amid the city turmoil to which the Fifteen Elevens have become accustomed.  Quite apart from being less than an oil-painting, the cacophony meant that the possibility of hearing a delicate snick to the waiting (if fractured) gloves of Joe seemed remote.
With Carlton's women playing their own development match elsewhere the Mixed Development team was decidedly unmixed from the gender point of view at least.  However with the skipper returned there was a mixture of the competent and the incompetent.
It is not known whether the skipper's incompetence led to won, lost or drawn toss, but by some means it was determined that the Fifteen Elevens would bowl first.  Joe was carefully guided into position.  Robert Rowlands paced out his run up and play got under way.  Euan Murray took the second over and did immediate damage – not risking the unheard snick behind – he demolished the stumps to give the Fifteen Elevens the perfect start.  But that was it for a while as DT skipper DK and Raju got their heads down and made steady progress against some accurate bowling.  Change bowlers Shourjo and Stu were luckless finding the pair obdurate, and they had proceeded efficiently to 67 when the skipper called on young Tom Hathorn. His first ball bent round the batsman's legs to take Raju's leg stump.  Four balls later DK spooned it up to the safe hands of David Rowlands at mid-wicket and DT were 70-2.  Tom had further success with another catch for David before Joe took a smart catch down the leg-side of which Jack Russell would have been proud.  Joe is rumoured to be spending Monday purchasing a paint set so he can further honour his hero.  Speculation about how he will dry his underpants in future is not a fit subject for this report.  Four wickets for Tom in an excellent spell – 4-17.  His only mistake was bringing  Gubdala to the proceedings and he proceeded to score quickly with a range of fine attacking shots which rather dented Tom's bowling figures as he finished 4-30.  Two balls were lost in the undergrowth before he retired on a well made 50 with the score looking significantly more imposing.  The Fifteen Elevens had chipped away at the other end with David getting a stone wall LBW which needed no rocking and rolling on DRS to convince the umpire and Ian steamed in from long-on to pick up and throw the wicket down in a demonstration of sublime fielding.   With another catch behind for Joe off David – 2- 36 – the innings closed on 196 after 28 – as agreed the final 2 overs were bowled without being scored – which is a pity because Ian had a stunning one-handed catch in the deep off Jamie Aitken's bowling which will remain long in the memory of those there if not in the scorecard.
A good effort in the field all in all – with some committed chasing as DT hit out in the latter stages.  Big licks to Joe with 2 good catches and only 1 bye evading his grasp.
196 seemed a tall order but with news of the u16's triumphs in Perth would inspire them to glory.  What's the batting order, skip?  Father and son, father and son.  So Hathorn sen and jun opened to be followed if needed by Rowlands sen and jun.  A good opening partnership saw Hathorn sen puncture the boundary regularly and junior nicely rotate the strike before being caught off one that hopped with the score on 40.  We have surely seen the future in young Tom.  Rowlands jun then started slow but also began to find his touch – a hook for four being the shot of the day.  Ian retired on 50.  Robert made his way to a good 20 before playing over a straight one.  Rowlands senior and Jamie had made short visits before playing too early to be caught.  The skipper showed his usual incompetence.  This left Stu Dawson and Shourjo to see out the innings – Stu did with aplomb starting cautiously, he got his eye in and blasted two big maximums (without losing the ball – maybe he should take up golf with that kind of luck).  Stu was undefeated on 48, and Shourjo on 6 when the innings closed at 148 for 6 – not so far behind all things considered.  A victory for cricket – played with great enjoyment.  Many thanks to DK and his team mates for playing in the correct Development Game spirit and to Richard Farmer who stood aside to let young Jack play but who nobly umpired for most of the match.  All in all a fitting tribute to Jack Russell.
FB