The 2s make it 9 in a row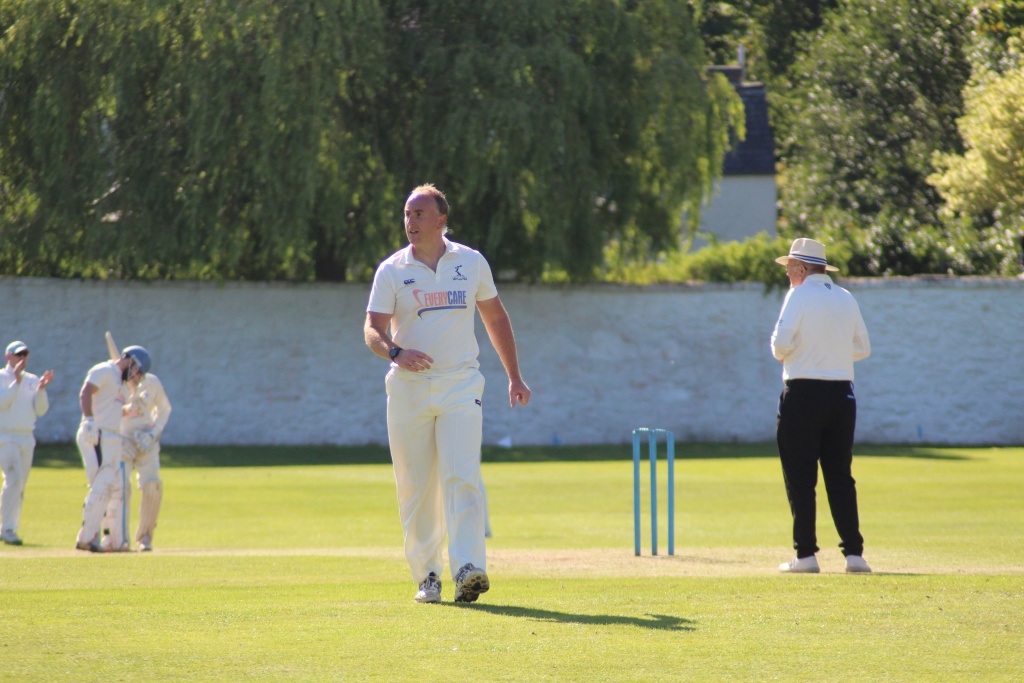 Having won all 8 games last year the 2s welcomed Grange 2s to Grange Loan in hope of extending the unbeaten run. New 2nd xi skipper Pete Deakin won the toss at a sunny but chilly Grange Loan and opted to bowl first.
In a typical young twos team two experienced campaigners took the first ball as Charles Stronach steamed down the hill with Omar Ahmad bowling from the lovers loan end. Both openers started accurately and kept things tight as the Grange opening pair looked to be watchful early on. The first breakthrough came in the 7th over as the Arrows skipper took a smart one handed catch at slip to remove Brock for 11 of the bowling of Stronach. With the score on 34-1 after 1, Scott Blain the other opener looked to move things on a bit as he nudged one in to the leg side and set off for a quick single. Simo moved quickly to his right, picked up the ball and fired it at Ben D'Ulisse's feet who did well to run out Knaggs for 4. Charles was then replaced by Joe Flynn who kept building the pressure, with Omar still charging up the hill bowling on a 2 pence piece. Flynn claimed his first wicket as Blain the opener drove one firmly into the hands of Chris McAllister at cover. Simo then replaced Omar, who had bowled his allotted 8 overs excellently, and third ball got his first of the day as the Grange skipper walked past one, allowing Ben to complete a simple stumping.
Drinks came and went and in the 22nd over Simo got his second as Hancock was given out L.B.W having not attempted a shot. Joe who hade bowled neatly up until then decided to bowl two horrible half trackers in successive overs, both being pulled straight to Harry Simpson at short midwicket to remove Grange's number 6 and 7. Freddie Peet then dragged a full toss from Simo onto his own stumps causing Grange to be in a difficult situation at 74-8 off 28 overs.
The stags lower order changed approach and hit a cluster of boundaries in response to the Arrows dominant first 28 overs. The score progressed to 118 when Davidson holed out to Flynn at long to give Simo his fourth wicket. Charles then came back on and wrapped the Grange innings up as he castled Miller to leave Grange with the first innings total of 122 ao.
With no teas due to covid the Arrows got straight back out there with the opening pair of Chris McAllister and Gav Murray looking to chase down the Stag's total. Chris got going well as he took the first over for 7 and Gav took the third for the exact same amount. Singles where hard to find early on but boundaries came easier as the ball raced away rapidly along the quick Grange Loan outfield. Chris hit the opening bowler Peet for 6 as he dragged one shorter but was then removed for 21 by Davidson a few overs later as one kept low on him and shot through to hit the bottom of off stump.
Gav 16* was joined by Will Hardie with the score on 42 after 10 overs, another 81 required. Opener Peet bowled through for a solid spell of 8-3-21-0, however wickets were the important currency at Grange Loan on Saturday. Will and Gav stuck in and grinded out the runs as rotating the strike wasn't always the easiest. The Arrows progressed to 72-1 off 17 and after a wayward over from the Grange skipper the game looked in control with only a further 37 required off 22 overs. After drinks Will let loose and bludgeoned multiple boundaries to see the Arrows home for a comfortable 9 wicket win. Gav ended up on 47* with Will finishing 40*.
A top bowling display from the Arrows made the batting innings a lot simpler. Simo finished with figures of 8-1-34-1-4, Joe with 7-0-19-3 and Charles with 7.1-2-14-2. Special thanks to the groundstaff for the quality wicket despite it being so early in the season and a rapid outfield.
'The scooby doos are magic…'
Gav Murray