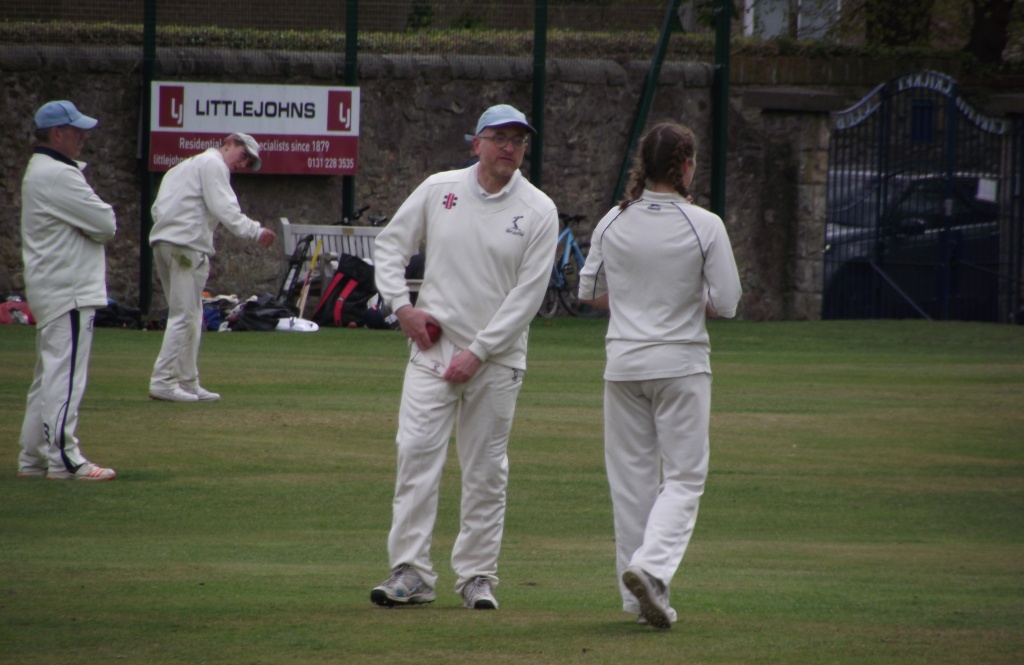 Sunshine! Warmth! Cricket! Well, one out of three isn't bad. Still, not even bracing Edinburgh-in-early-May temperatures (surprise hail shower included at no extra cost!) could dampen the spirits of the Famous Fives as they gathered at Grange Loan – any cricket in what have, once again, been some difficult times would be an exceptionally welcome prospect.
Skipper Keith, fresh from a winter of honing the art of declining a quick single, set about losing his first toss of the season; but as the Fives were invited to have a bat this was, arguably, entirely moot. This set the stage for one of the most keenly anticipated sights for regular followers of the Fives – the 12-year-old opener. James Stronach (a late sub for his elder brother, injured earlier while playing an uncivilised minority sport apparently known as "foot-ball") took to the crease in the company of wise hand John Beattie.
No sign of nerves from young James as he and John calmly set about accumulating those elusive early-season runs, James taking a particular liking to silky late cuts up the hill for two. All looking very nice indeed up to the first Covid break, until disaster struck in the 12th over – James calling for tight single and a direct hit leaving him just short (J Stronach 22). Some excellent signs though from young James, looking every inch a quality opening bat – rock solid in defence and quick to pounce on anything in his scoring areas. Never a nice feeling to be involved in running out a junior, and John perhaps had this on his mind three balls later when setting off optimistically but ending well short of his ground to a clean pick-up and throw (J Beattie 13); frustration for John who had settled well and just started looking to up the tempo.
From 42/0 the Fives were now 42/2 with new bats Max "the Maxinator" D'Ulisse and skipper Keith ably representing either end of the Fives' typical demographic curve. The impressive V Pratap was now running in hard down the hill for Watsonians, and he produced two pearling deliveries in the space of five balls to dent the Fives' hopes further – Max perhaps not quite fully forward to a delivery which angled in and seamed away to hit the top of off (M D'Ulisse 0); Keith undone by one which jagged back and kept low to sneak through his defences (K Murray 2). More rebuilding now required, Ian Thompson and new Fives hand Angus Turner steeled to their task. The end of Pratap's superb spell brought some relief and more regular scoring opportunities now presented themselves. Gus demonstrated the benefits of a classical Yorkshire education, an array of eye-catching strokes on the off-side getting the scoreboard rattling along nicely. After a reserved start, Ian's experience told and he turned the strike over regularly with plenty of ones and twos, also seizing on the odd loose ball to find the rope. The pair batted through to the 29th over in a lovely partnership of 72, Gus finally tempted by one that was tossed right up and losing his leg stump while aiming for the Avenue Store (A Turner 38) – a brisk knock leaving the Fives 119/5 after 29.
Fellow debutant Lucy Spouncer (an academic visitor to these parts via little-known cricketing country England) joined Ian at the crease. Lucy quickly demonstrated her wide range of strokes and was happy to score all round the ground – some excellent calling and running (the lesser-spotted 3 even making its way into the analysis) with Ian as well, the Watsonians fielders feeling the pressure as the scoreboard kept ticking over. When Lucy departed in the penultimate over for a breezy 25 as she rightly looked to hit out (L Spouncer 25) the Fives looked well set on 170. Ferg Foley joined Ian at the crease, but only faced a couple of balls for 3 while looking to give Ian the strike. Sadly, Ian was unable to find the last few runs he needed for his half century as time ran out – still, a total of 177/6 looked competitive (I Thompson 47*; F Foley 3*). A very nice knock from Ian, well batted.
"Tea" break over and the Fives made their way into the field. Watsonians boasted a number of quality bats and it would take a good performance to defend, even with a decent score on the board. Experienced junior Kyle Burgess and relative newcomer Oli Stones took the new ball. Oli's snaking left-arm seamers immediately posed some awkward questions to the Watsonians openers, and Kyle opened his account with a beauty which castled the unfortunate junior H Teall – some ball to get first up. With very few runs to be had the Watsonians running became a little panicked and the third run-out of the match reduced them to 15/2 from 5. Worse to come too as Kyle pinned the Sonians No.4 dead in front, a good appeal answered in the affirmative – Kyle really reaping the rewards of hard work on his delivery stride in training, excellent stuff. With 10 gone and the score 38/3, the Fives had a solid start to build on.
Ferg and Lucy took over bowling duties. Good wheels as ever from Ferg, getting plenty on it and producing a number of unplayable deliveries – reward coming when the dangerous looking Pratap (clearly a quality all-rounder for this level) could only skew an attempted drive way up and straight into the clutches of your correspondent, handily placed on the edge of the circle at mid-on. Lucy was also keeping it tight at the other end, her ability to extract both extra bounce and prodigious movement back in to the batsman seriously restricting scoring opportunities. No reward for a good set, but Lucy finished with a rock-solid 4-1-10-0, well bowled. Your correspondent lumbered into the attack, not in any way at all regretting lockdown's cheese and red wine habit. Sensing weakness, the well-set Sonians opener Counsell unleashed a booming off-drive, but could only ping it straight to extra cover and into skipper Keith's hands – some snag that, skip, it was travelling. Max took over from Lucy and immediately asked some difficult questions, skidding the ball through and into the pads a number of times. At the other end, some understandable early-season tiredness started to set in – a couple of chances were unfortunately grassed, and the ground fielding slipped a little from its earlier high standards. Spoiler alert – the Fives might well come to regret giving the power-hitting Watsonians No.7 Andy "Happy" Sinclair three lives… Max was eventually rewarded for his attacking line with the satisfaction of pegging back leg stump (M D'Ulisse 7-1-24-1) while on another day your correspondent might well have finished with a rather less ragged analysis (E Murray 6-0-36-1).
Oli, Kyle and Ferg would share the final overs, with Watsonians still needing 59 from 7 to win. Unfortunately, the visitors were not in the mood to show any mercy and the combination of a well-set power hitter and an extremely unorthodox right hander who was quite happy to move outside off stump and swing it through the leg side was going to be difficult to deal with. All three juniors showed great heart by pitching it up and looking for what would likely be a winning wicket, but a couple of massive sixes into Grange Loan from Sinclair and regular whips through square leg from A Aardash were just enough to see Watsonians over the line with six balls to spare (F Foley 7-0-28-1; O Stones 7-0-28-0; K Burgess 8-0-32-2). Carlton 5s lose by 4 wickets.
An excellent pre-season run out for the Fives, with a number of significant positives and some great learning moments. As always, the junior bowling was of the highest quality – learning tactics and techniques to deal with powerful, aggressive hitters is just part of making the transition to senior cricket and this experience will ultimately help with that journey. James batted beautifully at the top of the order, and Lucy's excellent debut with bat and ball (not to mention tigerish fielding in the covers) promises many more significant all-round contributions to come. Gus had a perfect opportunity to decide if he prefers to bat with his glasses on or off; and this was generally a great way to knock off some rust, put some overs in the legs, and get ready for the season to come. Many thanks to Watsonians 4s for a great game and their customary good company.
Euan Murray