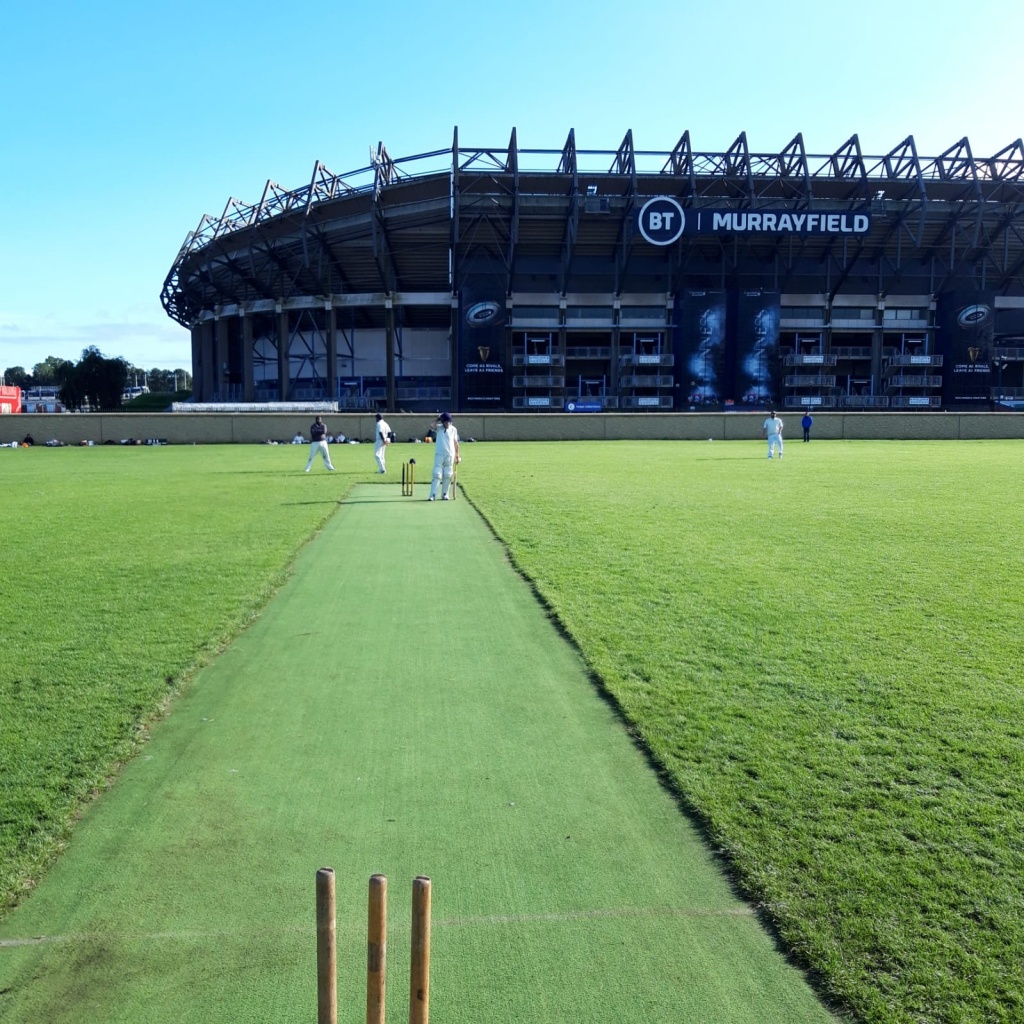 The Famous 5s assembled at Calvary Park for their late season friendly against Marchmont. This was their second fixture of the weekend and there was an impressive array of juniors including Jack Harrison on senior debut. However, it initially appeared that it would not be possible to get a game as the home side had encountered difficulties getting confirmation of the booking of the ground and Edinburgh Leisure refused to allow the 22 assembled players to play.
However, both teams were determined to get a game in the late summer sunshine and decided to decant to the vacant pitch at Roseburn to ensure the match was played. A 25 over a side match was agreed and play duly commenced at around 2pm. The skipper won his umpteenth toss of the season and duly inserted Marchmont.
Good opening spells from Kyle and Hamish restricted the scoring and the latter bowled one of the Marchmont openers in his second over. A decent second wicket partnership was broken by James's accurate spin, and he quickly picked up a second wicket too. The skipper then turned to James's dad Charles and he removed the Marchmont No 5, well caught by Mike. Lewis also bowled a tight spell, before the openers returned, each picking up a wicket with fine death bowling, including Kyle removing the off stump of dangerous opener Anala, who scored a belligerent 55. Marchmont were restricted to 108 for 6 off their 25 overs.
The Carlton chase was initiated by Paul Bailey and Rory Ledingham, a partnership with one of the widest age differences in 5s' history. And what a great partnership it was. While Paul peppered the off side behind square, Rory smashed anything wayward to the boundary. The 5s raced to 30 off the first 3 overs before Rory picked out the long on fielder and was well caught for an excellent 21. Paul soon followed for a cultured 9. John was strangled down leg side and sportingly walked, not for the first time this season. Mike "Boom Boom" Kennedy then arrived for some middle order whacking and hit a booming 6 over point before being well caught. This slowed down the scoring, but after such a fine start, it was the 5s game to lose. Jack batted carefully and unfortunately James was run out after a promising start. Lewis failed to repeat his excellent knock of the day before and it was left to seniors Keith and Charles to try and push the score on. Some aggressive running and fine shots from Charles steadied the ship, but with 11 runs required off the last 3 overs Keith played on and the 5s were left needing 8 off the last two overs. Kyle duly supported Charles well and Stronach senior (21*) hit two big boundaries in the penultimate over to see the 5s home with 109 for 7 and 7 balls to spare.
An excellent game played in superb spirit by both teams, and a great team performance by the 5s with everyone contributing to the win. However, the result was less important than getting a game for both sets of players when it had earlier appeared very unlikely, and as the Marchmont captain stated as we strolled out to do the toss "whatever happens today, both teams are already winners."
Many thanks to Marchmont. We very much look forward to playing them again next year.