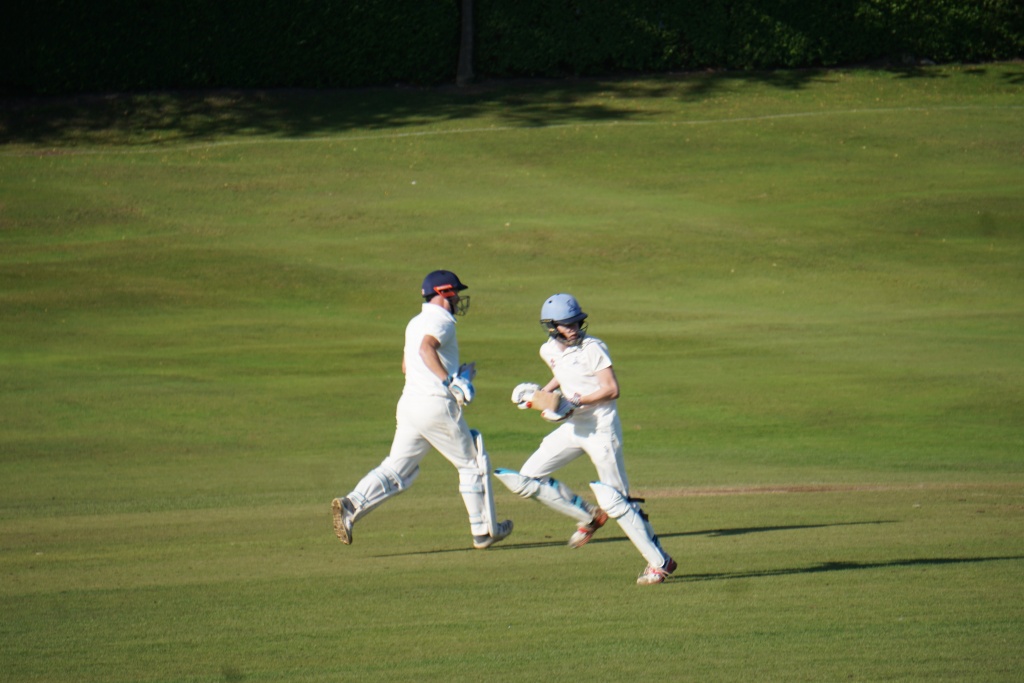 Carlton 4s 117-9 (Paul Kentish 43, Fraser Kentish 22) lost to Penicuik 179-9 (Stuart Dawson 3-24, Andrew Lang 2-15, Joe Ward 2-33)
A fighting 43 from Paul Kentish, including a stirring partnership of 57 with Fraser, who went on to score 22 of his own, were not enough to overhaul a challenging 179-9 posted by Penicuik in the 4s' last game of this woefully-short season.
On a windy afternoon at Grange Loan, Penicuik won the toss and decided to bat – although it is widely believed that Captain Paul, following the increasingly frequent friendly game strategy, would have chosen to bowl anyway.  A brief negotiation between Kaz and Gav revealed that although the 4s had two 'keepers, they didn't immediately appear to have a complete set of wicket-keeping kit between them.  It's remarkable how quickly a team can go from having two 'keepers to zero.  Kit was rustled up from somewhere, Kaz donned the gloves, and Gav repaired to an unwonted position in the outfield.  Penicuik's openers strode out, and Ivan limbered up at the Pavilion end.  He launched down the hill … lost his footing on the damp grass and bowled what we will politely call a loosener.  He trudged back to his mark, raced down the hill … and lost his footing again, only this time he had the presence of mind not to let go of the ball.  Sawdust was requisitioned from the doughty groundsman, and Ivan gingerly completed the first over.  Perhaps unwilling to repeat the sight of a quick bowler losing his footing, Paul turned to spin early, and Charlie came on at the Lovers Loan end.  Ivan took a break while the ground dried out in the wind, and Andrew took over from the Pavilion end.  One obligatory loosener later, all this bowling change confused the batters into a sporting single, and number 2 was expertly run out by a direct hit from Euan, racing in from square leg.  Two overs later, Andrew, who had drawn several near-misses from the batters, thudded one into the pads of number 1 who retired to the chairs on the hill.  Number 3 hit a handful of mighty fours, but then mis-hit Charlie high in the air, well taken by Gav at (deep) mid on.  33-3 after 7.3 overs: the run rate perhaps a tad high, but the wicket rate quite pleasing.
Numbers 4 & 5 however, were minded to stay in.  Both batters played sensible shots, and proved very reluctant to be dislodged.  Charlie and Andrew were replaced in a double change by Joe and Dougie, who bowled economically, but for no measurable reward in the wickets column.  Then, moments before I-wonder-why-half-way-is-called-drinks, Joe tricked number 4 into an uppish drive, smacked hard but straight to cover, where Dougie nonchalantly plucked the rocketing ball out of the air.  87-4.  Number 5 batted on … Number 6 scored a handful of singles, and was expertly snaffled by Kaz behind the stumps off Joe.  Number 5 batted on …  Stuart took over from the Pavilion end, Ivan returned at the Lovers Loan end – maybe a Dawson at each end would break Penicuik's innings?  A few more overs passed: number 7 swung at Stuart, missed, and was bowled.  Number 5 batted on … A couple of overs later, number 8 aimed a huge heave at Stuart, and Dougie took his second catch, this one a towering high one at mid on.  Number 5 batted on … Finally, in the 35th over, number 5 offered the only chance of his innings, lifting a catch to Andrew, expertly positioned at mid on, to give Stuart his well-earned 3rd wicket.  He'd scored an impressive 60, leading Penicuik to 156-9 at the point he was out.  Penicuik's tail wagged; Andrew returned to bowl number 9, but numbers 10 & 11 saw out the innings, leaving Penicuik to defend 179-9.
The interval chat: Penicuik were the happier and more confident team.
Departing from the established pattern of sending out a heady mix of youth and experience to open the innings, captain Paul deputed Gav and Euan – a heady mix of youth and more youth.  They strode out with hope in their hearts (and what better way is there to stride?) to begin the 4s' reply.  Penicuik's opening bowlers were fast and accurate, a noticeable cut above the usual opposition for the 4s.  Gav & Euan were watchful and composed, although runs were hard to come by.  Eventually however a fast straight ball got the better of Gav, and Paul joined Euan.  The bowlers had found their range: defensive shots were the order of the day.  Euan fell to another fast straight ball, Charlie similarly.  Kaz bucked the trend, but only by clipping the ball straight to gully.  30-4 after just 12 overs, perhaps not the start the 4s had envisaged.  Paul, who had watched this carnage from the other end, found an ally in Fraser, who weathered the remainder of the opening bowlers' spells, and gradually found his range.  The massed crowds of supporters (note to Covid-watchers: that's literary hyperbole, there are of course no massed crowds at 4s' games this season, we'll all hopefully be back next season) were treated to a pair of Kentishes, with two good legs and three good arms between them, batting increasingly comfortably.  Paul smote some imperious fours, Fraser dealt more in singles, but importantly kept the scoreboard ticking over.  For a considerable time, it looked as though nothing would disturb them, and the rest of the afternoon would be spent watching Kentishes at play.  Suddenly (of course), that all changed – Paul, completely against the run of play, missed a drive and was bowled for an excellent 43.  87-5, their partnership had added 57 runs.  Fraser batted on …
Andrew joined Fraser briefly, then was (somewhat to his surprise) adjudged LBW to Penicuiks mystery spinner, and departed.  Fraser batted on …  Dougie joined him, and he & Fraser looked reasonably comfortable, albeit scoring almost entirely in singles against Penicuik's enthusiastic ring of in-fielders, and together they brought up the 4s' 100.  Dougie was bowled one run later driving at the mystery spinner.  101-7.  Ivan took over, but moments later Fraser's impressive vigil came to an end, caught at mid on, for a battling 22 runs off 62 balls, quite a feat against this attack.  He and Paul had added some much-needed respectability to the 4s' innings.  Stuart joined Ivan, and once again we were treated to two Dawsons in tandem.  A slight difference of opinion saw them having a chat at the same end, common practice at the end of an over, but unusual while the ball is still live.  This sad state of affairs is generally a precursor to one batter returning to the benches by the pavilion.  In this case however, they survived, courtesy of Penicuik's wicketkeeper trying to remove the bails delicately, missing entirely, dropping the ball and allowing Ivan to lope the 22 yards to safety.  Unfortunately, that brought him to the attention of the mystery spinner, who snuck one through his defences, this time making no mistake in removing the bails.  Joe and Stuart saw out the 4s' innings, Joe catching the eye with a fine cover drive for 4, plus some of his trademark ambitious running.  The 4s finished on 117-9.
Ah well.  The difference between the teams was largely down to two very good Penicuik bowlers; good experience for the 4s batters, but not so good for the scorebook.