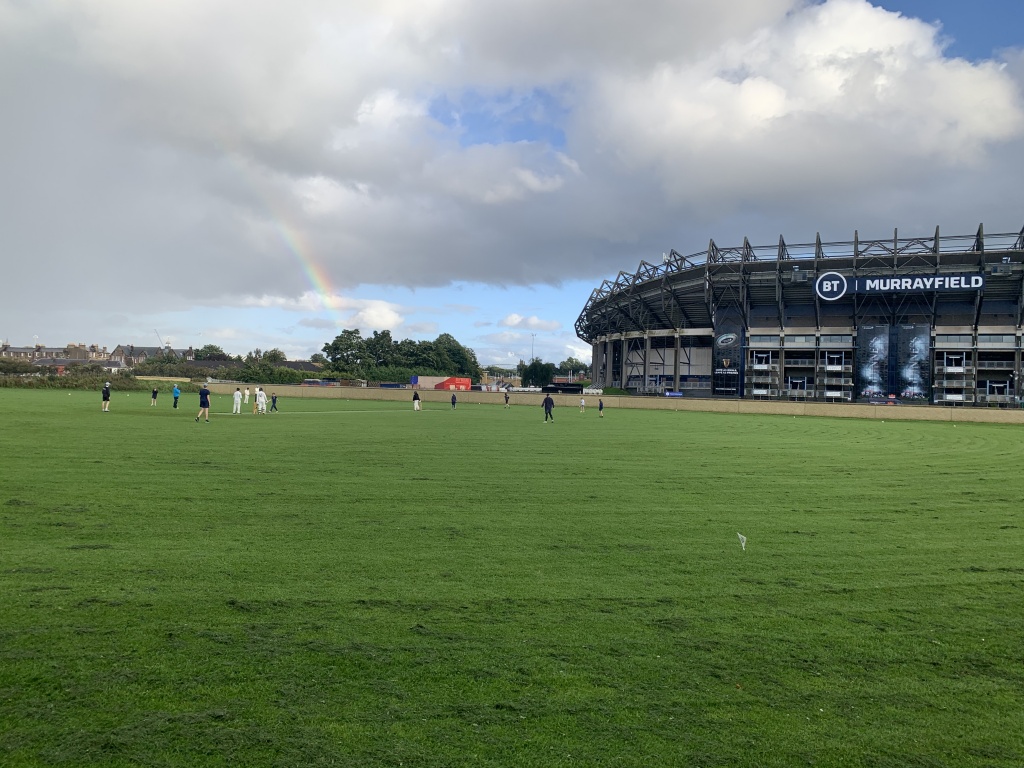 MDAFS 3s 85-8 (Dougie Firth 3-9, Hamish Foley 2-11) bt Carlton 5s 78ao (David Simpson 25*, Kyle Burgess 12)
The English language never ceases to fascinate me.  This week, I am reminded of how much difference a single word can make.  Take, for example, the expression "run fest".  I think the reader will agree that's a pretty good image, conjuring up visions of long summer evenings populated by agricultural batters clobbering poor hard-working bowlers over the boundary at will.  But add the little word "out", and you get "run out fest", which is nowhere near so enticing.  Similarly "sunny intervals" reads like the sort of balmy evening on which there is nothing so glorious as to watch a cricket match.  By contrast, "rainy intervals", which in reality says more-or-less the same thing, reads as a very glass-half-full sort of evening.
On a partly-sunny Thursday evening, the Famous 5s traveled to the bucolic environs of Roseburn Park, lying in the looming shadow of BT Murrayfield Stadium, to play Murrayfield DAFS 3s in a Twenty-20 evening game.  The 5s, as is their wont, were a heady blend of vast experience and youthful exuberance, with a smattering of teenage know-how.  Their age range was a mere 40 years – high by the standards of ESCA leagues 6 & 7, but paltry by the standards of the 5s.  MDAFS by contrast were a more traditional blend of 20- and 30-somethings, who looked somewhat startled by the array of obvious energy and enthusiasm, but possibly not experience, arraigned against them.
Youthful Captain Keith extracted his lucky coin from his inner pocket and marched purposefully out to … lose the toss on a DRS review.  Carlton were duly invited to take to the field.  Kyle limbered up to bowl the first over – a watchful, careful, low-scoring one.  Euan shared the new ball with Kyle, and bowled an even lower-scoring one.  Kyle bowled an equally-parsimonious over, Euan retaliated with a cheaper one.  The game of bowler-and-mouse continued: Kyle bowled his third nearly-run-free over, then Euan struck, inducing a lofted catch to David, perfectly positioned at deep point.  MDAFS were 17-1 after 5.2 overs, a good start for Carlton.
Kyle and Euan retired for well-earned rests in the outfield, and were replaced by Dougie and Hamish.  Dougie, like a well-drilled rattlesnake, struck not once but twice, bowling numbers 3 and 2 in quick succession.  Hamish bowled a maiden over, in the course of which a terrible misjudgment saw MDAFS number 4 running towards the bowler's end with the ball safely in Dougie's hands at short extra cover.  Dougie had all the time in the world to pause, aim, fire and send the stumps flying with number 4 well short of his crease.  At the half-way point, MDAFS were 28-4, an excellent return for Carlton's youthful bowling attack.  The pattern continued: Hamish clean-bowled number 6.  The all-spin attack of Lewis and Finlay took over; Lewis confounded number 7 into a crisply-struck drive which settled into the welcoming hands of Dougie at deep mid off.  39-6.
Cricket matches often change course suddenly and unexpectedly, and this one suddenly and unexpectedly conformed to that pattern twice in quick succession.  First, a sudden (and unexpected) violent rain squall had players, scorers and onlookers scurrying for whatever socially-distanced cover they could find.  When the shower had eased (accompanied by a splendid rainbow), MDAFS innings unexpectedly (and suddenly) changed pace.  Numbers 5 and 8 hit out, strongly.  Lofted drives soared over the infield, only to stop short on landing in the sodden outfield.  Mighty swipes either side of the wicket travelled damply just beyond the infield for one or two runs.  A particularly ferocious hoick crossed the faint boundary for a maximum; MDAFS score achieved a veneer of respectability.  Captain Keith turned to his tallest, his most experienced, and his youngest bowlers to finish off the innings: Dougie returned for an eventful over in the course of which he bowled the dangerous number 8, and the even more dangerous number 5 retired on 25 runs.  Euan and Hamish combined to mop up what was left of the tail, Hamish taking a second well-earned wicket, bowling number 11 who was trying to hoist a straight one over cow corner.  MDAFS closed on 85-8.
The interval chat?  Just over 4 runs an over sounds achievable, but that outfield is now as soggy as a Highland peat bog, and our juniors are canny batters, but perhaps not the strongest yet.  Nevertheless, with hope in their hearts, David and Fergus strode out to open the innings.  One of the many challenges of the scorer's life is distinguishing the batters from each other at a long distance.  Once they are togged up in helmets, matching sweaters and pads, batters have an alarming tendency to morph into each other.  This was therefore a match made in scorer-heaven; Fergus may one day aspire to David's height(s), but for the moment, he presents a considerably different profile at the crease.  They batted carefully and serenely through the opening overs: after 4 overs, they'd scored 14 runs, a solid opening.  In the fifth over, the scoring began to open up: two 2s were run, then a third … perhaps the giddy excitement of runs induced a rush of blood to the batters' heads, they set off for a frankly optimistic third and Fergus was run out.
Freddie joined David, and the scoring continued for an over, until Freddie was confounded by a low bounce and was bowled.  Dougie replaced him, and was looking comfortable, until he struck a cracking on drive, which whistled inches above the astro … and into the hands of the diving bowler, a very good catch.  Captain Keith entered the fray, clearly determined to stop the fall of wickets.  He and David batted on, largely untroubled.  At the half-way point, Carlton were 36-3, not quite up with the run rate, but by no means irretrievable.  In the 11th over however, disaster!  Captain Keith was run out, called through for an optimistic single.  37-4, and most of the 5s top order back in the hutch.  Robbie replaced his dad, clearly intent on becoming the highest-scoring Murray for the second time this season.  He wisely settled on consolidation, and all went well for a couple of overs, until disaster again!  Robbie was run out, called through for optimistic single.  The scorebook now contained two unfortunate entries, both reading "Murray, run out, 2".
Lewis replaced Robbie, and scored at a run-a-ball, impressive on the slow pitch, until he was caught in the deep, attempting an audacious drive.  Euan hit a magnificent off drive … straight to deep mid off.  Carlton were 57-7, with David nearing 25 and retirement, still a long way from the target of 86.  Kyle, however, was undaunted by the awkward state of the scorebook, and marched in confidently to resuscitate Carlton's innings.  He read the match situation expertly and, realising that defence was the best form of attack, he attacked.  He played tip-and-run with shots that hardly left the astro; he called first Finlay then Hamish for ambitious runs which left the fielders confused in the gathering gloom of a September Edinburgh evening. The score crept along, the sky darkened, and the fielders became more and more wayward in their throwing.  The batters' ambition got the better of them, and Finlay became the fourth run out victim of Cartlon's innings.  Hamish joined Kyle, and the fun continued: in one moment of comedy gold, they stole a run which surely wasn't there, induced the overthrow – and stole a second improbable run.  Within sight of the winning runs, Kyle's luck deserted him, the fielders re-discovered their composure and ran him out.  Carlton 78-9, 8 balls left, 8 runs required.  Unfortunately, it was not to be; Hamish had to hit out, and was bowled by another one which kept low.
That was a good effort.  A sopping-wet long-grassed pitch on a dark September evening is not easy for anyone, but especially not for junior cricketers batting against adults.  The game was finely poised for most of its duration, and could easily have gone Carlton's way with a handful of different moments.  The scorebook says that MDAFS won by 85 runs to 78, but the probably-critical stat was 5 run outs to 1.  Surprise: junior cricketers need to learn to say no to dodgy runs.  The key conclusion however is this: I have the privilege of living with one of the junior cricketers, and I can confidently report that it was a good evening, with thoroughly enjoyable cricket.  I double-checked with a parent of another junior participant: he too was delighted with the game and his contribution.  As usual, cricket was the winner.  The final word goes to MDAFS captain: "you have some very talented junior players, which is always good to see".  Indeed.