Fives Ferry on Regardless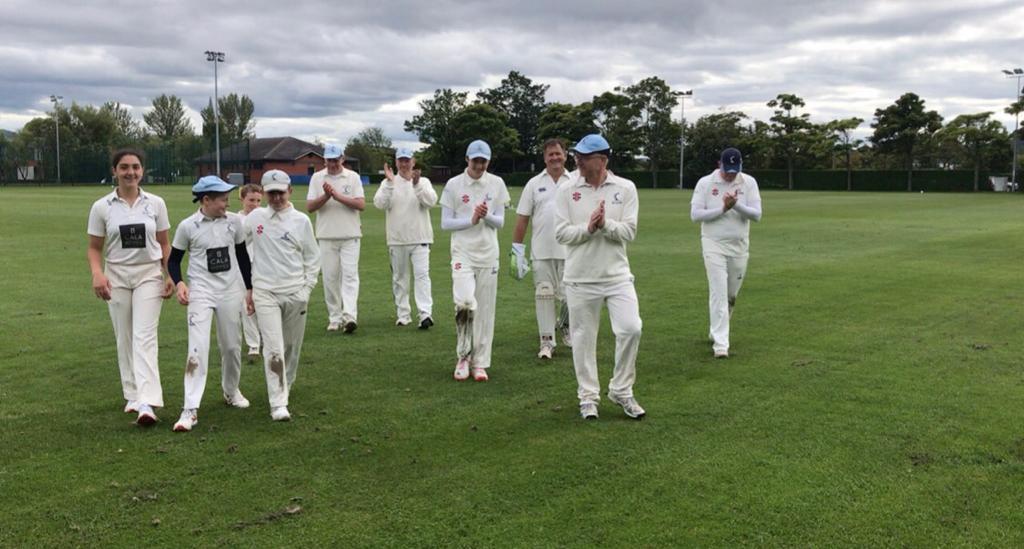 Summer!  Cricket!  Normality!  Well – one out of three's not bad.  In these troubled times, the Famous Fives carefully made their socially-distanced way to the tropical climes of Inverleith. Basked in late summer sunshine, the temperature veritably soaring into the mid-single digits, what could be a better antidote to the Corona blues than a weirdly-timed (1.45pm?), strangely-formatted (35-over?) friendly match vs Stew Mel 4s?
Roll call of richly-talented juniors and varying-stages-of-infirm seniors complete, skipper Keith won his umpteenth toss on the trot (this leading to a discussion of the Gambler's Fallacy and availability heuristic on the sidelines which is too tedious even for this missive to recount).  Another two of the Carlton production line of highly-promising U12s – Lewis King, sharp blonde highlights included, and Hamish Foley, latest of Cricketing Clan Foley to don the hallowed whites – took a bow on their senior debuts.  Keith has clearly been spending lockdown time studying the voluminous collected works of Carlton's very own Irvine, B. and lost no time in electing to field.
Young guns Hamish F and legendary 5s all-rounder Max "the Maxinator" D'Ulisse took on new-ball duties, Keith once again thrilled to follow IPL orthodoxy and have a seamer/off-spinner combo open the bowling.  Any lingering nervousness about having a bowl was swiftly dispelled as Hamish produced a snarling in-ducker to bowl the Stew Mel opener through the gate (not bad for your second ball on debut – also, stat-fans, making him (at least) the second Foley to open his senor account with a wicket maiden, surely some sort of world record?), rapidly followed into the wickets column by Max, giving it a rip and snagging two more clean bowled in quick succession – Stew Mel immediately under the pump, 14/3 from the first set of six overs.  Sensing an opening, Skipper Keith turned to some raw pace in the form of Zaara, and merely undercooked pace in the form of your correspondent.  Both kept things nice and tight, with the dangerous-looking F. Laidlaw eventually feeling the pressure and having a big swing across the line, pinned in front and adjudged LBW – Stew Mel 31/4 from 12.
Covid-end-rotation complete and skipper Keith's spin options were far from done – time for leg-spin from Rory L and Lewis's off-breaks.  Rory picked up a wicket in his first, a healthy nick gobbled up by the evergreen Mike "Boom-Boom" Kennedy behind the sticks, but neither will mind admitting that the cameras were unashamedly on Lewis as he wove a spell with flight and turn.  His first senior wicket was one for the off-spinner's scrapbook – plenty of air and some drift away on one pitching well outside off, the ball biting back venomously and just kissing the outside of off stump.  Glorious.  From 18, Stew Mel were toiling at 41/6.
Max and Hamish returned and offered up nothing for the batsmen – Max picked up his third in his penultimate over and Hamish's immaculate control of length and line simply gave no opportunities for scoring (H Foley 6-1-11-1; M D'Ulisse 6-1-10-3).  Zaara finished off her second spell with a couple of half-chances created but one of those days where nothing really went to hand (Z Dancu 6-1-24-0); your correspondent snaffled another with one that (to the surprise of all onlookers) actually deviated a little off the seam (E Murray 6-1-10-2).  Rory and Lewis came back to polish things off – Rory couldn't find another breakthrough despite some good turn and bounce (R Ledingham 5-0-21-1), so up to Lewis to cap off a sensational debut with another two wickets, both bowled through the gate, to wrap up the innings (L King 5-1-8-3).  The Fives would need a modest-sounding 89 to win from their 35, but with more than a few doubts about the trueness of the surface nothing was being taken for granted.
With "tea" a concept now akin to sending a telegram or going to have a look at a wild dodo the teams shifted round quickly.  Rory and skipper Keith headed out, and faced a very testing opening burst from the Stew Mel attack – both opening bowlers being asked to send down seven on the trot.  Scoring was far from easy with some appreciable pace on the ball and variable bounce hindering the batsmans' efforts.  Rory resisted very impressively for 10 overs, but eventually played around a full one to depart (R Ledingham 6 – but job very much done in seeing off most of Stew Mel's best bowlers' spell).  Unfortunately this precipitated a familiar collapse; skipper Keith was keen to get on with it and pinged one straight to mid-on, who somehow clung on at the third attempt (K Murray 12), while John (J Beattie 1) and Paul (P Stones 3) were both cleaned up while not quite fully forward to quick ones coming back off the seam.  Really well bowled, those, by the impressive S Tej, who looks a good cricketer at this level.  With a wobble firmly on, the stage was set for (i) the impressive power-game of Boom-Boom Kennedy and (ii) some serious nail-chewing from the sidelines, given the range of defensive strokes in the Boom-Boom Kennedy arsenal.  However, with doughty support from Max and a few trademark classically-finessed cover-drives / gigantic heaves down the ground [delete as the reader's imagination and any actual experience of watching Mike bat allows], the score rolled along nicely – suddenly only 20 to win from 8 overs.  Then disaster? – Mike bowled middle stump while "defending" a middle-stump yorker (M Kennedy 33).  But this was to be no disaster – debutant Lewis strode purposefully to the middle and compiled a calm, measured partnership with Max to see the Fives comfortably over the line with five overs to spare (M D'Ulisse 13*; L King 11*).
All sorts of positives from this one – the Fives' unbeaten season continues; yet more Carlton juniors make an instant mark in senior cricket; plenty of progress (especially in match awareness) from the more experienced juniors; the list of debilitating physical infirmities with which older seniors can manage, somehow, to play grows ever longer.  Many congratulations to Hamish for that superb wicket-maiden to start us off, Lewis for a spectacular PoM performance on debut, and thanks to Ian T for a full innings of umpiring thanks to a dodgy hamstring, and to the ever-hospitable and magnanimous Stew Mel 4s, who played a good game and look to have a few promising juniors of their own developing nicely – great to see.