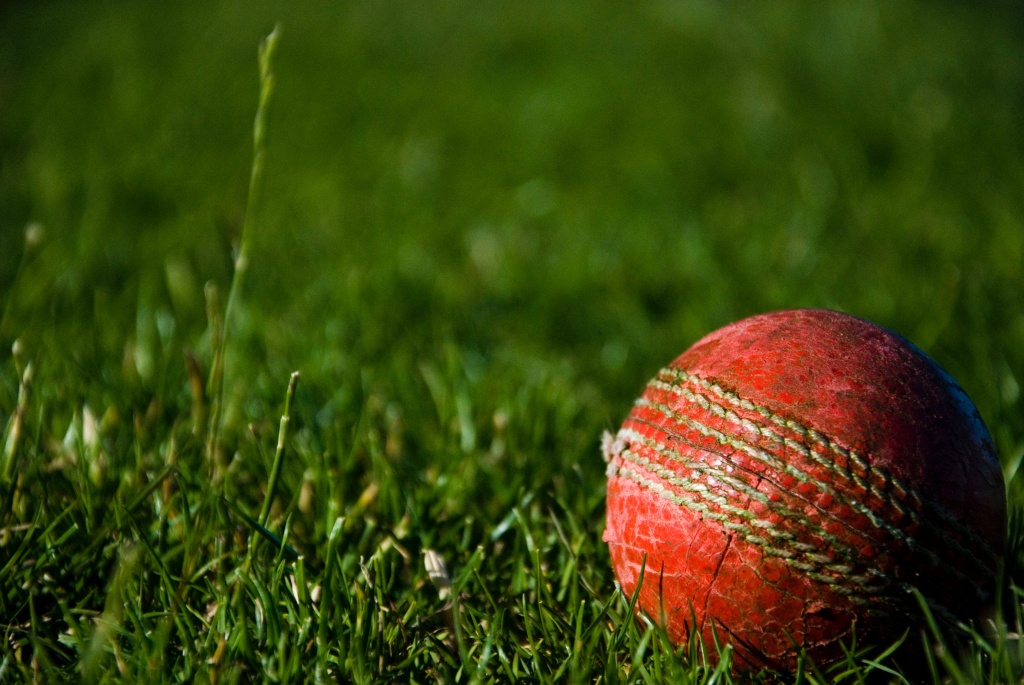 The toss was had. Decisions were made.
Rudy and Fraser opened the bowling. Rudy was his usual miserly self, bowling his first two overs for a few singles. Don't ever ask him for a favour because he'll probably just try and break your toes with the nearest hard object. Cut-throat Fraser picked up the wicket of the opposition's best player, with Matthew taking a solid catch, a common sight these past few weeks among those of us with too much time on our hands. Charlie then took over the bowling and saw his second ball skewed into the air. Matthew, who was obviously bored with taking solid catches, decided to reintroduce the ball to the soggy ground beneath our feet. I'm sure Charlie was thrilled, especially as the next ball was thumped to the boundary. A few runs were scored. Matthew persuaded Captain Freddie to let him bowl and somewhat compensated for his dropped catch by shattering the opposition number three's stumps. Charlie bowled a tight second over that ended with the run out of the new batsman who had figured an attempt at a run was a wise move. A fine throw from Kyle at point and a nice take by Freddie behind the stumps assured him it wasn't. The following over, bowled by Sam, saw Freddie back in the action. A good length ball outside off nicked by the batsman and Freddie diving like an over excited puppy to his right, sticking out a glove and feeling ball land gratefully in its faux leather recesses. A catch that will forever be seared into the memories of the spectators because it truly was awesome, the second awesome catch by Freddie in two weeks. The kid has a serious talent behind the stumps and we never even knew. But this is why we play sports, to allow us to be heroes if only for a fleeting moment. And Freddie was certainly a hero.
Kyle bowled a couple of tight overs then Calum and Archie took over. They kept things fairly tight, mostly dots with a few extras mixed in. The final ball of Archie's second over was hit through the covers. This time the, "Yes no yes no," was on the second run and Kyle threw nicely to Freddie who made another run out look simple. Rudy returned to bowl an expected maiden. Matthew's final over gave just a few singles. Much as earlier on, Fraser went for a few runs but picked up another wicket, that of the returning opening batsman, caught again by Matthew so it says on the scorecard but I'm not sure how reliable the scorecard is. Then Calum finished the Tornadoes innings inducing a simple catch to Kyle at cover point. A solid bowling display with good economy, some good run outs and a moment of brilliance.
Although Kyle and Matthew were meant to open the batting together Matthew (below) decided to do it on his own. He faced the first fifteen balls of the Falcon's innings before being unluckily given out to a ball that bruised his upper forearm but certainly never got close to bat or glove. But before that sad incident he was the Guns of Navarone, he was Conan the Barbarian, he was Black Bolt. The boundary line was flinching every time the ball was struck. 5 fours and a six, mostly battered through mid wicket, and singles at the end of each over to retain strike. Then the appalling decision that took him unjustly from the field and which led to Freddie striding confidently to the crease and the crowd settling once more. The Grange bowler had got it into his head that bouncers were the way to go and continued to fire short balls. And I guess it worked. Freddie failed to keep his second delivery down and was calmly taken at point. Coming in after Freddie, Charlie was taking none of that short nonsense and slapped a boundary through cover off his first ball.
And then, finally, after what must have felt like two weeks in solitary in a maximum security prison, Kyle faced a ball. People had forgotten who he was. "Who's that good looking kid on strike?" they asked. "Where did he come from? Was he always there or did he just appear from thin air?"
Well, there's more than thin air to Kyle. This season his bat has been as solid as a world war two concrete bunker, as solid as the hardest bits of the Great Wall of China. He defended a couple and knocked a single and Charlie defended a few more. Then Kyle, who knows what he's good at and knows what he isn't, which is about as valuable a talent as a batsman can possess, faced a delivery a touch over pitched and in his arc. The music played, the sweet sound of bat on ball, and the ball scurried over the soggy outfield for another boundary. And a few balls later Kyle did it again. He then returned to the non striker's end for another stint in solitary. Although he hit another four at some point, for the most part Charlie pulled Matthew's trick of scoring a single off the final ball of the over and hogged the strike for most of the next twenty balls. Charlie was all class and laid back cool, defending when necessary and smacking anything loose for four. He never looked like getting out and could probably have scored a double century if everyone else had been willing to hang around and watch him. As it was he retired out, sauntered off the field and into his Aston Martin, the one with the foreign princess draped across the passenger seat, and headed off to the casinos of Monaco in a haze of paparazzi flashbulbs and the screams of Instagram wannabes. Kyle, still in non striker's prison, licked his lips at the thought of smacking the winning runs.
In came Rudy with 2 balls of the ninth over left. To Kyle's frustration he played a dot then took a single to yet again deny Kyle the strike despite Kyle yelling, begging, pleading for a second run. "You're not getting two, mate,' Rudy told him with a mean look in his eyes as he glanced at the nearest rock. About 11 runs were still needed for victory. Just maybe Kyle would face another ball. But Rudy then hit a couple of boundaries and, with three still needed off the final ball of the over, struck a sumptuous straight drive, six from the moment it left the bat, to take the Falcons to an easy victory. Kyle punched Rudy on the arm, and rightly so, but he had the rare distinction of being on the pitch for every ball of the match which is a tough thing to do when you have to retire after 20 balls and the score required is over ninety.
And so the Falcons beat the Tornadoes with buckets of overs and wickets to spare. A bit of luck really because the darkness was coming and in darkness there are no cover drives, no yorkers, no straight sixes, just nightmares of shattered stumps and missed catches.
Thanks to Cheeky and Paul for pretending to umpire.