Fives Fall to Falkland, Part 2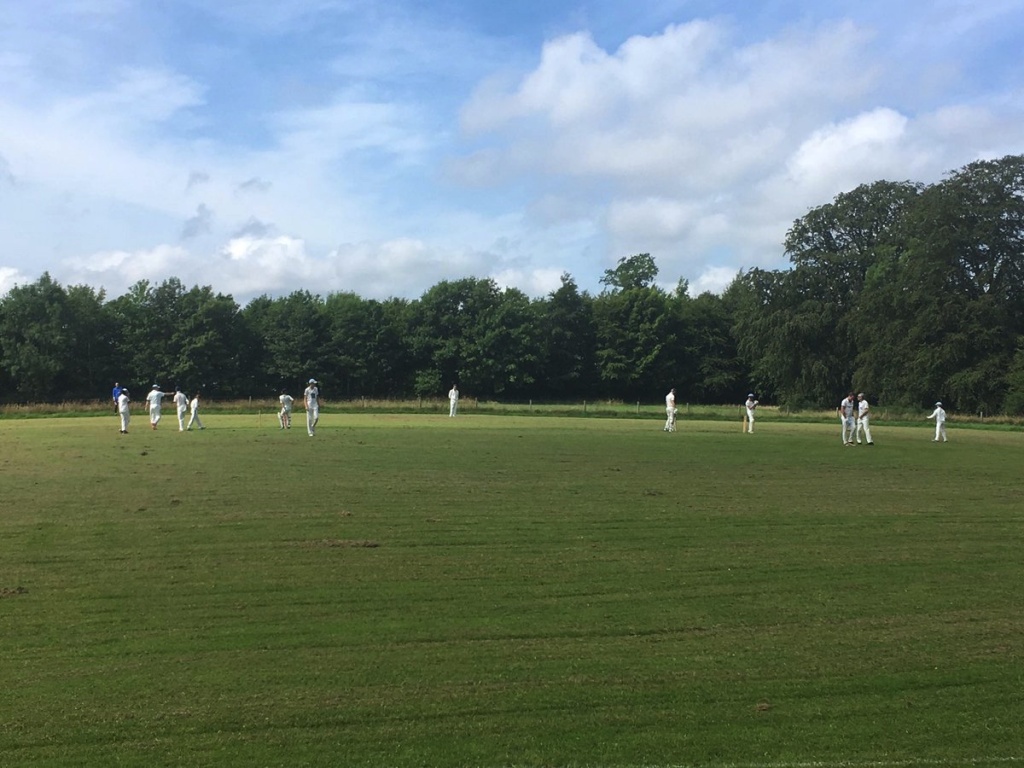 Sad tidings for the Famous Fives, late on Thursday evening – scheduled opponents Musselburgh 3 unable to raise a team, and an enforced weekend break in the offing.  However – word came that Broomhall 2, Falkland 3's intended opponents, were also unable to raise a side, and some quick thinking/planning from the respective skippers (aided by the guiding hand of our very own ESCA rep Paul B) resulted in a rapidly-rearranged fixture to take place in scenic surrounds of the second pitch at Fife's Scroggie Park – as far as known, the only venue in world cricket which obliges the bowlers to run in uphill from both ends.  And hopefully featuring slightly less mud than last time…
Fresh from securing a match to play in, skipper Keith quickly set about securing a resounding win at the toss and inviting Falkland to have a bat.  Regular opening bowler Max "the Maxinator" D'Ulisse, in determined pursuit of the Fives' bowling trophy, was coiled like a spring at one end, with Dougie Firth sharing new-ball duties.  In the absence of a regular gloveman, Fraser Kentish had gamely agreed to keep wicket and made his debut behind the sticks.  Max (no longer a secret weapon, opposition now notably more circumspect around him) exerted early control with the batsmen content to wait for a hittable ball, until one shot too many led to a fine grab in the covers from Martin Robertson, stylishly aided in the glorious sunshine by his fetching wraparound shades.  Dougie was the first – but certainly not the last – bowler to struggle with the steep slope and very short leg-side boundary from the Gorse Bushes end, and although he conceded virtually nothing from the bat the dreaded extras started ticking along.  Zaara Dancu replaced Dougie while Max continued, finding yet more success in his seventh over with a big lbw shout (M D'Ulisse 8-0-32-2).  Zaara also found it tough to get into a good rhythm bowling up the hill, but nevertheless showed what she can do with a number of balls nipping back sharply off the seam to seriously discomfort the batsmen.  After 20 overs, Falkland were 108/2 – a more than solid start.
With Max bowled out, Ivan Dawson took over and gave Falkland – not to mention Fraser – something rather different to think about, finding a good length and great carry straight away.  It didn't take long for Ivan's extra pace and bounce to account for a couple of wickets – the first to one which kicked from just back of a length, angling in, and which the batsman could only chop down onto his stumps; the second a quick one in the channel drawing a solid nick which was bagged quite brilliantly by Fraser, leaping high to his right.  Some proper cricket from the junior combo.  In the mayhem the unfortunate John Beattie was tagged by a bee on his already injured right hand and went off for some medical treatment / to watch the Test.  Your correspondent sent a couple of unremarkable overs up the hill, but with two of Falkland's younger players at the crease was withdrawn in favour of Kyle Burgess.  Kyle continued his good form of the previous games, keeping it nice and tight with nothing for the batsmen to hit (K Burgess 3-0-8-0).  Taking a breather, Ivan was replaced by Zaara who plugged away but just couldn't find a breakthrough (Z Dancu 6-0-37-0); and then Dougie, finally rewarded for his perseverance with the death rattle when sneaking one through the gate (D Firth 8-0-31-1). Ivan concluded his own spell (I Dawson 7-1-30-2) while your correspondent bowled a final spell of six up the hill.  All going quite well until the 40th and final over – not so hot when the first three balls were unceremoniously dispatched for 4-6-6 (and an ignominious hunt in the gorse bushes for an ultimately lost ball); the only possible response a "slower ball" (in reality just the quickest he could muster after running up that hill in the sun…) which drew a wild swoosh and removed middle stump for a modicum of revenge (E Murray 8-1-45-3).  Falkland mustered 200/8, a total bolstered by a very disappointing tally of 65 extras.
The reliably excellent Falkland tea was welcome respite from a lot of hard work on a hot day.  Chasing 200 would be a tough ask.  For the second time in the season, skipper Keith elected not to open, preferring a combination of Paul B and Dougie to get the Fives off to a flyer.  As it was, the Falkland opening bowlers didn't offer much to hit, and Dougie was first to go when chipping into the ring (D Firth 6).  Paul followed very shortly afterwards, bowled by a good one that moved back a long way (P Bailey 2), with John and Martin eyeing a rebuilding job.  Having made it through to the 13th over without further damage, Martin unleashing some trademark square drives to the point fence, and the score on 40 Falkland introduced some… unorthodox slow right arm from R Barclay.  Regular readers of this column will be well aware that any actual critique is kept to a bare minimum – those in glass houses, etc.  However, we do not think that Richie will mind the relaying of his own team-mates' view that his second over might challenge for honours as one of the most questionable ever to account for two wickets.  First, having smashed a four Martin wore one high on his back pad – the highly optimistic LBW shout turned down as it was heading way down leg, but the ball dropped onto Martin's heel and somehow dribbled agonisingly back onto leg stump, just barely hard enough to dislodge the bail (M Robertson 19).  After a series of really, really wide wides and a no-ball, John then blasted a full toss straight to the point fielder (J Beattie 10).  That's cricket for you.
And with that, it looked a serious uphill battle to get back into the game – Keith and Fraser at the crease with a lot of work to do.  The skipper didn't really get going at No.5, strangled down leg courtesy of the day's second superb catch at the wicket (K Murray 1), but Fraser was already timing it nicely at the other end and looked very much at home.  Zaara offered some support, including a beautifully hit sweep for four, but couldn't hang around and was sent back courtesy of another catch in the ring (Z Dancu 5).  Your correspondent attempted to dig in and offer the strike to Fraser but could only prop half-forward to a straight one to be pinned in front (E Murray 3).  Ivan suffered an unfortunate lapse in concentration to be run out first ball attempting a highly ambitious single (I Dawson 0), Max joining Fraser.  Fraser recognised that he was rapidly running out of partners and accelerated very effectively, wagon-wheel showing crisply-hit boundaries all around the ground.  Max was unlucky to top-edge a full toss which was a borderline call for a no-ball, taken by the keeper (M D'Ulisse 1), bringing Kyle to crease.  Kyle also managed to find the rope behind square before Fraser was finally caught, rightly hitting out, but a fine knock from the youngster (F Kentish 37; K Burgess 4*).  Carlton Fives 109ao, Falkland win by 91 runs.
Where to start with the summary of this game?  Firstly, huge thanks to both skippers for managing to arrange this game at such short notice, to Paul for his help in getting the league to agree to it as a formal fixture, and Bob's Teamer wizardry to ensure a perfect attendance.  So much better that two teams full of junior talent willing and eager to play could get out and have a game on a lovely Saturday afternoon.  And with six losing bonus points to go with the twenty accumulated from the concession, this holds the record as most number of points won on a single day in the Fives' history!  On the down side, even with the difficulties of the unfamiliar uphill run-ups we conceded far too many extras in an unusually inconsistent bowling display – although credit to Fraser for keeping the byes down on his first senior appearance as a keeper, to complement his excellent knock of 37.  Taking out wides and no balls, the target would have been a much more manageable 150-ish, and perhaps scoreboard pressure would not have told on the batting.  As ever, Falkland played the game in superb spirit, and even with a big loss this was a hugely enjoyable game to play – many thanks indeed for their kind hospitality!  Not long until the return fixture at Grange Loan next week…
Euan Murray