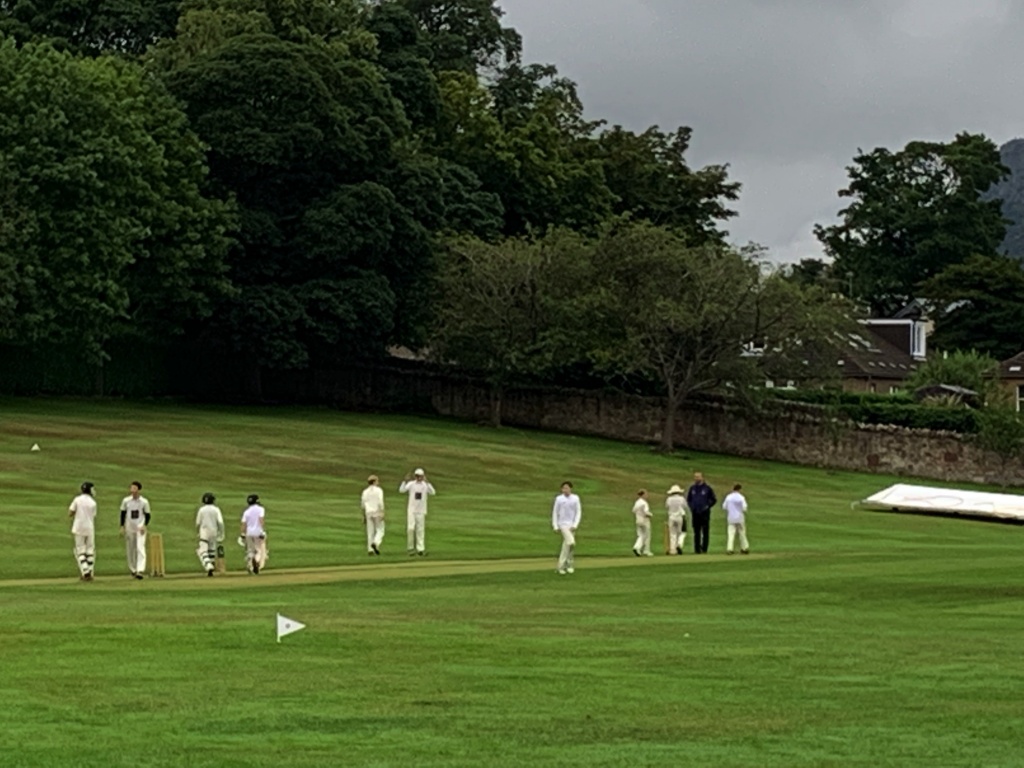 Carlton U14 Falcons 126-1 (K Burgess 23no, M d'Ulisse 18no) bt Livingston U14 118-8 (S Northridge 3-9, R Adair 2-23)
Monday 29 July saw the welcome return of the Falcons to U14 league action, after a month in which they had disappeared, to be replaced by a veritable menagerie of other animals – both real and mythical.  Aligators, Dragons, Penguins and the like are all very well, but it was good to return to the familiar faces of the Falcons, refreshed by summer holidays, and many in sharp cricketing form courtesy of Stevie's summer camps.  29 July is, of course, still slap in the middle of the summer holidays and both the Falcons and our opponents, Livingston, were somewhat short of the requisite 9 players.  Luckily, we have a willing and apparently endless supply of talented substitutes in the shape of Carlton's under-12 squads, ever eager and willing to turn up and show the under-14s how it should be done.  And so, a few short recruiting emails later, a group of 17 enthusiastic cricketers comprising 5 Livingstonians, 6 Falcons and 6 of Carlton's next generation assembled at Grange Loan under a dark grey drizzle.
I grew up reading Asterix, perhaps surprising given the series' complete lack of references to cricket.  Asterix and the Normans features a wonderful exchange between Asterix, Obelix and a young visitor from Lutecia (Paris), as they set out on a visit to the beach.  The visitor complains it's raining.  Asterix retorts "it might be rain in the South … here it's just a little bracing dampness in the air".  Obelix rejoins (as the rain gets heavier) "and getting more bracing all the time".  Now I think about it, perhaps Asterix was commenting on Scottish cricket after all.
The players were sorted – more-or-less willingly – into Carlton and Livingston teams, and took to the field in a little bracing dampness.  Livi's Captain Jagat won the toss and elected to bowl, to which captain Rudy (naturally) retorted that he'd have chosen to bat first.  Captain Rudy deputed Kyle & Max to open the innings, and those two strode out to face the familiar figure of Dougie, deputising as Livi's opening bowler.  A cagey first over was followed by a more free-scoring one off Matthew (also deputising).  Kyle & Max ran alertly, hitting the ball well, running sharply and stealing byes at every opportunity.  The score climbed at an impressive rate, Max scoring in careful 1s and 2s; Kyle unleashing some elegant cover drives, one of which was inches away from crossing the boundary without troubling the outfield.  Livi's Jagat and Shrikar took over bowling duties, but Kyle & Max sailed on untroubled, until Kyle retired with an excellent 23 runs.  Oli joined Max, and the worst possible outcome befell him, run out without facing a ball.  Rudy joined Max for a few balls until Max too retired with 18 runs, and Freddie M sauntered out to the middle.  The bracing dampness had meanwhile been getting more and more bracing, and really had to be reclassified as a full-on shower.  Anyone wearing glasses was having trouble seeing anything, which probably explains why the run rate slowed a little, and the scoring became a little ropey.  The Performance Squad raced on and deployed covers (thank you!); players and umpires retreated to the changing rooms for 10 minutes to wait for the rain to die down.  Wonderfully, it did!  I knocked on the changing room doors to report that the game was recommencing, and was greeted with a heartwarmingly loud and enthusiastic cheer.
Rudy & Freddie M settled down to steady accumulation.  Freddie C, Livi's Yashas and Harry bowled economical overs, and the game settled into a chanceless rhythm.  Rudy and Freddie retired within a few balls of each other, which brought Nicholas & Sam M together.  Nicholas was in good form, crashing the ball to the boundary.  Sam was more circumspect, but the two kept the scoring rate turning over without offering the bowlers a glimmer of a chance.  As a result of the rain delay, we'd shortened the game to 18 overs, enough for every player to bowl 2 overs.  Unfortunately, this shortening, and Livi's combined reluctance to take any wickets, meant that Nicholas & Sam M batted out the innings, leaving a disappointed Sam N waiting on the sidelines – very unusual to have a batter left over!  The Falcons had amassed 126 runs in 18 overs, for the loss of just 1 wicket.
The interval chat: was that sun peeping through the haar?  Spoiler alert: yes, but not for long.
Matthew & Dougie marched out to begin Livi's reply.  Rudy limbered up and raced in to bowl to Matthew: dot, four!  Stung by this affront, Rudy sent down an evil bouncer at Dougie, which he managed to fend off … but only as far as Rudy.  Harry walked in somewhat nervously, survived 3 balls, exchanged byes with Matthew, and was bowled off the last ball, which both batter and bowler assure me swung a mile.  After an eventful first over, Livi were 8-2 (although on a point of pedantry, no Livi batters have actually faced a ball yet).  Captain Jagat sent himself in to restore some order to the innings; he and Matthew set about not losing any more wickets, in which they succeeded admirably, carefully batting out Rudy's second over and 2 accurate overs from Sam M.  The batters accelerated against the Falcons' change bowlers Freddie M & Nicholas, until Matthew retired with a well-struck 27, and Shrikar replaced him.  Jagat & Shrikar kept the score ticking over, running smartly for an over, until an over-optimistic run led to Sam M running Shrikar out, just as he looked to have settled in.  A few balls later, Jagat retired with 13 runs.
Meteorological note: yes, that had been the sun, but it had been beaten back into the high firmament by the haar, and the bracing dampness had returned to take a firm hold of the remainder of the evening.  In a similar vein, the Falcons' bowlers took a firm hold on the match: miserly, accurate and wicket-taking overs from Max, Sam N, Oli, Sam N again (twice) accounted for the remaining Livi batters in short order, leaving Livi in trouble on 62 runs, 1 wicket remaining, 7 overs in which to score another 65 runs to win.  The retired Matthew & Jagat returned to the middle.  They saw off the remainder of Sam N's 2-wicket over, then hit a run-a-ball off Kyle: normally a good return for the batters, but on this occasion less than was required.  Oli returned, but by now the batters had found their range again: 84 runs, 43 to win off 4.  Max restored some control for the Falcons with a 5-run over (not the usual 5-fer, but in the circumstances the next best thing to taking a wicket).  Kyle lost his grip on an increasingly slippery ball, and a couple of no-balls were duly punished.  23 to win off 2.  Rudy brought himself back on, but also found the bracingly-damp ball hard to control, plus Jagat and Matthew were seeing the ball well, and were in a resolute mood.  The final over arrived and was entrusted to Sam M – a logical choice, he was so far the Falcons' stingiest bowler, having given up just 6 runs in his first 2 overs, 4 fewer than the 10 now required to win.  Matthew hit a powerful shot into the covers, well fielded by Kyle in the gathering gloom: 9 off 5 balls.  Jagat charged Sam, missed the ball, and seemed to forget the existence of his crease.  Freddie M (who had somehow materialised at wicketkeeper for the first time I can recall) sprinted forward and sent the stumps flying.  The Falcons has clung on for an 8-run win.  In a rather extraordinary innings, Matthew ended undefeated on 54 and Jagat added a strong 32 – and the next highest scorer made 3.  Star of the bowling was Sam N who to some extent made up for not batting by taking 3 wickets.  Several spectators commented on the high standard of the Falcons' fielding: hardly a misfield in increasingly tricky conditions, 2 out of 2 catches taken, and 2 run-outs well executed.
Phew!  Very well played to everyone, that was a tense but exciting finish.  Thank you to Livingston for making the trip to Grange Loan on an unpromising evening, thank you to 6 under-12 players for being available to fill in, and thank you to Dougie, Freddie C, Harry & Matthew for helpfully joining Livi to even the teams up.  The levels of enthusiasm were astonishingly high given the continual bracing dampness!  Thank you to Brian and Paul for umpiring in the rain, and to the legion of supporters who patiently watched proceedings, supplied coffee and umbrellas, cheered on the players, helped clear up afterwards and made sure everyone got home.