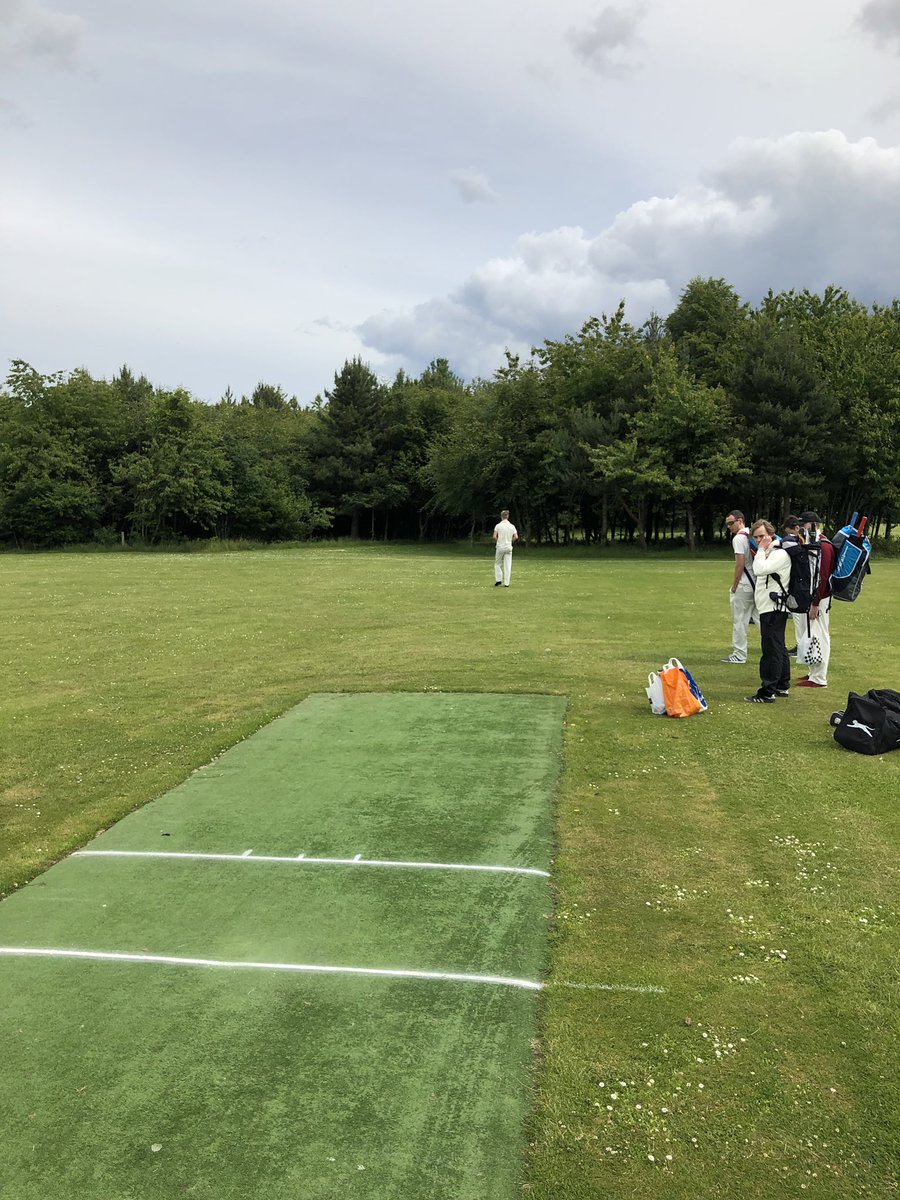 Your correspondent must start this match report by confessing an almost unforgivable sin. Cruelly stranded in the wilds of East Lothian by a late running train he appeared, flustered and with kit streaming from a hastily-packed bag, almost half an hour after the start time of the Fives latest venture in the but-a-small-step-to-World-Cup level ESCA Division 7.
Unfortunately, this means that the initial plays of the thunderous clash with Stewarts Melville 4s must be relayed second-hand from the detailed accounts provided by skipper Keith. Single-handedly almost winning the toss, Keith had nevertheless cunningly secured his preferred outcome as the SMRC skipper elected to have a bat.  Capitalising on this brilliant bit of captaincy, Keith then brilliantly invited youngsters Ben Stronach and Max D'Ulisse to open the bowling, then took a blinding, diving catch at slip from Ben's probing left arm seamers to remove SMRC's opener.  Max, continuing form which sees him in second spot in the league bowling averages thanks to his fearless willingness to give it some flight and rip (and the way he's been brilliantly deployed by the captain), tidied up another two wickets via a clean bowled and yet more brilliant captaincy as Keith placed keeper Mike "Boom Boom" Kennedy in just the right spot behind the sticks to collect a nick behind.
At this point, with the score 29/3 in the 10th, your correspondent made his sheepish entrance and was immediately banished to the long grass at fine leg to take stock.  Normally this might mean a somewhat remote viewing experience, but veterans of scenic Cavalry Park 3 (also known affectionately by batsmen as "Lilliput" and by long-suffering bowlers as "oh no, not Cavalry Park 3") will appreciate that deep fine leg here is effectively a close catching position; your correspondent giving at least some thought to donning a helmet.  In any event, Max continued his superb spell and deservedly claimed a third in his final over – a huge LBW shout answered in the affirmative and another fantastic three wicket haul for the Fives' talismanic offie (M D'Ulisse 8-2-26-3).  Ben continued probing at the other end, and although he couldn't create another breakthrough the batsmen could do almost nothing with his rasping, snaking variations – top notch stuff (B Stronach 5-2-14-1, sensational economy on such a tiny playing surface).
Ivan Dawson was next to try his luck on the diminutive confines; unfortunately just not his day, this, with anything even remotely short sitting up from the surface and the merest contact enough to send the ball flying the couple of dozen or so paces to the rope (I Dawson 3-0-31-0).  We've all had them – just one to put in the past and move on.  With a decent partnership building and the SMRC No.4 motoring towards his 50 your correspondent's penance in the deep was done, summoned in his familiar role to see about providing a trademark long-hop or slow full toss that a batsman might horribly misjudge.  The skipper's wish was duly granted as A Wallace at No.4 swung wildly across the line and lost his leg stump for a buccaneering 41.  This set the stage for the latest in the year's crop of Fives senior debuts – and a doubly special one this as the Taylor twins, Gabby and Jack, limbered up for a bowl.   Gabby was first up and immediately found the right length and line, rewarded as one kept just a little low to pin the SMRC skipper plumb lbw (G Taylor 3-0-11-1).  Jack came on to relieve his twin and was every bit as good as his brother – full and straight, beating the outside edge on a couple of occasions, and denied an inevitable maiden senior wicket only as the SMRC tail imploded spectacularly at the other end, rounded off with a sensational backwards-diving catch from Max at full stretch to complete your correspondent's first ever career five-fer – thanks Max! (J Taylor 1-0-1-0; E Murray 4-0-10-5).  SMRC all out for 96 in 24 overs.
Al fresco tea suitably consumed and players generously refreshed, skipper Keith and Paul Bailey headed out to begin the reply.  A testing opening spell for the batsmen, this, as the dreaded left-hand/right-hand bowling combo went to work and found plenty of movement and carry from the Astro.  However, there were still scoring opportunities available, with Paul's customary silky touch and timing generating a number of boundaries behind square on the off side and Keith happy to rotate the strike and wait for a bad ball to punish.  Paul eventually fell to a nick behind (P Bailey 16) and made way for John Beattie – John having already added to his repertoire of ancillary cricket skills this match by establishing a foolproof "colour of shoes" method for telling the Taylor twins apart.  That, alas, was to be John's main contribution as he speared a drive straight to short-ish cover, falling to another great grab (J Beattie 0).  With the score 38/2 after 15 the svelte figure of Martin Robertson sashayed to the crease – a rather well timed introduction, as with the SMRC openers now bowled out there was some less threatening change bowling on offer.  Martin took a particular liking and hammered three huge, handsome sixes to go with a number of fours, with Keith also ratcheting up the pressure and finding the extra cover rope four times in succession.  All over quickly in the flurry of boundaries, the total chased down in just 21 overs. Fives 97/2 (K Murray 31*; M Robertson 36*) win by eight wickets.
A very impressive and comprehensive win for the Fives, with particular credit to the younger bowling contingent for finding a way to restrict run-scoring on the petite Cav 3 playing surface.  Also an excellent fielding display with the team working hard to support the bowlers – nothing dropped; nary a bye conceded thanks to Mike's acrobatics; and energy levels bright and sparky throughout.  Two more fabulous debuts from talented junior cricketers fresh from the GL production line in the form of Jack and Gabby, and two more brilliant performances from Ben and Max.  Ivan might have had an off day but will surely come back stronger for it. Many thanks to Stewarts Melville 4s for providing such a great game, yet another this season that was played in the very best of spirit.
Euan Murray