Fives' Mission Impossible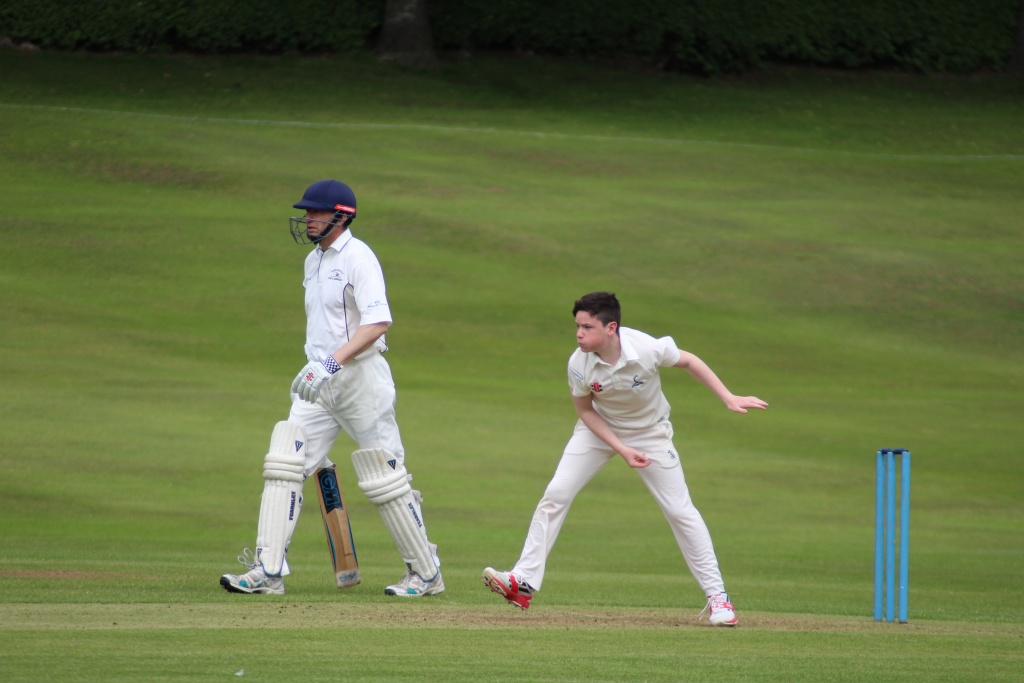 Sunday 16 June, 2019 – a date writ large in the annals of cricketing history.  One of the most highly anticipated matches in years; the buzz of anticipation starting days before and building to an almost unbearable crescendo.  An estimated global audience of over one billion people.  And as if all that were not enough to sate the appetite of true cricket fans, away from Grange Loan India were playing Pakistan in the World Cup.
The Famous Fives gathered for the rare treat of a home match on the hallowed turf of Grange Loan.  However, a faint air of apprehension surrounded the usually phlegmatic troops. The day's opponents, Bass Rock, were fielding a newly-formed XI in the ESCA league.  As a result, their roster (boasting a former England age-grade / county player and several with experience of Scottish Championship and Division 1 & 2 cricket) looked… fairly punchy to be running out against actual Division 7 level opponents.  Questioned during previous weeks' matches, skippers of other Division 7 teams who had already tried their luck against the newcomers had generally adopted a haunted look and swiftly changed the subject.
In any event, the weather was set fair and the prospect of playing at Grange Loan was enough to dispel any sense of foreboding.  Bass Rock won the toss and, after some gentle encouragement from skipper Keith, elected to have a bat (their skipper having failed, as so many others, to study the seminal work – Irvine, B. (2002) "Observations and Deliberations on Winning the Toss at Grange Loan and Electing to Field", Vols 1-3).
Keith's continuing love affair with a seamer/leg-spinner combo opening the bowling showed no signs of abating as Jamie Beattie and properly-spelled Euan Keatinge limbered up.  And what a start the Fives enjoyed – Jamie's first ball right on the money, drawing the batsman forward and shaping away to take the edge and safely into the gloves of Mike "Boom Boom" Kennedy behind the sticks.  Slightly unfortunately this brought the free-scoring Bass Rock No.3, D Milne, to the crease, and the dreaded left-hand / right hand combination which Euan K then had to wrestle with from the other end.  A difficult opening for Euan, with two tough but gettable chances shelled as the batsmen mistimed big shots – chances the Fives could ill-afford to pass up with boundaries already starting to flow.  Euan took an early breather and Charlie Kentish replaced him.  Really solid work from Charlie, who didn't let an early assault phase him at all, bowled through, and was rewarded with the wicket of D Milne, clean bowled for a classy and powerful 75 (C Kentish 8-0-60-1 – worth noting that those figures split into 26/0 from the first two overs, and 34/1 from the last six – good work from Charlie to put the first couple out of his mind and draw on his experience to adjust his approach).  Jamie continued to cause problems throughout, sending a number of deliveries slicing past the outside edge and unluckily turned down for a big lbw shout.
At the other end, Billy Bertram picked up the reins at the end of Jamie's spell and used his whippy pace and leftie's line to good effect, consolidating Charlie's breakthrough by immediately removing the new batsman's off stump.  At not-drinks-at-all-ESCA-if-you're-reading, Bass Rock were sitting pretty on 159/3, with a set opener and quality yet to come – the Fives staring grimly down the barrel of a 350+ chase.  In these circumstances it wasn't your correspondent's absolute first choice to be tossed the ball, but he had a cunning plan… with the youngsters having all either swung the ball at express pace or extracted considerable turn from the surface, the batsmen were sure to struggle to adjust to some right arm medium-slow featuring absolutely no lateral movement whatsoever through the air or off the pitch.  Fortunately, this is the only type of delivery your correspondent is able to produce.  Amazingly enough this "tactic" actually worked – the Bass Rock opener pinned in front and a huge appeal answered in the affirmative, M Lyall departing for a fireworks-laden 89.
Euan K came back on and, in exactly the same way as Charlie had earlier, put the first few overs out of his mind to complete a superb second spell – varying his pace and flight to great effect and forcing some very good batsmen to defend watchfully.  He couldn't find a wicket but did an equally important job in keeping the run rate down and denying boundaries – the batsmen having to work hard to score in singles (E Keating 8-0-65-0 – again, worth noting that those figures are made up of 38/0 from the first three-over spell, then a brilliant comeback of 27/0 from the next five – really well bowled).  Jamie continued asking questions in his final three overs, pace still right up, and although finishing without further reward deserves plenty of credit for completing the most economical and threatening spell of the day (Ja Beattie 8-0-40-1).  Over to Billy and your correspondent for the final overs – Billy snaring two well deserved wickets in combination with Euan K, the first catch taken by Euan high over his head while right back on the rope at midwicket (a great take, that one was travelling); the second safely gathered after a wild swipe across the line sent one spiralling into the sky (B Bertram 8-0-61-3).  Your correspondent also managed to con a couple more batsmen out, sneaking one through the defences of the Bass Rock No.5 to deny him a 50, and another aerial hoick well held by Charlie on the run.  The C Kentish/E Murray combo also accounted for the final wicket, Charlie's powerful throw from the deep extra cover boundary beating the batsman's attempted second, and your correspondent showing some surprisingly nifty sleight of hand to remove the bails (E Murray 8-0-49-3).  When the dust settled, Bass Rock had accumulated 284/9 from their 40 – a monster target, to be sure, but nothing like as bad as it could have been, and also enough to secure maximum bowling points in the unlikely event that the Fives' batting unit somehow failed to make 285…
After a hard shift in the field, a traditionally excellent tea was most welcome and enjoyed by all; John's baking skills once again on display and complemented by a varied feast of epic proportions.
So – how to make a good 110 more than the season's previous highest chase?  Skipper Keith thought long and hard during tea, and decided that his usual brand of gritty resistance followed by late acceleration was unlikely to suit the circumstances (nothing to do with fancying time to have an extra slice or two of leftover cake).  As a result, for a truly unprecedented second time in the season he elected to pass the baton of opening, to Paul Bailey and Euan K.  Paul and Euan got the innings off to a cracking start, each displaying their customary excellent timing to pick up 2s and 3s, and Paul nonchalantly flicking a couple away square for a one-bounce 4s.   After 10 overs the score was 53/0 – a great start by any measure.  Unfortunately, Paul was bowled in strange circumstances, leaving a huge, loopy full toss in the expectation that it would be called a no-ball, but the trajectory dropping so steeply that it was below the waist as it passed him and crashed into the stumps (P Bailey 23).  Charlie joined Euan K at the crease in the hope of reprising his previous excellent form at No.3 and the youngsters kept the pressure on – Charlie crunching some lovely straight drives for 4, Euan continuing to turn the strike over.  Euan's stay was ended by another loopy delivery of spin, coming forward and beaten in the flight, swift work behind the stumps removing the bails before his foot was back (E Keatinge 30).  Euan's departure brought "Boom Boom" Kennedy to the crease, and a buzz of excitement from the crowd – Mike's stays at the crease not noted for their soporific pacing.  Before Mike could get going Charlie was next to fall, early on one and dinking a catch to silly mid-off (C Kentish 23).  That brought skipper Keith to the crease – and a partnership rich with the promise of any number of quick singles [note – yes, zero is "any number"].
At not-drinks-by-any-means the Fives had brought the ton up, 101/3.  Another 184 from 20 looked a huge ask, but at the very least maximum batting points looked comfortably within reach.  And with Mike and Keith there to hit it around, who knew?  Mike certainly wasn't going to leave wondering and battered a couple far and wide (and high), before connecting mightily with fresh air and losing his middle stump (M Kennedy 10) – that one would have been on Blackford Road if he'd middled it.  Keith fared little better, smashing one straight back to the bowler who reacted at rattlesnake speed to complete the catch (K Murray 1).  The two quick wickets brought Beatties younger and elder to the crease, appropriately enough on Father's Day – what could possibly go wrong?  Nothing much to start with, certainly, Ja and Jo both looking comfortable and picking up plenty of runs.  However, there was a horrible misunderstanding when Jamie shovelled a waist high full toss round the corner to fine leg and set off for a comfortable looking single, only to be sent back by John when already most of the way down the pitch and with no chance of making his ground (Ja Beattie 14).  Oh dear – one to add the Fives' annals of unfortunate family-based run-outs.  Paul Stones was up next and looking to build on some promising starts earlier in the season.  He and John settled in quickly and picked out the gaps, but John attracted yet another brilliant delivery to end his stay – this one pitching on leg and veering away from him from a length, merely kissing the bails on its way through (Jo Beattie 23).  Ian Thompson, a quality bat at No.9, went out to support Paul S who had taken a liking to the slower bowlers and meted out some punishment, including a sweetly-timed 6 over square leg.  Paul eventually missed a straight one (P Stones 23) and Billy came to the crease.  Ian couldn't really make much happen with just a couple of overs remaining, bowled while looking to hit out (I Thompson 3).  That brought a very brief cameo from your correspondent, propping up the order.  With 105 needed from 10 balls it seemed appropriate to at least try to smack one onto Grange Loan, a stumping the inevitable consequence (E Murray 0; B Bertram 1*).  Carlton 5s 179 a.o.; Bass Rock win by 105 runs.
Despite a convincing defeat there was a lot to take from a game in which the Fives were overmatched but ultimately unbowed.  Ten losing bonus points, for starters, which plenty of other sides won't get against this opposition.  True to our ethos, the Fives fielded four juniors who bowled 32 out of 40 overs against batsmen who could happily hold their own many divisions higher – a seriously good effort.  At one point it looked as if Bass Rock were gunning for something over 350, but in making the adjustments needed when bowling against genuine quality the attack showed plenty of skill and composure to get things under control.  Good as they were, none of the batsmen were ever really in against Jamie; Billy kept hammering away for his three wickets; and both Charlie and Euan showed fantastic resilience to keep their heads up and recover strongly from chastening starts.  On the batting side, 179 is a season high (with Euan K & Charlie top scoring) and shows that there is no reason why the Fives can't set or chase down totals of 200.  The only disappointing aspect was those missed chances right at the start of the innings.  Would they have made a difference?  Probably not, given the depth and experience of the Bass Rock lineup… but there is maybe just a little regret that we didn't run them closer.  Pleasingly, though, for the scorers and stats-fans, the teams contrived to bowl 78 completed overs without a maiden – which might be one of those uniquely cricketing records that no-one can really be bothered to confirm.
Many congratulations to Bass Rock for a well-deserved and magnanimously-completed win – and good luck in Division 3 next year!
Euan Murray