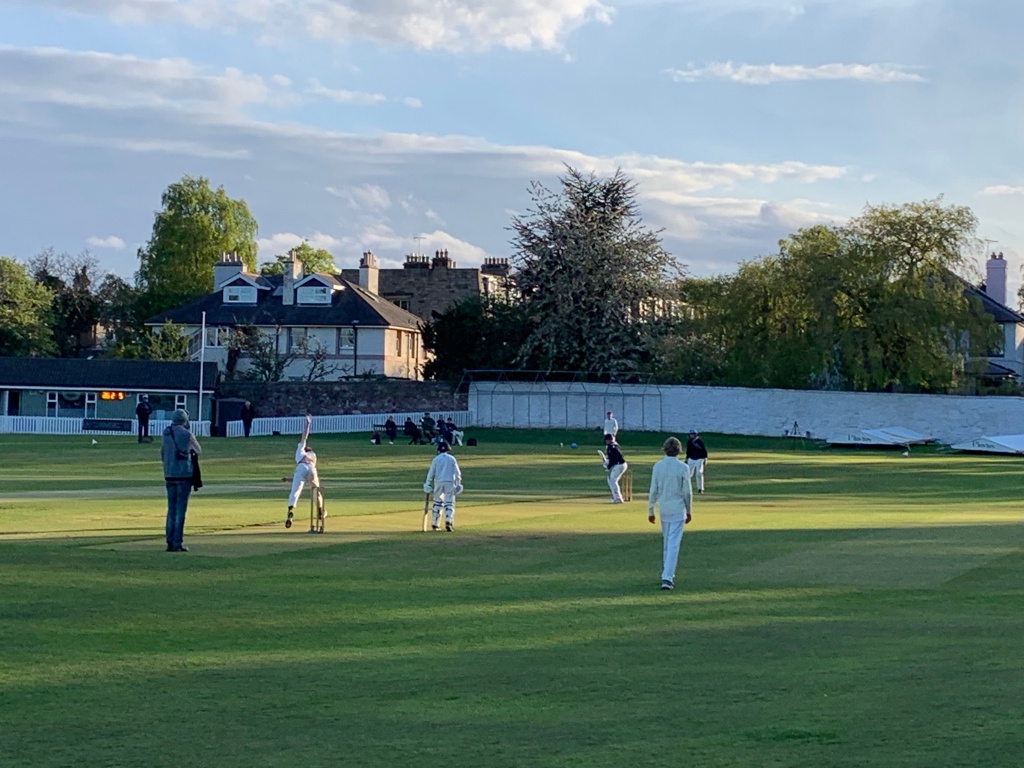 Carlton U14 Falcons 112 ao (Ally Paul 27, Freddie Megaw 22 no) lost to Grange U14 Lightning (Rudy Adair 1-7)
Captain Rudy's summary: We played at home against Grange Lightning who are always a good team. They had two Eastern Knight players and several other very good players.
We batted first. Ally batted really well and hit two great sixes. Kyle and Freddie were both not out and together with Calum and Sam scored valuable runs at the end to get us to a score of 112 which was a touch on the low side but not as bad as it could have been.
The bowling started well and we took two quick wickets. But they had an opener who scored well and got them ahead of the run rate. After that we bowled well but it was difficult to stop the boundaries and we just couldn't seem to get the wickets we needed.
Overall I thought the team played with a good spirit. There was a lot of chat and joking around and encouragement and everyone got involved in the game. It was a lot of fun.
Our first home game, and a sunny (albeit cold, but what do we expect in Edinburgh in May) evening at Grange Loan to boot.  A scrabble around to find treasure:  keys to the shed, boundary markers, stumps, bails, tape measure, match balls, 6 coins, opposition …  Luckily, the Doughty Groundsman himself was on hand to point out the locations of many of these trinkets, and equally importantly three players (thank you Dougie, Sam & Sergi) were on hand to heave the covers to one side, and to expertly measure out 40m boundaries.
The toss occurred.  For the second week in a row, I actually witnessed this seismic event.  The coin was flung aloft, and the visiting captain fatefully misjudged the prevailing meteorological conditions and called tails.  A heads-up coin was retrieved from the grass, and Captain Rudy gleefully announced that the Falcons would bat first.  Not only that, he also volunteered to open, and to face the first ball.  Kyle joined him at number 2.
Out they strode to face the might of Grange's opening bowler.   The first ball was fast and straight … and dug out.  The second ball was fast and straight … and dug out.  The third ball was faster, straighter … and not entirely dug out, which brought Dougie to the crease, 3 places higher in the order than he'd choose, and about 10 overs earlier.  He survived the first ball, then scampered a single with relief, to leave Kyle to face the last ball (which he too survived) with a different partner than he'd anticipated.  The action became a little less frenetic: Dougie and Kyle watchfully played out the second over, then started scoring runs.  Kyle deployed his elegant push into the off side to good effect; Dougie looked like he was getting his eye in with a couple of 4s, when a ball reared unexpectedly off a length, caught the leading edge of his bat and fell obligingly into mid on's hands.  This brought Ally to the crease.  He started circumspectly, building slowly: dot dot dot dot one one (is he batting in morse, I wonder), then – BLAM – a barrage of boundaries including a pair of consecutive 6s.  Suddenly, the run rate, which had been languishing around not-really-quite-enough, was at an entirely healthy more-than-6-an-over.  Sadly, in trying to repeat the 6s, he top edged a pull and was caught for a powerful 27.  Kyle meanwhile batted out his allotted 20 balls, and retired, a tremendous result for an opener against this attack.
Freddie & Ben continued, Ben hitting particularly strongly through the leg side, until a straight one unaccountably beat his defensive – er – swipe and set his stumps wobbling.  Calum joined Freddie to a chorus of "encouragement" from his team mates inconveniently clustered on benches on the boundary behind the batter.   Undetered, Calum soldiered on while Freddie retired after 20 balls and was replaced by Sergi, who was unlucky to be bowled by a bowler fully twice his height (warning, some exaggeration possible here).  Sam came in, and caught the faintest edge, which was eagerly snaffled by the wicket keeper, who looked strangely familiar, despite hiding behind the obligatory helmet.  This brought Kyle back to the crease to accompany Calum in the final push for runs (I do hope the reader is keeping up here … ).  In all this to-and-fro of batters, the run rate had dropped back to its previous not-quite-enough levels, so the batters started to hit out entertainingly.  Calum hit a good 4; and Kyle nurdled away at a run-a-ball before trying an elegant push into the off side too far, and being bowled.  Freddie returned to add some gloss to his innings, and Calum made it to the nirvana of 20 balls, only to find that he couldn't retire, owing to there being no batters left.  In his disappointment, he nicked the next one to the keeper (he really does look very familiar …), and the Falcons' innings ended a few balls early with Freddie stranded on 22, and the team total on 112.
The interval chat: 112 looked a little short, but you never know, if we can get some wickets …
The Grange openers walked out.  In a splendid twist, the Grange opening batter was the same opening bowler who Rudy had faced, who now found himself facing … Rudy!  The first ball was fast and straight … and dug out.  The second ball was fast and straight … and dug out.  The third ball was fast and straight … and dug out (hang on … are you sure that's the plot line?)  The fourth ball was faster, straighter … and not entirely dug out, which brought Grange's number 3 to the crease.  We'll call that a draw.  Ally bowled the second over, and after a couple of looseners, clean bowled number 3.  After 2 overs, hope reigned supreme: Grange were 2 down, and had scored only 3 runs.  At this rate …  but of course, cricket logic doesn't work quite like that.  Grange's number 2, who had been quietly observing from the other end, and number 4 confidently set about rebuilding the innings.  Number 2 was in particularly brutal form, slogging 4s to all parts of the ground.  Nothing went quite right for the Falcons: catches dropped tantalisingly just out of reach; unthreatening shots found gaps in the field and drifted apologetically over the boundary; balls that beat the bat sneaked past the wicket too.  And Grange's score kept climbing, although for much of the middle overs they were encouragingly behind the Falcons' run rate.
Wickets, however, resolutely refused to fall.  Numbers 2 and 4 reached 20 balls and retired, which brought the strangely-familiar wicketkeeper to the crease.  The run rate slowed, but Grange had too many wickets in hand and could afford to take risks.  Kyle bowled number 7, but it was too late – a flurry of late boundaries from the tall number 8 sealed the match in the 18thover.
That was a good effort, despite the end result not going our way.  Captain Rudy's summary is spot on: there was some good batting, and some excellent bowling.  The fielding was committed and tenacious, and the support the players offered each other was enthusiastic (although Calum might use a slightly different adjective).  The team are already playing with a great spirit.  The result was just one or two moments of luck away from going the other way.  Well played to Grange, particularly their number 2 batter who scored about 1/3 of their runs; also to James Stronach, starring as the Strangely Familiar Wicket Keeper (coming soon to a screen near you).
Thank you to Alasdair for educating me in how to set up the pitch; to Brian for patiently umpiring; and as ever to the legions of supporters for braving what became a perishingly cold evening to support the players, and for helping to tidy up again afterwards.  Next stop in the Falcons' Magical Mystery Tour: Livingston!