Kwik Cricket: Players v Parents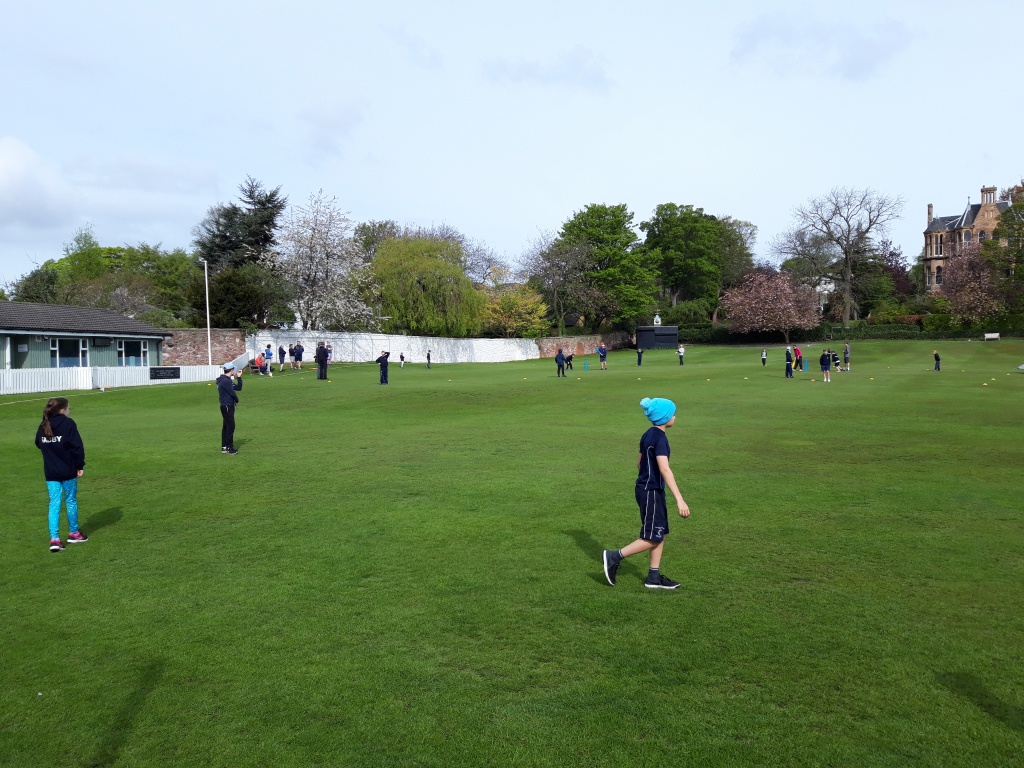 18 players and 18 parents/elder siblings assembled at a sunny Grange Loan on Sunday 28th April for the first Players v Parents Kwikcricket match of the season. Gav Murray, Euan, Keating, Dougie Firth and Rudy Adair umpired with their usual brand of creativity and enthusiasm.
There were two sets of matches. In the first, the players played against their parents and in the second they played with their parents.
On the pitch in front of the clubhouse, the players were Robbie Murray, Oli Stones, Lewis King, Hamish Turner, Gabriella Fontenla, Robbie Leitch, Finlay Thompson and John Gill. It was decided to play a 12 over a side match. The parents' team was significantly strengthened by the presence of 1s/2s player Pete Gill, former Carlton junior Andrew Leitch and Angus Turner. Parents' skipper Keith Murray lost the toss and was asked to bat. He and Ian Thompson made a bright start, hitting 32 in their 3 overs without loss, despite Keith top edging a rising ball off Robbie's bowling into his face. Paul Stones and Alan King then faced their sons' bowling and added 13 for the loss of 3 wickets. Up stepped Pete and Angus who brutally set about the young bowlers, amassing 37 without loss. Siobhan Fontenla and Andrew Leitch batted last and hit a further 33 for the loss of just one wicket. The parents finished on an impressive 115 off their 12 overs.
The players' response started well enough with Robbie Murray and Oli hitting 22 in their 3 overs. Hamish and Lewis then added another 18, finding it difficult to cope with Angus' genuine pace coming down the hill. Finlay and John then faced the tricky combination of Ian's slow tempters and Pete's bounce. They added 22 without loss. Robbie Leitch and Gabby were therefore left with a lot to do in the final 3 overs. They set about their parents' bowling with aplomb, but despite a lengthy final over where balls deemed no balls or wides were rebowled, the players fell a tantalising 5 runs short on 110. This was still quite an achievement, considering the firepower at the disposal of the parents team. A superb diving catch by Andrew proved the difference between the two sides.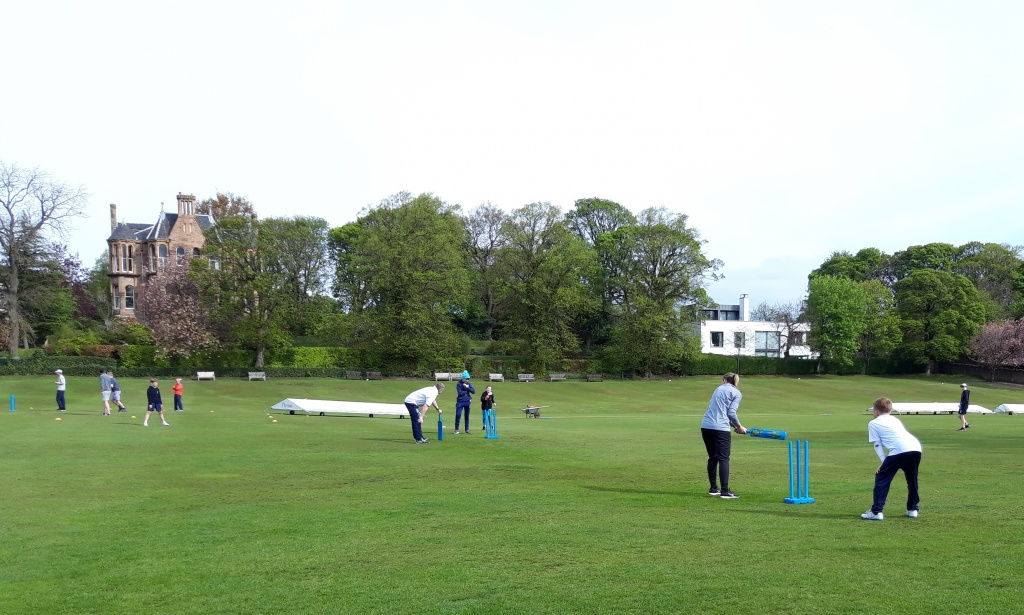 In the second game, the sides were Robbie & Keith Murray, Oli & Paul Stones, Gabriella & Siobhan Fontenla, and Finlay and Ian Thompson against Hamish & Angus Turner, Robbie & Andrew Leitch, Lewis & Alan King and John & Pete Gill. Keith lost the toss again and was invited to bat. Paul and Oli made a solid start posting 19 against the accurate bowling of Lewis and Alan. Gabby and Siobhan then had to live with the fiery bowling of Hamish and Angus, but pushed the score on to 29 despite the loss of 3 wickets. Ian and Finlay added a useful 27 without loss off Robbie and Andrew's bowling, before Robbie and Keith managed to hit a further 43 to post a respectable total of 99.
The response from Lewis and Alan got off to a shaky start with wickets for both Murray younger and elder, but a better 3rd over saw them post 21 in total. Hamish and Angus then arrived at the crease in swashbuckling form, alternating massive boundaries with wickets against the accurate bowling of Oli and Paul. Keith dropped a hard flat drive from Angus at mid on, which deflected for six. He was immediately replaced in his fielding position by his disgusted son.
Robbie and Andrew then added 38 against Gabby and Siobhan, including a number of very fine boundaries. John and Pete then strode to the crease requiring 42 off the bowling of Finlay and Ian. They were pegged back when the wily Ian bowled Pete, but still kept smashing regular boundaries. John was left requiring to hit a single off the last to win and duly smashed a fine four though deep square to bring home the victory. A very good match, decided on the last ball.
Many thanks to all who played, supported and umpired. Another really fun event to start the KwikCricket season.