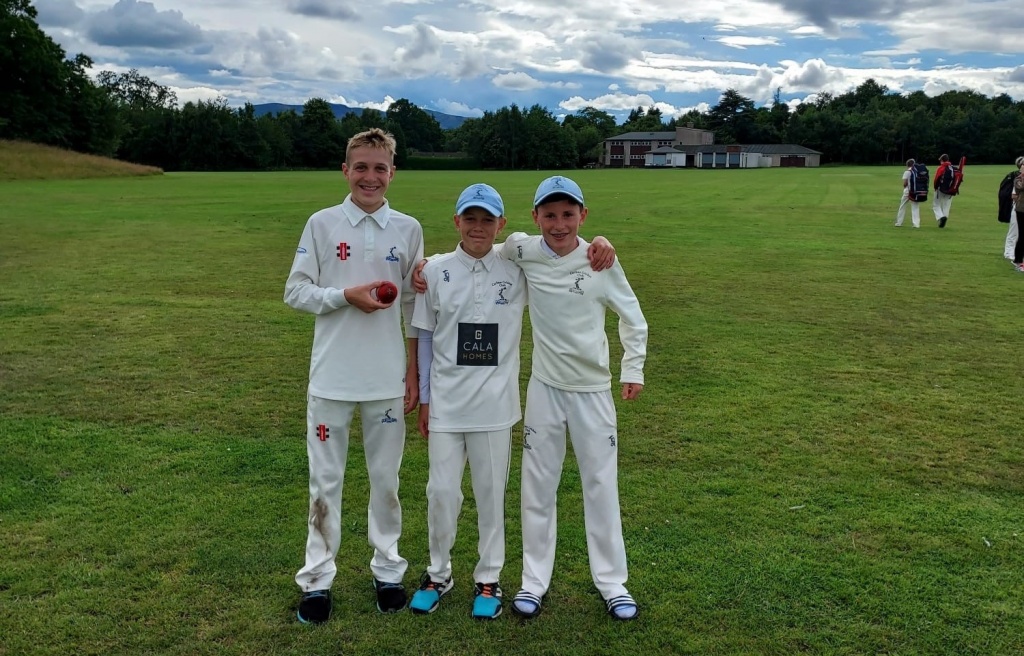 With the Olympic Games into their final stretch and Clubhouse conversation full of chat about speed climbing, modern pentathlon and skateboarding, the Famous Fives gathered at regular haunt Cavalry Park for another crack at the only sport which really matters (note to IOC: softball and baseball, but no cricket? Come on).
Citius, Altius, Fortius. The perfect motto, Pierre de Coubertin would have us believe, to encapsulate the moral beauty and aesthetics of all sport. In the less rarified atmosphere of Scottish League Division 7, other considerations are equally at the forefront of athletes' minds. For instance – are there actually 11 players for the match? Can we juggle junior keeper/spinners across 40 overs so that they can both bowl? Will the gang of local youths on electric scooters disrupt play by buzzing across the outfield again? Why is there a concerning burnt-out LandRover Evoque in the Cav car park?
In any event, Skipper Keith's increasingly frantic appeals proved successful – a full roster of 11 present and correct, including league debutants Rahul and Aadi Khadse and young Freddie Charman making only his second appearance. The captain's plan was clear – win the toss and field, with a light-looking batting lineup to protect. Alas, the skipper's plotting was undone at the first – a silver medal his only reward at the toss, and the Fives invited to have a bat.
Not all bad news though for Keith, never one to feel too downbeat about sticking on the pads, and he was joined by James Stronach to get things underway. A strong opening from a talented Stew Mel attack was met with obdurate resistance and flowing strokeplay from the openers, respectively, and a good partnership started to build. The 50 partnership came up in the 15th over and both openers looked well-set to go on. Unfortunately J Grace (sadly no known relation of W.G.) had other ideas and managed to slide a quicker one under James' bat – a fabulous knock again though from James, full of intent and blending solid defensive technique with perfectly timed attack (J Stronach 35). Dougie Firth joined Keith in the middle and dispatched a number of crunching pulls and sweeps; at the halfway mark the Fives had advanced to a healthy 78/1. However, the curse of drinks struck once again as Keith made the very faintest of contacts with a shorter ball, shaking his head ruefully as he walked (K Murray 18). Paul S joined Dougie, but not for long as the youngster could only dink one to mid-on, good quick runs though and a shame he couldn't go on (D Firth 18). Harry bustled out to join Paul, but the elder Charman's hustle proved just too much for Paul, called through for a tight second and marginally short of beating the throw (P Stones 4). The departure of Stones the elder meant the arrival of Stones the younger – at 100/4, could the U14 pair recover from this wobble?
They certainly gave it a good go – plenty of quick singles and a dismissively flicked six off his pads from Oli moved the score to 118, but the introduction of H Craigie proved the undoing of both in consecutive balls (H Charman 8; O Stones 14). Rahul and your correspondent were now tasked with (i) negotiating the hat-trick ball and (ii) getting the score up around the 150 mark. First aim successfully negotiated with a textbook bowler's forward defensive, then Rahul showed that this wasn't his first rodeo, nudging the singles then hitting a lovely sweep for 4 before holing out (R Khadse 8). Young Freddie did the right thing and scampered a few singles before spooning a return catch (F Charman 2); with only a few balls remaining and Kyle now at the crease your correspondent had to go for it but was short of his ground thanks to a direct hit (E Murray 10). Aadi only had a couple of balls left to face, and managed to scurry a final bye. From 40 overs, the Fives had made 144/9 – maybe under par given the good start, but a solid effort from such a young and inexperienced batting lineup against a more than decent StewMel attack.
Innings break done and the Fives hit the field. Regular opening strike bowler Kyle and sla foil Harry to start – and despite Kyle's usual volley of quick, accurate inswing there were no immediate breakthroughs. Instead, Harry found the first joy with a big lbw shout answered in the affirmative; Kyle then pitched in courtesy of a fine catch from Keith in the covers, before Harry struck twice in quick succession to leave Stew Mel reeling on 35/4 from 10. Needing to consolidate, juniors A Bruce and H Craigie dug in admirably – with the scoreboard starting to tick over, the pressure told and Rahul's figures suffered from some slips in the field as well as a number of fine shots from the Stew Mel youngsters (R Khadse 5-0-36-0). Keith turned to Harry in the hope of securing what looked as if it might be a match-winning breakthrough, but he was met with respectful defence to finish without further reward (H Charman 8-0-24-3). Oli had a little more joy – difficult as ever to get away, he responded magnificently to being driven miles over mid-off by taking the important wicket of Craigie, clean bowled for a well-made 27 (O Stones 5-1-13-1). Aadi showed no sign of nerves in his debut match and snared the dangerous looking left-hander Bruce, another good knock of 22, and really well bowled for some bragging rights over his dad (A Khadse 2-0-5-1), while fellow youngster Freddie went even better, rewarded for a full length and tight line with both a stone-cold LBW and the prized sight of the bails flying (F Charman 2-0-7-2). Kyle was recalled to look for the final wicket but had to satisfy himself with his earlier success (K Burgess 6-1-21-1); meanwhile, your correspondent trundled away at the other end and managed to winkle out the remainder of the tail (E Murray 4.2-0-12-2). StewMel 4s 117a.o.; Carlton 5s win by 28 runs.
A very good win for the Fives, with some very pleasing stats – an excellent 54 run opening partnership laid a good foundation; despite a middle-overs wobble contributions kept coming from right down the card to ensure a decent total, a great example of the value of batting out the overs (25 runs were added for the 7th, 8th and 9th wickets against a winning margin of 28). After an explosive start with the ball from Kyle and Harry, at 77/4 from 17 the StewMel chase was well on track, so it was great to see OIi, Aadi (on debut) and Freddie stepping up to take important wickets in a situation where scoreboard pressure was against them. And another match with extras conceded in the single digits, continuing a good run. Our matches against StewMel are always a great pleasure and this one was no different – a game playing in excellent spirit featuring super performances from juniors on both sides, and one which could easily have gone either way.
Euan Murray