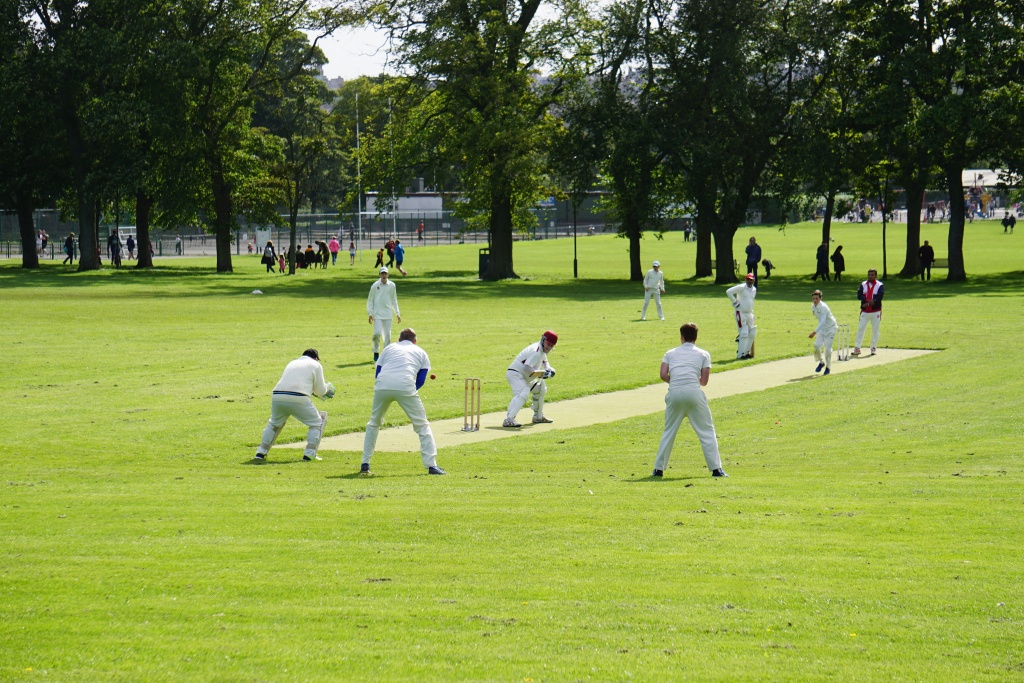 Drummond Trinity 2s 120ao (Stuart Dawson 2-12, Ben Stronach 2-20) bt Carlton 4s 99ao (Mike Kennedy 31, Paul Kentish 20)
Edinburgh's parks have very different characters.  The Meadows is the archetypal city centre park – teeming with life of many forms.  Even on a wet day, there will be several different sports being played there, and woe betide the poor captain who tries to play a home cricket match there on a sunny weekend afternoon.  The Inch is pretty much the opposite – there might be an organised game of cricket or football, but otherwise the park will be the preserve of dog walkers.  Cavalry Park is similarly quiet, except that the dog walkers come in families.  Leith Links is almost as lively as the Meadows, hardly surprising given that it is Leith's city centre park … and so on.
Inverleith Park is my favourite though.  The views of the city are a good start, but what I like most is the sheer breadth of activity going on there.  When the 4s started trickling in to prepare for their match against Drummond Trinity, there was a game of football in progress on the outfield; a junior tae-kwondo class at long on; and a game that we tentatively identified as Aussie Rules in the distance, well beyond the long off boundary.  Unfortunately, as the 4s had unaccountably failed to include an Aussie in the team, we were unable to confirm or deny that identification.  The list goes on: tennis, rugby, a large and enthusiastic play park, a boating pond …
Slowly, cricketers began to materialise one at a time, a minor side-effect of lockdown – where they would usually share lifts and materialise in twos and threes, they now drift in singly.  This leads to the slightly disconcerting impression that the game is a bit of an accident – no-one expected a cricket match, but now we have all these cricketers, we might as well play one. The footballers were politely moved off the pitch, stumps and boundary markers appeared.  The 4s' extensive warm-up sprang into being; opposition made themselves known.  Captain Paul and Drummond Trinity's captain repaired to inspect the astro and toss the coin; Drummond Trinity were elected to bat first.  The 4s' warm-up gathered pace: the juniors settled into slip-catching routine (somewhat irrelevantly, surely they all realise that they are there to run enthusiastically around in the outfield?).  Spotting the fast-fielding James as an unexpected bonus junior player, the senior players began to compare injuries and wonder aloud about the benefits of a substitute fielder.  "My knee", grumbled one.  "My hip", muttered another.  Sadly for the injured parties, a brief player-count revealed that all present – including a clearly delighted James – would have to field, at least initially.
Rudy limbered up at the top of Inverleith's considerable slope, and steamed in.  After an exploratory single, he struck, skittling number 2!  Ben took over from the flat end.  After an exploratory single, he too struck, knocking number 3's stumps flat!  6-2 after 2 overs!  Rudy and Ben continued in tandem; gradually Drummond Trinity's numbers 1 & 4 settled in and started playing shots, including a mighty six.  Dougie replaced Rudy; Cameron, off a short run-up to test his recovering ankle, bowled one over, decided his ankle wasn't quite recovered yet, and was replaced by Stu.  Dougie induced an edge off the dangerous number 4, well taken by Kaz behind the stumps.  Stu went one better, catching the dangerous number 1 himself off his own bowling.  Joe took over down the hill, bowled two tight overs and lured number 5 into lofting a catch straight to Ben to complete a wicket maiden.  At the half-way point, Drummond Trinity were 68-5.  The question was: do they have a tail?  Or how deep do they bat?
The considerable slope was taking its toll on the bowlers' rhythm.  Run-ups weren't quite where they were supposed to be, shoulders weren't quite in their usual position when they reached the crease, even the crease seemed to be jumping about and landing in unexpected places.  The 4s' extra count climbed vertiginously, wides and no-balls increasing at more one-an-over.  Stu and Joe continued bowling.  Two more stingy overs passed, then Stu teased number 7 into lifting a catch to Mike, patrolling in the covers – another wicket maiden.  Joe bowled yet another low-scoring over, then Max replaced Stu, and expertly caught number 8 off his first ball, before bowling out the third wicket maiden of the innings.  77-7 off just 24 overs.  Rory took over from the Hill end; spin from both ends confounded the batters into a classic comedy run out, and Ben had all the time in the world to lob the ball into the untended bowler's end.  83-8, hope sprang eternal – at least in the younger players' breasts.  Cricket however has a habit of changing pace, and this match lived up to that unproven assertion.  Number 10 was a big hitter, and number 6 was content to keep him company, scoring singles occasionally when required.  Two mighty sixes flew from number 10's bat, along with the aforementioned singles and, I am sorry to report, a continuation of the pattern of extras from the earlier overs.  The onslaught didn't last long – 5 overs later, Rory trapped number 10 LBW, but the score had climbed to 115-9.  Ben returned, gave up a 4 to number 11, then splattered his stumps for his second clean-bowled wicket.
I would like to report that the interval chat dissected the 4s' chances of overhauling 120 runs, maybe analysed the bounce that they had observed on the astro, moving on perhaps to a general discussion on the run rate required, and commentary on the batting tactics …  It is important, I feel, that match reports have some basis in truth though, so I am forced to reveal that most of the interval chat concerned what the long-suffering parents of the junior players had provided for their lunch/tea.  The actual details need not concern us here.
Paul and Cameron strode out to bat.  Drummond Trinity's opening bowlers were quick and probing – also clearly used to the slope.  Paul latched onto a loose ball, and propelled a cover drive towards us at the boundary, which stopped, agonisingly, six inches short.  Two overs later, he repeated the shot, which this time stopped, agonisingly for the fielding team, six inches over the boundary.  It was that sort of outfield.  Scoring was slow, but it didn't need to be quick.  Without attacking very much, Paul and Cameron were comfortably keeping up with the required run rate.  Cameron succumbed to a yorker, and Max joined Paul.  Max had clearly done the arithmetic too, and didn't try to force the pace, mixing alert straight-batted defence with more ambitious swings at the bad balls.  Paul motored on, until quite against the run of play, he was adjudged caught behind off the very faintest of very-faint faint edges for 20.  That unfortunate event brought Mike to the crease.  Boom!  A four creamed off his bat on his very first ball.  Despite that opening, even Mike wasn't at his most barn-storming, scoring in singles for the first half of his innings.  He began to open up after that however, smiting boundaries, and even running a lesser-spotted 3, aided by an un-backed-up shy at the stumps.  On the stroke of the interval-formerly-known-as-drinks however, Mike tried a swing too far and was bowled for a fine 31.  At said interval, the 4s were looking reasonably secure at 74-3, chasing just 121.
The second half of the innings started about as badly as a second half can start: Max was bowled for a mature and battling 10, immediately followed by Rudy, missing a seaming ball.  Stu avoided the hat-trick ball, but three wickets in three balls made the 4s' task look rather harder.  Brian and Stu dug in, but Stu was caught trying to get the scoring going again.  Wickets fell at an alarming one-an-over: Rory swung at a straight one and was bowled, Brian was trapped LBW, Ben was bowled.   Suddenly, the 4s were 82-9 off 27 overs, 39 more runs needed, and the last pair at the crease.  Joe and Dougie still only needed 3 runs an over, but crucially they needed zero wickets to fall.  The settled down to the task, scoring in singles, and benefitting from an over with a generous string of wides.  They were just beginning to look comfortable when they set off for an optimistic run, and Dougie came a close second to the ball in the race for the bowlers end.  The 4s were all out for 99.
That was a shame, and perhaps closer than the scoreline suggests.  A couple of moments going differently could have given a different result; on a different day, those same players, doing more-or-less the same things, would have gone home with a win.  As if to remind us that cricket goes on, as we packed up and walked away, I looked back to notice that football had resumed on the outfield.  I do like Inverleith Park.
The final word, for the second match report in a row, goes to the opposing skipper: "Your team really played well with 6 amazing youngsters with so much potential."  Indeed.