Weekend round up – 22nd/23rd August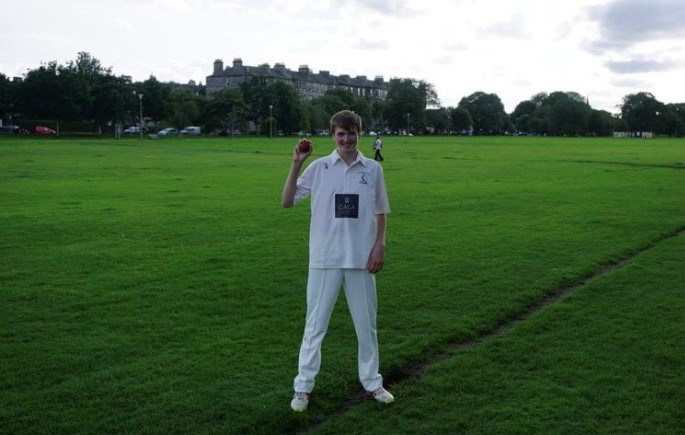 The second weekend of fixtures against other clubs saw two outstanding performances from U15 bowlers.  Dougie Firth (pictured above) claimed a hat-trick in the 4th XI win over Leith FAB 2s on the plastic pitch at Leith Links.  Meanwhile in the 2nd XI game at Grange Loan Ru McIntyre ran through the Heriot's 2s top order, picking up 5 for 17, to set up a comfortable victory for the home side.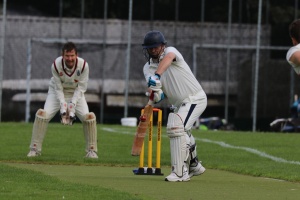 The 5th were again the first underway playing Watsonians 4s at Craiglockhart with an 11am start.  Skipper Keith Murray won the toss and elected to bat first.  This looked a bold decision as the 5s slumped to 29 for 5, but 20 from John Beattie and some good lower order hitting & running from the U12s – Oli (17); James (12) & Robbie (7), a competitive total given the slow outfield was in reach.  With the home side having 12 men, Mike Kennedy got another go at the end helping the 5s post 110 from their 40 overs.  An excellent bowling and fielding performance restricted the home side to 82 all out with wickets for all 6 bowlers used.  James Stronach and Oli Stones both finished with 3-11.  [Click here for some excellent photos from WCC photographer Graham Gaw.]
Next up were the 1st XI away at Goldenacre.  Tom Simpson won the toss and also chose to bat first.  After the early loss of Hayden Laing, Arun Pillai and Simpson rebuilt and put on 47 runs before Pillai holed out for 38.  Wickets fell at regular intervals thereafter as Carlton struggled to 118 all out in the 40th over.  Two wickets for Ali Evans and one from Rory Allardice saw Heriot's 46 for 3 but despite Pillai picking up another the home side cantered home in in the 29th over.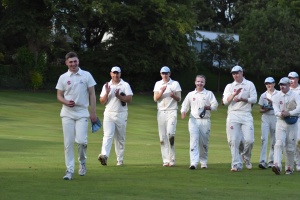 Back at Grange Loan the 2nd XI entertained Heriot's 2s.  Harry Simpson lost the toss and was invited to bat first.  A steady start from openers Murray Whitaker and Chris McAllister  saw them put on 61 for the first wicket before McAllister fell for 30.  Simpson joined Whitaker and formed another half century partnership before Whitaker went for 59.  Chasing quick runs wickets began to fall, but the 2s pushed on to 202 for 8 with Simpson falling 5 runs short of his half century.  Young Ru McIntyre picked up a wicket in each of his first 5 overs to decimate the visitors batting line up.  Callum Sibley claimed 2 and there was one each for Charles Stronach and Mikey Brown as well as a run out as Heriot's were bowled out for 90.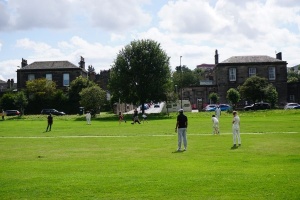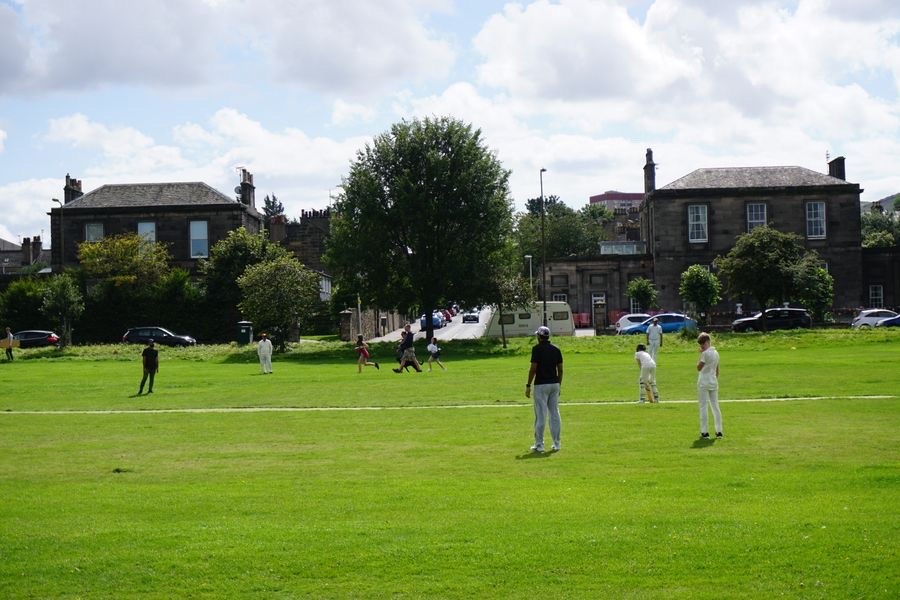 The 4th XI travelled to Leith Links to play Leith FAB 2s on the artificial and were inserted.  Skipper Paul Kentish (44) and Brian Kaczynski (52) were the mainstay of the Carlton total of 159 with good support from Jamie Beattie (18).  The Leith reply was blunted as Tom Leftley picked up 3 wickets, and although wickets fell regularly the home side was up with the required rate.  Any thoughts of a Leith victory were kiboshed when Dougie Firth removed numbers 8, 9 & 10 in consecutive deliveries to claim the rarest of feats, a hat-trick.  In the end Leith were bowled out for 123 in the 31st over to see the 4s back to winning ways.
On Sunday the Women travelled to Barnton to take on RH Corstorphine and managed to complete a few overs before persistent rain set in and forced the game to be abandoned.
The 3rd XI were due to entertain Kirkbrae but were left watching the rain fall for an hour or so before conceding to the inevitable.