Lads & Dads enjoy the sunshine in Peebles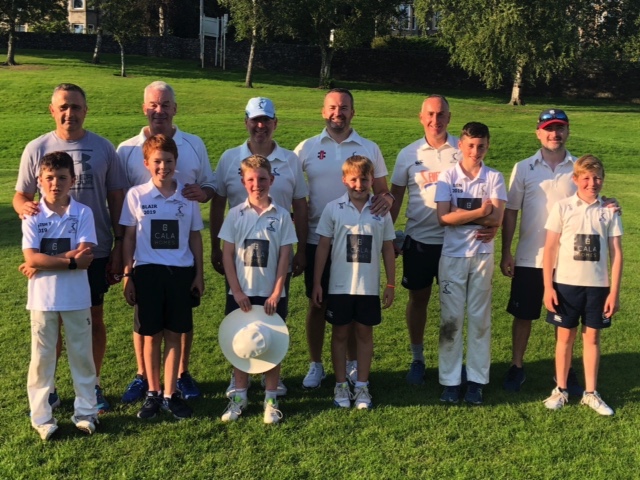 A team of players and parents travelled to Peebles on Sunday 25th August for a friendly at a sun drenched Whitstone Park. The team was Robbie & Keith Murray, Ben & Charles Stronach, Oli & Paul Stones, Lewis & Alan King, Blair & Ruari Mackenzie, Hamish & Angus Turner.
As there were so many juniors on both sides, it was agreed to play u14 rules, so each batter faced 20 balls unless they got out. The (mainly) youthful Carlton bowling attack restricted Peebles to 114 in their 30 overs. The juniors all bowled well. Most of the Peebles runs were hit off two eventful overs bowled by the Carlton skipper Keith Murray. Wickets were shared around, with two sharp slip catches by Ben Stronach and two caught behinds by the keeper, Alan King.
After an excellent tea, complete with delicious pies, the Carlton batters chased down the total with an over to spare. Paul Stones was the top scoring parent and Ben Stronach and Robbie Murray both hit 12 off their 20 balls. Regular updates on the Scottish Cup final and test match were relayed to the players in the middle.
Manythanks to Peebles for a fantastic day in the glorious sunshine. We eagerly look forward to the return match on 1st September.