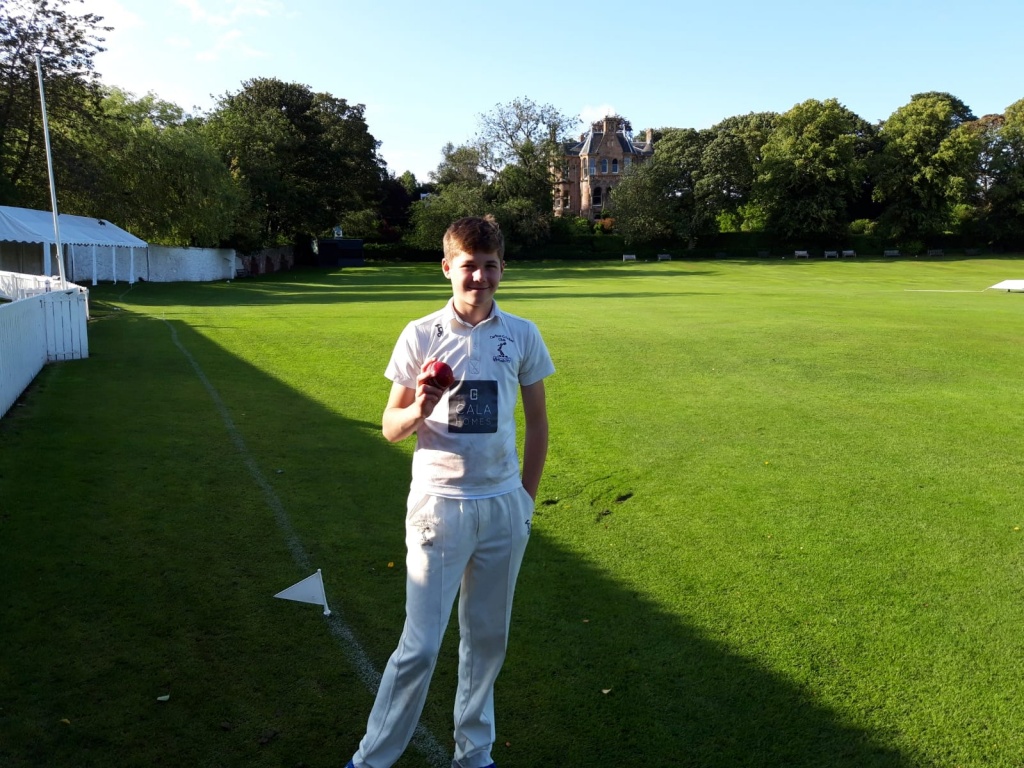 Your usual correspondent had declared himself unavailable for the Famous Fives' clash with league leaders Bass Rock, so readers will have to make do with a report from the skipper. Any suggestion that Euan Murray had ruled himself out of the match to avoid having to bowl against the top team in the league, who had consistently posted huge totals against Division 7's unfortunate bowlers, was surely wide of the mark.
However, it was an unavoidable fact that Bass Rock were unbeaten in the league and had four top bats, who had carried all before them to date. The 5s assembled at a breezy Meadowmill, delighted at least that they were going to get a game after so many call offs. The toss was negotiated by the skipper and Bass Rock agreed to bat. The arti looked tolerable, although the long outfield indicated that runs along the ground were going to be hard to come by. There was also a short boundary on the windward side, with a very long one leeward. Not ideal against the firepower of Bass Rock on a very blustery day.
The match featured all three Stronachs, Charles, Ben and James, on league debut together and started before all the Carlton team had arrived, Bass Rock providing a sub fielder for Paul Bailey to enable a start ahead of time. Inevitably, the skipper decided to open the bowling against such a high powered batting lineup with two 12 year olds. Ben Stronach opened at the A1 end, with Max, "the Maxinator" D'Ulisse, at the other. The skipper's faith in the youngsters yielded an early breakthrough as Max had the dangerous left hander Amis caught brilliantly in his first over by 10 year old keeper, James Stronach, off a big edge that bounced off James's chest only for him to bag the catch with aplomb. A great start to the innings and one of Bass Rock's big four bats back in the hutch early doors.
Unfortunately, this brought their No. 3 and top Division 7 batsman Milne to the crease. He opened his scoring with a big six over mid off that was smashed with his customary clean hitting. He was very positive in his batting throughout his innings, a great lesson for the youngsters present, and a game of cat and mouse ensued whereby the skipper posted fielders on the boundary where he had deposited anything slightly short or full, only for Milne to then hit the ball to a different vacant area.
Ben Stronach continued to bowl great line and length and he too was rewarded with a wicket, clean bowling the other opener Hensley. He could have had another if a difficult chance off Milne had been taken. Mark Mackay replaced Max and got into his rhythm after a couple of overs of punishment from Milne. Charles Stronach replaced Ben and tied up one end, which in turn put pressure on the batsmen to score at the other end.
By the 17th over, Bass Rock had amassed 75 for 2, mainly to the free scoring Milne. The skipper then turned to Rory Ledingham, who produced a peach of a ball first up to bowl Milne for a breezy 55. Two top bats down, two to go. This brought Bass Rock skipper, Nick Murden, to the crease, but he was quickly removed by Charles, adjudged LBW off one that cut back sharply. Three down, one to go. The final big bat, Bainbridge, then joined Lyall in the middle, in what was likely to be the last big partnership. Charles finished on excellent figures of 1 for 10, which did not really do justice to his vital contribution to containing the Bass Rock bats.
After an illicit drinks break in the midst of a now fierce gale, Bass Rock continued to accumulate, but with a lot more caution than they were used to. Ben finished his 8 overs with figures of 1 for 26, a great job considering the quality of the batting. The dangerous partnership was ended by the return of Max who bowled Lyall as a result of great pressure. Mark then removed Bainbridge at the other end and the last of the Bass Rock big bats was gone, their innings in real trouble at 126 for 6. Max finished with figures of 2 for 40, but with two vitally important wickets, removing top order batmen as he has done so often this year. Rory replaced him and continued to bowl with great accuracy, picking up three further wickets as the Bass Rock batsman struggled against his line and length. Their last wicket fell in the 38th over, courtesy of a run out following an ambitious attempt at a second run. Mark finished with figures of 1 for 35, a solid contribution, and Rory took 4 for 18, a superb performance against a top side, including removing Milne. Bass Rock were all out for 141, their lowest score of the season.
The fives enjoyed an excellent al fresco tea and pondered the prospect of defeating the hereto unbeaten league leaders. Bat the overs and they had excellent chance.
The skipper opened with Paul Bailey against the strong bowling of Milne and Higgs. Early communication between the batsmen proved tricky as the incessant road noise from the nearby A1 and howling gale made any call impossible to hear, particularly as neither batsmen has particularly good hearing anyway. Eventually, they agreed just to run if it looked like it was on. However, Bass Rock were clearly fired up by the prospect of losing their unbeaten record and bowled with great accuracy and intensity. The skipper was first to go, offering a leading edge that was caught at silly mid off. Then Paul was bowled by a good ball from Milne. Fraser Kentish quickly fell too, another victim of Milne, unfortunately not being able to repeat his fine form against Falkland. John Beattie offered some resistance, but was bowled by Armstrong for 13 by one that turned. Only Martin Robertson continued his excellent form this season and set about the Bass Rock bowling, hitting several boundaries and running with his customary aggression. Ben Stronach was out first ball, stumped, but his younger brother James, fresh from hitting 50 the previous night for the U12s, stayed with Martin for a while, building what looked to be a promising partnership. Unfortunately, he cut a ball straight to gully and was caught for promising 6. Max also joined the Primary Club, stumped first ball. As a huge black cloud appeared, the teams agreed to play on to get a result in case the rain ended proceedings. In fact, after some heavy squalls, the worst of it blew through, and the sun came out. Charles joined Martin and hit a few good shots before edging another catch to gully. Rory and Mark were also out for ducks and Martin was left stranded on 36 not out, with the score a very disappointing 74 all out in the 25th over.
The first feeling after this match was one of disappointment that a chance to beat a very good team had been missed. The senior batsmen, apart from Martin, had failed to get going and there were no significant partnerships. However, there was also great pride in how the team had bowled and fielded. Bass Rock stated plainly that we had produced by far the best bowling performance they had faced all year. Huge credit must go to all the junior bowlers and to Charles. James also kept superbly behind the stumps and the bowlers were backed up by a tigerish performance in the field. Very well done to all.
Many thanks to Bass Rock for a great game played in fantastic spirit. They are typical of so many clubs in Division 7, who are a joy to play against, whatever the result. Good luck to them next year.
Keith Murray