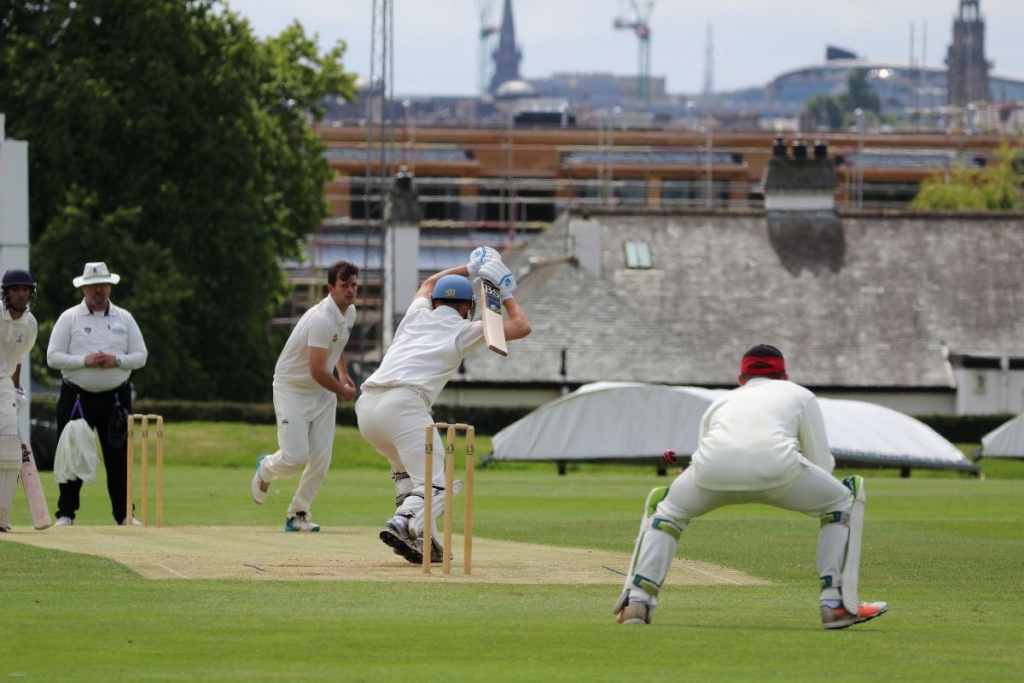 Saturday saw the 1st XI travel to Inverleith to face Stewart's Melville on the back of some strong 50-over form looking to secure their position at 3rd in the league. A usually freezing ground, for once this weekend was not plagued by its usual chilling winds and instead allowed for a tanning opportunity particularly for the lower order as Captain Evo won the toss and elected to bat on a wicket he believed would break up as the match progressed.
The openers Kyle and Shujaa began positively in the face of some strong bowling from overseas pro Pillay as they looked to rotate the strike and keep the scoreboard moving however it was Shujaa to fall first getting a leading edge off Wilkinson who was using the tricky pitch conditions to his side's advantage. Pillay continued to bowl a strong spell and eventually got the wicket of Kyle playing on for 12. This brought Simmo to the crease who was dropped first ball hooking a ball to fine leg that was spilled. He continued to be tested and had decided the best course of action was to "nick it but nick it with soft hands so it didn't carry" a plan which he executed beautifully until a catch was claimed at first slip.
Corne then joined Arun and the two batted well punishing the change bowlers at regular intervals, rotating the strike and benefitting from a strong contribution from extras. The two had brought the score up past 120 when Corne fell to an optimistic LBW appeal.  Arun soon followed 10 runs later as the two both perished in the 30s courtesy of Sweet after having constructed strong and well measured innings. Ali and Porker then joined together and continued to up the scoring rate as Shah struck multiple boundaries and Neame cleared his front leg and the ropes on two occasions. Ali looked to emulate this as he too fell victim to Sweet running past one and being stumped for a well-made 37 just before the score reached 200.
The lower order then looked to add vital runs at the end of the innings as Parker continued to bat well alongside them. Evo and Shiv both fell victim to impressive catches on the long-on boundaries and Parker was bowled for 36 looking to up the scoring rate further in the final few overs. This left Rory and Raza to bat out the remaining deliveries taking the total to a very respectable 235 on a tricky pitch. Special mention must go to an excellent spell of 2 for 15 by Pillay who troubled all batsmen and on another day could have picked up many more wickets.
Corne and Shiv began the innings well both getting the ball to move and troubling the opening partnership who could only add 9 runs before Bisset was done for the day as he shouldered arms to a Corne delivery that nipped in and took off pole much to the delight of Simmo in particular. The pace of Evo and Corne then tested the young top order pair or Wilkinson and Miller who eventually both became unstuck after making some streaky runs both being caught at mid off by Razagram off the bowling of the Skipper. This brought the Pro – Amateur pairing of Pillay and Sweet to the crease with 180 runs still required for victory. Raza and Rory then looked to restrict runs through the middle overs and let the run rate climb and the Arrows were eventually rewarded with a tactical miss-field from Corne that led to the run out of Sweet. Rory then struck the very next ball after drinks with his trademark Doosra that foxed the incoming Ritchie who became the second Stew Mel player of the day to be dismissed while leaving the ball. Pillay would follow just two overs later after walking across his stumps and being bowled round his legs.
This sparked a counter-attack by Parker and Ruthven as they added nearly 50 runs for the next wicket through some more attacking stroke play until Arun dismissed Ruthven courtesy of calm catch by Shiv at long on. Wallace then came in and hit a few lusty blows over the ropes before being removed for a quick-fire 21 by Raza who struck again next ball removing Parker after a gritty captain's innings. This flattened any hope of a Stew Mel comeback and the last wicket was taken courtesy of a Kyle run-out who exemplified the strong standard that was set in the field all day as they were all out for 170. Evo was the stand-out returning figures of 2 for 14 and denting Stew Mel's top order considerably.
All together an assured performance in all 3 facets of the game coming away with a strong win at a ground that is not easy to travel to. This solidifies the 1s spot at 3rd in the table and makes next weekend's game against 2nd place Grange carry even more significance than normal for a Stags clash.
Rory Allardice