U14s into the second round of the Scottish Cup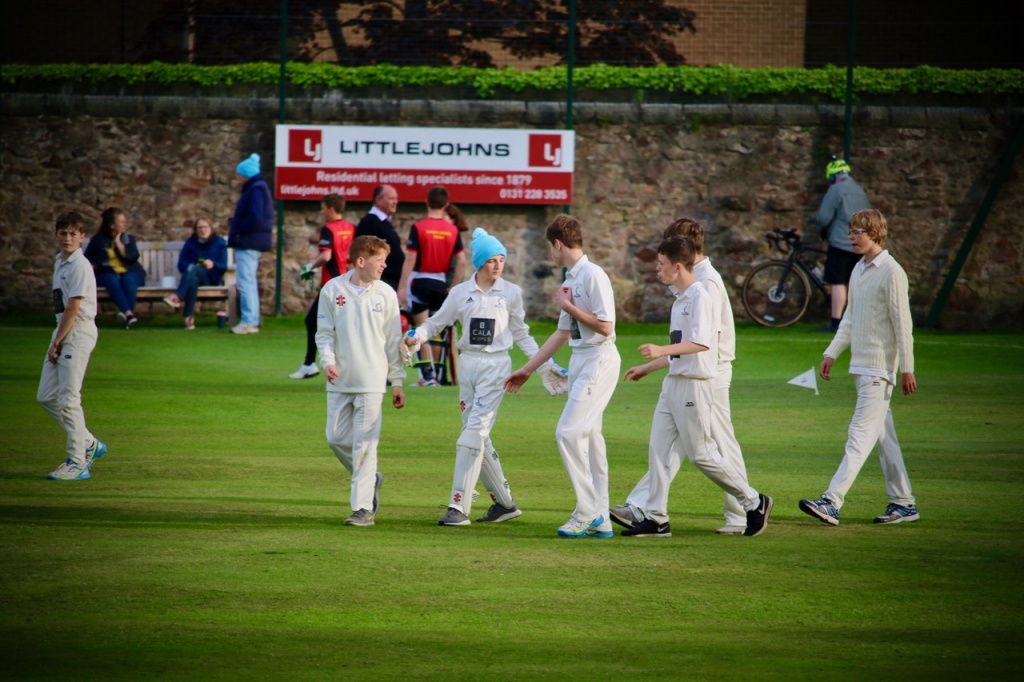 The U14 Cup side welcomed their counterparts from Stewart's Melville to Grange Loan on a sunny but cool evening for this Scottish Cup first round encounter.  Having been inserted Gav and Thomas got the home side off to a good start before the latter fell for 9 in the 3rd over (23-1).  Euan joined Gav and continued to put pressure on the bowling side before he was bowled for 10 (41-2).  Charlie was next in and immediately looked in good touch.  The scoreboard was moving along nicely but a few dot balls induced Gav to try to force things and he fell to a good catch at midwicket for 24 (63-3) in the 9th over.  Matthew joined Charlie and put on 28 in 16 balls before Charlie (30) retired (91-4).  New man Jamie kept things going before he too perished to a good catch in the deep (110-5).  Isaac joined Matthew and after getting his eye in turned the strike over nicely. Matthew eventually went for one big shot too many, finishing on 27 (127-6).  Ally Paul showed some alert running to put on 21 runs with Isaac before he was bowled by the returning opener in the final over (148-7).  Fraser came out and helped the home side post 150 from their 20 overs with Isaac ending unbeaten on 26.  A good batting performance, highlighted by the fact that the smallest partnership was a healthy 17 runs.
A quick turnaround saw Mark take the new ball and after a couple of looseners produced a fine delivery to remove the Stew Mel No 1.  Jamie joined the party picking up the other opener in his first over leaving the visitors in trouble at 2-2.  The new batsmen rebuilt over the next couple of overs but when Rudy joined the attack his dot ball pressure led to a run out (13-3).  In his next over he picked up two wickets, both clean bowled to blunt any hopes of a Stew Mel recovery (16-5).  To their credit they stuck in and their No 4 (Murray) played very well to retire on 30.  His 53 run partnership with No 8 (Thomas), who ended on 24*, helped them post 91 for 7 from their 20 overs.
In the end Carlton ran out comfortable winners, lots of good partnerships helped them post a challenging total and a strong bowling and fielding performance made sure of the result.  A harsh critic might note that we lost the wide count by a significant margin (23 vs 12) and the keeper's choice of headgear didn't meet universal approval, but the U14s march on to face Grange in the next round.