Eagles soar; Falcons sore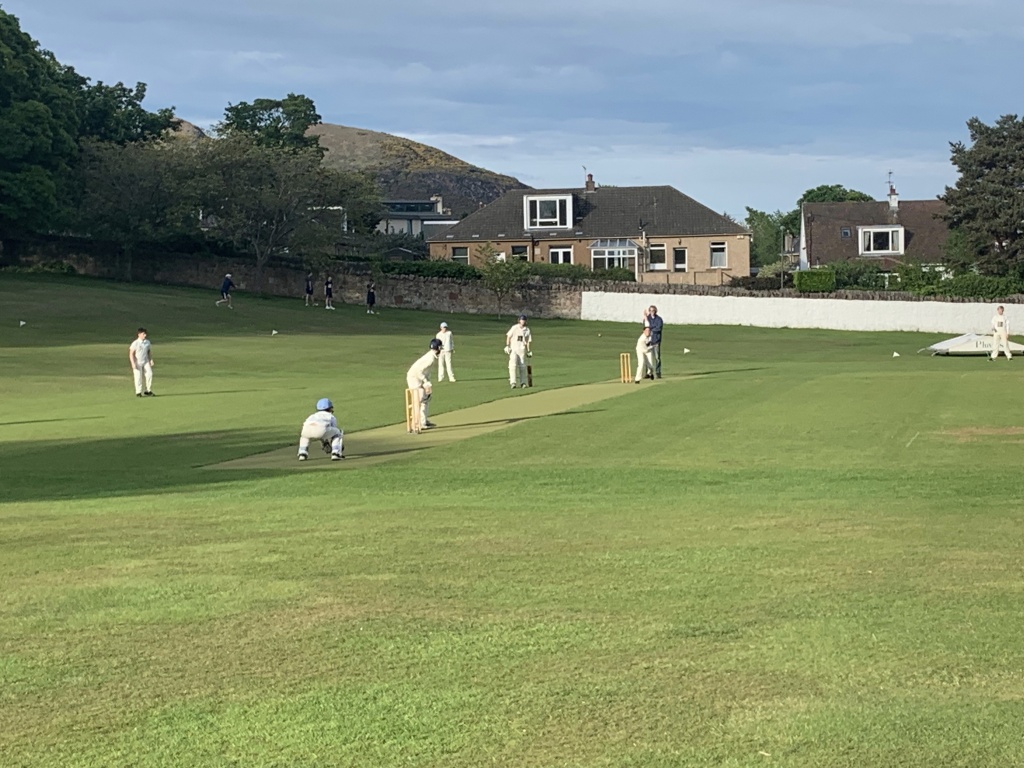 Carlton Eagles 143-4 bt Carlton Falcons 142-4
Eagles' innings: Thomas Robertson 43no, Gaby Taylor 19; Matthew Restall 1-13, Ally Paul 1-16
Falcons' innings: Rudy Adair 21, Matthew Restall 18; Jack Taylor 1-15, Isaac Foley 1-18
Captain Ally's summary: The team played really well and I'm very happy with the performance. I think at the end of the day the one thing that got us were all the nicks that the other team's batters got. Now we know what to do and cannot wait for the next match.
On another sunny May Monday evening, the entire U14 squad assembled at Grange Loan for the first of this season's U14 derby matches.  The Falcons welcomed Archie & Matthew for their first appearance of the season, the Eagles called up super-sub Max.  Derby matches between these two teams – or at least their previous incarnations – have a splendid history of heroic batting achievements: readers with a long memory will recall Thomas & Gaby on different occasions last year mounting determined assaults on their opponents' bowling in a bid to single-handedly win games.  On this occasion, the omens were good for a competitive encounter: the Eagles were coming off an astonishing victory against Watsonians, in which the two teams scored almost 400 runs between them; the Falcons had also emerged comfortable winners at Livingston.  So the stage was set for an epic encounter.
Amongst the many perils of match report writing is the inevitable sequence of writing one week that a certain event "always" happens, only for it to conspicuously fail to happen the following week.  So I was absolutely delighted when the ceremony of the toss delivered, for the second week in a row, the apparently illogical outcome of two happy captains.  Captain Ally expertly spun the coin aloft; Captain Rory firmly called "heads"; the coin duly landed with its head gazing at the sky; Captain Rory chose to bowl; and Captain Ally announced that he would have chosen to bat.  What is the meaning of this ancient ritual?
Matthew (obviously keen to get his Falcons season under way) and Dougie marched out to the middle to open the innings.  Matthew carefully watched the first two balls of Isaac's opening over, then clubbed an emphatic 4.  Dougie carefully watched the first two balls of Thomas' over, then clipped a gloriously lofted 6 effortlessly over backward square leg.  After a cagey third over, the pair continued steadily accumulating runs.  Matthew reached 18 off 20 balls in double-quick time, and was replaced by Freddie.  Dougie and Freddie carried on calmly accumulating; by the sixth over, the run-rate was motoring along at a healthy 8-an-over, when Zaara lured Dougie into an uppish pull shot, which was very well taken by Gaby at deep square leg.  Ally joined Freddie, and the bowlers began to regain a measure of control.  Max bowled particularly tightly, giving away just 4 runs in 2 overs, albeit without the reward of a wicket.  The batters were hitting the ball well, but consistently finding fielders rather than gaps, hence scoring in singles rather than in all-important boundaries.  Freddie reached 20 balls and retired (he's been out just once in four U14 innings so far this season), and was joined in the Rest Home for Retired Batters an over later by Ally.
Rudy and Kyle set about upping the run rate, not only by hitting the ball and running, but also by looking alertly for byes.  It sometimes seems unfair that a smartly-run bye is not credited to the batter; it requires quickness of thought, and is just as valuable as a hit run.  Kyle grew in confidence, cracking one particularly elegant cut past point for 4, until Jack fooled him with the canny bowler's trick of a wide followed by a straight one.  Unusually for U14 cricket, we were in the 18th over, and the second wicket had only just fallen.  Rudy hit his way to a fine 21, but was well caught by Jack at deep backward square leg, trying to keep the score moving along.  Sergi came in, and played a fine mini-innings.  He had only 7 balls to face, but he made the most of them, hitting 14 runs, including three 4s – the pick of them a classy push/drive through the offside field.  Calum supported him ably with some sharp running, until Isaac bowled him.  Archie came in with three balls to go, scrambled a bye off the first one, watched Sergi thump his final 4, and saw the last ball land harmlessly in the wicket-keeper's gloves.  He'll bat higher up the order next week!
The Falcons had posted 142-4.  That's a reasonable score for U14s, and would certainly have won two of their previous three matches, and very likely the third.  But this week, they're playing a team who scored nearly 200 the previous Monday …
Robert and Rory walked out to open the Eagles' reply.  Robert batted carefully, dealing in dots and singles.  Rory was more swashbuckling, hitting a handful of 4s, and making use of every available part of the bat.  Rudy and Ally struggled to maintain their control in the face of this hostility, until Ally finally induced Rory into middling a catch to a tumbling Freddie at extra cover.  This brought Thomas to the crease.  The Falcons found an ingenious way of keeping him quiet: they cannily allowed Robert to score in dots and even numbers, except on the last ball of the over, until Matthew pushed a quicker delivery through his defences and bowled him for a fine opener's innings.  Finally, nearly two overs after Thomas had walked out to bat, he reached the business end.  The Falcons discovered that their keep-Thomas-quiet tactic had a flaw: he was now in serious run-making mode.  Bang!  Blam!  Crash!  Smack!  (Note to self: need to buy a Thesaurus.)  An over and 16 runs later, Thomas was firmly in control.  Gaby, who had watched Thomas from the other end, was soon into the swing of things.  They traded singles, then 4s, then a glorious 6 each, both high over the leg-side boundary.  In a blink, Thomas' innings was all over, but he'd added 43 runs in his 20 balls.  Gaby was out the ball after his 6, perhaps unwisely trying to repeat the feat to Freddie's straight one.  But a lot of damage had been done; at the half way point, the Eagles had over 100 runs on the board for the loss of only 3 wickets.
Max and Jack carried on, albeit more quietly than Thomas and Gaby.  Max ran particularly alertly, scoring the classic junior cricket mix of singles and 4s.  Jack accumulated carefully, before snicking one to an alert Matthew behind the wicket.  Briefly, optimism reigned in the Falcons' ranks, but Isaac batted calmly, exchanging a clutch of singles with Max.  Archie bowled a tidy over for three runs to hold them in check for a moment, but Isaac finished the game off in the next over with a brace of crisply-struck 4s.
That was a very enjoyable game.  Thomas' batting was the absolute highlight, ably assisted by Gaby.  The Falcons couldn't keep going after an excellent start by Matthew & Dougie, and slowed down in the middle overs, although Rudy, Kyle & Sergi recovered well to post a competitive score.  Neither side bowled particularly well: there were a surprising number of extras from both sides.  In the field, there were great catches by Jack, Gaby & Freddie.  And as usual, a good spirit throughout – lots of chat, support and encouragement.  There is always a bit of extra chat in a derby game, and this one was no exception.  I'm not sure about the football-style chants though …
Thank you very much to Corne & Cheeky for coaching and umpiring, to Brian for umpiring, and to the small army of parents and other onlookers who supported the teams splendidly and helped to clear up at the end.  Next week: the Eagles return to Grange Loan to host Penicuik; the Falcons are off to Portgower Place to take on the Grange Tornadoes.