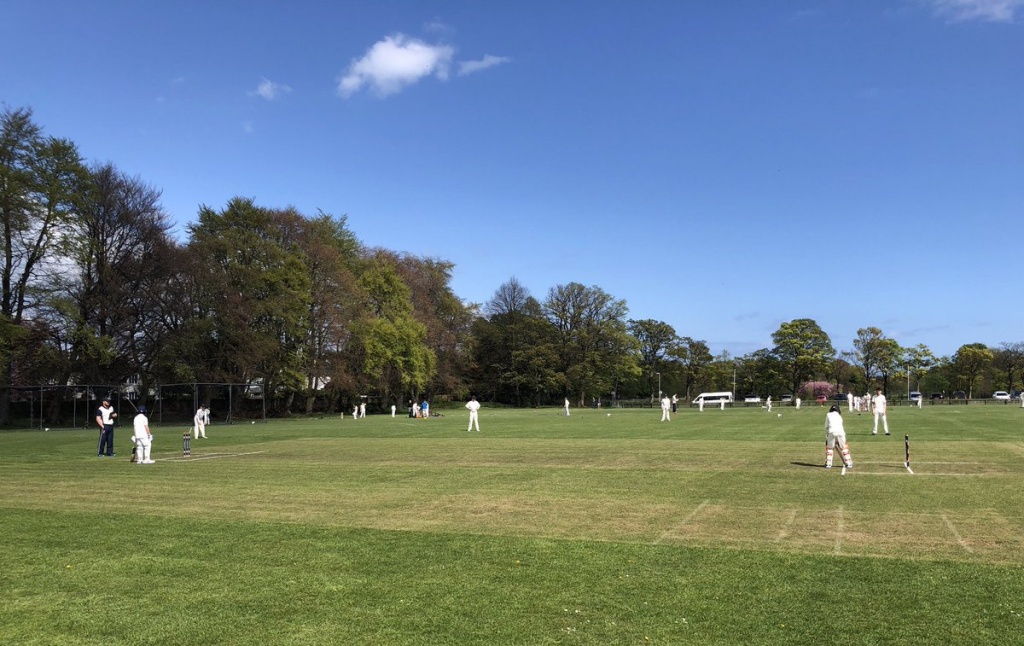 A lovely day greeted us at Cargilfield and Manu chose to bowl on what was a water logged pitch from the overnight rain. Some good bowling by all the team with Osian, Claude and Shourjo, who are all new to hard ball cricket, picking up wickets which was great to see. Tibbo and Jamie also bowled and will both improve with further practice in the nets and I am sure will be in the wickets in future games.  Our fielding performance was fantastic with a really good catch from Max deep at mid on and some really good chases stopping 4s from Rory, Calum and Jack, who showed their experience in the field which was great for the newer players to see how it is done.
Cargilfield had a few strong batters early on who showed good defence on the good balls (and there were plenty from our early bowlers), however they did punish the odd loose ball.  If you all work on good off stump bowling that will keep the run rate lower.  In the end Cargilfield made a good 116 for 5 from 20 overs. As is customary at Cargilfield a great tea was had by all.
Our batters knew what to do – get forward (as pitch was low bounce), play sensibly on the wicket and punish the bad ball much like Cargilfield had done.
Unfortunately, the start was poor with Charlie well caught in the first over and then 3 more wickets falling in the 2nd over with some good accurate bowling and a few shots played across the line from some of our more experienced players; Manu, Rory and Max all being bowled cheaply – at least Max avoided the hatrick!  Jack fell a few overs later and the score was 12 for 5 – we were in trouble.  Step up Calum and Jamie who both showed maturity and played according to the script with good running between the wickets and Calum with his strength hitting some nice 4s from the loose balls that were bowled.  A great partnership of 24 ensued and both were unlucky to get out and had secured a score for the team.  Claude, Tibbo, Osian and Shourjo all batted with grit and determination and given that all are relatively new to hard ball cricket did well and managed to take the score on to 48 all out.
The team all enjoyed the experience and there were lots of positives to take away in terms of bowling, batting and fielding. A few of the more experienced players learnt a good lesson on the importance of defence and getting your eye in especially on a wicket that was bouncing low from all the overnight rain.