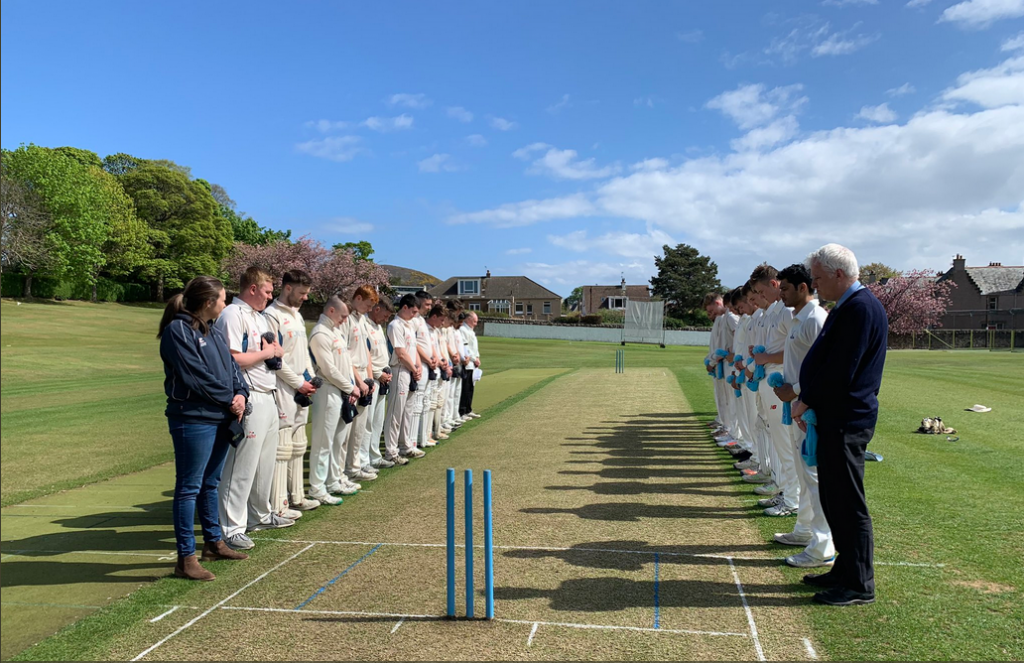 The first league game of the season was played on what started out as a fine day at Grange Loan against Stoneywood-Dyce. We started off the day by sporting our sky blue Beanies for Brain Tumours, supporting a great cause. Both sides showed our respects to the late Con De Lange with a minute's silence, which started on the umpire's whistle.
Stoneywood-Dyce were sent into bat and with the thought of rain around later on in the day and a youthful Carlton side took to the field. Shiv took the first wicket of the game, caught by Cheeky at midwicket. This left Stoneywood 10-1 off 3 overs.  With Calum holding up one end, the early pressure got to the Stoneywood batsman and Shiv took another, caught behind.  A good opening spell from both bowlers meant that Stoneywood were 11-2 after 5 overs.
Just as Stoneywood had begun to build a partnership and get into the game, Cheeky took a wicket through an LBW appeal, which ended this partnership and left Stoneywood, 65-3 in the 19th over. Rumac was then quick to take another wicket, that of the experienced Jan Stander, and Stoneywood were 71-4 after 23 overs and 75-4 at drinks.
Adeel was brought into the action and didn't take long to impact the game, bowling the Stoneywood skipper, leaving them 78-5. Adeel also showed some good fielding and composure to run out Dalton, leaving the visitors 104-6 in the 33rd over.
After a spell of good bowling from Carlton they managed to reduce the run rate and Stoneywood were 115-6 after 40 overs. Cheeky took another, this time bowled in the 42nd over at 128-7.  Arun took the next wicket although the partnership did do some damage with a well-made 44, taking the score to 143-8 in the 45th over. Some death bowling from Shiv allowed him to take another wicket, this time caught by Murray at long off.
Although Carlton managed to take some wickets towards the end of the innings, they had not managed to slow down the run rate in the last 10 overs and Stoneywood finished on 181 all out.
Kyle and Murray walked out to the middle, chasing a few more than expected; however an achievable task nonetheless. After a good opening spell of bowling from Stoneywood, the pressure finally got to Kyle as he top edged a pull shot and was caught at midwicket.
Skipper Arun was next to fall as he was given out LBW, leaving Carlton on 35-2 in the 12th and the skies clouding over. Just as Murray and Tom seemed to be building a partnership, Murray chopped it back onto the stumps and was bowled by Stander for 28, leaving Carlton 55-3 in the 17th.  Ali Shah was next to go as Stander also bowled him. A good spell of bowling from Stander was followed by another wicket, Hardie getting caught at point. Carton now 78-5.
Rumac was next in and got off to a good start, taking Carlton to 84-5 at drinks, 25 overs gone. Rumac and Tom Simpson's partnership unfortunately was cut short as play was stopped due to rain. Carlton were just behind on Duckworth Lewis.
Unfortunately that concluded the game, both teams hung around for a while but the rain would not subside and this meant that Stoneywood would win on Duckworth Lewis. A disappointing result, however there is a lot that the young Carlton team can learn and take out of the game.
Murray Whitaker