The Seconds warm up against Watsonians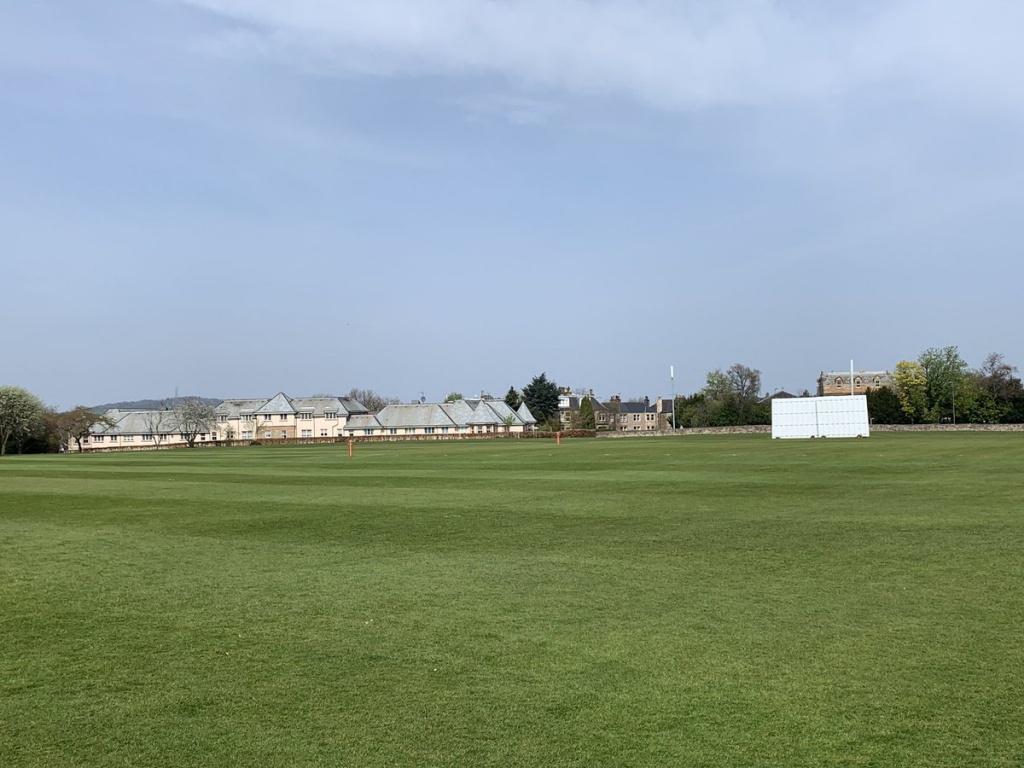 Lots of things are inevitable, and unpredictable, but one thing that is inevitable, is how unpredictable Scottish weather is. The previous weekend felt as though Scotland had travelled back to the ice age, however this weekend felt like a Spanish Summer's day.
Returning skipper Nick Martin lost an unpredictable toss and the young side were inserted. Debutant Nick White and Pete Gill strode out to the wicket and things were underway. In the fifth ball of the match Pete Gill was too early on one and chipped it straight up to mid off who took the catch despite the ear-aching sound Pete's bat made. Zaki walked towards the crease with tremendous confidence only to be wrapped in the pads first ball and have to walk back off again. The incident was described in just one word from square leg, 'plumb'. Another debutant Liam Jenkins joined up with fellow debutant Nick White and looked to rebuild. Nick White was bowled in the fourth over with the score at 13, wides the top scorer comfortably. The skipper got going with a boundary first ball and a healthy partnership developed. After a flurry of boundaries from both parties the score shot to 50 after just 9 overs. Liam knocking it around nicely and Nick Martin delivering a few lustly blows through both sides of the wicket. Liam unfortunately missed a straight one for a well earned 21 on a difficult track. After a 53 partnership Nick added 6 runs to the total before he reunited with Liam having given Joshi his second catch at mid off.
After 15 overs, inevitably Carlton seemed to have squandered a useful position and were 75 for 5. Gmac ran extremely well and Mo hit the shot of the day depositing the ball over the top of extra cover for a one bounce four. Mo followed a theme and missed a straight one and Sibley joined up with Gmac and formed another healthy partnership. Unlike Nick's style of play, Gmac and Sibley opted for lots of twos and singles. Gmac went for an extremely hard earned 30 followed by Sibley for 10. Ru joined U14 team mate Gav Murray and hit a clean boundary to cow for four. Ru tried to play the same shot and joined the club of missing straight ones having been bamboozled by the field change. At 9 down the inevitable happened and Carlton were bowled out for a defendable 153.
As tea was scheduled for 3:20 Carlton were tasked with bowling for an hour before refueling. Sibley and Ru opened up and the latter was rewarded for his line and length bowling the Watsonian opener in his first over. Amis and Abbey batted sensibly, not phased by the line and length of the opening duo, and Watsonians were 25 for 1 after twelve. Saif and Nick White came on to bowl and kept things tight in their first few overs. As the rate was climbing inevitably Abbey looked to push on and was subsequently bowled by Saif. Two overs later Saif bowled the opposition skipper and Carlton looked in control, albeit with Amis still there. Nick picked up his first wicket in Scottish conditions as Pete completed an easy catch at point.
Amis and new man Talbot pushed on and started to push for runs and hit boundaries. The runs required were getting lower at an alarming rate. Nick White kept his cool despite the weather being not so and took the two important wickets of Amis and Talbot, LBW and bowled respectively. Some further loose balls were punished and Carlton were left with not many runs to play with. Liam picked up a wicket which sparked a debate whether Zaki's was more plumb or not. An unpredictable 5 penalty runs for the ball hitting the helmet didn't help matters and when Ru was brought back on he only had a 3 runs to play with. Ru castled Carr despite the pressure. The final inevitability was that Watsonians reached their final total and Carlton were left with disappointment but an excellent learning experience. Thanks to Watsonians for the competitive match and for hosting.
The final thing I will report is that the phrase 'No point in wasting wins in preseason games' was used many times as the team walked off the pitch ready for the upcoming season.