With superb food being supplied by Karen Macpherson (with assistant Andy on washing up duty) it was no surprise that there was a healthy turnout for the annual senior awards evening at Grange Loan.
The Players' Player of the Year Award was won by Gordon Drummond, who also collected the 1st XI bowling prize, while Ahmad Shah picked up the Best Individual Performance award on behalf of his brother, for Ali's incredible 207* for the 2nd XI. Not surprisingly Ali also won the 2nd XI batting award as well as the club Six Hitting trophy.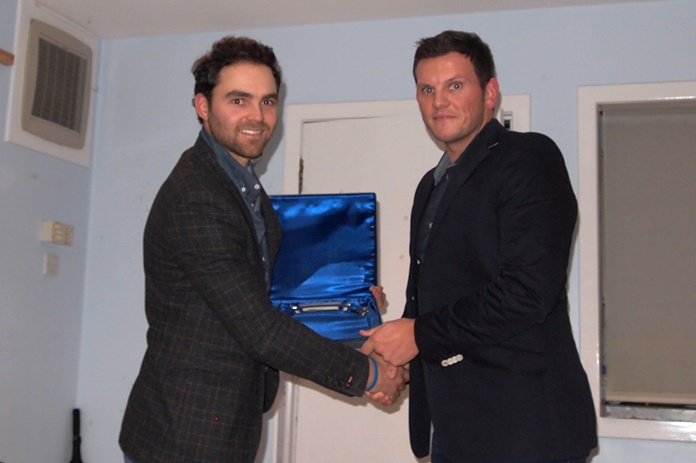 Other winners included Ruth Willis and Katie McGill (Women's Batting and Bowling trophies respectively), Hamish Gardiner (1st XI batting), Brad McKay (2nd XI bowling) and Chayank Gosain (Young Player of the Year).
Prizewinners:
| | |
| --- | --- |
| 1st XI batting | Hamish Gardiner |
| 1st XI bowling | Gordon Drummond |
| Women's batting | Ruth Willis |
| Women's bowling | Katie McGill |
| 2nd XI batting | Ali Shah |
| 2nd XI bowling | Brad McKay |
| 3rd XI batting | Ani Majumdar |
| 3rd XI bowling | Tom Ziolkowski |
| 4th XI batting | Alan Murray |
| 4th XI bowling | Maxwell Farrer |
| Player's Player of the Year | Gordon Drummond |
| Young Player of the Year | Chayank Gosain |
| Best Individual Performance | Ali Shah |
| Six Hitting Trophy | Ali Shah |
| Fielder of the Year | Jamie Kerr |
| 2nd XI Fielder of the Year | Ruari Macpherson |
| Hat-Trick Award | Mo Ahmed |
| Jimmy Jappy Trophy | Eric Edwards |