Cricket clothing for Juniors - see what it looks like. And click here to see our shorts.
1. To order club playing shirts, junior hoodies, caps and beanies click here

2. You can order club playing sweaters, baselayers, playing trousers and shorts online here.
Cricket kit purchases from Sports Warehouse - 10% discount voucher.
2nd hand kit sales: We have a range of second hand kit available to buy at all primary school sessions. You can find a full list of currently available items here. To reserve an item email l.mckinlay@sky.com
Fixtures: You can keep up to date with all the junior results on our Fixtures page.
Junior Awards: Click here for a review of our junior award winners 2018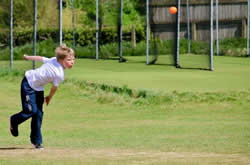 Boys and girls can join Carlton at age 7.
If your child of any age is interested in joining, please get in touch by emailing us at juniormembers@carltoncc.co.uk. While some categories of our junior membership are full, we also run a waiting list that is reviewed regularly.
If you have any other questions about joining or Carlton Juniors in general, please email juniors@carltoncc.co.uk.
Martin Firth has written an excellent Beginners' guide to Kwik cricket - read it here.
Carlton is a community club in the city.
We take great pride in how our club has grown and developed over recent years and, in particular, the close way that the junior and senior sections of the club work together.
Our junior section is run by volunteer parents, supported by a small number of professional coaches.
We have four main aims for the junior section:
To help youngsters fall in love with cricket.
To help all keen young players improve their game.
To support talented young players to progress and play at as high a level as they want/can.
For parents and their children to feel welcome around Grange Loan and as part of the wider cricket club.
Our young players (from age 7) play kwik cricket while our older players will begin to play hardball cricket between the ages of 10 and 13, depending on their progress. As well as taking part in our junior sides, our older and more capable youngsters are encouraged to make themselves available to play weekend cricket for one of our five leagues sides (four men's sides and a women's team).
We run nine junior sides for boys and girls, with weekly coaching sessions for the various age groups during the summer and additional indoor sessions during the winter. There are also a number of social events during the year.
New Parents

All of the cricket we support at Carlton is made possible by the hard work put in by all our volunteers.
We welcome any new parents and , if you have time to 'get stuck in' - whether it's by helping out with coaching, scoring, umpiring, transport, writing match reports for our website, making refreshments, supporting our social events … or helping out in any other way, it's all much appreciated.
We have a thriving junior section at Carlton, the success of which is shown by the number of children introduced to the game and by the number of Carlton juniors who have progressed into the senior Carlton teams and into district and national sides at both junior and senior levels.
The club runs junior sides at under 9, under 10, under 11, under 13, under 15 and under 18 levels, as well as a girls' kwik cricket side.
Age groups are based on age at 31st August on the preceding year.
If you would like any further details about the junior section at Carlton, please take a look at our Welcome brochure or email juniors@carltoncc.co.uk.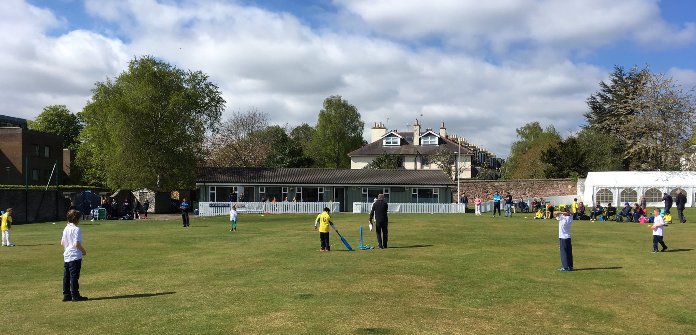 Carlton Juniors are sponsored by CALA Homes
Our juniors regularly feature in Scottish and East junior representative teams. The club was rightly proud when our current club captain Fraser Watts became the first Carlton junior to graduate from the Carlton Under 11s through to the full Scotland team in 1998, before going on to become his country's most capped player ever. Another Carlton junior, Ali Evans, played county cricket with Derbyshire CC. And another of our juniors, Leigh Kasperek has earned more than 50 caps for Scotland women, has played for Western Australia and Essex, and is now a full international for New Zealand.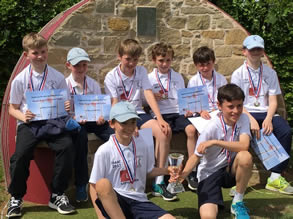 Carlton has been a driving force in the development of junior cricket in the East of Scotland in recent years. Indeed, a commitment to junior cricket is now a pre-requisite for membership of the Cricket Scotland Leagues, with member clubs required to provide coaching and matches to develop junior cricketers - the life-blood of the game in Scotland in the decades to come. Carlton 's age-group sides have all achieved success. However, more important is the role of introducing children to cricket, ensuring they enjoy the game and benefit from quality instruction from Carlton's qualified coaching team.

The fruits of this policy can be seen in a number of ways; the success that the junior teams have enjoyed, the promotion of so many Carlton juniors to district and national age-group sides and the successful integration of the 'older' junior members into the club's adult sides.
During 2017 more than 40 players under the age of 18 played for one of our six senior league sides. 'If they're good enough, they're old enough' isn't a bad adage.
Coaching Corner
---