It seems only yesterday that the young Ali Evans was a promising Carlton junior. At the end of a year that saw him turn out regularly for the international side, and and complete his first full season as a county pro, Ali looks back fondly on his early days and has a few inspirational messages for youngsters everywhere.
"A lot has changed since I first walked through the hallowed wooden gate on to Grange Loan 15 years ago. One thing that hasn't, apart from that hill, is the great family atmosphere at Carlton. It is so encouraging to see the sheer volume of young talent not only coming through the junior section but now also flooding into all senior teams on a Saturday. With the incredible number of kids now coming through I am sure it'll not be long until we have another member of Carlton south of the border playing county cricket.
Despite having just had the most memorable year of my cricketing life, some of my fondest memories are still in a Carlton shirt. Winning the league and countless Masterton Trophies with the senior team are great memories but one I will not forget is my first ever final. It was the under 15 Scottish Cup, which unfortunately we ended up losing. I have come to realise how rare it actually is to play in finals, and that any chance you get as a player, at any age, you have to enjoy them and make the most of them because they are great occasions and don't come along that often. It is even sweeter of course, if you go on to win.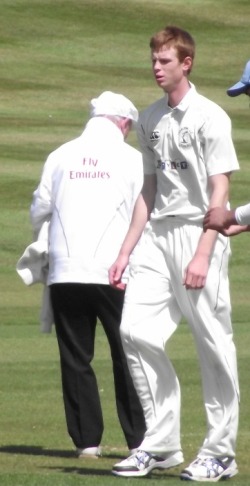 I was very fortunate to be part of a squad that tasted success this year, by winning a county championship and getting promoted. It is an incredible feeling to be involved in something like that, and was the outstanding highlight of an incredible year. Other memories like playing my first professional game against Northamptonshire and being part of the Scotland squad to beat Bangladesh are memories that will not easily be forgotten.
However, the other outstanding memory from season 2012 will be opening the bowling for Derbyshire against South Africa. Having the opportunity to test my skills against the best players in the world is something that not everyone is lucky enough to get the chance to do and was a tremendous experience.
Looking back on that under 15 final, I find that there is very little difference between then and now. To find the best in your game and to be the best player you can, you need to have real determination and drive, work hard and put in the time to improve. These are lessons that I learnt the hard way and I am still learning. The biggest lesson I have learnt from this last year is that, even at a professional level, the people who put in the most and train the hardest are the players who perform and play the best.
So when you next walk through those Carlton gates and dream of playing for Scotland or a county, know that dreams can come true, but most of all enjoy your cricket whichever team you play for."