After a brief break, Carlton were back in the field for their third Scottish U18 Cup Final in four years and, like their senior counterparts the previous week, still looking for their first ever win. If there was one player on the field who was particularly determined to win, it must have been Cheeky Gosain who had appeared in 6 Scottish Cup Finals from Under 13 to senior level and was still to finish on the winning side!
Right from the off, the standards set in the field were very high, with Adam MacDonald putting his body on the line twice in the first few balls to save boundaries and keep the batsmen under control. Gavin Rittoo (below) started much better this time round and picked up up two early wickets thanks to good catches from Ruari Macpherson and Cheeky, before Haris made an excellent job off a steepler from Cheeky's bowling and a catch from skipper Fraser Allardice saw Cheeky pick up his second wicket.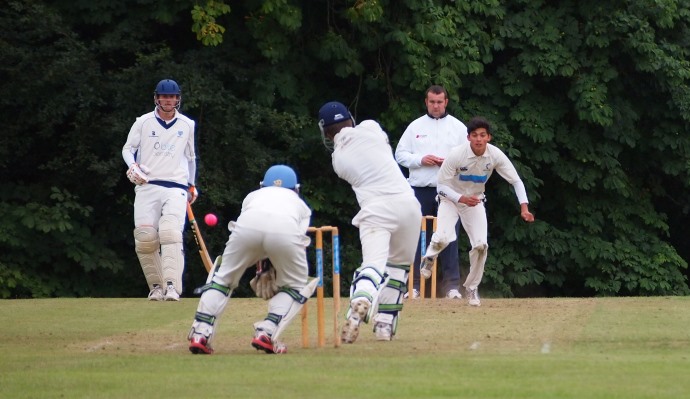 If there were any thoughts of an easy win, big hitting Ben Wilkinson put these to one side as he smashed a series of massive sixes, seizing on anything off length. The skipper turned to his fourth spinner of the day, younger brother Rory, and the offie stared with a tight over before Gavin made the big breakthrough next over by trapping Wilkinson lbw as he tried to smash a good ball over mid wicket. Gavin's celebrations showed what a big moment it was as he only just failed to demolish the stumps in his follow through.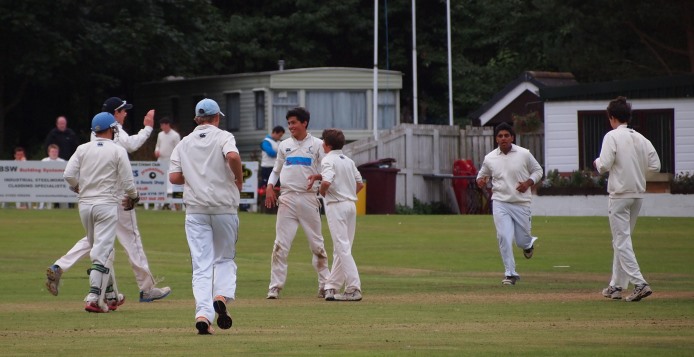 Once Lucas had been well caught at long on by Olly Brown off Rory it was one-way traffic. Gavin picked up his fourth wicket courtesy of a lightning stumping by Matt Wells and Cheeky matched him with two late wickets to dismiss the Heriot's/SMRH side for just 99.
The Carlton boys knew that the opposition's best chance lay with opening bowler Alex Anderson and they took no liberties while keeping the scoreboard ticking along at a steady 5 an over. However, bowling his four overs through, Anderson disturbed the stumps of openers Kyle Macpherson and Fraser Allardice to bring Haris Aslam and Matt Wells together at the crease. Both players were in no mood to make mistakes and mixed solid defence with attractive strokeplay to take Carlton to the brink of a victory before Matt (below), looking for a boundary to win the cup and bring up his 50, was well caught in the deep by Anderson.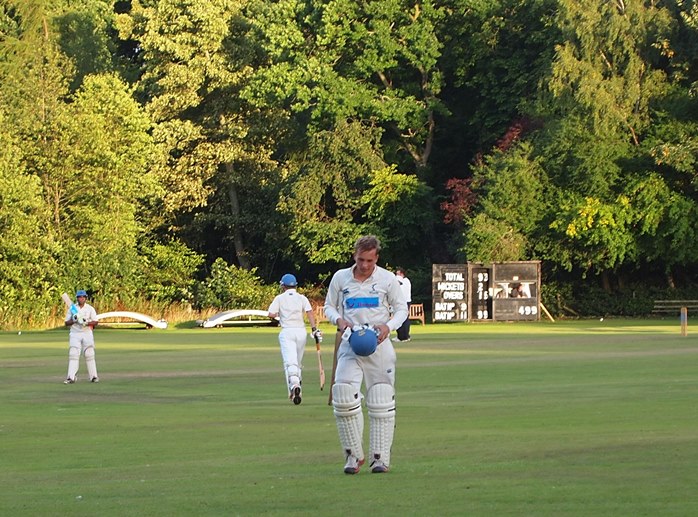 Ruari Macpherson walked out to the wicket just in time to see Haris play a scoop shot to the fine leg boundary to seal a seven wicket win with four overs to spare.
Cricket Scotland President Jack Ker was on hand to present the trophy to skipper Fraser Allardice. Many thanks to Jack and to Falkland CC, who were perfect hosts throughout the day.
Innings of Heriot's/SMRH
| | | | |
| --- | --- | --- | --- |
| C Aitcheson | c R Macpherson | Rittoo | 9 |
| D Anderson | c Gosain | Rittoo | 5 |
| B Wilkinson | lbw | Rittoo | 52 |
| J Penman | c Aslam | Gosain | 1 |
| D Sharkey | c F Allardice | Gosain | 2 |
| S Lucas | c Brown | R Allardice | 15 |
| A Anderson | c Rittoo | R Allardice | 1 |
| A Tetley | st Wells | Rittoo | 0 |
| E Campbell | not out | | 6 |
| A Khan | st Wells | Gosain | 4 |
| S Robinson | bowled | Gosain | 1 |
| Extras (2w, 1nb) | | | 3 |
| TOTAL (all out) | | | 99 |
| | | | | |
| --- | --- | --- | --- | --- |
| G Rittoo | 4 | 1 | 4 | 24 |
| A MacDonald | 1 | 0 | 0 | 9 |
| H Aslam | 4 | 0 | 0 | 22 |
| C Gosain | 4 | 0 | 4 | 11 |
| F Allardice | 3 | 0 | 0 | 21 |
| R Allardice | 3 | 0 | 2 | 12 |
Innings of Carlton
| | | | |
| --- | --- | --- | --- |
| K Macpherson | bowled | A Anderson | 3 |
| F Allardice | bowled | A Anderson | 8 |
| M Wells | c A Anderson | D Anderson | 46 |
| H Aslam | not out | | 27 |
| R Macpherson | not out | | 0 |
| A Hinton | dnb | | |
| C Gosain | dnb | | |
| O Brown | dnb | | |
| R Allardice | dnb | | |
| G Rittoo | dnb | | |
| A Macdonald | dnb | | |
| Extras (14w, 3lb) | | | 17 |
| TOTAL (for 3 wickets) | | | 101 |
| | | | | |
| --- | --- | --- | --- | --- |
| A Khan | 2 | 0 | 0 | 14 |
| A Anderson | 4 | 0 | 2 | 18 |
| S Lucas | 4 | 0 | 0 | 17 |
| D Anderson | 3.4 | 0 | 1 | 29 |
| C Aitcheson | 1 | 0 | 0 | 12 |
| E Campbell | 1 | 0 | 2 | 10 |