Did the spirit of Martin Flynn stroll the Grange Loan boundary during the inaugural Martin Flynn Trophy match between Carlton and Holy Cross? There was much for him to like
The ground looked immaculate under the bright sunshine as the carefully selected teams assembled. The Doughty Groundsman's work was done, he could do no more and he prowled the pavilion area bearing on his T shirt the legend 'I am retired, don't ask me to do anything' Martin would have liked that.
Photographs were taken to mark the occasion and the teams got down to business. Carlton was led by young Mo Ahmed, and honouring an ancient club tradition, he lost the toss. By a considerable margin. Holy Cross would bat. Fantasy Bob and CoCo McGill were confined out of the way to the scorers' table. Martin would have liked that.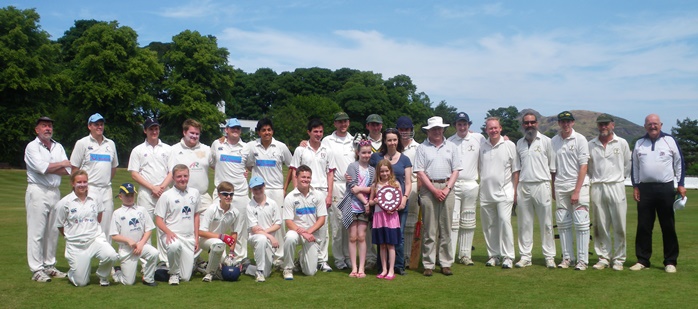 Runs were hard to come by as accurate bowling from Rob Thornton and Tom Ziolkowski tied the openers down. Rob had 2 wickets – taking Smith's leading edge to pop an easy catch to midwicket and getting the edge of Andy Graham for Tom Barrett to palm to Fergus Whatley in the slips – leaving Holy Cross 29 for 2 after 10. The change bowling did not bring any acceleration to the scoring as Tom Barrett reeled off a string of maidens and Leigh Kasperek gave nothing away. Good tight bowling backed up by eager Carlton fielding. Martin would have liked that.
CoCo became restless over the score book suggesting that someone had to get on with it and implying that if he had been out there things would be humming along with the 200 in sight. But his invocation did not deliver the goods as Leigh took another wicket to an athletic catch at mid off from Craig Everett ending Andy Candlish's visit to the top order. Martin would have liked that.
Former Carlton president Dave Carter had whiled the afternoon away at deep mid off or deep fine leg sprinting around the boundary like a man possessed. The crowd wondered when he would be coming on to bowl his usual parsimonious spell which might slow the scoring even further. CoCo speculated the scoreboard might even go into reverse. But Carlton's youth policy asserted itself and instead of the ever young DC the crowd purred with excitement when the skipper called up 8 year old Fin Thornton to bowl. A radical move as FB observed to CoCo – for it was up the hill, but with the wind. this could turn the young man's head. But after a loosener – if Steve Harmison needs one, then Fin Thornton needs one – Fin bowled straight and full and got his reward – Tom Jordan may have been on 40, Tom Jordan swept, Tom Jordan missed, Tom Jordan no more, as the Sandy Scotland finger went up. LBW. Bowl wicket to wicket and it doesn't matter how old you are (in either direction). Martin would have liked that.
With 15 overs to go and only 75 on the board, Holy Cross needed to dig in and find some runs. Charlie Ellis and Amjid did just that and took the Crossers into safer waters rattling along at a run a ball. It was a fine and chanceless partnership which saw Charlie get to 50 in the final over and Amjid unbeaten on 34. Martin would have liked that.
The innings finished on 164 for 5. As the final overs played out, the tension around the ground had risen dramatically. Fantasy Bob was chewing his pencil nervously. Even CoCo had gone silent as he contemplated the significance of what might come next. There were whispered conversations, faces were drawn and anxious. The strain was palpable. People struggled to face up to the big question. Would there be empire biscuits on the tea table? An outrider from the Crossers crossed hostile territory to take a look. He relayed the news. 'Empire biscuits in sight!' A cry of joy and relief spread across Grange Loan. Spontaneous dances of celebration broke out. Would Martin liked that? Of course.
Empire biscuits having been consumed, Carlton began their reply. It did not get off to a good start as Tom Barrett was caught behind off Shannon Bonfield in the first over. In the 10th over Tom Simpson pushed too hard at Charlie Smith and was c&b. Carlton 20 for 2. Leigh and Rob then got some momentum going and were near the 50 partnership when Rob was caught in the covers. Leigh was approaching her 50 and put a big 6 into the road. Martin would have liked that.
But wickets fell at the wrong times, just when batsmen were set so Carlton's momentum was continually interrupted. Leigh was out for 46, Mo for 16, Fergus for 23 as they tried to up the run rate. Murray Whitaker and Tom Ziolkowski gamely played out the final overs – Murray bowled for a creditable 16 in the penultimate over – but could not pierce the field. Carlton ended 13 shy of the required total. Bonfield 2-11 from his 8 overs was the pick of the bowling.
Martin would reflect on his long affiliation with Holy Cross and be inwardly happy that the trophy went to worthy winners on the day. Well done to them and to the Carlton players. Many thanks to Sandy Scotland for standing in the sun all afternoon – and only one LBW decision to make.
A fine tribute to a fine man. All in all a fine day of cricket played in the most excellent, competitive and friendly spirit. And one thing is for sure - Martin would have liked that.