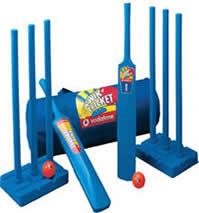 Fresh from the success of his hugely popular summer camps, Carlton CC Head Coach Stevie Gilmour is running a special Christmas Kwik Cricket Camp on 28th, 29th and 30th December at the Crags Sports Centre in south Edinburgh.
Running from 9.00 to 12.30 each day, Stevie and his team will deliver a festive blend of top notch coaching and fun-filled games aimed at players aged 7 to 11.
To ensure a high level of coaching and maximum enjoyment, the camp is limited to just 24 youngsters.
To book a place, or to find out more, contact Stevie at stevie.gilmour@carltoncc.co.uk or 07763 834718. Cost is £55 for the full camp or £20 per day. Non-members welcome.