Final East League Division One Table 2009

| | |
| --- | --- |
| Saturday 2nd May | East League Division 1 |
L


Carlton 2


v


Fauldhouse


66 all out
Rajan Bhopal 19 not out
home
188 for 8
Steven Elder 5 for 33
After two friendlies, the real stuff began for the 2's at a sunny Grange Loan against Fauldhouse. The stand in skipper lost another toss and Fauldhouse elected to bat. Some tight early bowling from the skip and Hoof brought an early wicket. Fraser took a superb leg side catch off Peaches to claim the second wicket, but other loose bowling saw Fauldhouse at 101/2 at drinks. We came back strong after the drinks break with nice bowling from Stevie Elder and Fergus. Bowling consistently in good areas to to the field set led to a collapse of 5 wickets for 30 runs in 8 overs, with Stevie taking all five. At 132/7, we had them on the rack, but they managed to grit and scrap their way to 188/8 off 50 overs. Stevie took the honours with 5/33 off 10, but most bowlers bowled reasonably well. On a good batting wicket and excellent outfield, to restrict them to this total was a good effort.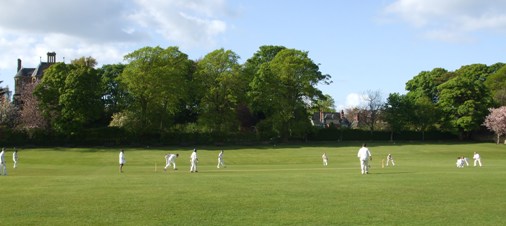 Our reply began solidly enough and we reached 23/1 in 9 overs. Then it all fell apart as three wickets fell on this score and another one had fallen before we reached the thirties. Only Rajan stood tall as it all collapsed around him as he batted well over an hour for an intelligent 19 not out, waiting for the right ball and putting it away. Only a 23 run stand for the last wicket between Rajan and Brad got us to 66 all out. Of all wickets that fell, only Marcel got a cracking ball and others were a mixture of poor shot selection and poor running between wickets. Fauldhouse bowled excellent areas and were good at keeping us under constant pressure and were fully deserving of their victory in a disappointing start to the season for the 2's.



| | |
| --- | --- |
| Sunday 3rd May | President's Trophy 1st Round |
W


Glenrothes


v


Carlton 2


away
Glenrothes scratched



| | |
| --- | --- |
| Saturday 9th May | East League Division 1 |
Heriot's 2


v


Carlton 2


away
Match cancelled - rain



| | |
| --- | --- |
| Sunday 17th May | East League Division 1 |
L


Edinburgh Accies


v


Carlton 2


146 for 3
away
143 all out
Craig Marshall 104 not out
A depleted 2nd XI travelled across town on Sunday to Newfield to face last year's East League Champions Edinburgh Accies. Unavailability due to injury, exams, an East Senior Academy match and bike rides (Brad's excuse) meant the team was still being picked at 9.30pm on Saturday night!
Ian Thompson was drafted in from nappy changing to replace Ben Duerden who'd moved up to the 1st XI, while Welshman Jamie Davies made his Carlton debut less than 48 hours after stepping off a plane. With an inexperienced team it was going to be tough, and it became tougher when 3 wickets went down for just 7 runs in the first 6 overs - captain-for-the-day Guy, Ani and Marcel all back in the hut.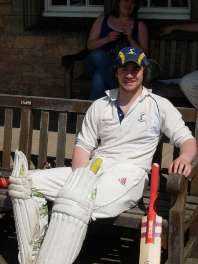 Part-time rugby player Craig Marshall strode in at number four, roughly a year after he last picked up a bat, and started getting his eye in. He was joined by Jamie and together they began to rebuild with some good strokeplay, until Jamie was castled for 15 by Accies' rather rapid Australian amateur. The wickets continued to tumble as injured captain Charlie watched through the gaps in his fingers on the boundary ... however soon Marshall had reached 50 but he was running out of partners.
As the tailenders bravely held up one end, Marsh decided to put his rugger weight-training (and nutrition supplements?!) to good use and started blasting fours and sixes everywhere. In double quick time he'd reached a remarkable hundred. He finished unbeaten on 104 out of a total of 143, a stunning innings bearing in mind the next highest score was Jamie's 15. Overall we missed an opportunity as again we failed to bat out 50 overs, a fault that must be recified fast.

In reply Accies got off to a steady start, but when Hoof and Jamie took two early wickets there was a glimmer of hope. However Accies' captain and Australian amateur steadied the ship, with the man from down under making an unbeaten half-century with some powerful shots including a six into a neighbouring garden. Another wicket for Hoof near the end added an extra bowling point but Accies cruised to a seven wicket victory with 15 overs to spare.
A good fielding performance and some positives in defeat, but there's clearly work to do in the batting department if we are to compete in this league this season.



| | |
| --- | --- |
| Saturday 23rd May | East League Division 1 |
L


Carlton 2


v


Murrayfield DAFS


142 all out
Ben Duerden 39
home
143 for 8
Steven Elder 3 for 27
The 2's returned to Grange Loan for the visit of Murrayfield DAFS. The stand in skipper won a rare toss and elected to bat first on a good looking wicket. The early storm was weathered by Ben and Ani before Ani fell LBW. Swanny came and went before Marshall joined Ben in a decent partnership. At 62/2, it was time to push on, but Marsh pushed too hard and was run out going for a third run. Benny was playing well and needed someone to stick with him, but when he (39) and Rob Thornton fell (to a fantastic catch), we were in a bit of trouble at 100/5. Guy and Rajan consolidated for the next 10 overs which only brought 17 runs. Rajan held the lower order together and we scraped our way to 142 all out with two overs to spare. Against some good bowling, we maintained our discipline reasonably well, but nobody was able to kick on and get the big score we needed. As it turned out, this would be crucial.

After yet another fab tea, we set out to defend our score, knowing that early wickets were required. Thankfully, this was how it turned out. Robbo had the first one with 0 on the board and at 12/2, we were in the game. Tight bowling from Robbo and the skip was supported by excellent fielding and good follow up bowling from Stevie and Hoof. Stevie bowled his ten straight for 3/27 and when Hoof chipped in with two, we were on top at 57/6. The game really slowed down at this point and became a game of attrition as DAFS eked out runs and gradually pushed the score up, but at 102/8 with 12 overs to go, we thought we had them finally. But it was not to be. The DAFS skipper put on 27 not out at number 10, and despite good bowling and fielding all the way through, the score was passed with two balls to go. A gutting defeat, but if we bowl and field like that every week, then we'll hit a winning streak soon.


| | |
| --- | --- |
| Saturday 30th May | East League Division 1 |

W

Largo

v

Carlton 2


194 all out

Fergus Whatley 3 for 27, Steven Elder 3 for 48, Rajan Bhopal 2 for 2

away

196 for 5

Ben Stewart 77 not out, Craig Marshall 47, Rajan Bhopal 28

Glorious sunny weather and a hard fast ground greeted the 2s upon their straggled arrival at Largo. The stand in skip elected to bowl first on a road, not for any hidden demons in the wicket, but because batsmen 3 and 4 were stuck in traffic. Faced with 8 players and said good wicket, Largo started strongly and anything piercing the field was running away for four. The skip induced their amateur out of his ground and Fraser completed a fine stumping. This success became a distant memory as good and bad balls alike were disappearing to the boundary. At 106-1 in the 16th over, Stevie picked up their skipper LBW, then was hit for 4, then 6, then picked up their well credentialled Yorkshireman with a superb catch from Ani.

Wickets fell rapidly as Stevie and Ben Stewart recovered from expensive starts to post good spells. The introduction of Ferg and Rajan brought a sudden end to the Largo innings, assisted by another superb catch from Ani, and an excellent second half to the innings rolled them for 194 with 7 overs to spare. Ferg with 3/27 and Stevie with 3/48 took the honours but Rajan and Benny also bowled well. The cheese cake was to die for at tea, except that most of it disappeared in Ferg's direction. True leg spin quality. Anyway, a good start was required and we didn't get it. Their rapid opening bowler Thornicroft removed Ani and Swanny in successive balls to leave us 18/2. Rajan held firm, playing some lovely drives in his 28, and was joined by Marsh who, after surviving the opener, set about the change bowlers and launched 3 massive sixes out of the ground. Marsh was joined by Benny who batted more cautiously, but together they put on 69 for the fourth wicket to put us on top. Marsh fell for 47 to level things up again. But Benny, supported crucially by Marcel, kept the board ticking over in a partnership worth 55. Both did the job of surviving the return of the opener and put us on back on top. Marcel fell, but Benny with a well crafted 77 not out, and Fraser saw us over the line for a morale boosting 5 wicket win with 13 overs to spare.Drinks were then held in the Railway Inn by the harbour to cap off a fine day. As for the trip back, just ask Marsh about power ballads...
| | |
| --- | --- |
| Sunday 31st May | President's Trophy 2nd Round |

W

Westquarter & Redding

v

Carlton 2


108 all out

Fergus Whatley 5 for 16, Steven Elder 3 for 27

away

255 for 8 (40 overs)

Nik Hunt 52, Nick Martin 51, Jamie Davies 40

No fewer than seven under 18s turned out for Carlton in the 2nd round of the President's Cup at Westquarter and Redding from Division 2, making Stevie Elder an old man of the team! With no traffic issues to deal with, the skipper could make an informed decision at another successful coin toss and so we batted first.Rajan could not follow up the previous days heroics and was out for 0. Jamie (Gerald/Jonathon/Gavin/Huw/Charlotte) Davies joined Tom and set about the bowling attack, playing some fine shots, but both fell in quick succession for 40 and 21 respectively. This brought the Nick's (Hunt and Martin) together and they batted superbly against some variable bowling, and ran particularly well together. Hunt brought up his 50 first, before trying to hit one out of the ground. Jack fell to a good catch, before Martin carried on his fine shot making to rack up his 50 before trying to heave one out of the ground. Fraser was out to the comedy dismissal of the day - a skier caught by the keeper which was a no ball - keeper hurls the ball into the air whilst celebrating, so Fraser runs and is run out by a direct hit from the sub fielder from the boundary. Fergus launched two massive sixes in his quickfire 20 and after 40 run drenched overs, Carlton had racked up 255/8.W & R were up against it from the start and with 4 of Brad's first 6 overs being maidens, they never got going. Stevie and Jamie made the breakthroughs, through high catches by Nik Hunt. At drinks, W&R were only 67/3 and needed 10 an over to win. Stevie finished with 3/27 and then the spin twins rolled through the tail. Ferg bagged his first senior five for with 5/16 and Nik Hunt backed him up with 2/12 as W&R were rolled for 108. We maintained high standards in the field and with the ball all the way through, which was particularly pleasing. Now into the third round.

Scorecard
| | |
| --- | --- |
| Saturday 6th June | East League Division 1 |

L

Carlton 2

v

Watsonian 2


261 for 7

Peter Swan 94, Craig Marshall 94

home

262 for 4

Rob Thornton 3 for 57

After the successful double win the week before, the recently nomadic 2's made their way home for the visit of nearest rivals in Watsonians. With a bit of rain around, Watson's won the toss and asked Carlton to bat, but before we could start, the rain started, causing us to start half an hour late. Upon commencement, the new opening partnership of Peaches and Rajan didn't last too long and at 20/2, we needed a steadying partnership. This was provided in spectacular fashion by Swanny and Marshall, who after seeing off the openers, made hay against the change bowlers and at drinks, we were rocketing along at 5 an over to reach 122/2. Swanny reached his 50 first thanks to some nice cover drives and pull shots. Marshall soon brought his up and then overtook Swanny with a flurry of boundaries and a huge six out of the ground. The 200 was brought up in the 36th over and we were set for a huge total. Marsh fell for 94 to the last ball of their quick's ten overs. Swanny kept things pushing along but fell thereafter also for 94 - both wonderful innings with all the shots in the book. At 218/4, we stuttered our way through the last ten overs, which realised only 48 runs and it was only a quick fire 16 from Ferg that raised us to 261/7 after 50 overs - still an excellent effort from all on a good pitch.

After a quick tea, we were back out and Watsonians looked to play shots from the start with ex-Carlton Nitin aiming high and long. An early chance went begging but Robby picked up the first of his three early wickets with a very sharp caught and bowled. At 30/3, we were on top but while wickets were falling, runs were still coming at a rapid rate. Our third rain delay after 18 overs and at 100/3 brought a respite, but it also brought us a wet and increasingly largeish ball to bowl with upon resumption. Hoof bowled a decent spell but wickets weren't forthcoming as a large partnership between Learmonth and skipper Breach took the game away from us. Learmonth brought up an excellent hundred and eventually fell for a match winning 139 to Ferg who bowled a fine spell with a wet piece of soap. Breach carried on and his 87 not out saw Watsonians over the line with a fine six wicket win with 4 overs remaining. We stuck at it well in the field and special mention to 13 year old Matthew Wells who did a good job behind the stumps in his first 2nd XI game.

Amazingly, 261 wasn't enough, but many positives on the batting front. Well played to Watsonians.

Footnote: Watsonians were kind enough to leave the following message on the ESCA message board:

" Much as Andy Learmonth may grab the headlines for his fantastic 139, Watsonian II feel that Carlton deserve the plaudits. Watsonians found themselves down to 10 men 5 minutes before the start when a first team injury meant them stealing a player from the 2s team. Carlton not only gave Watsonians a substitute fielder for the complete 50 over spell, but also later gave a second substitute fielder when the second of Watsonian's three keepers (!) on the day tweaked a back muscle causing him to leave the field for treatment. This meant that 1 of their guys (Steve Elder) ended up doing a 44 over umpiring stint as there was no one else to take over. Well done you! Amazing sportsmanship from Carlton throughout and a credit to Scottish Cricket, a credit to East League Cricket and an absolute credit to Carlton Cricket Club. Good luck for the rest of the season and your desire to ensure the younger players of your team are given every opportunity to bat and bowl (and therefore gain valuable experience) is an amazing example for all teams."
| | |
| --- | --- |
| Saturday 13th June | East League Division 1 |

L

Holy Cross

v

Carlton 2


162 for 6

Rajan Bhopal 3 for 34, Chris Hoefling 2 for 25

away

161 all out

Tom Barrett 39, Peter Swan 38

The 2's turned up to Arboretum for the match against Holy Cross to find a hard and fast wicket and a fast outfield. Either captain probably would have batted, but before the toss, the rain came down in buckets forcing us to cool our heels in the rooms. Come 2pm, the rain stopped, but with no covers, the wicket was now a bit muddy. Frantic efforts by the home team saw us commence just before 3pm with a 35 over game.

The stand in skipper lost another toss and we were inserted. Benny fell early, but Tom Barrett and Swanny saw off the dangerous Holy Cross opener and made hay against some wayward bowling and at 15 overs, we'd reached 80/1. Swanny made a fine 38 before picking out long on. Ani kept up the pace but he and Tom (39) fell in quick succession which halted our momentum. So much so, that in the last 10 overs, we only added 40 and were bowled out in the last over for 161. Nick Martin with 21 and Fergus with 19 not out were the only late contributions.

The opening partnership of Brad and Hoof kept things relatively quiet and Hoof picked up 2 early wickets in a fine spell and ended up bowling his 7 straight for 2/25. The early introduction of spin didn't work and now the runs were being rattled up at a rapid rate with too many 'four balls' being bowled. It was Rajan who made the break through nabbing Holy Cross's best batsman and when two more wickets fell (one to Rajan and one to Clarkey), we had a sniff at 120/5. However, it was not to be. A number of catches went down and the bowling in general was pretty inconsistent. Rajan picked up one more (3/34), but Holy Cross, through some dogged batting, a fine ability to put away the bad ball and the ability to adapt well to a wet wicket, passed the total with 4 wickets in hand and 2 overs remaining.

After 7 games, we're firmly entrenched in the relegation zone. We have good players, but we're needing to improve on the little things - line and length, concentration in the field, batting 'ugly' when necessary. However, there is good news - guys are starting to make runs and there is improvement, just inconsistent. It's top of the league Boroughmuir for us next.
| | |
| --- | --- |
| Saturday 20th June | East League Division 1 |

W

Carlton 2

v

Boroughmuir


133 for 3

Tom Barrett 68 not out, Peter Swan 31

home

132 all out

Peter Swan 4 for 4

A return home for a 2nd XI still looking for a first win at GL this season, a place we're usually unbeatable. A change of fortune and attitude was required after previous defeats, but second-top Boroughmuir posed a stern challenge. Fraser "Safe Hands" Boyd was back after his spell in the major leagues of Scottish cricket, while more good news was the return to fitness of captain Charlie, though the warmup suggested he would be hiding in the field. Winning the toss we put Boroughmuir in on a classic 2nd XI deck which looked full of pace and juice for the bowlers. The 'Muir opener thought differently and decided to swing from ball one, punishing anything short or wide from Hoof and Brad. After depositing a ball in West Grange Gardens 'Muir were on 45 after 21 balls with the slogger on 32 - but he then played on, and with Nathan and Stevie coming on early the runs began to dry up. After an interruption for a heavy shower, "Smiler" Elder bowled a stingy Dave Carter-esque spell of swing bowling, getting two wickets thanks to cracking catches by Safe Hands and Ani, while Peaches bowled with pace and accuracy and was unlucky not to get a breakthough. The run rate dropped from 15 an over to under 5, with pressure producing a run out - this left their no.5 at the crease who was also beginning to slog successfully. Rajan's introduction did for him though with a toe-busting yorker, shortly after Rajan got another wicket and bowled a great spell to keep the pressure on. Any chance of the tail wagging was blown out of the water by "Spin-King" Pete Swan, as he tied the opposition in knots. Emulating his hero Clarkey by bowling the occasional mystery ball that spun, he cleaned up to finish with the outrageous figures of 6.4 overs, 4 maidens, 4 for 4. Better than a certain Richard Swan ever bowled surely.

That left the 2nd XI chasing 132 in improving weather, but we got off to a shocker as Ben Duerden was done by a jaffa second ball of the innings. Any nerves were soon settled as the Spin King strode to the crease to join Barrett, and proceeded to middle everything. He was helped by some curious 'Muir bowling who either put it right in the slot or tried to bounce him out, but this tactic proved pointless after Swanny top edged into the trees over fine leg for six - the new Carlton electronic scoreboard could barely keep up. Swanny missed a straight one on 31, but after seven overs we were halfway to the target.

Ani then supported Barrett who began moving through the gears, playing some classic shots to reach his first competitive 50 for the 2nd XI. After Ani was out Peaches came in at 100-3 and saw the team home in 23 overs, meaning Charlie could avoid batting on one leg and has a week to rest up before the challenges of Glenrothes next weekend. So victory at last for the 2nd XI at home, and hopefully the turning point in the season.

Also a crate of Magners from the league sponsors on Mid-summers weekend for Barrett who finished unbeaten on 68, even though he's not allowed to drink it. "Man Of The Match" Swanny will help him out no doubt...


| | |
| --- | --- |
| Saturday 27th June | East League Division 1 |
Glenrothes


v


Carlton 2


away
Match cancelled - rain



| | |
| --- | --- |
| Saturday 4th July | East League Division 1 |
W


Fauldhouse


v


Carlton 2


217 for 9 (50 overs)
Ben Stewart 3 for 36, Peter Swan 3 for 41
away
220 for 9 (50 overs)
Ben Duerden 64, Ben Stewart 30
The second half of the season kicked off with a classic roadtrip to Fauldhouse who sat proudly top of the league. We started on time despite the Benny's and Stevie misreading the map and taking the scenic route via Shotts, and the home team chose to bat on an interesting looking wicket. Rajan and Nathan soon felt the force of the openers, Peachy being smacked over midoff into a garden in his second over. "Smiler" Elder came into the attack and began to tie Fauldhouse down while Nathan changed ends, the breakthrough came as Stevie bowled Fauldhouse skipper Derek Allan, soon after Peachy picked up the other opener LBW. The luck didn't appear to be with Carlton as some close appeals were turned down, and the runs continued to flow, Zahid Ali making a good 50. But wickets continued to fall at good times, Spin King Swanny pegging Fauldhouse back whilst doing the damage he did two weeks ago, this time picking up 3 proper batsmen rather than hoovering the tail (including a great c&b, always safe hands off your own bowling eh). As the sun came out Ben "Baggins" Stewart came on and the ball began to swing. Benny did for Zahid who holed out in the deep, but the Fauldhouse tail scragged some late runs to post 217-9, a tough total but one we thought we could chase with a batting order deeper than one of the local mines.

Benny Duerden and Ani Majumdar got us off to a great start with 57 in the first 15 overs, Duerden in particular being brutal on anything on his pads. After Ani miscued one to be caught and bowled, Swanny came in and was looking good until a mixup saw him narrowly run out. Dazza Spink then got his first taste of hardball 2nd XI cricket and kept things ticking along til he was bowled between his legs by the rather rotund left arm spinner, meanwhile Duerden had reached a splendid 50. At 111-3 with 19 overs to go it was game on, Nik Hunt and Duerden keeping the asking rate at just over a run a ball but Fauldhouse were stopping the boundaries. Duerden was then bowled by the spinner for 64, but Baggins joined Nik and the runs kept coming, until Nik holed out on the boundary as the asking rate climbed. Baggins took control and in the spitting rain, he began to run singles and twos like he was being chased by an orc in Mordor, while Peachy, Charlie and Rajan supported him at the other end.

The run chase was getting interesting, 141-4 after 40 overs, 173-6 after 44, 182-7 after 46 - it was squeaky-bum time, and Fauldhouse were feeling it as misfields began to occur. When Rajan gloved behind it was 186-8 with 3 overs left, then Ben finally ran out of legs and was run out for 30 (all 1's and 2's), leaving last pair Fraser "Safe Hands" Boyd and Smiler Elder with 30 needed off 17 balls - it looked all over. Boydy then decided now was the time to hit his first six ever, and we suddenly needed 14 off the last over. Fauldhouse brought on their fast erratic opening bowler for his fourth spell, and we had a chance... Smiler swatted the second ball through midwicket for four to make it 9 needed from 4, then after missing the third ball he smashed the fourth over cow for six, only his second six ever (great timing lads). A single off the last ball meant we needed 2 to win and 1 to tie. No problem for Safe Hands Boyd - he smashed the ball through midwicket for four to kick off the celebrations as the locals looked on in disbelief. A sensational run-chase timed brilliantly at probably the trickiest away venue in the league, against a good top of the table side - what a team effort, and a great boost for the rest of the season.


| | |
| --- | --- |
| Saturday 11th July | East League Division 1 |

W

Carlton 2

v

Heriot's 2


280 for 7

Ben Duerden 90, Ben Stewart 67, Nick Martin 41

home

198 all out

Steven Elder 4 for 43, Brad McKay 3 for 35

Fresh from last week's epic win at Fauldhouse the 2nd XI returned home to face deadly rivals but bottom of the table Heriots, and on a sunny afternoon got an immediate boost when the skipper won the toss. We chose to bat on an airport runway, despite groundsman Russell suggesting we bowl and "give 'em nothing", and initially it looked like he knew what he was talking about as we slipped to 19-2, Ani going LBW and Jack Kennedy nicking one down leg on debut.

This signalled the start of the Benny show, as Duerden and Stewart stroked the ball around with ease. The opposition were toiling in the sun as Duerden (left) flicked anything loose on his legs and Stewart worked it to all areas. At drinks we were 136-2 and cruising, with the two students both passing 50, and they continued onwards until Stewart nicked behind for 67 - a great partnership of 144 broken, but the fireworks were about to begin.

Rugger player Nick Martin strode in and liked what he saw, smoking a big six into Grange Loan, and then an even bigger one onto the clubhouse roof, before it was expertly caught by Russell Weir - the old man's still got it. Duerden was creeping towards his ton but then inexplicably he holed out on 90 with 8 overs left, and the innings stalled somewhat.

As wickets fell the runs continued to flow but we had to settle for a total of 280-7 after at one point looking set for 300-plus. The highlight of the closing overs was Stevie Elder's monstrous six over square-leg, the trees and the houses, two in 2 weeks from the man with the big guns.

With such a big total to defend it was always going to be tough for Heriots, and 2 early wickets for Brad McKay put them on the back foot. Stevie Elder then got rid of Tino Weeraratna after he threatened to cut loose, and two more wickets for Elder put them 83-5 after 20 overs. Despite the opener ticking along towards his 50 nicely the target was almost out of sight, and with the game almost in the bag concentration began to waver in the field and the bowling became loose.

The BIG number seven came in and threatened to make things interesting with some expansive shots and reaching a good 50, but Elder cleaned up the opener and Peachy came back to take 2 quick wickets. This allowed captain Charlie to experiment with bowlers, Nick Martin ripping an over of leggies and runs hero Duerden charging in until his figures (and the far window in the clubhouse) were wrecked by a straight six from the Heriots captain. An expensive bill for the student ...

McKay came back to clean up after batsmen 10 and 11 had batted for ten excruciating overs. So a third league win in a row and we are now out of the relegation zone for the first time this season! Next up another derby this time against Edinburgh Accies, and the batting form looks pretty solid, if we can improve in the field and bowl tighter then we'll be tough to beat.
| | |
| --- | --- |
| Sunday 12th July | President's Trophy Q/Final |

L

Musselburgh

v

Carlton 2


110 for 5

Brad McKay 2 for 14, Steven Elder 2 for 29

away

109 all out

Craig Marshall 40

The Presidents Trophy quarterfinal saw us head east to face Musselburgh, who are challenging for promotion from Division 3. In contrast to Saturday's belter at Grange Loan, overnight rain on the uncovered wicket meant pitch conditions were rather different in East Lothian and we were put in on a tricky surface. Soon Musselburgh had four quick wickets - Charlie and Ani caught behind, Jack Kennedy running himself out and Saturday's hero Ben Stewart being comprehensibly bowled by a snorter. 2nd XI new boy Josh Walker joined Craig Marshall, fresh from his grand drinking tour of Europe, and Marsh quickly realised the only way he was going to score was by charging at everything, even the giant West Indian pace bowler. He began to score heavily through cow corner and hit 2 fours over the wicketkeeper's head, while Josh was brutal on any width he was fed. Sadly this kamikaze batting couldn't last long and both holed out in the deep, leaving Carlton... well, in it deep. Some precious runs from Fraser Boyd near the end pushed the score up but the Musselburgh legspinner cleaned up our tail to shoot us out for 109, our worst batting performance for a few months.

With a small total to defend we needed luck, and didn't get it as Musselburgh's opener was adjudged not out off the first ball of the reply despite possibly edging it behind - he then added insult to injury by cutting Peachy viciously for four next ball. Bradders bagged his opening partner next over, but the home team's reply gathered pace as we fed them too many run-scoring deliveries. Stevie Elder's introduction slowed the rate and brought two wickets, and Nathan finally made a breakthrough too, but there wasn't enough to defend and despite another wicket for Brad Musselburgh eased to their target with plenty to spare. A real disappointment as we saw this tournament as a great chance to win a trophy, but plenty of lessons hopefully learned - only batting 30 overs and average bowling cost us dear.

| | |
| --- | --- |
| Saturday 18th July | East League Division 1 |
Carlton 2


v


Edinburgh Accies


home
Match cancelled - rain


| | |
| --- | --- |
| Saturday 25th July | East League Division 1 |

W

Murrayfield DAFS

v

Carlton 2


88 all out

Nathan Pietsch 3 for 24, Steven Elder 2 for 10, Brad McKay 2 for 14

away

126 all out

Tom Barrett 37

A short trip across town to Roseburn for the 2nd XI to face Murrayfield DAFS in a crunch relegation clash - victory could possibly keep us up and send them down. The pitch was unbelievably playable despite being uncovered through a very wet week, and it was definitely a toss to win, only problem being Charlie didn't win it... Put into bat debutant Alan Pedgrift and Tom Barrett bed in like tramps on a bench. The first 14 overs brought 37 runs of pure test-match quality, attritional and exactly what we needed but almost sleep-enducing for spectators to watch. In fact Clarkey's parents, who'd come to see Tom show off his skills, were forced to endure watching him umpire and got so bored they disappeared. Alan was finally out with the score on 39, and Swanny joined Barrett and tried to push the score on. After a few nice shots he too fell, and Nick Hunt kept things ticking along until he tried one shot too many. Barrett was now well set and made sure the DAFS fielders knew it, his non-stop bizarre chat (about goodness knows what) clearly bemusing the opposition as they tried to extract him from his limpet-like hold of the crease.

Benny Stewart couldn't trouble the scorers and skipper Charlie joined Tom with 72 on board after 29 overs. A good partnership was needed and runs didn't so much flow as dribble, but we made it to 101 with 9 overs left before a collapse, a few questionable shots saw four wickets go for two runs. Clarkey and Peachy added some precious glossing to the score, and a total of 126 in 45 overs looked average, but defendable with a our powerful bowling attack. We watched with interest as the oppostion rolled the pitch during tea, thinking not even a JCB would make this swamp of a pitch play any better.

Bradders and Peachy got off to a fine start sending down some hostile heat. McKay in particular was loving bowling on the pudding of a wicket, and made an early breakthrough. Peachy was unlucky at first, and the team was clearly fired up with some slightly over-enthusiastic appealing at times, but then Nathan grabbed two in two balls including the hard-hitting slogger of an opener, and DAFS were 21-3. Clarkey came on despite the disappointment of not being watched by his proud parents - after being slogged over cow, he gave the offending left handed no.5 some intimidating chat and goaded him into another rash swipe next ball, picking up his cheapest wicket of the season.

DAFS were soon 39-5 after Brad struck again, he completed a Carter-like spell of 2-14 off ten overs, good fantasy points for the big man. The ball was swinging and cutting but Clarkey then lobbed a pie at their last recognised batsman, who smited it over the Water of Leith into the trees - a lost ball meant using a fat old one which didn't swing, and this slowed the fall of wickets. Stevie Elder replaced Bradders and bowled a typical tidy spell, it appeared our 126 was a good total. Stevie picked up two quick wickets and a lethal runout from Peachy put DAFS on the brink at 65-8.

The M'Field skipper came in at 10 and a slow steady partnership ensued. We began to get slightly edgy in the field, recalling how we let them off the hook at Grange Loan earlier in the year. Swanny bowled a neat spell without reward, but then Ben Stewart got the crucial wicket of the DAFS skipper, a sliced drive held at cover by Charlie's safe hands, despite the look of terror on his face, and Peachy cleaned up no.11 to secure a massive victory. Another great team effort, and there's now a big gap between us and DAFS at the bottom the table. After four wins in a row, we've got the momentum to finish quite high up if we reproduce these standards each week.
| | |
| --- | --- |
| Saturday 1st August | East League Division 1 |
W


Carlton 2


v


Largo


168 for 4
Charles Paterson 70
home
166 for 9
Rob Thornton 3 for 25
The 2nd XI's clash with Largo was in doubt due to the recent dodgy weather, but a belter of a deck proved to be dry and play was due to start on time, despite the damp outfield. That was until we realised only 3 Largo players had arrived, the rest were stuck in traffic. When opposition skipper Craig Walker finally arrived at 1.03pm he sacrificed the toss, and we chose to field on a humid afternoon. Once the scorebook had arrived (Charlie having left it in his house for the second week in a row and getting his long-suffering girlfriend to send it in a taxi, prize plonker) Brad and Peachy quickly piled the pressure on Largo's openers. 22 runs in 10 overs saw a few risky runs being taken, and a direct hit from Rajan ran out Walker. A wicket for the evergreen McKay followed, bringing the dangerous Thornicroft to the crease. He was eyeing up anything to hit VERY hard, and deposited "Old Man" Rob Thornton into the trees up the hill, before Robbie steamed in to pick him up with a stinging caught and bowled. With the dangermen gone we were very much on top, and continued to pick up wickets as Largo struggled to score fluently. Only no.6 Kinnear stood firm, playing a solid innings to reach 50 despite damaging a hamstring which meant he needed a runner. Towards the end we were perhaps guilty of taking our foot off the pedal and could not finish the innings off, but restricting Largo to 166-9 on a terrific batting wicket was a great effort. Rob grabbed three wickets, Nathan and Brad two with some very stingy spells, and Rajan also got in on the act with a wicket.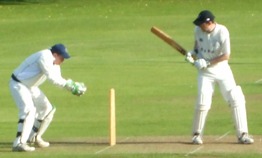 Alan Pedgrift and the skipper then set about seeing off the hostile Thornicroft who flew in down the hill, with two slips and short leg his tactic was to either bowl yorkers or bouncers at your head, but anything on the bat raced away for runs. The opening pair saw off the new ball until Pedgy gloved a steepling bouncer behind, but the hard work had been done. Swanny and Charlie (left) set about quickening the scoring rate; Swanny with some flamboyant shot-making all around the ground while Charlie picked off the singles. After a massive six up the hill and some big shots down the ground Pete looked set for a well-earned half-century but then he attempted to hoick the spinner into Grange Loan and was stumped six runs short. Nik Hunt joined Charlie as we edged towards the Largo total, and the skipper soon reached his first 50 in three years, a long drought finally over. The arrival of the 1st XI bus back from Aberdeen had by now swelled the crowd, and after some liquid refreshments they were soon roaring their approval as Hunt dispatched Thornicroft's final burst of bouncers and yorkers with a leg-slip field, the shot of the day a flick off his legs to the midwicket boundary. As we closed in on victory Charlie finally fell for a previously chanceless 70, and Nik soon after, leaving Nick Martin and Rob to finish it off, Rob ending the game with his first delivery, a massive six over cow corner into Grange Loan - as if he'd do it any other way. A fifth splendid victory in a row, and we're now flying up the table. If only we'd played like this at the start of the season...



| | |
| --- | --- |
| Saturday 8th August | East League Division 1 |
W


Watsonian 2


v


Carlton 2

236 for 6
away
240 for 5
Tom Barrett 78, Nick Martin 63
A short trip to near-neighbours Watsonians for the in-form 2nd XI, where, after a dire game of football in the warmup (McKay scoring the winner, what happened there?), the home side won the toss and decided to bat on a low slow pancake of a wicket. Very soon the openers Flannigan and Chalmers steadily accumulated runs in the first 20 overs as the pitch played as we expected, like a road. It was tough going in the sun and patience was required, as both openers passed 50 with ease. Soon however Flannigan was out sweeping Swanny (probably because he'd been psyched out by the Spin-King's rowdy mates on the boundary who were egging Swanny on as he bowled). Pete celebrated this breakthrough on the boundary ropes, by being forced to introduce his famous father, who was watching, to the new woman
in his life, the pair having never met before. What a moment...
Wickets suddenly became easier to pick off, Hoof grabbed one, Nathan threw down the stumps for another and Swanny picked up another while Brad also got involved, but Chalmers ticked along to his century, finishing 107 not out. Clarkey bowled tightly towards the end, but finished wicketless, becoming officially the worst bowler at Calrton according to the fantasy stats; don't worry Tom there's always a career ahead of you in scoring. Some sloppy bowling and fielding late on aided Watsonians, as they set an imposing target of 237 to win. Not impossible however, given our recent chasing successes...

Pedgy and Barrett set about building a solid opening, Pedgy with some nice shots off his legs. Soon though he was gone, missing a straight one from former Carlton player Zan Sevak. Fortunately the run rate was rattling along quite nicely as Watsonians threw a heap of no-balls onto the score, giving us extra chances to smite them around the park. Barrett was proving immovable like a leech, whilst truly living up to his new nickname of "Crap-chat" (copyright T. Clarke) - oh well Tom, you can't be good at everything... He frustrated the opposition so much
that the bowling became wilder and the runs continued to flow. Swanny came in but couldn't get going and edged to slip, prompting the departure of his fan club, but Nick Martin took on the workload, and the two 17-year olds (below) built a cracking partnership of over 100, with some BOOOOM-ing shots from Nick when any rubbish came his way.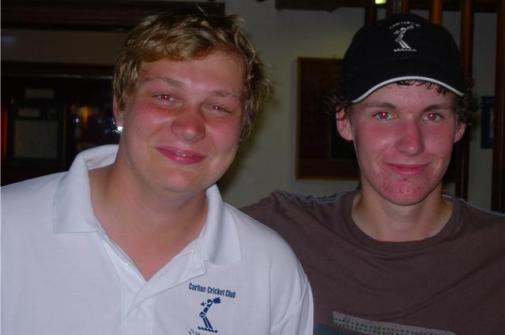 We were keeping up with the rate, and both batsmen passed 51 to raucous applause, as their proud fathers watched on from the boundary.
Victory was in sight, despite Nick eventually falling for 63 and then Fraser somewhat cheaply. Skipper Charlie (left) strode and signalled his intent with a BOOM over long on for six, and despite Tom making a mess of his average just before the end by getting out on 78 hooking, Nathan finished off the innings in style with a boundary to seal a SIXTH (count 'em) win on the bounce for the all conquering 2nd XI.
With three matches left this season, we're into the top half of the table, and the confidence in the team is flowing.
Next up it's Holy Cross at home - the title may be out of reach, but a best ever finish in the league is on the cards.



| | |
| --- | --- |
| Saturday 15th August | East League Division 1 |
Carlton 2


v


Holy Cross


home
Match cancelled - rain


| | |
| --- | --- |
| Saturday 22nd August | East League Division 1 |

W

Boroughmuir

v

Carlton 2


202 all out

Brad McKay 4 for 34

away

205 for 7

Ani Majumdar 43, Fergus Whatley 37

With Division 1 cricket all but assured for next season, the 2nd XI fielded an experimental team at Meggetland. 13 year old Kyle MacPherson made his debut (he is now scarred for life) while there were welcome returns for Guy Williamson, Mo Ahmed and Fergus "I like cake and muffins" Whatley. Despite Nick Martin turning up late due to a run-in with the cops, and after avoiding being bitten by the spider in the changing room, we were buzzing and ready to continue our winning streak, and we stuck the home team in on a dodgy looking track.

The Australian opening combo of McKay and Pietsch (thankfully not wearing his horrific tartan shorts) bowled tight opening spells, shrugging off the imminent doom of Oz losing the Ashes. Bradders was almost unplayable at times as his height caused balls to pop from a length, and the slogging opener soon nicked behind where Peachy took a stunning slip catch. Bradders soon picked up another, before making way for the leg-spin of Whatley. He was soon turning it square, and grabbed two wickets in two overs, one with his classic mystery ball, the one-armed top-spinner (I'd never heard of it either). At the other end runs were gradually flowing, as Hoof and Mo did their best to deal with a savage crosswind. Hoof eventually bagged the no.3 as he neared his 50, and at drinks we had the upper hand. The fielding however became slack, and despite two wickets for Mo and one for Peachy Boroughmuir were setting a useful total, as the no.7 smacked anything in the slot for a boundary. Even the skipper was called on to keep the runs down and bowled five tidy-ish overs, although he had a catch taken offf a no-ball, surely a big fine for that. Bradders was called upon and came back to clean up the tail, finishing with 4-34, top fantasy points for whoever picked him. Chasing a target of 202 would be tough, but to quote the wise words of Baldrick, we had a cunning plan...

Our secret weapon was rugger-man Fergus with his big guns, as he opened with a licence to be brutal. If it was in the slot it had to go, and if it wasn't, well... it went anyway. As Ani watched on in high amusement from the other end Ferg got us off to a flyer, smashing the opening bowler for 3 huge maximums. It was entertainment you'd pay to see, and he raced to 37 in double-quick time before the fun was ended. 50 after 6 overs was a great start to put them under pressure, and Ani had by now played himself in and was stroking some cracking shots. He and Guy brought up the hundred in the nineteenth over and we were well ahead of the rate, however wickets soon started to fall quickly as the spin of the 'Muir skipper tied us down. Ani fell for 43 and nobody else in the middle order could get the ball away, very soon Peachy was there with just 5 wickets to go. Useful knocks from Nick, Kyle, Fraser and Charlie didn't really damage the scorebook too much, and Hoof joined Nathan with 50 still required and only 3 wickets left, but the two older responsible adults in the side were cool under pressure. Nathan took charge with some cracking shots through the covers while Hoof stuck around and seemed to clip the ball through every available gap behind square. We crept towards the target as the light began to fade, and the weather closed in, Ani doing an admirable umpiring stint whilst wearing 5 sweaters. Finally Hoof nicked one through third man to seal the win and "bring home the jam" - 30 not out and 27 not out respectively for Peachy and "Big John" (below).

Another excellent run chase, this time with a very young and inexperienced team, seven wins in a row for the indestructible 2nd XI. We're unbeaten in the league since week 7, and the team spirit is sensational. Also the knowledge that with man-child Fergus, we now have a pinch-hitting option for the future up our sleeves if required ...
| | |
| --- | --- |
| Saturday 29th August | East League Division 1 |

W

Carlton 2

v

Glenrothes


278 for 7

Ben Stewart 83, Ani Ajumdar 71, Tom Barrett 53, Nick Martin 39

home

92 all out

Brad McKay 3 for 17

With both teams safe and apparently having nothing to play for, the 2's last match of the season against Glenrothes could have been a 'go through the motions' match. Luckily, motivation and confidence in this team is high and we were keen to go out on a high and extend our unbeaten league run to 8.

The stand in skipper Brad duly lost another toss and we were sent in. Ani and Crap-Chat started solidly - Ani keen to play his shots and Tommy playing the sheet anchor role. This opening partnership of 100 put us firmly in the ascendency and we didn't let go all day. Ani made a sparkling 71, full of crisp drives, and his innings ended when he was well caught behind.

Benny S (left) set out where Ani left off and guided us to 110-1 at drinks. Tommy soon brought up a fine fifty, with no boundaries, but plenty of excellent running which kept the Glenrothes guys moving. He soon fell for 53 to a top edge. Benny was travelling serenely along and soon brought up a 50 of his own with 3 consecutive boundaries. With wickets in hand, word was sent to push on further, which Ben and Nick Martin did well - plenty of BOOM. Benny played a super knock, his best of the season, as he racked up 83 before being bowled. Nick gave him great support for 39. Wickets fell in a clatter at the end in the race for runs, but a total of 278/7 off 50 overs was going to be difficult to beat.

The Glenrothes innings was one ball old when a torrential downpour forced some players from the field while the remainder put the covers on to shouts of 'wrong way!' from the masses assembled under cover. Upon resumption, Robbie steaming down the hill and Brad, chugging uphill into a hurricane, made the ball talk and kept the openers quiet. Wickets soon fell, with Robbie picking up 2 and Brad 3 in the opening spells which put Glens under the pump at 30/5. Clarkey and Gerald (looking to impress the folks up from Wales after his duck) kept the pressure on and were rewarded with a wicket each, Gerald's to big cheers from the top of the hill.

Man child Whatley and Rajan then were charged with wrapping up the tail which they did with two and one wickets respectively, with Ani taking a fine catch at gully to complete a great day out. With Glenrothes out for 92 and a resounding 186 run win, the 2's recovered from a horror season start to record an impressive 8 in a row and guarantee ourselves third place, our highest ever finish.