A mixture of young and old and 2's, 3's and 4's players gathered at Grange Loan for the annual trip to Manderston for a friendly match. Despite Ferg's hangover, he was still keen to get stuck into one particular member of the Manderston team, a certain P Swan.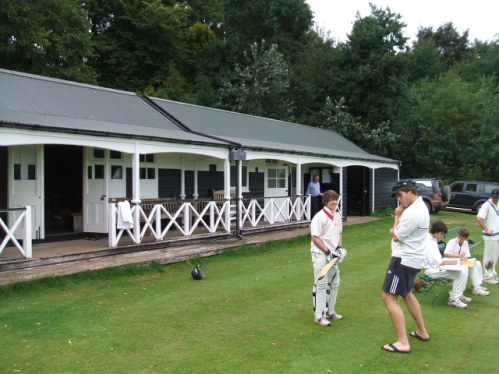 The ground was soft, but in good order and we were asked to make first use of the soft but easy wicket. Brent and Kyle opened up with a stand of over 50 with Kyle's stout defence being complemented by Brent's regular hitting down the ground. When Kyle departed to a good catch behind, Guy followed and the scoring rate increased and we soon passed 100 with only 1 down. Swanny came on to bowl and the Carlton lads made sure he would not be celebrating any wickets. Guy was replaced by Nick Martin who opened his shoulders and hit out well.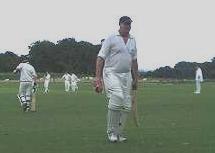 Manderston were struggling to take any catches and eventually, Brent became too knackered to bat on. Despite attempts to give his wicket away, he had to retire in the end, making a well made 72. With Brent's retirement, the young 'uns took over and Fraser, Nick and Rajan all ran very well between wickets, running the opposition ragged. Ferg faced only the last ball of the innings but was bowled trying to heave one out of the ground. Our total of 172/6 off 40 overs was a good effort and all batsmen made good contributions.

The tea at Manderston is legendary and its reputation was justified. Brad, the skipper, had eaten too much and so passed the new ball onto Hoof and DP, who both bowled well. DP made the first breakthrough with a full toss LBW and Hoof bowled his spell straight through for 2/26. Hoof bowled excellent areas and very straight and deserved his reward. The skip couldn't make further inroads, but DC at the other end could. He too bowled an immaculate line and finished with 1/20 off his 8. At this stage, Manderston were well behind the rate and with 5 down, Carlton looked to be heading for an easy victory. Not so, as the father and son Swans built a solid partnership, Peter especially batting very well. The target was reduced substantially and with successful bowlers already bowled out, the skipper turned to the big man Ferg. Swanny junior played and missed at a couple before going for a hoick and being bowled for 44, delighting the big man and ensuring Swanny endures a lifetime of torment.
With one end opened up, the game was again on. The skipper picked up one from the other end as we ended up starving senior Swan of the strike. As Ferg bowled the last over, 13 were required. A couple of dot balls ensured an 8 run victory in what had been an excellent and enjoyable game of cricket. Special mention to the Carlton fielding which saved many, many runs, especially Kyle, Nick, Fraser and Rajan. Overall, an excellent team effort. Well done lads.