Kwik Cricket festivals & fixtures 2018
April

29

May

13
27

June

3

Murrayfield DAFS festival (U10)

10
10

Kelso festival (U10) tbc

17
24
24

Melrose festival (U10) tbc

July

15
15
22

Hawick festival (U10) tbc

29

August

5
5

St Boswells festival (U10) tbc

12

Stewarts Melville festival (U10)

19

Edinburgh South

festival (U10)

26

September

2
New to kwik cricket? Read Martin's Beginners' Guide to Kwik Cricket
The second parents v players KwikCricket match of the season took place at Grange Loan on Sunday 2nd September. There were over 40 players and parents ready to do battle on a rare dry Sunday morning. There were three sets of matches, officiated by Euan Keating, Gav Murray, Rory Ledingham, Dougie Firth and Rudy Adair. Match organiser, Keith Murray, had ensured that unlike last year, he had not run out any of the umpires during the league season.

As ever, the first match pitted the players against their parents. In Match 1, the players consisted of Robbie Murray, Oli Stones, Hector Murray, Lewis King, James Stronach, Blair Mackenzie, Finlay Thompson and Sam Northridge. Ben Stronach stood in as a parent for the injured Charles, a very able substitute. Gav Murray umpired in crutches due to his rugby injury the previous day, nearly wiping out the bowler each time he signalled a wide with his crutches. He was ably assisted by Martin Firth.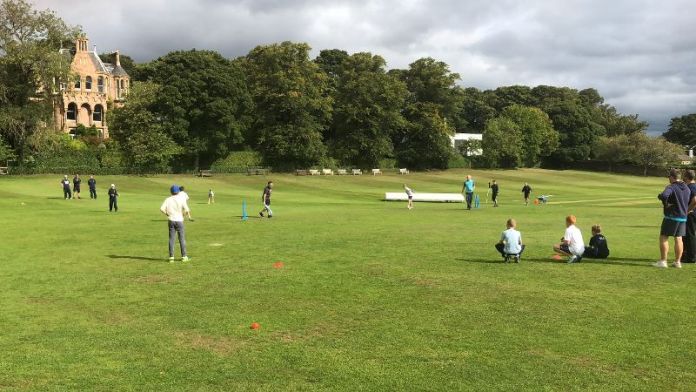 Players' skipper Robbie Murray duly won the toss and had no hesitation inserting the parents, looking to make the most of the early morning bowler friendly conditions. Euan Murray and Ruaidhri Mackenzie opened the batting and survived some fiery bowling from Hector and accurate bowling from Blair to get the parents' score moving. Ian Thompson and Dave Northridge hit several boundaries, including one of Ian's trademark cover drives, but also lost three wickets to fine fielding and bowling from the players. Paul Stones and Alan King then steadied the ship and pushed the score on to 240. Keith Murray and Ben Stronach closed the parents' innings. They moved the score on to 261, including some fine boundaries from Ben, showing his customary class. This looked a defendable total, but not an impregnable one.

Robbie and James opened for the players against the quality left arm bowling of Ben and the dibbley dobbley stuff from Keith. They hit runs a plenty, but also lost three wickets including an outstanding caught behind by Ben. Lewis and Oli then pushed the score on to 241, including a superb slog sweep for six by Lewis. Blair and Hector then came to the crease to face the engine room of the parents' attack, Ruari and Euan. They batted gamely, but lost three wickets, including a direct hit run out by Keith. This left the final pair of Finlay and Sam to hit 25 off the last two overs. 7 was taken from Ian's niggardly bowling in the penultimate over, but a succession of well struck boundaries off the last tied the game with one ball remaining. Sam duly struck the last ball for 4 off his dad's bowling to bring the players a well deserved win.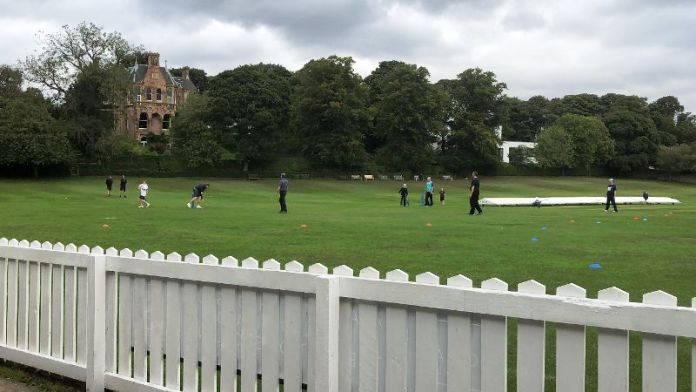 In the second match, where the players played with their parents, Team Stronach posted 241. This was an impressive total considering they lost a total of 8 wickets including three in Oli's over, two in Euan's and a fine caught and bowled by Keith off the last ball of the innings. Finlay and Ian top scored with 18 off their two overs. Team Murray's response was always up with the rate, despite regular wickets falling. Paul and Oli did well to score 18 off the two overs from Ben and James Stronach and there were big sixes from Oli and Lewis. Robbie and Keith were left to score 3 off the last for the win. A big six from Robbie off the second ball looked to have the match won, only for Keith to be stumped next ball, much to Robbie's exasperation. Robbie then hit a big shot to the boundary that was almost caught by Finlay, leaving Keith to hit the winning runs off the last ball. Team Murray won by 2. Another match decided on the final ball.

In Match 2, the players were Benji Risi, Alex Buckley, James Robertson, Daniel Mowat, Lewis Broster, Luke Boardman, Ruaidhri Vick and Robbie Leitch. The umpires were the now experienced Euan Keating and the debutant Rory Ledingham. Rory assured concerned batsman that he could see clearly out of his elegant dark sunglasses. The players batted first and hit a good number of boundaries, but lost four wickets which proved costly and reduced them to 236 off their 8 overs. The parents' powerful batting lineup were always ahead of the rate and despite a fine effort by the players with the ball, taking five wickets, the parents ran out winners on 260.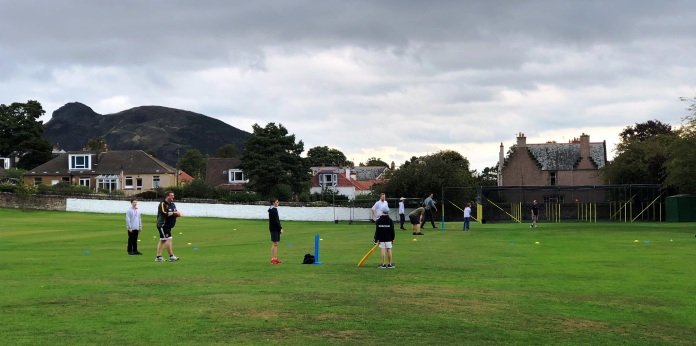 The second match saw a close game and although the match records are not that clear, it appears to your correspondent that Team Vick beat Team Risi by 288 to 275. My apologies if it was the other way around. There was lots of big hitting with the other pitches regularly being interrupted to recover balls that had been hit hard for boundaries. Next year, we may need to space out the pitches a bit more...
In Match 3, the players were Sasha Nelson, Osian Hunt, Tom Hathorn, Harry Happer and Lindsay Thompson. The game was umpired by Dougie Firth and Rudy Adair, with Rudy's dad Brian helping out in the field. The players scored 39 and restricted their parents to 37. A really close game. The umpires report that Tom was the pick of the batters and there were a number of great catches taken by both teams.
In the next match the teams were mixed and joined by Claude and Sarah Winkler. They played a 12 over a side match with lots of fine shots and energetic running between the wickets. More great catches were taken. The umpires declared the game a draw.
You can see some video clips of the action here
Many thanks to all the players and parents for taking part and to the ground staff for preparing the pitches. It was a lovely way to end the KwikCricket season and is now a fixture in the club calendar. We are particularly grateful to the young umpires for officiating so well and to Heather and Collette for organising the teas. We hope to see many of you at the players v parents match at the start of next season.
Carlton hosted our u9 KwikCricket festival on Sunday 26th August. The ground was damp, but playable and despite a dismal forecast, the hardy KwikCricketers were determined not to lose another festival this summer. The game was on.

There were three Carlton teams and 7 visiting teams who braved the drizzle as play started. The Pumas were James Stronach, Benji Risi, Hamish & Agnes Foley, William & Alex Southwell, and Aaradhy & Aadi Khadse. The Southwells and Khadses were all on KwikCricket festival debut. The Pumas started against Watsonians. They bowled first and restricted the visitors to 223 off their first four overs with tight bowling from William, Agnes, Alex and Benji. Then Aadi took the first wicket, and Aaradhy went for just one run, before Hamish took two wickets and James three to leave Watsonians on 203. The Carlton reply only lost one wicket and amassed 267 for a very solid opening win.

Next up for the Pumas were Bass Rock. More tight bowling, including a wicket maiden for Agnes, kept Bass Rock on 236. The Pumas amassed 282 in response for the loss of just one wicket, James and Hamish top scoring with 33. Two wins out of two. The last match was against Heriots. Another tight bowling and fielding performance including another wicket for Agnes and wickets for Aaradhy and Hamish, left Heriots on 232. The Pumas batters went past this after the first two overs and finished comfortable winners on 263. A great start to KwikCricket for the debutants in particular.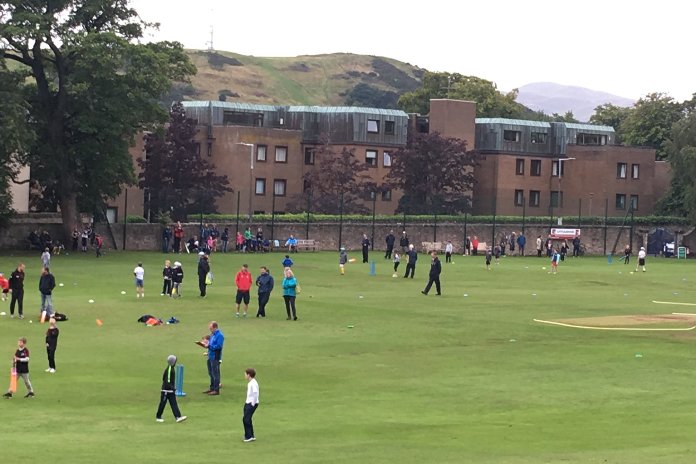 The Panthers were Oli Stones, Theo Griffin, Egan Hundleby, Lewis Broster and Daniel & Matthew Smith. Their first match was against a strong SMRH side, who hit 276 in their innings, despite fine overs from Lewis and Daniel and a wicket maiden from Oli. The Panthers reply started solidly with Oli and Egan posting 23. Matthew and Lewis then put on 14. At the half way point, the home side were on track. A further 17 from Theo and Daniel left the Panthers on 254. Oli and Egan returned and hit 12 off the penultimate over. This left 10 required off the last. A big six from Oli off the first ball steadied the nerves, but tight SMRH bowling left the Panthers needing 2 off the last. A boundary secured the narrowest of wins. Well done the Panthers. Crucially, no wickets were lost, which in the end proved decisive.

Next up for the Panthers were Grange. The home side batted first and posted an impressive 282. Three wickets from Theo, a wicket from Lewis, and a fine maiden from Matthew, restricted Grange to 217 for an excellent win. Their last game was against the Leopards, of which more later.

The Leopards comprised Robbie Murray, Finlay Thompson, Gabriella Fontenla, John Gill, Ruaidhri Vick, Luke Boardman and Theo Pak. They played a strong Penicuik team first, posting a competitive 244 with the bat against some impressive bowling. Luke and John hit an important 20 off their two overs. Two direct hit run outs from Finlay and Gabby and tight, accurate bowling by all restricted Penicuik to 235 for a well deserved but narrow win.

Next up were Edinburgh South. The Leopards posted an impressive 289 in their innings with Finlay and Robbie leading the way with 34, and Gabby and Luke finishing with 29. Most impressively, no wickets were lost in the Leopards innings. The visitors were always going to struggle to chase that total and so it proved. Wickets for John, Finlay, Robbie and Ruaidhri, and another direct hit run out for Gabby, left Edinburgh South on 225. Two out of two.

The Leopards last match was an end of season derby encounter with the Panthers, always likely to be a keenly contested affair. By this time the rain was getting heavier. Oli and Egan opened for the Panthers and hit 20 in their first two overs, despite the now obligatory direct hit run out from Gabby. However, the Panthers found runs hard to come by against the accurate Leopards bowling, Daniel and Theo Griffin only picking up 6 against the bowling of Theo Pak and Ruaidhri, and Matthew and Lewis accumulating 10 against John and Luke. Oli and Egan returned to hit a further 21 in the last two, including a six from Oli off Robbie's penultimate ball, to leave the Panthers with a total of 257. Any doubts this was going to be an achievable total were dispelled by Robbie and Finlay who smashed 28 and then 21 off the first two overs to give the Leopards a flying start. More good work from John and Luke increased the score to 266 and good defensive batting from Ruaidhri and Theo pushed it on to 276. Gabby finished proceedings off solidly and the Leopards ran out winners with 286.

Well done to all the Carlton teams. 8 wins out of 8 against the visiting opposition, and some great debut performances. Many thanks to all who played, supported and coached in the rain. Great to get the games played despite the weather. Surely the only cricket played in the east of Scotland today!
We were invited to the Penicuik KwikCricket festival on Sunday 5th August. It is always a popular and well organised festival and we sent two strong teams.

The Leopards comprised Robbie Murray, Fergus, Hamish & Agnes Foley, Blair Mackenzie, Benji Risi, John Gill and Ruaidhri Vick. They played Grange first up, won the toss and bowled. Early wickets from Hamish and Benji, along with tight fielding all round restricted Grange to 251 off their 8 overs. Ruaidhri made a number of great stops on the mid off boundary to back up the bowlers. In reply Hamish and Agnes opened the batting and lost no wickets, Hamish hitting two fine fours in their second over. John and Ruaidhri pushed the score along, before Blair and Benji hit a flurry of boundaries to get the score to 243 with Robbie and Fergus to come. They carefully defended the sharp Grange bowling in the penultimate over and then took 22 off the last to ensure the Leopards finished winners on 274. A good win against a competitive Grange side.
The next match was against a youthful Penicuik team. Bowling first again, Hamish produced another fine opening over - a double wicket maiden. Further wickets from Blair, Ruaidhri and Robbie and tight bowling from everyone else restricted Penicuik to 210, a score that was never likely to trouble the Leopards. So it proved as they amassed an impressive 314 with strong batting from each pair.

The last match was against SMRH, who we know well. We won the toss once again and as usual fielded (Fantasy Bob would be proud). This time a wicket from Blair and two run outs pegged the opposition back and there was more miserly bowling. SMRH could only manage 222 following an excellent fielding and bowling performance. The Leopards response got off to a fine start as Hamish and Agnes put on 23 to establish a lead after only two overs. Ruaidhri and John continued the good work and after a quiet first over, Blair and Benji blasted 22 off their second. Robbie and Fergus finished the innings off in fine style, hitting 28 off the last as the ball flew to all parts. The Leopards finished on 303. Another emphatic win.

The Panthers consisted of Oli Stones, James Stronach, Harry & Freddie Charman, Luke Boardman, Gregory Stewart-Roper, Lewis Broster and Matthew Brown. They played three matches against Grange, Penicuik and Watsonians. They also won each comfortably. The highlight was undoubtedly Freddie Charman's four wicket maiden against Watsonians, which included a hat trick of caught behinds by James Stronach. An incredible achievement at any level and from one of the younger players in the team too. Well done Freddie!

Many thanks to all who played and supported. It was another strong performance from the Carlton KwikCricketers, who have now won 19 out of their last 20 matches. Thanks also to Penicuik for hosting another great festival. It was fantastic to see so many young cricketers playing in the sunshine.
Despite the heavy rain the previous day and gloomy forecast, the hardy Carlton KwikCricketers were determined to fulfil their friendly fixture against SMRH, not least because this was the first occasion that they had been able to host SMRH for several years.
There were 19 Carlton players and 13 from SMRH. It was agreed to play two 12 over a side matches.
The Leopards comprised Robbie Murray, Hector Murray, Blair Mackenzie, Daniel Mowat, Finlay Thomson, Benji Risi, Egan Hundleby, Ruaidhri Vick, John Gill and Cyrus Salman. They played a youthful SMRH team, won the toss and elected to bowl first on the somewhat soggy sloping pitch in front of the clubhouse. There were tidy spells from Cyrus, Egan and Daniel, but the highlight of the innings was undoubtedly the plucky young SMRH batter who was struck in the eye first ball by Robbie off one that lifted off a good length, but gamely batted on against more fast bowling. Most unusually, there were no wickets taken by Carlton, but the Leopards still restricted SMRH to 159 off their 12 overs, due to a combination of tight bowling, sharp fielding and good backing up on the small pitch. The Leopards chase got off to a breezy start with Finlay and Cyrus putting on 21 in their two overs. Blair and Daniel than added 17 before Benji and Ruaidhri hit 22. Hector and Egan added 16 before Robbie and John put on a further 32. Egan and Ruaidhri returned to add another 9. The Leopards finished comfortable winners on 217.
The Panthers were Oli Stones, James Stronach, Harry & Freddie Charman, Luke Boardman, Jamie Aitken, Matthew Smith, Archie Smart and Lewis Broster. They played an older team of 6 SMRH players, who were unfortunately reduced to 5 by an early injury, but the Panthers supplied enthusiastic fielders to make up the numbers. The Panthers scored 191 in their 12 overs, with top scorers being Oli and James who opened and hit 26 in their two overs, and Harry and Freddie adding 30. Jamie and Archie also put on a useful 14. The SMRH reply got off to steady start, but a wicket from Oli and wicket maiden from James pegged them back. More tidy bowling from Matthew, Archie and Harry further restricted the visitors and they finished on 155. Carlton won by 36 runs.
It was agreed to mix the teams up for the second match and James, Harry and Freddie kindly agreed to join the 5 older SMRH players against a Carlton team of Robbie, Oli, Hector, Blair, Daniel, Egan, Finlay and Benji. Hector bowled an excellent first over against James and Harry, only marred by some rather chaotic fielding off the last ball, which allowed the batsmen to run 4! James and Harry then took 14 off the next over and 21 off their third to get the SMRH innings off to a flying start. Despite a tidy over from Egan and wicket from Finlay, SMRH were on 168 at the half way point. Up stepped Benji to bowl a great over, taking a wicket for the loss of only one run. Another wicket for Egan and two for Hector turned the screw. Robbie then cleaned bowled the SMRH batters twice and Benji finished off to leave SMRH to finish on 162, 8 runs less than they had been after 6 overs. The Carlton reply started well with Benji and Finlay hitting 33, including a number of impressive sixes. Hector and Daniel added 19. At halfway, no wickets had been lost. Egan and Robbie then faced the dangerous bowling of Harry, Freddie and James. Robbie smashed a big six off a full toss from Harry, but otherwise the three Carlton bowlers bowled fast and accurately, Freddie forcing a wicket, caught at cover. Oli and Blair finished the Carlton chase, hitting numerous boundaries including several big sixes to add 41. Carlton finished on 201.
Meanwhile, a younger team of John, Ruaihdri, Jamie, Archie, Lewis, Matthew, Luke and Cyrus played the younger SMRH team. They restricted SMRH to 168, with three wickets for Jamie being the highlight. The Carlton batters amassed 188 in response, to complete four wins out of four.
A most enjoyable morning with our friends from SMRH. Many thanks to them for coming to Grange Loan and playing the games in such great spirit. It is great to get these additional games. The standard of performances from all the players are improving with every match. It was good to beat the weather too. The rain started heavily as we walked off from the last game ...
We sent an u10 team to our friends at SMRH for a friendly match at Inverleith playing fields. The team consisted of Robbie Murray, Blair Mackenzie, Harvey Harrison, Theo Griffin, Egan Hundleby, Archie Stewart, Gregor Stewart-Roper and Matthew Brown. It was another glorious sunny morning and we agreed to play two 12 over a side matches, with each pair batting for three overs.

Carlton batted first and Egan and Archie opened, hitting regular boundaries and running well for the loss of just one wicket. They got us off to a fine start, putting on 26 in their 3 overs. Matthew and Gregory then continued the good work and progressed the score to 241. Harvey and Theo came out third pair and Harvey hit the first six of the match, clouting a good ball straight over the long on boundary. They put on another 20 against some tight bowling and lost no wickets. Robbie and Blair then came out last. They played a succession of big shots, hitting 28 off one over, with Blair hitting straight sixes and Robbie working the ball mercilessly on the leg side behind square. Carlton finished their 12 overs on an impressive 323.

Robbie opened the bowling, followed by Harvey and Egan. All three bowled accurately and the strongest SMRH pair only amassed 13 runs in their 3 overs. Blair and Archie then continued the good work, but no wickets had yet to fall. This was remedied by Matthew who took 2 wickets in 2 balls (one caught on the square leg boundary by Robbie and the next bowled) and then Egan effected a run out off the last ball of the over. Theo then took two wickets in his over of fine accurate bowling and SMRH were reeling on 206 after 7 overs. Gregory kept up the pressure and Archie returned, with two more run outs from sharp fielding being taken in his over. Egan and Blair finished up tidily, leaving SMRH to finish on 231, almost 100 runs behind.

An emphatic win for Carlton.

For the second match we mixed up the teams and there were further good performances from all the Carlton players. Particular highlights were Egan's three fine catches, Theo's resolute defence to Robbie's bowling and Harvey's clean hitting off the penultimate over to secure the win for his team.

Many thanks to all who played and supported and especially to SMRH for hosting us again. It is great to give the players extra games out with the festivals and they are obviously progressing strongly all the time. We look forward to the return match at Grange Loan in a couple of weeks.
There were three teams of Carlton Kwik Cricketers at the Watsonians u10 festival on a glorious sunny day at the excellently run festival. There were an impressive 16 teams, with 4 pools of 4. The three Carlton teams, composed of P3 - P5s, won 8 out of their 9 games, with the Leopards and Pumas both winning their pools, thanks to narrow last over wins against Grange and Watsonians respectively.
Leopards
The Carlton Leopards gathered at a stunning, sun-bathed Myreside - the line-up: Hector Murray; Robbie Murray; Gabby & Harrison Fontenla; Luke Boardman; Eliza Ungless; Jamie Aitken; James Robertson; and Finlay Thomson. Three tough games beckoned, co-incidentally against the same opponents as at the previous week's Grange festival – Watsonians, Penicuik and Grange.
The players had a perfect opportunity to immediately avenge a tight loss to Watsonians in last week's fixture, Watsonians 2's the first opponent. Watsonians chose to have a bat, but immediately found it hard to get anything away with a rather lush batting surface causing awkward bounce from a length. Wickets for Eliza, Luke and Robbie kept the total down, good work in the field also resulting in a couple of run-outs. Super support too from Gabby, James, Finlay & Hector – the most expensive over only costing eight runs, a top effort. Watsonians finished with only 220. The Leopards looked very confident chasing, playing straight balls defensively and hitting anything loose. The only wicket to fall was to the very last ball, but by then the team was easily ahead of the rate and finished on 260.
Carlton Leopards win by 40 runs.
Penicuik Pythons were next up, losing the toss and being invited to have a bat. The Penicuik batters found hitting a little easier on a better surface and looked to be heading to a decent total, until some more superb outfielding in the final over punished a couple of questionable calls for two run-outs, plus a wicket from Hector, restricting the total to 239. The Leopards again looked confident in the chase, and despite losing a couple of wickets to excellent Penicuik catches they kept their heads and accumulated runs very well. The scores were already level when Harrison and Robbie came to the crease for the final two overs, a flurry of fours and sixes rattling the total along to 268. Very confident innings from all of the players in this game and a well-constructed chase overall – well batted!
Carlton Leopards win by 29 runs.
The final game saw a return to pitch 1, with a match against the traditionally strong seven players of Grange – Finlay & Eliza kindly stepping up in turn to field for the Grange side and even the numbers. For the first time today the Leopards would bat first – could they defend a total as well as chase it? The innings got off to a promising start, but the Grange bowlers were neat and tidy, and anything straight tended to bounce alarmingly over despairing batter's shoulders. The Leopards scored what they could, but the loss of four wickets looked as if it might prove decisive – only 224 scored, but something at least to defend in the face of a really strong bowling performance from Grange. The Grange reply got off to a quick start with several boundaries being hit – but Luke kept his head and Gabby took a wicket with a perfect ball on off stump. FInlay and James kept up the good work, James taking another wicket to leave Grange 219 at the half-way mark. Jamie bowled his best over of the day and took another wicket – a lovely catch from James – and Harrison gave nothing away. Grange 228 with two overs left, and the Leopards needed some wickets. Fortunately, the final Grange pair were determined to run some pretty unlikely singles, and Hector's over resulted in a momentum-swinging minus 14 – two run outs and another catch from James, with only a single scored. That left Grange on 214 with one over to come, and 11 needed for the win. Robbie saw the Leopards home with just a couple of extras conceded.
Carlton Leopards win by 6 runs.
A fabulous return of three wins from three for the Leopards to win the pool, and three really excellent team performances to boot. All of the players had something positive to bring to the games, taking it in turns to provide a spark, whether batting, bowling or fielding. The Leopards' teamwork and support for each other in the field was first-class, and the win in the final game was down to good game awareness from the whole team when completing two vital run-outs. And most importantly of all – everyone had a great time! Many thanks indeed to Watsonians for first-rate organisation of a superb event, and arranging for perfect weather.
Leopards
The Carlton Leopards squad for a slightly breezy Grange Kwik cricket festival was Hector Murray, Finlay Thomson, Xander Hutchinson, Gabby & Harrison Fontenla; Sasha Nelson; Jamie Aitken and James Robertson.
Three matches were lined up, versus Penicuik; Grange Stags; and Watsonians 1s – a great opportunity for a relatively inexperienced team to play against some strong opposition. Penicuik were first up, and the Leopards were asked to have a bowl. Wickets for Gabby, Sasha and Harrison at regular intervals kept a good check on the Penicuik scoring – particular mention, too, for a phenomenal catch taken by Harrison from his big sister's bowling, incredibly unlucky to step across the boundary line as he completed the catch, so it didn't count! All of the other bowlers kept things tight and Penicuik could only manage 234 – a decent total, but one the Leopards were confident of chasing down. Gabby and Sasha got the Leopards off to a flying start with four boundaries hit, and with the tone set the batters all scored plenty of runs. A couple of wickets in the penultimate over caused a little concern, but Xander and James saw the Leopards safely over the line with some crunching fours to take the total to 268.
Carlton Leopards win by 29 runs.
Next up were old rivals Grange, playing with home-court advantage. Batting first this time, the innings was once again set off on the front foot by Gabby and Sasha, Jamie and Finlay following up with some hard-hit fours and a lovely lofted drive for six from Finlay. Xander and James kept the momentum going, batting solidly against Grange's premier bowlers and milking the runs on offer, leaving a perfect platform for finishers Hector and Harrison to rattle the score up to 267 – a very solid total against a good Grange attack, and particularly notable for losing no wickets: a really excellent effort. The Grange batters had plenty of experience and set about the chase calmly – good control shown by the Leopards bowlers and some excellent fielding on display, but wickets were similarly hard to come by. Going in to the final two overs Grange were 242 and in with a chance – but timely strikes from Harrison and Hector kept the opposition to a single run from the final two. Those wickets were in good part down to pressure exerted by tigerish fielding, so credit to the whole team for staying alert and backing up their bowlers.
Carlton Leopards win by 24 runs.
The final game was against a very powerful looking Watsonians line-up, stacked with older and more experienced players. The Leopards knew this would be a tough ask, but were determined to put up a good show! Batting first, Hector and Harrison struggled to make too much of an impression on some excellent Watsonians bowling and could only manage a net one run from their two overs. Jamie (with his best performance of the day with the bat, well done!) and Finlay fared better and moved the score along to 215. Sasha and Gabby also accumulated well, but were really unlucky to lose a wicket last ball which halted progress somewhat. Xander and James then had a rollercoaster final two overs – out twice, but still able to hit three fours and scamper a number of valuable singles and twos (some excellent running from the boys!) – the final total of 238 was a great effort against this Watsonian's attack. Hector (possibly slightly over-enthusiastic about bowling to his class-mates) got the reply off to a slightly unfortunate start, slinging a monster four wides through mid-off – but fortunately had a decent come-back next ball, smashing the Watsonian batsman's middle stump back almost to the boundary. There was some excellent bowling on display, with particular mentions for James and Sasha who between them only conceded 7 runs. Coming in to the final two overs, Watsonians were on 242. Jamie bowled a fantastic penultimate over, again his best of the day, with just three runs coming - Watsonians on 245 and the game in the balance. Finlay struck first ball to pull it even closer, the batsmen well contained by excellent fielding in the ring and only able to scramble a couple of singles and a two. The very last ball saw a run-out – but it wasn't quite enough, the final score 242.
Watsonians deserving winners of a cracking match, by just 4 runs.
A fabulous showing from the Leopards in these matches – the boys and girls had a great time, played with fun and spirit (and no little skill), and supported each other brilliantly as a team. Particular credit for running Watsonians so close in that final game! It really did look as if it would be a complete mis-match before the game got underway, but it was great to see everyone step up to the challenge and put in their best performances of the day to make it a nail-biting finish. Many thanks indeed to the Grange team for running a fantastic tournament that was great fun to play.
Two Carlton teams visited Peebles, winning 5 out of 6 games and having a great time. Our unbeaten side featured all four Foley children, which must surely be a first? Peebles, as always, were great hosts.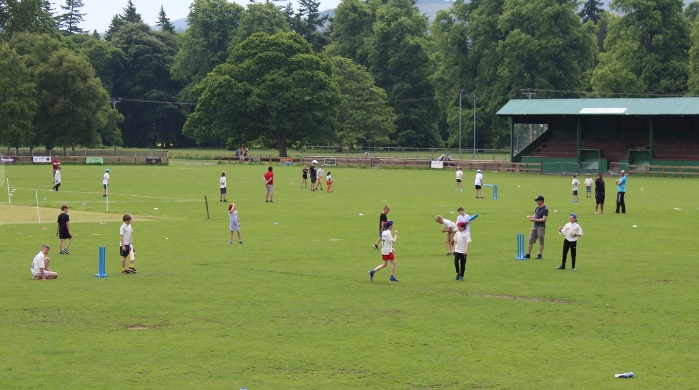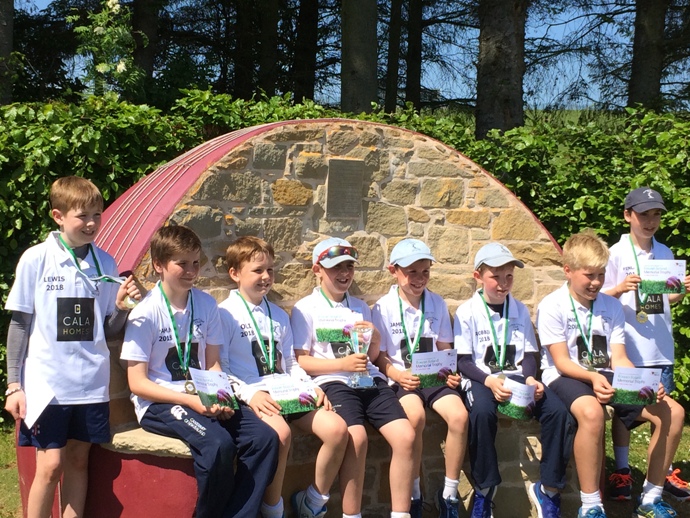 Carlton travelled to a sun drenched Galashiels for the annual Rowan Boland Memorial Trophy. This is an important day for Gala Cricket Club as the tournament commemorates the tragic death of 9 year old Rowan Boland at the club in 2010, from a heart attack. It is an U12 KwikCricket tournament and Carlton sent a youthful team of Max D'Ulise (11), Innes Tomlinson (11), Sam Northridge (10), Robbie Murray(9), Lewis King(9), Oli Stones (9), James Stronach (9) and Finlay Thomson (9), who hoped to retain the trophy that Carlton won last year.
The format involved three initial pool matches with the winner of each pool going forward to play in the final. First up were Selkirk, who as usual had a mixture of talented boys and girls and some very young players, the youngest of whom was only 5. Max won the toss and Carlton batted first, putting on an imposing total with good contributions from all. Tight bowling and fielding then restricted Selkirk, with Finlay and Innes sportingly moderating their pace to the youngest opposition players. However, the highlight of the innings was undoubtedly the tiny Selkirk 5 year old, with a cricket shirt almost down to his toes, attempting to take a very slow single off the sharp Carlton fielding and being adjudged not out by Keith Murray at square leg, despite the ball arriving at the stumps before the batsman was half way down the track. Carlton won quite comfortably.
Next up were the hosts Gala, playing on a big slope in front of the clubhouse. Carlton opted to bowl first and put in a very solid bowling performance with some great fielding, Sam's wonderful diving catch down the hill being the highlight. Innes and Finlay got to bowl at full pace and both looked good. The chase never looked in doubt and Oli and James in particular hit several big boundaries to see Carlton win.
The last pool game was against Kelso, who were also unbeaten. They were a strong team with a lot of talented players. They won the toss and Carlton were inserted. Oli got the innings off to a good start with a number of powerful straight sixes, but the other batters found it harder going and the Kelso players fielded very well, taking any catches on offer and making scoring difficult. It was only down to a fine knock from James, who hit 28 runs off the last over, that Carlton were able to post a respectable total. The Kelso reply got off to a good start, but Carlton fielded like tigers, both Sam and Lewis making great diving stops to prevent boundaries. With two overs to go, Kelso needed 30 runs to win, but excellent bowling from Robbie and James closed out the win, James also taking a very sharp catch behind the stumps from a genuine nick off Robbie's bowling.
With all three pool games won, Carlton progressed to the final against Melrose. This was played on the pitch in front of the clubhouse before a sizeable crowd. Max again won the toss and elected to bowl. Oli opened the bowling and immediately caused problems for the Melrose batsmen. Sam, Lewis and Innes all bowled tidy spells, with wickets being taken and runs hard to come by. Max and Finlay then continued to apply pressure, leaving Robbie and James to finish off the bowling, both taking taking wickets. James took another fine catch off yet another edge from Robbie's bowling and Max demonstrated his acrobatics, keeping very well to James. Melrose were restricted to 223, a great bowling and fielding performance from the Carlton youngsters.
Oli and Innes opened the batting, both left handlers. They hit a lot of boundaries, Oli in particular scoring heavily behind the stumps. Sam and Finlay were up next, and they pushed the score along, with Finlay hitting a number of straight drives for four and Sam unlucky to be well caught on the boundary. Robbie and Lewis then came out and continued the good work. Max and James completed the Carlton innings with more big hitting, leaving Carlton comfortable winners on 284.
A great performance by all the players to retain the trophy, which was presented to them by Rowan Boland's father. This was a poignant moment, as Rowan had been a cricket-mad 9 year old when he so tragically died, and our team was largely composed of equally cricket-mad boys of the same age. The Rowan Boland Memorial Trust that has been set up in his name does great work promoting youth sport in the Borders.
A big thank you to Kenny Paterson and all at Gala for their fantastic hospitality. It was a real privilege to take part in the tournament, which was superbly organised and umpired as usual. The games were all played in great spirit and the Carlton players conducted themselves very well, earning plaudits for their sportsmanship as well as their cricketing skills. Well done to all.
A glorious Edinburgh late-spring morning - overcast, the odd shower, 5 or 6 degrees - at Grange Loan saw a hardy group of almost 60 young players and their parents convene for the first Players v Parents Kwik cricket of the 2018 season. After last season's corresponding event was eagerly scouted by the cream of IPL talent-spotters, could the quality of the new season's fixtures live up to sky-high expectations?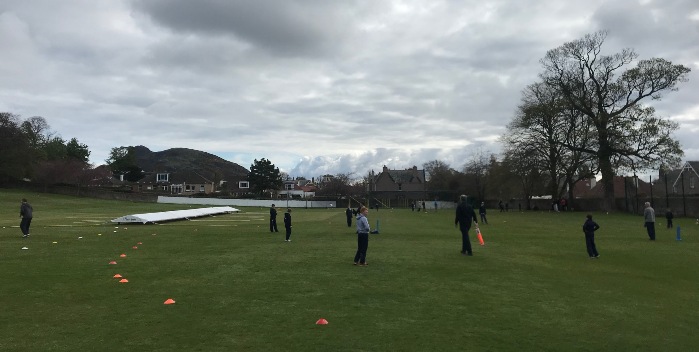 The sheer volume of young players and their nearly-but-not-quite-so-young parents who came along to play was fabulous to see - and meant that for the first time three pitches were in operation. The format, as previously, saw two games played on each pitch - the first pitting the young players against the parents, and the second a mixed match with the players playing with their parents.

On Pitch 1

Players: Niven Peterson, Harry Happer, Ellie Tullis, Matthew Rae, Claude Winkler, Maira Ratnarajah, Sam Ungless, Hugo Caldwell, Alasdair Mills

Parents: Gordon Peterson, Richard Happer, Gary Tullis, Jonny Rae, Sarah Winkler, Tham Ratnarajah, Richard Ungless, Hamish Caldwell, Charlie Mills

Umpire: E. Hutchison

Results:
Players 236 v Parents 251; Parents win by 15 runs

Team Tullis/Rae/Happer/Peterson 231 v Team Ungless/Winkler/Caldwell/Mills/Ratnarajah 224; Team UWCMR win by 7 runs

On Pitch 2

Players: Robbie Murray, Oli Stones, Hector Murray, Ben Stronach, Blair MacKenzie, Sam Northridge, Fergus, Hamish & Agnes Foley

Parents Keith Murray, Paul Stones, Euan Murray, Charles Stronach, Ruari MacKenzie, Dave Northridge, Kelly & Jon Foley, the Foleys (Senior).

Umpire: E. Keating

Results:
Parents 268 v Players 254; Parents win by 14 runs

Team Foley/H&E Murray/Mackenzie 239 v Team R&K Murray/Stones/Northridge/Stronach 290; Team MSNS win by 51 runs

On Pitch 3

Players: Finlay Thompson, Alex Buckley, Nathaniel MacDonald, Theo Griffin, Ruaidhri Vick, Cyrus Salman, James Robertson, Benji Risi, John Gill

Parents: Ian Thompson, Henry Buckley, Parent MacDonald, Joe Griffin, Doug Vick, Rustam Salman, Gregor Shand, Domenic Risi, Brian Gill

Umpire: G. Murray

Results:
Players 222 v Parents 283; Parents win by 61 runs

Team Salman/Thomson/Robertson/Shand/MacDonald/Risi 242 v Team Buckley/Griffin/Vick/Gill 247; Team BGVG win by 5 runs
To the relief of all concerned, rather than reporting in detail on each of the matches your correspondent will instead channel the current fad for bite-sized, instant gratification cricket and pick a few of the highlights from the day's play (at least one of which, coming at his expense, has been specifically requested for inclusion by a number of participants)
Really channeling the spirit of the event, a crushing 61-run victory by the Parents of Pitch 3 against the plucky Players; some short boundaries and ruthless hitting not helping the Players in that match - 15 boundaries scored by the Parents was just too much for them to come back from
The unusual sight, for Kwik cricket, of a short leg - poised to snaffle a catch on Pitch 1 with Charles on strike. Regular viewers of the famed Stronach batting technique will have appreciated the equally unusual sight of Charles resisting the urge to regard the short leg as a handy target
The Foley grandparents effortlessly pinching half a dozen quick singles, as if that's the sort of thing they do every Sunday morning;

On Pitch 1, a second game which went down to the wire - the Tullis bowling axis looked to have it sewn up with three wickets in the penultimate set, but back came the Ratnarajahs with a flurry of boundaries - nearly but not quite enough
Some great bowling, particularly from the Players, using all that practice to their advantage to restrict the scores - scenes as an extraordinary seven wickets fell in the final two overs of one match, and Maira on Pitch 1 took a stand-out two for 2
Hector casually dispatching his dad's first ball of the match for a huge straight six
Keith's experiment - is it possible to hit the clock on the GL scoreboard with a Kwik-cricket ball struck from the pavilion? - resulting in a lost middle stump
A brilliant, fun event which was thoroughly enjoyed by all - it really is great to see how many young players are enjoying learning to play the game at Carlton, ably supported by enthusiastic parents! Many thanks to Keith and Paul for organising the event and arranging the teams; Val and Heather for refreshments; Gav, Ewan, and Euan for umpiring with great distinction; and of course Bob and the members of the Carlton Positively 4th XI for agreeing to limit their extensive pre-match warm up to just the one hour, thereby freeing up Grange Loan for play. But thanks most of all to all of the players who came along, and the parents who took part in such great spirit.