Indoor Fixtures & Results 2013-14
Lothian Under 11 League
Sunday 9th March
Third Place Play Off
Carlton beat Watsonians
Well done to the Carlton U11 squad: Fabian, Benjamin, Nina, Robbie, Saachin, Brodie, Cameron K, Cameron E, Fin and Muz. And congratulations to overall winners Grange.
Sunday 2nd March
Carlton 248 beat SMRH 239
Grange 1s 253 beat Carlton 216
Sunday 2nd February
Watsonian 2s 230 lost to Carlton 267
Grange 2s 211 lost to Carlton 247
Sunday 19th January
Carlton 252 beat SMRH 220
Carlton 248 beat Watsonian 1s 217
Sunday 1st December
Grange 2s 241 beat Carlton 221
Carlton 227 lost to Grange 1s 228
---
Lothian Under 13 League
Sunday 6th April
Final: Carlton 276 tied with Grange 276
Well done to the joint winners of the tournament, the Carlton U13 squad: Ruairidh, Ben, Callum, Harry, Nicholas, Euan, Fabian, Fin, Murray, Gregor, Pete, Alastair, Douglas & Cameron.
Semi-Final: Carlton 249 beat Watsonians 236
Sunday 16th February
Murrayfield DAFS 184 lost to Carlton 247
Carlton 290 beat Livingston 201
Sunday 1st December
Carlton 261 beat SMRH 221
Carlton 286 beat Watsonian 270
Sunday 17th November
Carlton 276 beat Penicuik 240
Carlton 250 beat Grange 239
---
Lothian Under 15 League
Sunday 2nd March
Murrayfield DAFS 43 for 2 lost to Carlton 45 for 0 (T Simpson 20 ret)
Sunday 2nd February
Watsonian 1s 49 ao lost to Carlton 51 for 0 (3.3 overs, T Simpson 22 ret)
Sunday 12th January
Carlton 69 for 0 lost to SMRH 70 for 2
Sunday 8th December
Carlton beat Grange by 4 runs
Sunday 24th November
Carlton 82 for 1 beat Penicuik 51 for 4
---
Lothian Under 18 League
Sunday 9th March
Grange 53-2 (5 overs) lost to Carlton 54-1 (4.1 overs, H Aslam 21 ret, R Macpherson 19)
Kelso 84-1 (5 overs) beat Carlton 75-3 (5 overs)
Sunday 19th January
Carlton 97-2 (5 overs) beat SMRH 85-4 (5 overs)
Kelso 69-3 (5 overs) lost to Carlton 70-0 (4.2 overs)
---
Indoor Super Sixes
Third Place Play Off: Friday 9th March
RH Corstorphine 74 for 2 lost to Carlton 75 for 1
Semi Final: Friday 9th March
Carlton lost to Grange
Play-off: Friday 28th February
Edinburgh University 78 for 5 lost to Carlton 79 for 0
Friday 7th February
Carlton 107 for 2 (Ali Shah 27*, K Macpherson 26*, H Aslam 23*) beat Stenhousemuir 42 for 5
RH Corstorphine 109 for 0 beat Carlton 90 for 2 (Ali Shah 30, K Macpherson 27*)
Friday 24th January
Carlton 63 all out (K Macpherson 17) lost to Eastern Knights u18s 65 for 2
Eastern Knights u15s 22 all out (A Shah 2 for 3) lost to Carlton 25 for 0 (K Macpherson 17*)
---
ESCA Indoor Sixes
Friday 21st February
Edinburgh Accies 112 for 1 beat Carlton 2s 104 all out (Nathan Pietsch 46)
Carlton 2s 123 for 3 lost to Musselburgh 124 for 2
---
Saturday 30th November
Game 1: Carlton v Edinburgh University Alumni (Haris reports)
DJ ru man won the toss and put the opposition in on a flat deck at MES.
Wisely he opened with Haris Aslam, a leg spinner who knew the conditions of these pitches very well as he basically lives there. A tight bowling and fielding display which included a near hat-trick for Stevie Elder restricted the opposition to a mere 62. After a quick turn around, Omar and Elder (the best opening partnership in the under 15 indoor competition 10 years ago) took to the crease and put on a fine display with Omar retiring on 25 before Stevie was caught out.
With very little difficulty, Ahmed, with his deft touches, and DJ Ru, with his ability to hit the straight ones, saw the Carltonians victorious in their first game of the tournament!
Game 2: Carlton v Edinburgh University (Ruari reports)
After a solid start to the indoor sixes, the youthful fist arrows were ready for the next match. The captain for the day continued his 100% record with the coin; Carlton would bowl first ...
Again, Haris opened the bowling with a controlled over to start proceedings, and with some quick wickets for the arrows unit Edinburgh Uni found themselves 3 down with Elder and Ahmad continuing to bowl well. However, over 4, fat boy Omar to bowl: wide, wide, wide, and after that over the Uni found themselves in a promising position with Cheeky still to bowl. More wides from him along with byes from the part time keeper meant the Uni side finished on a familiar total of 61. 62 to win again.
It was wee Elder and not so wee Omar to open the batting. The Runs were flowing with good rotation of the strike mixed with some elegant strikes from Omar, but bang bang, Edinburgh Uni struck, both openers out in the space of 3 balls. This meant that Haris (Gray Nicolls sponsored player) and DJ Ru Mac had to finish off with an over and a half to spare, 2/2 - good start from Carlton.
Game 3: Carlton v Edinburgh Accies (Omar reports)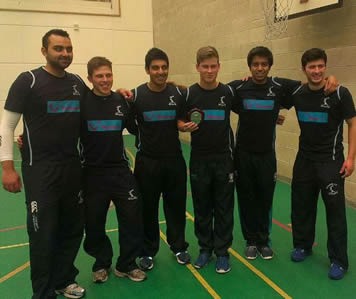 So Carlton won the toss again and chose to bowl as we had done the previous 2 games. Bowling order still the same with Haris opening; he bowled well especially this game as he had a point to prove to Cheeky on who's the best spinner at Carlton. He picked up 2 wickets in his over with great fielding by Omar as usual. Ahmad continued in the second over with his new run up with some great pace bowling, not giving many runs away. Then Elder continued with his usual slow bowling which brought him a wicket. Omar then stepped up only to bowl a few wides but did take a wicket. Cheeky bowls the last over and gets pumped for 17 as usual in this tournament. The target was 53, which Omar and Stevie thought was easy.

The brilliant opening partnership of Omar and Elder went to the crease. Omar facing first ball and gets to a flying start with 13 in the first over. Omar hitting the ball all round the park making the opposition team run around. Elder was bowled in the second over which brought Haris to the crease. Omar and Haris put on a 30 run partnership with Haris hitting a six and Omar just playing sensibly. Needing 8 off the last over Omar hits a 4 first ball. Feeling confident Omar tried to hit a six to finish the game of but was caught on the boundary. Ruari comes to the crease only to get out first ball LBW. Next in was Cheeky who was very very nervous, but resorts to his default shot to get three runs, game was tied with two balls left, Haris on strike with Cheeky screaming at the other end 'wait for the wide'. Haris runs down the track to hit a single for Carlton to win the tournament in convincing style. Man of the tournament was awarded to Omar for his brilliant batting and fielding display. Honestly.
---