Indoor Fixtures & Results 2015
Lothian Under 11 League
FINAL: Carlton beat Watsonians
---
Lothian Under 13 League
FINAL: Carlton lost to Grange
---
Lothian Under 15 League
FINAL: Carlton beat Grange
---
Lothian Under 18 League
Carlton beat Watsonians
Carlton beat Grange
Carlton beat SMRH
FINAL: Carlton lost to Grange
---
Cricket Scotland Sixes
Carlton lost to Grange
Carlton beat East Academy
Carlton beat Edinburgh Academy
Carlton lost to RH Corstorphine
Carlton beat SMRH
Carlton beat Stenhousemuir
Carlton beat Grange
FINAL: Carlton lost to Grange
---
ESCA Indoor Sixes
Carlton 2s beat Boroughmuir
Carlton 2s beat Heriot's 2s
Carlton 2s beat Marchmont
SEMI FINAL: Carlton 2s beat Edinburgh CC
FINAL: Carlton 2s beat Holy Cross
---
Indoor Kwik Cricket - Saturday 7th March
On 7th March we held the first - and hopefully inaugural - Carlton CC Kwik Cricket Indoor Event. Four teams of Kwik Cricketers, three from Carton and one from Murrayfield DAFS, met at Liberton Sports Hall for a highly enjoyable indoor 6-a-side tournament.
We squeezed two matches in side-by-side in the hall, and played games broadly based on the usual Kwik Cricket rules, only with additional runs on offer for hitting the walls, and the compensating possibility of catching batsmen out off the walls. The tight layout led to some unexpected cricket: many of our batsmen spotted the extra runs on offer on the off side, with the result that several of them eschewed the usual heave over midwicket in favour of delicate dabs into the off, some quite convincing cuts, and even one or two reverse slog-sweeps. If they carry that on into the outdoor season, opposing fielders are going to be surprised that their spell at cover is not as quiet as it usually is. The wooden floor played its part too: some of the sliding stops were a wonder to behold, players sliding half the width of the hall to cut off a boundary.
Murrayfield provided strong competition: they won two of their games and tied the other. The Carlton teams gave them some stiff competition, missing out by just three runs in one game, and staying in close touch in the other until a late flurry of wickets took us out of contention.
The intra-Carlton games were - as usual - noisy and competitive. The cricket was intense: furious fielding, exuberant appealing (the appeals for LBW, which are bound to fail as we don't play LBW in Kwik Cricket, were always the loudest), imaginative batting, and frankly optimistic running. All games were close, but somewhat to my surprise all were won by the team batting first. We really will have to practise our calls at the toss if that pattern continues. In the end, the Wolves won two, the Bears won one, and the Cats played their enthusiastic and entertaining part in all their games.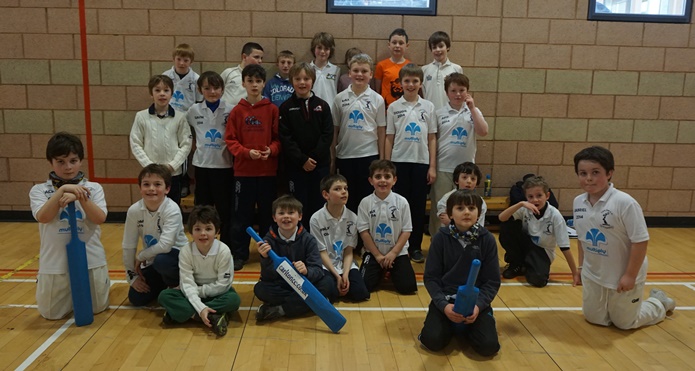 Many thanks to Murrayfield for joining in the spirit of the event, to Alan for umpiring one pitch, and - of course - to 18 Carlton Kwik cricketers for playing with great gusto and no little skill. That's a great result, and bodes well for the coming season.
The squad: Aidan, Alistair, Ally, Dougie, Finlay G, Finlay P, Freddie, Gaby, Gavin, Gregor, Jack H, Jack T, Josh, Max B, Max d'U, Robert, Sam, Thom