Kwik Cricket festivals & fixtures 2017
| | | |
| --- | --- | --- |
| May | 7 | |
| | 14 | |
| | 21 | |
| | 28 | |
| | 28 | |
| June | 4 | Livingston |
| | 18 | |
| | 18 | Kelso |
| | 25 | |
| July | 2 | |
| | 19 | |
| | 23 | |
| | 30 | St Boswells |
| August | 6 | |
| | 13 | |
| | 13 | Melrose |
| | 20 | |
| | 27 | |
| September | 3 | |
New to kwik cricket? Read Martin's Beginners' Guide to Kwik Cricket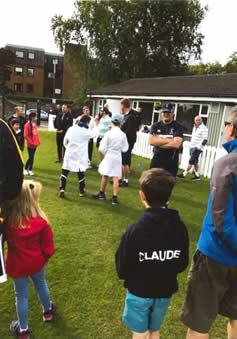 The final event of the Kwik cricket season was the much anticipated players v parents match at Grange Loan on the morning of Sunday 3rd September.
There were a few sore heads amongst those parents who had attended the club dinner the night before, but the players were all bright-eyed and raring to go. There were 18 players and 16 parents/siblings. The parents' numbers were augmented by the kindly assistance of Bob Irvine , Ru McIntyre and Euan Burgess. Due to the numbers, the first round of players v parents games consisted of 8 players v parents for 8 overs a side (Panthers v Leopards) and 10 players v parents of 10 overs a side (Lions v Tigers). The scoring was adjusted somewhat to acknowledge the parents greater power.
Gavin Murray and Euan Keating kindly agreed to umpire and were keen, for reasons that were to become clear, to take charge of the Panthers v Leopards matches. Alan Murray was to have played as a parent, but unfortunately he had broken a finger taking a fine catch in the Carlton Sixes competition the day before, so he umpired the Lions v Tigers matches.
Round 1
Panthers v Leopards
The Panthers consisted of Robbie Murray, Oli Stones, Hector Murray, James Stronach, Blair Mackenzie, Andrew Lima-Napier, Dougie Firth and John Gill. Their respective parents in the Leopards were Keith Murray, Paul Stones, Hector Murray, Charles Stronach, Ruari Mcackenzie, Gary Lima-Napier, Martin Firth and Florence Gill (acting parent to her younger brother for the day). The Leopards won the toss and fielded.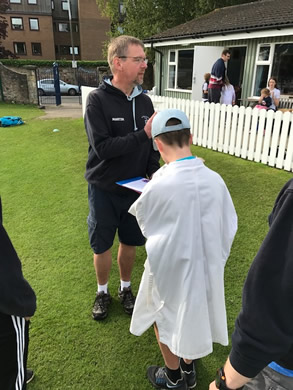 Leopards' skipper, Keith Murray, was intrigued to note that the two umpires who were controlling the match had been the victims of run outs in a 5s match earlier in the season, for which they may well have felt that he was to blame. However, there was no obvious indication that this would effect their decision making during the game, albeit there was some conspiratorial chuckling between them prior to the match starting. In any event, Keith was confident that his team would prevail, full as it was of skilful and seasoned cricketers.
The Leopards' opening batsmen were Paul and Euan, facing their sons Oli and Hector. Paul hit a couple of well timed legside boundaries, but there was an early wicket for the Panthers when Euan launched a shot in the air to cow, only to be well caught by his own son Hector on the boundary! A second wicket looked to have fallen due to a sharp run out, but after a referral to the third umpire, Gavin gave the benefit of doubt to the batsman. After 2 overs, the Leopards had advanced to 210. Gary and Ruari then went out to the middle and lost another wicket to Andrew's bowling. However, some stylish cover drives from Ruari and big hits from Gary pushed the score on to 221. Martin and Flo then batted very carefully, ensuring no further wickets were lost, and making the most of any inaccurate bowling or misfields behind the stumps to move the Leopards up to 241. The final pair of Keith and Charles then went out to complete the innings. At this point, the Leopards looked to be building a decent total. The first incident of note was when Keith hit a brisk shot out towards the boundary, called yes and set off for what appeared to be an easy single, only to be inexplicably sent back by Charles when he was almost at the other end. Keith barely managed to make his ground to get back to the striker's end! A number of very wide deliveries were then deemed playable by the umpires and this restricted the opportunities for scoring. Keith was then surprisingly adjudged out stumped off the last ball of Robbie's over, despite never appearing to have left his crease. It started to dawn on the Leopards' skipper that the umpires might not be as impartial as he had presumed. In the following over, Charles hit James for a couple of fine boundaries, but Keith was given run out, again in controversial circumstances when many observers thought he was well in. The Panthers finished on a rather below par total of 239.
The Leopards opened with Oli and Blair and Ruari immediately picked up a wicket by bowling Blair first ball. His wicket celebration was a paragon of restraint. There was a further indication that the umpires might not be giving Keith much leeway, when a sharp pick up and direct hit from him appeared to have run out one the Panthers' batters, only for Keith's confident appeal to be refused and the relieved batsman deemed to be safe. Paul then bowled the next over and although a number of singles were taken off it, the Panthers were only on 205 after 2 overs. Andrew and John then came to the crease. They were going allow nicely until an unfortunate inside edge hit the stumps for the loss of another wicket off Gary's bowling. A powerfully hit boundary from Andrew got them going again, but after 4 overs the Panthers were only on 210. Robbie and James were sent out next. Charles's run up from close to the boundary proved misleading as he proceeded to bowl very slowly and both boys took singles from him with ease. Keith was also hit for easy singles and also called for back foot no balls by the merciless umpires. This left the Panthers on 224 with two overs to go, still some 15 runs behind. Dougie and Hector faced the final two overs. These started brightly with a straight four from Dougie off his dad's bowling, but accurate work from Martin tightened things up to leave the Panthers on 232. 8 required to win off the last. Another boundary from Dougie moved the Panthers closer to the target, but dot balls from Euan applied pressure and it was far from clear if the batsmen could get over the line. Then Hector's quick single to Keith, whose concentration was no doubt addled by the succession of questionable umpiring decisions against him, resulted in a wild shy at the stumps and four overthrows! This took the Panthers past their target to 241. Dougie carefully blocked the last two balls to record a famous victory for the players against their parents.
Lions v Tigers
The Lions consisted of Oshi and Angharad Hunt, Hugo and Archie Stewart, Lewis Broster, Ruaidhri Vick, Niven Peterson, Nicholas Jackson, Benjamin Risi and Claude Winkler. Their "parents" were David and Eleri Hunt, Angus Stewart, Bob Irvine, Jonathan Broster, Doug Vick, Gordon Peterson, Ru Macintyre, Domenic Risi and Karl Winkler.
The Lions batted first and their openers Ruaidhri and Lewis started sensibly, not losing any wickets to get the innings going. Niven and Nicholas then moved the score on before two wickets from Ru Mac pegged the score back to 206. Hugo and Archie then batted together and survived the bowling of their father, before tucking into Bob's bowling, hitting the first boundary of the innings. However, Bob had the last laugh taking a wicket at the end of his over. At this stage the score was 211. Benjamin and Claude then came to the crease. They took advantage of Dominic's relative inexperience and moved the score on to 217, before Karl took a wicket with his first ball. Undaunted, a further 7 runs were added in the rest of the over to leave the Lions on 219 with two overs to go. These were faced by the brother and sister partnership of Oshi and Angharad, who ran numerous quick singles without any further loss to get the score to a potentially defendable 231. The Tigers' attack was no doubt bolstered by the bowling of Ru and Bob, who took three of the four wickets. Eleri's fielding was also an impressive spectacle, as she carried the youngest of the Hunt children with her at all times.
The Tigers opened their innings with Jonathan and Doug. An early wicket from Lewis gave the Lions some hope of defending their total, but a number of boundaries pushed the Tigers on to 212 after two overs. Next up were Gordon and Domenic who found scoring difficult off Benji. Niven took a wicket in his over to maintain control. Bob and Angus then lost two wickets to Archie's bowling and a further one to Hugo's, leaving the Tigers on 216 after 6 overs, only marginally ahead of where the Lions had been. David and Eleri then came out to bat. David hit an impressive six off his first ball, but wickets from Oshi and Angharad kept the scoring under control. 223 after 8 overs. The final pair were Ru and Karl, the Tigers having kept their big guns to the end. Nicholas bowled well, but two boundaries were conceded. Claude then bowled the final over with 4 required off it to win. The Tigers appeared to have got the runs required, but in some controversy, Ru was adjudged run out at the non strikers end off the final ball to restrict the Tigers to 227. A second great win for the players, built primarily on the eight wickets they took compared to the Tigers' four.
Round 2
Panthers v Leopards
The next round of matches were played with the players playing with their parents. The Panthers consisted of Robbie & Keith Murray, Hector & Euan Murray, Blair & Ruari Mackenzie, and Dougie & Martin Firth. The Leopards were James & Charles Stronach, Oli & Paul Stones, Andrew & Gary Lima-Napier, and John & Flo Gill. The match was again umpired by Gavin and Euan and this time was played on the pitch nearest to the clubhouse.
The Panthers won the toss and inserted the Leopards. James and Charles opened the batting. Charles hit a number of sixes and James hit some powerful fours off the bowling of Hector and Euan. The Stones then came to the crease and dealt well with Robbie's bowling before hitting more runs off Keith. A big six from Paul over the fence was a particular highlight. A much needed maiden from Ruari against John and Flo restricted the scoring somewhat, but after 6 overs, the Leopards were already on 251. Andrew hit a big six off Martin in the penultimate over and he and Gary pushed the score on before a fine delivery from Dougie off the final ball of the innings, produced the Panthers only wicket. The Leopards finished on a challenging 262.
The Panthers' chase was immediately in trouble when James had Martin caught behind by Charles in the first over (not a catch the elder Stronach would have wanted to have dropped) and Dougie was run out in the second after some fine work in the field. Ruari and Blair then looked to have recovered the situation with a number of classy boundaries, before Blair was unfortunately run out by more good work from James. After 4 overs, the Panthers were only on 208. Euan and Hector then got going and increased the score to 228, including some well taken singles and nicely struck boundaries. This left Robbie and Keith to attempt to hit 35 off the last two. They started well with regular boundaries, but a brilliant catch from Andrew off a powerful straight hit from Robbie, restricted the Panthers to 235 after 7 overs. A further wicket off Gary's bowling in the last over looked to have sealed the result, but a succession of deliveries adjudged wide or no ball by the umpires, who were clearly keen to keep involved in the match, gave the Panthers some hope as these balls were rebowled, it being the final over. When Keith then swept a ball into the nearby gardens via the clubhouse roof it looked as if anything was possible, but eventually the over ended with the Panthers still short on 249. A well deserved win for the Leopards. The Panthers hit more runs, but lost five wickets to the Leopards' one - a consistent theme across the match and the season.
Lions v Tigers
The final match was played by the Lions, who consisted of Hugo, Archie & Angus Stewart, Bob, Oshi, Angharad, David & Eleri Hunt, and Karl & Claude Winkler, against the Tigers who were Lewis & Jonathan Broster, Niven & Gordon Peterson, Ruaidhri & Doug Vick, Benji & Domenic Risi, Nicholas Jackson and Euan Burgess.
The Lions batted first and scored a competitive 243, despite the larger pitch making boundaries hard to come by. Bob and Hugo top scored. The Lions lost two wickets to Euan's accurate bowling and another to Niven. Karl hit two boundaries in the last over. The Tigers response got off to a solid start, but wickets from Archie and Angus pegged them back before Euan and Nicholas really accelerated hitting numerous boundaries. However, a further wicket from David and a very tight over from Oshi left the Tigers on 232 with two overs to go. Niven and Gordon then scored strongly off the penultimate over to get the Tigers in to the lead, before carefully playing out the last over to finish on 250. Another close game, deservedly won in the end by the Tigers.
Many thanks to all the players and parents who took part in a really great morning's Kwik cricket, all played in the sunshine at a beautiful Grange Loan. We are particularly grateful to Bob, Ru and Euan B for acting as parents for the day, and to Gavin, Euan K and Alan for umpiring in a most entertaining manner. A big thanks also to Martin for organising the match. Can't wait until next season!!
The final festival of the season was the Carlton u9 festival at Grange Loan. An impressive 24 players turned out for Carlton, split into four teams, who played six visiting teams from SMRH, MDAFs, Edinburgh South, Heriots, Penicuik and Bass Rock.
Panthers
The Panthers were Robbie Murray, Lewis, King, Blair Mackenzie, John Gill, Malachy Baynes and Ruaidhri Vick, and coached by Keith Murray.
Their first match was against a youthful Penicuik side. The Panthers won the toss and batted on the smallish pitch 3. Blair and Ruaidhri opened the batting and hit 29 off their two overs, including some fine boundaries. John and Malachy continued their now experienced batting partnership and pushed the score on to 246. Robbie and Lewis then arrived at the crease. They proceeded to smash an incredible 57 runs off their two overs. All but one ball was hit for a boundary, including 6 sixes. John and Malachy returned to finish the innings, establishing a season record total of 320 in 8 overs. No wickets were lost. The Penicuik response was never likely to get close and wickets from John, Robbie (a fine catch by Malachy) and Ruaidhri ensured they were restricted to 232. A Carlton win by 88 runs.
Next up was a strong SMRH side, who had well beaten the Tigers in the first round. Robbie and Lewis opened the batting against the quick and accurate SMRH bowling. More boundaries were hit and 28 runs added. John and Malachy then batted stoically against further accurate SMRH bowling. Still no wickets down and the score up to 234. Ruaidrhi and Blair then advanced the score to 243 for the loss of one wicket, which was immediately erased by Blair who hit a big six. Robbie and Lewis returned and hit more boundaries to get the Panthers to a final score of 271. This looked a competitive total, but the SMRH batsman immediately took full advantage of the short boundaries smashing 23 off the first over, despite John's accurate bowling. Robbie bowled the second over and restricted the scoring, but the Panthers knew they were in for a tough game. A sharp run out in the third over and two wickets in successive balls from Blair's bowling in the fourth, restricted SMRH to 243 at the half way point, but still in good shape. A strong SMRH pair then arrived for the fifth and sixth overs and smashed another 30 to get them into the lead on 273 after six overs. An unfortunate four overthrows had contributed to their total. Lewis bowled the penultimate over and two wides increased the SMRH score further before Lewis struck with a wicket off his last ball. That left SMRH one run ahead on 272 with an over to go. Up stepped Robbie to bowl the final over. He struck almost immediately bowling the SMRH batsmen with his second and third balls. His fourth ball was rather harshly adjudged wide (by his father who umpiring) and two dots ensured the win with SMRH reduced to 266. A very good win indeed that went right down to the wire. The big difference being the Panthers loss of only one wicket compared to the six lost by SMRH.
The final match was an all Carlton affair. The Panthers played the Lions and agreed to play 12 overs so each player could bat for 4 overs and bowl twice. The Panthers won the toss and batted. Blair and Ruaidhri opened and lost an early wicket to the accurate bowling of Hamish. However, they then recovered well and both hit boundaries off the following overs to finish on 227. Blair and Ruaidhri's partnership finished the day with 75 runs in the three games for the loss of only 2 wickets. A very good effort. John and Malachy continued their fine form, hitting numerous boundaries on the leg side and moving the score on to 252. Once again, they were undefeated, ending the day with 65 runs and no wickets lost. The coach was particularly pleased with their productive and reliable partnership. Robbie and Lewis then faced the fast bowling of Fergus, ably backed up by Hamish behind the stumps. Robbie hit some impressive cut shots and cover drives and Lewis continued his fine form, powerfully driving the ball down the ground. They pushed the score on to a total of 309 off 12 overs. Over the course of the morning Robbie and Lewis scored an excellent 170 runs, without losing a wicket. The Lions response got off to a flying start with Hamish and Lewis taking on the bowling of Ruaidhri and John. Hamish hit a boundary (usually a six) off nearly every ball he faced, but three wickets (one from Ruaidhri and two from John) pegged the score back to 220 off their four overs. Matthew and Alasdair then faced the bowling of Blair and Malachy. Alasdair hit boundaries to leg and Matthew to off. After six overs the Lions were on 239, exactly the same score as the Panthers at the same stage. However, another three wickets from Blair and Malachy left the Lions on 235 after 8. Fergus and Finlay had work to do against the bowling of Lewis and Robbie. An unfortunate run out off a wide did not help the Lions' cause, but big hitting from their batters certainly did. Finlay smashed huge flat sixes at regular intervals and Fergus whacked boundaries in the gaps in the field, but another wicket from Robbie, bowled with one that kept low, left the Lions needing 30 off the last. Despite more boundaries, the Lions fell short, ending on 293. Three wins out of three for the Panthers. The big difference was again wickets. The Lions hit more boundaries, but the Panthers only lost one wicket to the Lions' eight.
A very impressive performance by each of the Panthers. Fine, sensible batting, accurate bowling and committed fielding. Once again, the improvement across the season is obvious to see and a pleasure to watch.
Leopards
The Leopards were Oli Stones, James Stronach, Hamish Holme, Roger Chen, Theo Griffin, James Rowan-Harney, and coached by Paul Stones.
The first game pitted the Leopards against an unknown opponent in Bass Rock. Batting first we put Oli and James S in. Some impressive hitting from the pair moved the score onto 229 from 2 overs with no wickets lost. Hamish and Roger in next struggled with some indifferent bowling but moved the score forward to 234. James R and Theo were up next and added a handy 13 without losing a wicket. James S and Oli then batted the last 2 overs putting on another 29 runs for no loss hitting 2 fours and a six from the last 3 to move the score to 276. James S opened the bowling and took a wicket with his first ball, which the batsmen never saw yet! Oli kept up the good work in over 2 taking another wicket restricting the Bass Rock openers to a score of 197 after 2. Hamish and Roger then continued the good work. Roger taking a wicket in the second over with the score creeping to 206. James R bowled the next over and held in there after a couple of no balls to only lose 6 runs. Next up Theo continued where he left off last week bowling a cracking spell and James S castled the stumps running out a Bass Rock batsmen risking a quick single. With the score on 210 Roger and Theo were asked to go again against the opposition's best batsmen and held strong leaving Bass Rock on 223. An excellent start by all and a comprehensive victory.
Next up was a repeat of last week's game against a much weakened Penicuik side. They batted first losing a wicket to an excellent James S catch behind the stumps. A number of dot balls then followed from James S in over 3 and Oli in over 4 restricting Penicuik to 219. Theo bowled another decent over and Oli this time got a run out after a mix up from the batsmen. Hamish took a nice wicket from a good length ball in over 6. Roger and Oli finished up the bowling with Oli knocking over the stumps with his second ball. Penicuik managed to reach 243 in the end. The Leopards reply was started by James S and Oli scoring 36 runs from their 2 overs, including 3 fours and 2 sixes. James R and Theo up next kept their wickets intact moving the score to 243. Hamish and Roger then accelerated the score putting on 30 runs with 4 fours and a six to move us to 273. With the rest of the team stuffing their faces with the bake sale the coach somewhat reluctantly unleashed James S and Oli on the weary bowlers. An impressive array of boundaries followed pushing the score onto a massive 310 in the end and a resounding victory.
Last game was against Edinburgh South, who gleefully put us into bat. Opening with Theo and James R things got off to a bad start losing 2 wickets from the first 2 balls. The boys recovered well though and pushed the score into positive territory of 201. The excitement of the opposition was soon dampened however when the formidable duo of Stronach and Stones made their way to the middle. Hitting 4 fours and running some quick singles they put on 28 runs. Hamish and Roger continued this trend with some good running between 2 fours and a six to take us to 249. The opposition coach was then heard saying 'oh it's the big guns again' when the dynamic duo reappeared for the last two overs. Served with some indifferent bowling James S and Oli managed another 18 runs to set a score of 267. Having served us so well with the bat, James took another early wicket with a catch off his own bowling, to restrict them to 201. Oli struck again in over 2. Theo and Roger bowled well again but faced some of the better batsmen and the score moved onto 224. Hamish and James R bowled next and posted a number of dot balls. On 238 with 2 overs left, it was down to Theo and Roger to bring us 3 victories from 3 and they duly obliged. Roger taking 2 great wickets in the last over to reduce the Edinburgh South total to 237.
Some great batting and bowling was on show and all the boys were delighted with the 100% record. We only lost 3 wickets across the 24 overs which was mightily impressive.
Lions
All in all, a good performance by the Lions. All six boys – Alistair Mills, Matthew Smith, Lewis Broster, Finlay Thomson, Fergus and Hamish Foley (coached by Jon Foley) - contributed well with bat and ball. There was some good fielding too, with several catches being taken and very few dropped. We have a couple of ambitious shies at the stumps which went for four overthrows, but the boys are learning to think about that risk-reward as play more. On the whole our fielding was very good.
Our first game against Murrayfield was very one-sided as we faced a team with a couple of inexperienced players. We bowled very well, taking a few wickets and restricting our opponents to a modest 215. We batted really well after that, a plethora of boundaries and no wickets lost! We ran out winners by over 40 runs.
Up next were Heriots, who had won their first game and were hungry for a second scalp. An interesting dynamic here as lots of the boys knew players on the opposing side from school or rugby club. The match was played in excellent spirit. Our team of six faced theirs of eight, so Fergus and Finlay were quick to volunteer to bat twice. We scored well, again boundaries coming with pleasing regularity – including a six from Finlay which nearly cleared the wall. While all batted well, Finlay and Fergus (the self anointed) senior pros, were the pick of the bunch and helped us set an excellent target for Heriots of 275. In response, our coach took the tactical gamble of fielding with only 6 players – bowler, wickie and two each on leg and off sides – rather than borrowing players! Some muttering from the full-house boundary rope benches was blocked out by the boys who fielded excellently – particularly behind the stumps. The bowling was accurate – particularly from Hamish who bowled two excellent overs – and Alistair, Matthew and Lewis bagged excellent catches. A well earned victory by 15 runs was the result.
Our final games was a superb encounter between our very Carlton Panthers and Lions. Some superb Carlton Cricket all round, particularly from some of the younger boys. We played a 12 over game to maximise game time and some excellent batting and bowling from both teams was on display – the future looks bright for Junior Cricket at Carlton in the next few years. The game was ably umpired by Dougie Firth – a paragon of understated gesticulation for 4s, 6s and extras! The Panthers deservedly edged the result – but Carlton Junior Cricket was the real winner.
Tigers
The Carlton Tigers - Gabriella Fontenla, Uma Treslove, Matthew Brown, Archie Smart, Benjamin Risi and Hector Murray, coached by Euan Murray - lined up in the late summer sun(ish) for three matches against Heriots, MDAFS and SMRH. The team featured Archie making his debut and Uma in only her second game - fantastic to see yet more players coming through and playing in tournaments this year.
Match 1 - vs SMRH
The Tigers' first game against familiar rivals SMRH looked by far their hardest on paper - and indeed it was obvious as the teams met that the opposition had a distinct edge in age and experience. Undaunted, skipper Gabby won the toss and invited the SMRH boys to have a bat. Gabby and Ben opened the bowling and immediately had to contend with both an awkward slope on the pitch (great early practice, however, for future career appearances at Lords') and some bellicose hitting from the imposing SMRH openers. With the score already at 228, Hector, the team's most experienced bowler, entered the fray and offered up an unusual combination of extravagant, loopy wide followed by a rapid ball on a length which plucked out off stump - the wicket checking SMRH's progress. Matthew also found the slope hard work, but did really well to come back strongly from early boundaries and get a couple of dot balls in. Archie and Uma bowled very well considering their relative inexperience, only one boundary being taken from their two overs. As the Tigers were two players short, Gabby and Hector returned to bowl the final overs, conceding no runs from the bat and just a couple of slope-induced wides to add to the score. SMRH closed on 270, a strong total. Gabby and Matthew opened the batting, those hulking SMRH opening bats also taking the new ball - their extra pace taking out of the equation the issues which the Tigers bowlers had had with the slope. It was very hard work for the Tigers and a rare maiden to start off was a sign of things to come. However, great credit to Gabby and Matthew and then Archie and Ben to get through without losing any wickets - sensible batting to excellent bowling. Uma and Hector managed to push the score along to 229, but with 41 needed from the last two overs Gabby and Archie (returning to make up the numbers) had too much to do - and the Tigers closed on 238. SMRH win by 32 runs. No shame here for the Tigers in losing to a side featuring players who are that bit further along their cricketing journeys - and well played SMRH, who bowled and fielded superbly throughout.
Match 2 - vs Murrayfield DAFS
No toss for this game with an agreement that MDAFS would bowl first to accommodate some potential early departures. Gabby and Matthew opened, each hitting a lovely drive for four in a solid opening partnership. Hector and Uma also batted well, with some good calling and running, and after four overs the score stood at 232. MDAFS' best bowlers had been saved til the end, and Archie and Ben found it hard to get the ball away - some excellent fielding also denying each of them a boundary, although Archie did hit a lovely straight drive for four. In a six-over match the Tigers ended on 239. Uma and Matthew opened the bowling for the Tigers. The difficult slope on the pitch was still causing issues with a number of wides going down the hill, but both also did well to get some dots in the book. Archie and Ben bowled to MDAFS' best pair and could do nothing to prevent a number of boundaries being hit, despite everyone's best efforts in the field. With only a few runs to play with, the Tigers had their worst luck of the day, Gabby fielding beautifully in her follow-though and shying at the stumps for a certain run-out. But the ball kicked horribly off the slope and missed by millimeters - running away to the boundary for five runs (and a 10-run swing) which the Tigers could ill-afford. Hector strove manfully in the final over for the wickets that the Tigers now needed, but doughty batting kept him at bay and MDAFS were home on 249. MDAFS win by 10 runs.
Match 3 - vs Heriots
Much to the bowlers' relief, match 3 was played on the Astroturf of pitch 5 which (at least in Grange Loan terms) is actually flat. Ben took the armband and won the toss, electing to bat first. He and Archie immediately found the more even bounce to their liking, swatting several 4s. Archie was unfortunate to be bowled but recovered his composure and hit a final boundary - good start for the Tigers. Gabby and Matthew then kept the momentum up, with Matthew in particular finding his range and hitting a massive six over mid-on. Hector and Uma also played well, Hector joining the astro party to launch a six and two fours, and Uma rotating the strike sensibly. Matthew and Ben batted again to make up the numbers, another three boundaries threatening to take the total out of reach of Heriots. However, in looking to repeat his rope-clearing heroics Matthew missed a straight one from the final ball of the innings and was bowled, with the Tigers ending on a solid 260. Hector took the new ball for the Tigers and bowled an extraordinary over - dot to open; a horrible wide; two good length balls edged for four by wild swings; and then two nasty, swinging yorkers which removed middle stump. Archie was also getting some pace on it from his formidable run-up, but the true bounce of the astro meant that the Heriots openers could hit through the line and find a few fours of their own. Ben and Uma both bowled really well, keeping it tight and allowing only a handful of singles - certainly the best bowling of the day from Uma, well done. Matthew and Gabby bowled to some good Heriots' batters, Gabby particularly unfortunate to bowl six really good straight balls with no reward. With two overs to come, Heriots needed 13 to win. Hector took the penultimate over, and despite having to block three unhittable deliveries Heriots scrambled five - eight needed from the last. Debutant Archie stepped up confidently to bowl it, and with the pressure on from an opening dot ball the Heriots batters were forced into a suicidal single, Gabby fielding and calmly completing the run out. Heriots ended on 253. Carlton Tigers win by 7 runs.
A well deserved final victory for the Tigers, especially on the back of a rather unlucky loss in the second game. For such a young team they played really well together, kept having fun, and didn't let anything get them down, even when somewhat overmatched in the first game. Particular mentions: Matthew's powerful hitting and enthusiasm for wicketkeeping; Ben's superb energy and mature leadership in the field; Uma's growing confidence in her ability showing with some well-hit singles and a great over in the final game; a fantastic debut from Archie, particularly with the ball and behind the stumps; a genuine all-rounder's performance from Gabriella, contributing with bat, ball and in the field; and Hector's tournament figures of 5-0-3-24. Many thanks to SMRH, Heriots and MDAFS who played very well and in great spirit - and especially to the SMRH and Heriots players who kindly stepped in to help the Tigers in the field.
Overall, a great festival, full of fine performances from all the Carlton players in the glorious sunshine. 8 wins out of 10 against the visiting teams was a good indication of the quality of the Carlton sides. Many thanks to all the players and parents and to Martin for organising the festival. A big thank-you as well to everyone who helped out on the baking stall, which made over £100 for the club.
The last fixture of the season is the legendary players v parents match next Sunday. We look forward to seeing as many of you there as possible.
We were able to send three teams to the Penicuik u10 Kwik cricket festival on 20th August, a good effort with the holidays and start of the football season limiting availability.

Panthers

The Panthers comprised Hugh & Percy Sutherland, James Stronach, Nicholas Jackson, Malachy Baynes and John Gill. Their first game was against a very strong SMRH side. We have played SMRH a lot this summer and know them well. Their line up looked very powerful. They had 8 players and kindly lent us two fielders. Unusually, the Panthers won the toss and skipper Percy immediately inserted SMRH. It was a small pitch so accurate bowling and sharp fielding would be required to keep SMRH to a manageable score. That is exactly what the Panthers delivered. James opened the bowling and picked up an early wicket - middle stump removed in a typical Stronach delivery. Then Percy got into the game magnificently in the third over, picking up three priceless wickets, two bowled and one sharp catch by James. SMRH's big hitters were rocking at 197 after 3. Another wicket from John and a tight over from Malachy left SMRH on 222 after 6 overs and a further wicket from Malachy in the final over left SMRH on a very gettable total of 238. The best catch of the day was from Nicholas who took a blinder on the boundary; the SMRH batsmen left shaking their heads in disbelief. Hugh and Nicholas opened the batting and hit a breezy 23 off their two overs, including 5 well hit boundaries. James and Percy continued the assault on the SMRH bowling and after 4 overs we were already on 245. Further careful batting from John and Malachy left the Panthers on 252 after 6 and two watchful overs from Hugh, Nicholas, Malachy and John saw the Panthers safely home with 251. The only wicket lost was in the final over and far to late to effect the result. A fantastic first win over a very good SMRH side. The six wickets taken in the SMRH innings were decisive.
Next up were Grange; always a competitive fixture. They had seven players, so we just fielded with six. We lost the toss and were asked to bat. James and Hugh opened and hit 16 off the first over, but a wicket in the second restricted the Panthers to 221 after two overs, despite James hitting some very impressive straight and cover drives. Malachy and John defended resolutely and Nicholas and Percy pushed the score on to 231 after 6. A bullish over from James and Hugh, where they both hit fine boundaries, added 19 runs and Percy and Nicholas finished the innings off for a total of 257. Again, only one wicket lost. The Grange response was immediately in trouble when James took two wickets in the first over, and a further two wickets in Nicholas's over, including a sharp runout, further pegged Grange back. Hugh chipped in with another wicket, courtesy of a brilliant catch from John at cow corner. Malachy and John bowled out the last two overs very well to restrict Grange to 239. A great win by 18 runs. The Carlton fielding, particularly in the last over, was exceptional and numerous boundaries were stopped by diving players and runs restricted by sharp throws, well backed up. A really good team effort.
The final match was against Watsonians. We won the toss and fielded first. James secured his customary wicket in the first over and Nicholas picked up a second in the third; a sharp catch by James on the boundary. Hugh and Percy both bowled tight overs and John then sent down a fine maiden in the penultimate over, before James picked up another wicket in the last, restricting Watsonians to 236. James and Hugh opened the batting, hitting 10 off the first over and 8 off the second, despite losing a wicket to the pacy Hamish Turner of Watsonians. Malachy and John then came to the crease with clear instructions from the coach not to lose any more wickets. They duly complied with the coach's wishes, defending the good balls, but also exceeding them by hitting anything down leg for a succession of fours. After 4 overs, the Panthers were already on 232. Nicholas and Percy were going well, but a delayed second run resulted in an unfortunate run out - the only one of the day for the Panthers. After 6 overs, the Panthers were one run ahead of target on 237. James and Hugh batted out the final two overs. 9 off the penultimate over looked to have the team safe, but they had to face another over from Hamish Turner. When Hugh was bowled by a fine ball, leaving them just 5 runs ahead with three balls left to go, the match was still in the balance. A comfortable single off the penultimate ball looked to have the Panthers safe, but a questionable second run was attempted and a direct hit from the excellent Turner almost cost another wicket. Thankfully, Hugh made his ground and the Panthers were 7 ahead with one ball to go. A well taken boundary from James off the last ball secured a good win in the end by 11 runs.
Three great wins for the Panthers. It was particularly pleasing to see how well the players fielded and supported each other. As each week goes by, the levels of performance of all of the players have improved relentlessly and the younger players in particular have grown in game awareness and decision making. The results they are now achieving against older and more experienced teams are remarkable and it was a privilege to watch them perform to the levels they achieved today.

Leopards

The Carlton Leopards were Oli Stones, Lewis King, Kieran & Finlay Glass, Roger Chen and Theo Griffin. The first game was against Watsonians who opened the batting. Oli bowled the first over taking a wicket with his second ball and a catch off his own bowling to reduce the score to 195. Lewis bowled over two and managed a run out to conclude a great opening spell. Roger then bowled the third over and got another wicket with Oli taking a neat catch behind the stumps. Theo then made his Kwik cricket debut and bowled well. The runs were difficult for Watson's to come by and they only managed 9 of the last 2 overs finishing on 238. Oli and Lewis opened the batting and hit several boundaries including an Oli six over the short boundary fence. The next pairing of the Glass's moved the the score forward losing an unfortunate wicket and Roger progressed the score, but was served a number of wides so limited his bat on ball options. The boys headed into the last 2 overs in a comfortable position but almost threw it away losing two wickets in the final over. Sensible batting for the last 2 balls ensured a victory with a score of 246.

The second game was against a Penicuik side and we were bowling first again. Roger took a good wicket in over 4 and Theo opened his account in the next over taking a good wicket caught behind by Oli. Another wicket from Lewis in the penultimate over meant Penicuik finished on 241. Confident of chasing this down, Oli and Lewis opened and were staring down the barrel after the first over losing 2 wickets. However they made amends in the second over taking a whopping 23 runs with Oli hitting 2 sixes on the leg side. Roger and Theo kept the score moving in the right direction, but lost 1 wicket. The 5th over saw the Glass's have a sibling breakdown in communication which resulted in some run outs. They made up for that in the 6th over putting on some good runs. This left Oli and Lewis with an achievable 22 from the last 2 overs to win, but they lost 2 wickets and despite best efforts the bowling was just too slow to allow the boundaries required. Penicuik won with some runs to spare

The last game was against a very powerful SMRH who bowled very tightly in the first 4 overs restricting us to 17 runs. Kieran then took the game to them in the 6th over hitting 2 monster sixes over the leg side boundary. A lean last 2 overs meant we were restricted to 237. This score was never likely to be enough against this opposition, but another Oli wicket in the opening over followed by another great catch from him at mid on had us tied for scores in over 3. SMRH then put the foot down and hit a number of sixes to finish comfortable winners.

The boys all competed in great spirits and will have benefited from the important lesson about protecting your wickets.

Lions

The Lions were Fergus & Hamish Foley, Sam & Eliza Ungless, Conal McCartan and Matthew Brown. Our first match was a very tight affair against the home side Penicuik 2, with the home team batting first. Hamish opened bowling efforts taking two wickets in the first of his two overs. Conal and Sam bowled well to concede less than a handful of runs between them. Penicuik had some older, stronger players who batted for the last two pairings and found quite a few boundaries. Hamish's second over calmed things down conceding only one run. Death bowling by Conal and Fergus reduced the impact of these strong batters and Penicuik finished with 239. Carlton into bat…… Each pairing batted extremely well. Hamish and Conal finding a few boundaries, Sam and Matthew also used good communication to add some good single runs onto a couple of boundaries. Fergus and Eliza batted well and Fergus had the only 6 of the match, before Sam and Matt batted another two overs against some of Penicuik's older boys and scored some very important runs to secure a victory against the home side by a single run!

Our second match was against Heriots, and as Heriots had too many players they kindly lent us Tom and Alex for the game. Carlton won the toss and put Heriots in to bat first. Ferg opened the bowling taking two wickets in his over. The rest of the team fielded very well to keep the boundaries to a minimum and there were wickets for Sam, Eliza, Alex (featuring a super catch by Conal). In the closing over Conal replied to Heriots getting a 6 with a caught & bowled on his very next bowl. A super fielding effort to which every team member contributed. Carlton came in to bat and Ferg and Eliza opened proceeding with a fine partnership scoring two sixes and three boundaries and some extra runs taking advantage of some weak fielding. Hamish and our borrowed Tom batted well, again hitting a number of sixes and despite one mix-up causing a run out, still came away 24 runs to the good! Matthew and Sam defended their wicket perfectly and found a couple of boundaries to maintain the momentum and Conal closed proceedings with our other loan Alex, leaving our score at a very healthy 262 compared to Heriots' 220.

Our third and final match was against Grange 1. We lost the toss and were made to bat first. Partnerships were maintained and Hamish and Conal started well, followed by Ferg and Eliza, who despite a miscommunication had one run-out (a great throw in to the wicket to be fair) batted strongly with Ferg hitting two sixes. Matthew and Sam batted well and defended their wicket brilliantly, but the final pairing with Fergus and Eliza returning for a second bat really secured a solid innings against Grange1's two strongest bowlers, finding the boundary four times and securing runs on all but three balls in the last two overs. Carlton finished with 259. The bowling for the final innings was steady. Hamish opened again conceding only one run, followed by Conal and Eliza keeping runs to a minimum, with good fielding by all. Ferg took one wicket and conceded only a single four and then took a great catch in the following over by Sam. Matthew, Hamish and Conal closed the bowling against Grange1's strongest batters returning to the crease and despite the batters' best efforts, tight bowling and good fielding meant Grange had too much to do in the final three overs. Carlton won by 9 runs. Three wins out of three. A great performance by all.

Many thanks to all the players, coaches and parents. 7 wins out of 9 matches and lots of brilliant contributions from the players. Many thanks also to Penicuik for a very friendly and well run festival.

Carlton sent two teams to the SMRH u10 festival. There was a wide range of age and experience, but both teams performed really well.

Panthers

The Panthers comprised Robbie Murray, Oli Stones, Matthew Rae, Gregory Stewart-Roper, John Gill, Arav Khanna, and Kieran & Finlay Glass.

Match 1 v Edinburgh South
The first game was against Edinburgh South, who numbered 10 players, so we agreed to play 10 overs a side. The pitch was freshly cut outfield, which made batting more difficult than on the Astro, and the large ground made it a challenge for the batsmen to hit boundaries. As usual, the Panthers lost the toss and batted first. Kieran and Matthew opened the batting briskly and hit 20 off their first two overs. Arav and Gregory pushed the score on, despite losing a wicket, followed by John and Finlay who batted carefully to get the score to 232. Robbie and Oli then accelerated, Robbie despatching anything on the leg side to the boundary. Mathew and Kieran then returned to finish the innings on a competitive 257. The Panthers attack was accurate and backed up with tight fielding from the start. Mathew took a wicket in the second over and Robbie's double wicket maiden in the third left Edinburgh South in negative territory. Further wickets from Gregory and Oli continued to peg them back. Arav and John's tight bowling was rewarded with a second over for each of them and South were restricted to 208. A very impressive start for the Panthers.

Match 2 v Watsonians

The next match was against Watsonians, who incorporated two players from Holy Cross. After losing the toss, the Panthers were unusually asked to bowl first. Kieran opened the bowling and kept things tight. Arav's two wickets and John's accuracy further restricted Watsonians. Another wicket from Matthew and a fine over from Oli, which also yielded a wicket, contributed to the Watsonians total being kept to 218. This did not look a particularly challenging total, but good bowling and fielding held the Panthers to 208 after 3 overs and a wicket in the fourth meant at the half way stage, we were only on 205. Arav and Gregory then batted sensibly taking few risks and runs when they were on offer, to move the score on to 215 with two overs to go. Any concerns about getting to the Watsonians total were quickly dispelled by Robbie and Oli, who ran well and hit some fine shots to leave the Panthers on 237. A comfortable victory in the end. It was particularly pleasing that there was only one wicket lost.

Match 3 v SMRH

The last game was against a strong SMRH team, who were also unbeaten. After inevitably losing the toss, the Panthers were inserted. The SMRH bowling was consistently to a higher standard than they had experienced in the previous two games, and their fielding much sharper. Kieran and Matthew batted sensibly finishing on 211, but John and Finlay lost two wickets against the strong SMRH attack and when another wicket fell when Gregory was bowled, the Panthers were only on 207 after 5 overs. However, Arav and Gregory ran very well in the next over and took 7 off it, to get the Panthers up to 214. Some good hitting from Robbie and Oli in the last two overs got the score moving, with both boys hitting fine boundaries through the gaps in the field, although a great catch in the deep restricted the Panthers to 234. This looked a bit light to trouble the big hitting SMRH batters, but an early wicket from John and a sharp run out by Arav kept the score to 209 after 3 overs. This proved to be a false dawn as the SMRH batsmen then got going and hit several boundaries, going past the Panthers total to stand at 240 after 6 overs. The position looked pretty bleak, but in Kwik cricket, you always have a chance to get back in the game. Oli bowled a great penultimate over against the SMRH twins; fine players who we have played several times in recent weeks. He had one of the twins caught behind with his second ball and then with the SMRH batters perhaps feeling the pressure, two mad run outs ensued, which reduced the SMRH total to 228. They therefore required 7 off the last, with Carlton paceman Robbie to bowl it. A single off the first was followed by what should have been another off the second, only for two consecutive overthrows to allow two further runs to be scored. This left SMRH needing only 3 off the last 4 balls and clear favourites to win. Two dot balls from Robbie's accurate bowling then turned things back in the Panthers' favour, and a single off the penultimate ball left SMRH needing 2 to win from the last ball. Another good ball from Robbie prompted a mishit shot in the air on the off side. Robbie made good ground, dived to take the catch, caught it in mid air, but the ball was just dislodged when he landed heavily on the ground! Before the ball could be fielded, the SMRH twins scampered two runs to win the match!! An amazing end to a great game. In truth, the young Carlton team should really not have been close to their more experienced opponents, but they showed great skill and determination to take it right down to the wire. A fantastic effort from all, but a special mention to the two youngest, John and Finlay, who were particularly tigerish in the field.

Leopards

A strong-looking Carlton Leopards squad – Sasha, Alice, Roger, Eliza, Sam, Hector, James and Ben – lined up for three matches against Heriots, Grange and SMRH Team Black.
Match 1 v Heriots
Skipper Sam got the Leopards off to a great start, winning the toss and asking Heriots to bat first on an awkward, grassy track. James then followed up with a wicket from the very first ball, and Sasha's tight second over meant that Heriots were barely underway with two overs bowled. Roger, whose bowling has come on really well this year, also struck in the third over. Heriots' best batsmen came out in the middle overs and did manage to score a few boundaries, but Eliza, Sam and Alice did well to bowl plenty of dot balls and were backed up by solid ground fielding, with Ben, James and Alice looking especially sharp. Ben and Hector allowed just four runs from the final two overs, leaving the target at 236.
Alice and Eliza opened in reply and batted very well indeed, a couple of boundaries and well-run singles taking the score along to 214. Sasha and Roger faced up to Heriots' best bowlers, including an over of genuine pace from one very talented young Heriots cricketer – great credit to both for batting really sensibly and losing only one wicket. Sam and Hector also struggled a little to get some more variable bowling away, so with two overs left Ben and James needed 19 to secure the win. A flurry of sixes and hard-run twos later and the Leopards were easily home on 250 – well batted! Carlton Leopards win by 14 runs.
Match 2 v Grange
James took the armband for match 2 and won the second toss of the day – and given the team's success chasing in the first game he had no hesitation in asking Grange to bat first. That looked a good call as James and Hector bowled another two excellent opening overs, Hector cleaning up the Grange opener with his first ball. Roger, Sam and Eliza then found the experienced Grange middle-order in aggressive mood, but Sasha and Alice bowled really well (Alice picking up a lovely wicket with undoubtedly the ball of the day: angled in, shaping away, and taking the top of off stump) conceding only five runs between them to keep the score down. Ben's final over looked to be decisive, a wicket and only the single scored, and the Leopards had 231 to chase.
Regular openers Alice and Eliza strode out with purpose, but found the Grange attack a different proposition to that of Heriots. Still, they did a good job in blocking the straight ones and picking up a few singles – Eliza unlucky to be bowled by a good ball. Hector and Roger hit a couple of fours, but with Roger unfortunate to hit a nice drive slightly on the up and straight to the Grange cover fielder the score was only 208 with four gone. James and Sasha were next in and moved the score along well – powerful hitting from James and some very good calling by Sasha and running by both, a really good partnership. 223 the score and only 8 needed off the last two, Sam and Ben to bat. Grange had kept two strong bowlers in reserve and there was no repeat of the fireworks from the previous game – Ben batted sensibly to take the score along to 235 with a single from the penultimate ball, with good support running from Sam. So, with the lead just four Sam faced the final ball knowing that a wicket would give Grange the win... and he kept his nerve very well, dropping it dead to see the Leopards over the line. Carlton Leopards win by 4 runs.
Match 3 v SMRH Team Black
Ben took over captaining duties for the last match, and promptly made it three from three at the toss. Not wanting to spoil a winning formula, he invited SMRH to have a bat. Sam took the new ball and picked up his first wicket of the day, a good straight one that the SMRH opener played all around. Some excellent keeping from Hector to James's bowling secured a run out in the second over, and Sasha, Alice, Roger and Eliza were again parsimonious in the middle stretch - stand-out fielding from James at midwicket saving a number of boundaries, and good work in getting the ball back from all of the fielders making sure there were no twos on offer. SMRH had saved their power hitters to the last, but hadn't counted on facing experienced closers Hector and Ben. With the pressure mounting from dots and singles they managed to hit one six from Hector's last ball, but Ben conjured some real magic with the final over, taking two wickets with fizzing yorkers and allowing only a single. The Leopards were left looking at only 227 to win – surely a gettable target?
Seasoned openers Alice and Eliza looked confident, but SMRH were determined to protect their small total with some tigerish fielding - runs were very hard to come by. When Hector and Sasha came out the Leopards were yet to get off the mark. SMRH's best bowlers were into the attack and Sasha was unfortunate to be right in the firing line – bowled three times by quick, accurate deliveries despite her best efforts. Still, they regrouped well to scamper 8 runs, but Sam and Roger were still in negative territory when they arrived at the crease. They put together a fine partnership, taking ten runs in ones and twos and bringing the total just about back into reach for Ben and James – who still needed to find a daunting 24 from the last two overs. Not that the pressure seemed to trouble the boys at all – the crowd ducking and diving to avoid a hail of fours and sixes – and when the smoke cleared the Leopards were victorious on 234. Carlton Leopards win by 7 runs.
A great tournament for the Leopards who played with freedom and a sense of fun throughout and fully deserved their three wins. It's particularly good to see the progress made by the players over the course of the season – their skills are developing, and they are getting more and more confident at executing those skills in match situations. And while we certainly benefitted from having some more experienced players on the roster for this set of matches. It is hopefully clear from the match reports just how much of a team effort each game was. All of the bowling and fielding on display was very high quality indeed; the team conceded no overthrows; and no wickets were lost to run-outs – that can only happen when all of the players are supporting each other and working well together. A big thank-you to SMRH for organising a great tournament, and to Heriots, Grange and SMRH Team Black for three excellent, close-fought matches played in wonderful spirit. Thanks too to Charles for helping out with the team, and indeed for passing on to Ben and James his talent in the subtle art of a ferocious smear over midwicket.
Many thanks to all who played and supported. Five wins from six and the only loss by the narrowest of margins. Many thanks again to SMRH for another great morning's cricket.
We travelled to our third fixture against SMRH on Sunday 6th August at Inverleith. There had been a lot of rain the day before, but as usual, the sun shone on the Carlton Kwik cricketers.
We had a terrific turnout with 21 players, against 14 for SMRH, so we split the squad into four teams. Each team played two matches of 10 overs a side, one against an SMRH team and one against another Carlton team.
Panthers
Robbie Murray, Gabriella and Harrison Fontenla, Finlay Thomson and Hamish Holme. Coach: Keith Murray
The Panthers played SMRH in the first game and hit a competitive 264. All the players contributed with boundaries and useful partnerships, the top score being from Robbie and Harrison who hit 19 off the penultimate over. Hamish hit several lusty blows for four and ran very aggressively. SMRH got off to a strong start but were pegged back by some accurate bowling and sharp fielding. Finlay took a good catch off Harrison's bowling and he and Robbie also picked up wickets. Gabriella kept well throughout. The Panthers restricted SMRH to 240 and won comfortably by 24 runs.
In the second match they played the Leopards and had another good victory. The highlights were Gabriella's wonderful pull shot off Jake's bowling, Harrison's powerful straight drive for four, and Robbie's double wicket maiden in the final over. A very good performance from all.
Leopards
The Leopards were Oli Stones, Jake Hetherington, John Gill, Malachy Baynes, and Arav Khanna. Coach: Paul stones.
The first match was against a strong SMRH side, who won reasonably comfortably. There were encouraging performances from all the players, but too many wickets fell when the Leopards batted and SMRH had a very powerful batting line-up, particularly their right/left handed twins, who have caused plenty of Carlton sides problems in the past (and no doubt will continue to do so in the future). Oli was the pick of our batters, hitting a number of impressive boundaries, but the effort of the whole team could not be faulted.
The second match was against the Panthers. The Leopards let them amass 284 with the bat, despite some committed fielding in the large pitch - hard work when there was only 5 a side. John slipped heavily in the long grass after saving a certain boundary, but bravely kept on playing. The Leopards' chase was started by Jake and Arav who kept them in touch with the Panthers total. Malachy and John did their best to push things on, but were restricted by accurate bowling from Hamish and Gabriella. Oli and Jake then did well to take 9 runs off Robbie's first over, before hitting 13 off the next. After 6 overs, the Leopards were only 8 runs behind where the Panthers had been and very much in the game. Unfortunately, they were unable to maintain the scoring rate and 3 wickets in the last two overs pegged them back to finish on 240, the score line not really a true reflection of the two sides.
Lions
Sam Northridge, Andrew Lima-Napier, Matthew Brown, Niven Peterson and Hugo Caldwell. Coach: Dave Northridge
The first match against the Tigers was a bit one sided. See the Tigers' report below. James and Ben bowled brilliantly!
The second match was against a very evenly matched SMRH side. Matthew was captain and won the toss, and decided to field. Everyone bowled pretty well. The highlight was Sam who took 2 wickets in his over. Our team's fielding was much improved and SMRH were restricted to 225 from their 8 overs. Matthew and Hugo were first in to bat, and although they hit some good shots and ran well, their score was badly affected by 5 wickets in the first 2 overs! So, all of a sudden, they were chasing a big total. Sam and Andrew managed to get the score into positive territory, assisted by a big 6 from Sam. Then Niven batted very solidly with Matthew and then Hugo. They were in a very promising position by the start of the final over, needing only 2 runs for victory. Some batsmen might have taken the opportunity to open up, thereby risking losing their wicket, but Andrew was too canny, blocking the final four deliveries to consolidate a narrow win by just 2 runs.
Tigers
The Tigers were Ben Stronach, James Stronach, Tomos Hunt, Osian Hunt, Angharad Hunt, Roger Chen. Coach: Charles Stronach
The Lions batted first with Sam and Niven facing up to James and Roger in the opening 2 overs. There was some good bowling and fielding (helped by a slow outfield that needed cut!), including a wicket for Roger which restricted the opening two overs to 4 runs. Andrew and Matthew then came in to face Ben and Tomos. Ben got a wicket first ball before beaming Matthew with one straight onto his arm. Fortunately Matthew fought on through the pain and the pair kept out a tight over from Tomos to take the score onto 6. Next it was Niven and Hugo to face Angharad and Oshi. Some good bowling and good batting enabled the Tigers to move onto 16. Matthew and Hugo then faced James and Roger. James, ignoring his father's requests and resorting to spin took three wickets in his over, so yet another reason for him to wonder when he will finally hear some words of wisdom! Roger took another wicket to reduce the Lions score to two. Sam and Andrew then came in for the final two overs to face Ben and Tomos. A nice four from Sam and a wicket each for Ben and Tomos gave the Lions a final score of 205.
After letting the non-Stronach Tigers choose the batting order so that Ben and James didn't just grab the bats as fast as they could and run and open the batting, Ben and James were chosen as the first pair. A solid opening couple of overs against Andrew and Sam resulted in a few boundaries and a score of 31.Tomos and Roger then came in to face Hugo and Matthew. A wicket for Hugo and some miserly bowling kept the Tigers to 35. Angharad and Oshi then came in to face Niven and Andrew. A nice wicket for Niven and a very tight over from Andrew kept the Tigers to 35. Ben and James then came back in for an over against Sam hitting a few more boundaries to increase the score to 51. Tomos and Roger then hit six runs from a Niven over before Oshi and Angharad came back in to score 15 runs from the last two overs enabling the Tigers to finish on a winning 272.
Our second game was against SMRH and was as close a game as you can get. The Tigers lost the toss and were asked to bat first with Ben and James being sent in to open again. SMRH took a wicket in the second over but a score of 22 after the two overs was a good start. Tomos and Roger came in and batted well to take the score to 34 before some good sensible batting from Oshi and Angharad increased the total to 38. Ben and James then came in for the final two overs in which they hit a couple of boundaries to help the Tigers finish on 259.
Angharad and Roger then opened the bowling, and on a small fast pitch did well to restrict the SMRH openers to 23. James and Tomos bowled next with James learning that the faster you bowl, the faster it goes to the boundary! A good tight over from Tomos created the pressure that led to a great run out leaving the score on 243. Ben and Oshi bowled next with another 2 excellent run outs and a wicket to Oshi reducing the score to 242. The score was then 254 after James' over leaving SMRH needing 6 to win. A single, then another single, then a dot ball raised the tension. A four the next ball however took SMRH onto 260. All SMRH had to do was not get out. They blocked the fifth ball, but then decided to smash the last ball of the game. Up it went high into the air for a possible caught and bowled where it fortunately landed in Ben's grateful hands for a fantastic four run win! Crucially Carlton only lost one wicket when batting which was one of the big differences between the sides. Well done the Tigers!
Many thanks to all the players and parents. Three wins out of four against SMRH was great, including two that went down to the last ball. Many thanks also to SMRH for hosting us again and playing the games in the usual excellent spirit.
The Carlton Kwik cricketers were invited to the Peebles U11 festival on Sunday 23rd July. There had been no cricket played the day before and the forecast was not looking good, but it was dry first thing and everyone was keen to play.

The Carlton team consisted of Isaac, Fergus & Hamish Foley, James Stronach, Jack Cran, Jake Hetherington, Blair Mackenzie and Robbie Murray. They played three matches against Gala, Selkirk and Peebles, losing the toss in each game resulting in them always batting first.

The pitch was unsurprisingly quite damp from the previous day's rain and Carlton's batters struggled in the first game against Gala. Wickets fell at regular intervals and although Blair, James and Hamish hit some impressive boundaries, the total of 226 looked a challenge to defend. Despite some accurate bowling, particularly from Robbie, James and Fergus, some dropped catches and powerful hitting from Gala let them get the win by 5 runs. A good lesson for the players in batting in difficult conditions and the importance of taking your chances when they come.

In the second match against Selkirk, the players adjusted better to the conditions and posted a much more impressive 261. Blair and Robbie opened and moved the score along without losing any wickets. There were good partnerships from Jack and Jake, who ran very aggressively, and Isaac and Fergus. Both Jack and Isaac hit big sixes. James and Hamish finished the innings off solidly. The Selkirk response was pegged back by tidy bowling and regular wickets. Jake was probably the pick of the Carlton bowlers and Carlton ran out comfortable winners.
.
The third match was against hosts, Peebles. By this time the rain was coming down fairly heavily, but the players pressed on despite conditions that would have seen their elders take cover. The Carlton batters hit 259. A number of reverse hits and over the top shots were attempted, with varying degrees of success, much to the amusement of the Peebles umpire. There were more sixes from Isaac and Jack. The Carlton bowling was again very disciplined, with Robbie, Hamish, James and Fergus particularly accurate. Some excellent fielding from Jake denied near certain boundaries, and a brilliant diving catch from Isaac off his brother Fergus (in a wicket maiden) helped restrict Peebles to 210, resulting in a comfortable, if damp, win in the end.

Overall, a very good performance from all the players in the rain. Two solid wins and a narrow loss. Many thanks to Peebles for hosting and being so keen to play. It was great to get some cricket this weekend!
Carlton Panthers
The Panthers consisted of Malachy Baynes, Christopher Calwell, Robbie Murray and Shourjo Dutta-Roy. Unfortunately Sam Bartlett who had been due to play could not get to the ground, which was a shame as his contribution was missed.

The Panthers played two matches against two SMRH teams of 6. The players batted for 6 overs each in the first game and 3 overs each in the second. SMRH kindly lent us 2 fielders when we batted.

The first game was a solid victory for the Panthers who scored 280 in their 12 overs and then restricted SMRH to 223, largely as a result of the 10 SMRH wickets they took; 5 to Robbie, 2 to Malachy, 2 to Christopher and one run out. The highlight of the game was undoubtedly Shourjo's brilliant catch off Robbie's bowling. A genuine edge flew very quickly to Shourjo behind the stumps and he got both hands to it, parrying it into the air. He then had the presence of mind to safely catch it at the second attempt. Outstanding fielding!

The second game was against a stronger SMRH side. The Panthers scored 239 in their 6 overs. It was particularly pleasing that neither batting pair lost any wickets. All the players bowled well, taking wickets to restrict the score, and SMRH were left to hit 18 off the last over to win. Shourjo bowled very accurately under some pressure from the strong SMRH final pair, but they only managed to score 15 and the Panthers won by 2 runs.

A very fine effort by all of the team. Many thanks to all the players and their parents, and to SMRH for their hospitality and sportsmanship.

Carlton Leopards
The Leopards were a lively team made up of Jack Cran, Andrew Lima-Napier, Blair Mackenzie and Roger Chen. With only 4 in the team and two matches to play, they had to work hard both from a batting perspective and bowling/fielding, although SMRH obliged us with a couple of extra fielders to make the numbers up. In the first game we were narrowly beaten (235 to 240), the main strength of the opposition being a very useful set of twins, one of who batted right-handed and the other left, causing considerable havoc. Batting and bowling was generally of a good standard, the former including some boundaries and a few delicate stabs looking to take the quick single.
The boys moved on to the second game, encouraged by the narrow defeat and despite the very grey looming skies. They were determined to seek revenge! The boys batted well and this time reached a score of 258, again with some good hits, including one hard aerial drive from Blair straight at the SMRH umpire, who had to take sudden evasive action to avoid getting one straight in the chops! Perhaps tiredness was setting in a bit, when it came to fielding, as many of the oppositions runs came from our increased wayward bowling and a number of boundary overthrows. So, some good learning for the team was the importance of backing up the fielder at the wicket, which was difficult in this case, because we had only a small team. Despite this we held it all together well and eventually won by 23 runs. (258 to 235).
So we played two, won one and lost one. It was a fun evening for the boys from both clubs (many thanks to SMRH, great hosts as usual) and all the forecasted thunder and lightning was nowhere to be seen. Onwards and upwards to Peebles.
Carlton Panthers

After some last minute changes, the Panthers who assembled at Inverleith on a breezy, but generally sunny, Sunday morning comprised Robbie Murray, Oli Stones, Gabriella Fontenla, Blair Mackenzie, Matthew Rae, Claude Winkler, and Percy and Hugh Sutherland.
Game 1

They played two matches against SMRH, with the batters playing as a pair together for 3 overs rather than the usual 2. In the first match the Panthers amassed an impressive 296, with Blair and Gabriella contributing 22, Robbie and Oli 36, Matthew and Claude 14, and Percy and Hugh 24. There were good contributions from all the batters, with lots of lusty hitting and good running between the wickets. The Panthers then bowled and fielded well with Hugh bowling a very first tight spell, Gabriella bowling with good pace and Claude's accuracy being rewarded with a wicket. A direct hit run out for Oli also pegged SMRH back and they fell short with 281 to ensure the Panthers won the first game.
Game 2

In the second match the Panthers played the stronger of the two SMRH sides and hit a competitive 281 in their allotted 12 overs. Hugh and Percy had a strong opening partnership against the pick of the SMRH bowling and Gabriella worked the leg side field mercilessly. Blair smashed a number of fine boundaries including a big six. Oli batted really well, hitting a boundary with almost every ball he faced including a pair of glorious straight drives. The Panthers certainly had a defendable total. SMRH started strongly with only Hugh's valiant efforts at deep cow keeping the Panthers in the game. A few chances were missed in an otherwise strong performance in the field, but the standard of bowling was good and SMRH still needed 6 off the last over. Robbie bowled good line and length at a decent pace to restrict the batter's scoring opportunities, but an unfortunate 4 byes enabled SMRH to scramble enough in singles to win the match by 1 run. A very even contest that could have gone either way. Well played both teams.

All in all, a most enjoyable morning with SMRH. Many thanks for their hospitality and sportsmanship. We look forward to the next match.
Carlton Leopards
The Carlton Leopards for our invitational matches at SMRH were: Andrew, Sam, Jack, James, Matthew, Roger, Hector and Lewis - a good blend of older players and some of our less experienced cricketers.
Game 1


Captain Sam lost the loss for our first match and SMRH invited the Leopards to bat. Hector and Lewis opened, and immediately faced some solid bowling - they each hit a couple of boundaries, but a good catch in the deep restricted their progress. Jack and James then upped the rate considerably, scoring a very impressive 27 from their three overs. The Leopards' least experienced pair of Roger and Matthew were very unlucky to be facing SMRH's best bowlers and found their accuracy tough to deal with, but although a number of wickets fell they also did well to score a few singles to keep things moving along. Sam and Andrew then displayed some great hitting at the end, finding the rope half a dozen times between them and pushing the total to a decent 260.

Sam and James opened the bowling in SMRH's reply, Sam striking in the first over to get things off to a flying start. Jack and Hector then also chipped in with wickets, but the SMRH batters showed a lot of power and were also finding plenty of 4s and 6s - Andrew and Lewis both bowled well but couldn't do much to stop some excellent batting. Matthew and Roger bowled tidily and managed three precious dot balls in each of their overs to keep the Leopards in the chase, and despite two more solid overs from Andrew and Jack (also taking a wicket) to finish there just weren't enough wickets down to restrict SMRH's total.

SMRH closed out a 22-run win on 282. Despite some excellent power hitting on show from SMRH the difference in the two innings was really just number of wickets down - 7 lost by the Leopards vs 4 by SMRH, for a 15 run swing. A good match,and a good lesson for the Leopards in the importance of keeping the ball down and defending straight ones!
Game 2

Andrew took the skipper's armband for match 2, but also lost the toss (perhaps a future career as captain of Carlton 4th XI beckons?). SMRH elected to bat first, but hadn't reckoned on opening bowler James striking with the first two balls of the match to put them deep in negative territory. Sam and Jack kept it tight with good straight bowling, and SMRH were really struggling to get going. Lewis was then a little unlucky to concede a couple of boundaries and some 2s, but also managed a wicket, while Hector conceded only 4 from his over and Roger, bowling well, just 6. Matthew, Andrew and James found the going a little tougher against SMRH's best batsmen, but the boys' fielding held up pretty well to stop the total getting out of control - Andrew, Sam and James with some particularly good efforts to stop certain 4s. Sam sent down a rare maiden in his second over, Jack backing that up with a great penultimate over including the final wicket to fall. Lewis then closed the innings with a tight set conceding just 5, and SMRH had made it to 273.

Andrew and Jack began the reply, hitting 14 from the first over with both finding the rope and starting the innings really well. Roger and Lewis kept the momentum going - special mention for a great comeback boundary from Roger after he was unlucky to be caught - Lewis making some super calls to take all of the singles on offer. Sam and James then came in and put the Leopards firmly on top with 32 runs from their three overs faced, featuring some fantastic batting from both players, meaning Matthew and Hector just needed to score a net positive 5 from the final three overs to secure the win. That looked a little doubtful when the first of their overs was scrambled for a couple of singles only, but Matthew made sure of the win with a glorious drive through extra cover for four from the first ball of the next. Hector was sure in defence, and the Leopards were home on 287.

A particularly good win for the Leopards in this match with all of the boys contributing something really positive in the field or with the bat - a team performance of which they should all be proud.

Finally, also a mention for the Leopards successfully completing their pre-match challenge not to lose any wickets to run-outs - there were a couple of close calls and a few singles left on the field, but on the whole the calling and running went very well indeed. Next time, to manage the "no overthrows" challenge too!
Carlton Panthers
The encouragement the team gave each other was a delight to witness; well done to all of them. Carlton Panthers lost to Grange and SMRH but in the last game beat Edinburgh South, scoring their top score of 265 runs.
The game against SMRH was close with Carlton losing a couple of wickets being the only difference between the two teams. Grange were particularly strong and Carlton were up against a more experienced team and their boundary scoring reverse sweeps. The whole Carlton team played very well, getting better each game with some wonderful running between the wickets, fielding, catching, bowling and batting. It was a pleasure to manage the team and thank you to SMRH for a well organised and friendly competition, great weather too.
Carlton Leopards
The Carlton Leopards played Penicuik, SMRH and Watsonians and there was some real batting quality among the opponents. Although the Leopards didn't win, they showed great improvements throughout the course of the day, in particular with some increasingly sharp fielding and their ability to run tight singles.
There were highlights including a great catch by Scott, boundaries from Alex B and precision bowling from Alex. Tomos almost took a hat-trick and Conal's bowling saw the ball whistle past the stumps on many occasions. Angharad's ever-improving bowling foxed even the best batsmen and Theo's all-round abilities sparkled with positive contributes with bat, ball and in the field. Harrison proved himself particularly adept behind the wicket and hit many good shots. The team played in an excellent spirit and the cakes and crisps didn't last long.
This was Carlton's first visit to the Rowan Boland Memorial Trophy, which is an important event for Gala Cricket Club, commemorating the tragic death of Rowan Boland at the club in 2010 from a heart attack aged only 9. Unusually, the tournament is u12, with three rounds and then a final for the top two teams.
The Carlton team consisted of Dougie Firth, Isaac & Fergus Foley, Ben & James Stronach, Kyle & Alex Burgess, and Robbie Murray. They played Selkirk, Gala 2s and Kelso in the early rounds winning each match with a combination of fast and accurate bowling, sharp fielding and bullish batting.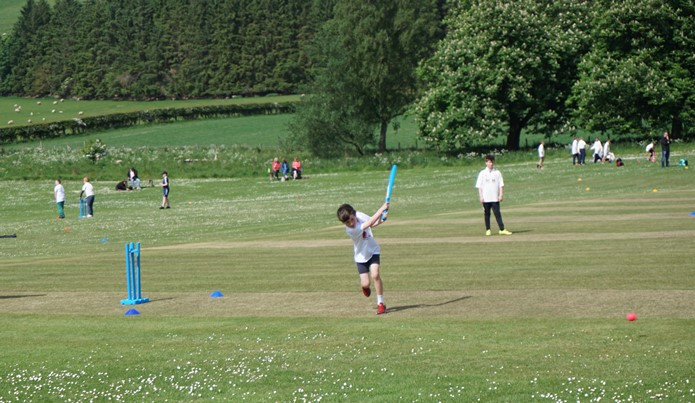 Carlton then played Gala 1s in the final on a big pitch using the main square. Gala 1s were clearly a strong side with some big players. They won the toss and elected to bat, hoping no doubt to dominate the Carlton attack. However, the Carlton opening bowlers started well, with James clean bowling the Gala opening bat in the first over. The Carlton fielding, which had been strong all day, then went to a new level with run outs regularly pegging Gala back further. The second set of Gala batters were two huge lads who strode out clearly determined to rectify the situation. Robbie appeared undaunted by facing these colossi and duly castled the biggest of them. Kyle claimed more victims with his spell, as did Fergus, who also took a fine catch and effected two direct hit run outs. Dougie took off his keeping gloves after a fine stint behind the timbers and did further damage himself with the ball. The Gala batsmen then had to face Ben and Isaac in the final two overs. Ben bowled with real aggression and Isaac, who had earlier sportingly only bowled spin against the weaker teams, showed his class when bowling pace with another fine clean bowled. At the end of the Gala innings they had lost 14 wickets and failed to hit a single boundary for a total of 142 (-58).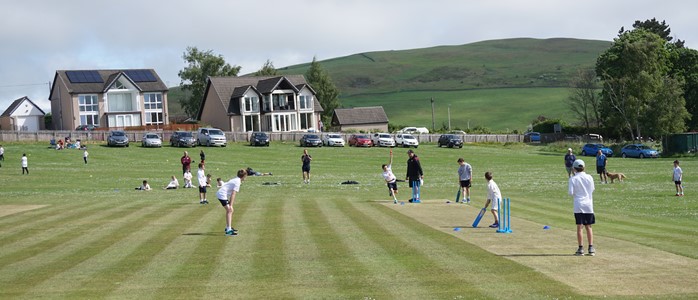 Any thoughts that the trophy was in the bag were quickly dispelled when the Carlton opening pair lost wickets and found runs hard to come by. The next pair too headed into negative territory after wickets fell. However, much needed boundaries from Alex and Fergus steadied the ship and Ben and Isaac were able to bring the victory home. Carlton finished on 204, not usually a winning score, but a fair reflection of the accuracy of the Gala bowling and general excellence of their fielding on the big pitch.
A well deserved win for Carlton at a fantastic tournament. The boys showed great teamwork and supported each other brilliantly throughout the day. The quality of their bowling, in particular, was outstanding.
A big thank you to all at Gala for hosting such a well organised and welcoming tournament. As is customary in the Borders, the games were all played and umpired with great sportsmanship. A very fine example of how cricket should be played. We are very much looking forward to returning next year to defend the trophy.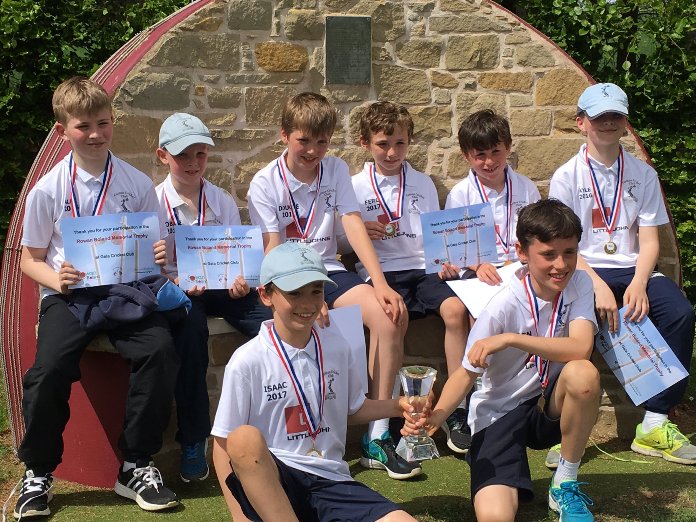 The Panthers featured Gregory, Oli, Lewis, Hugo, Sam, Percy, Hugh, Hamish and Holly. A number of the squad were making their Kwik cricket debuts and acquitted themselves very well. The first game against Penicuik saw Sam volunteer to help the opposition who were one short. The opening pairing of Oli and Lewis put on an impressive 27, closely followed by the second pair of Hamish and Hugo scoring another 22. Hugh, Percy, Holly and Gregory put in solid performances pushing the score onto 265 at the finish. Some excellent bowling and fielding saw the Panthers run out winners with Penicuik managing 247.

The second match against a strong SMRH side proved a very close affair. Boundaries were scarce with Sam scoring a notable 6 off the last ball to take us to 242. The first two overs were excellent with Lewis taking his first wicket and some smart fielding getting a run out. The middle overs looked like things were getting away from us until Oli took a smart catch and another wicket fell in the last but one over. Sadly, only needing 4 off the last over proved too much and SMRH ran out winners by 7 runs.

The number of debutants finally caught up with us against a strong Grange side. The opening pairing fared well again with Oli hitting a cracking 6 off the last ball. Wickets a plenty fell in between until the last pairing put some respectability onto the score thanks to Sam's two sixes. The final score of 233 was never enough and Grange ran out comfortable winners.

The Leopards, consisting of Malachy, Finlay, Sasha, Alice, Angaharad, Oshi & Tomos, assisted by Lily, improved throughout the morning despite losing against Watson's, Grange and South Edinburgh. The last match was a keenly fought contest with some fine fast bowling from Oshi and Tomos and a good all round batting performance, the team posting a score of 255.
The Leopards played well against some experienced opposition and the quality of our bowling was impressive in all three games.
A great effort to get two teams to the festival with another team at Gala. Both the Panthers and Leopards did fantastically well and the experience will have set them up for other tournaments later in the year.
The senior teams had all been cancelled due to the weather the day before, but the overnight rain had passed and Grange Loan was happily playable for the players and parents who assembled on Sunday morning for the early season Players v Parents Kwik cricket match. This was a much anticipated fixture in many households and the two sets of games, players versus parents and then players playing with their parents, were both keenly contested.
Round 1: Players v Parents
The first players v parents match featured Hamish, Fergus and Isaac Foley, Robbie Murray, Alasdair Mills, Andrew Lima-Napier, Ruaidhi Vick and Hamish Holme and their parents, Kelly & Jon Foley. Keith Murray, Nick Mills, Gary Lima-Napier, Doug Vick and Jane Holme.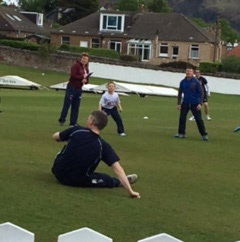 Former Grange star John Garden made up the numbers for the Foleys. The parents won the toss and elected to field. Kelly Foley opened the bowling and set a high standard, taking two wickets and forcing the players into negative territory. The parents bowling continued to be tight and it was only in the fourth over that Isaac and Robbie got the players score into positive numbers hitting Keith for successive boundaries. The players eventually amassed 219 in the face of particularly accurate bowling from Nick and Doug, who both sent down maidens.
The parents chase got off to an excellent start with a powerful boundary from Gary. However, a sharp run out and two wickets for Andrew in successive balls set the standard for a high quality bowling and fielding effort from the players to defend their modest total. Wickets fell at regular intervals to keep the score in check. Jon displayed a wide variety of leg side shots before smashing an off drive straight at Andrew who took a wonderful catch. Hamish Holme took another great catch on the boundary to deny Doug and the sides were tied on 219 at the start of the final over.
Dave Northridge faced his son Sam in this decisive encounter. Some might have considered blocking the next 6 deliveries to secure an honourable draw, but David dismissed such notions taking sharp singles when they were available and whacking a straight boundary off the penultimate ball to secure the victory. The parents won by 7 runs.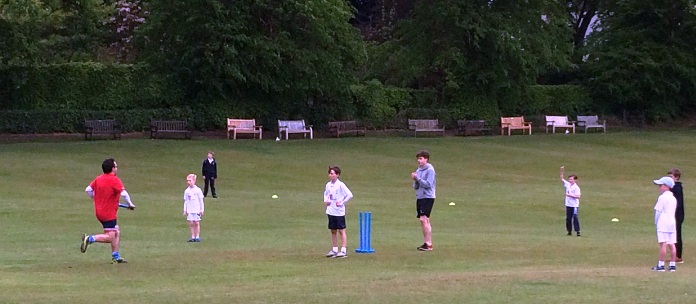 The other Players v Parents game on the lush surrounds of Pitch 2 saw the Players win the toss and elect to field - perhaps with an eye on the overcast conditions and in the hope that some movement could be extracted from a green-looking wicket? The Parents XI padded up and Michael & Soumya opened the batting - Shourjo & Nicholas taking the new ball. Despite the helpful bowling conditions it was the Parents who got away quickly with a flurry of early boundaries; 24 from the first two overs. Rumours swirled of an IPL scout watching intently from the pavilion.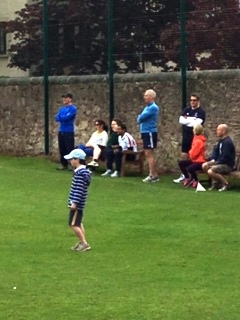 The Players needed a strong comeback, and despite Chris being unlucky with a few byes being conceded from his over, excellent fielding (coupled with some... let's say "ambitious" running from Karl and Sarah) saw the Parents' momentum checked with two run-outs in Archie's excellent over. Gillian and Joe then batted well against Theo and Hugo, but a wicket from the last ball of Hugo's over kept things interesting. Euan carried his club form into his innings and struggled to get anything from Hector's pacey over away, but fortunately for the Parents he managed to scramble off strike and allow Ruari to display a nice array of strokes against a rather unlucky Blair. Paul and Angus headed in looking to give the Parents' innings a final push, and although Ollie took a good wicket and Claude bowled a strong final set, the Parents ended with a more than respectable 296.
The Players' opening bats of Ollie and Blair strode our purposefully, knowing that a positive approach was needed. And Paul took some punishment in the first over, two lovely boundaries setting a great tone for the chase. However, Ruari's all-round credentials were looking strong as he struck twice in the second over - would a net -8 prove fatal to the Players' chances? Theo and Chris came in and cleverly milked a series of singles from Gillian and Jonathan, but just couldn't quite find the telling boundaries. The Stewart brothers were next up, with dad Angus bowling two overs to make up the numbers. And that IPL scout will have been mightily impressed with Angus' ability to quieten the crowd in the middle overs, Archie and Hugo once again only able to work the ball into space for singles. Claude and Shourjo made a brilliant effort to quicken the pace of scoring by looking to play their shots, but paid the price with some unfortunate wickets - top of off stump bowling from Soumya and Karl doing the damage.
Hector and Nicholas were last up with an almost impossible task, and despite managing to score 12 from Euan and Michael it wasn't enough. 220 the final score for the Players - not really a fair reflection of how well they batted, but the loss of eight wickets (costing 40 runs) gave them too much work to do. A very good match all round, with some top quality fielding on display from the Players, and bit of work to do for the Parents on their running between the wickets. We also look forward to seeing Soumya, Ruari and Angus turning out for Royal Challengers Bangalore next spring.
Round 2: Players & Parents
In the second round of matches the Foleys, Lima-Napiers and Holmes took on the Murrays (x2), Stones. Winklers and MacKenzies. Team Murray won the toss and predictably fielded. Oli and Paul opened the bowling against Andrew and Gary and honours were pretty even. Euan then bowled beautifully against Fergus and John, picking up two wickets, despite some fine boundaries. The Winklers also took wickets, but some indifferent fielding pushed the score on and John Garden and Hamish had a fine partnership of 21. Kelly and Isaac also got the better of the Murray's bowling and Team Foley finished on a challenging 273. Team Murray's chase got off to a great start with Ruari and Blair blasting 15 off the first over including a six from Ruari that went a long way down Grange Loan. However a double wicket maiden from Gary pegged the batting side back and after 4 overs Team Murray had only amassed 203. Euan and Hector then got their heads down, hitting a number of boundaries to get the chase up to 228. Much was expected of skipper Keith and Robbie, but accurate bowling from John Garden and Hamish Foley denied them any boundaries and the final pair of Paul and Oli were left to hit 34 in the final two overs. Aggressive running and positive hitting enabled them to get the score to 266, but Team Foley had done enough to ensure a well deserved victory.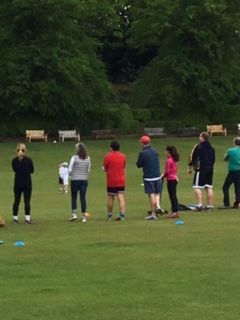 Unfortunately, your reporter did not view the other match as he was desperately looking for some batting form in the other game. A little journalistic flair could possibly have saved the day (assuming that it could have been sourced from elsewhere), but alas the scorecard has been completed without the addition of player names other than the helpful annotations of "Doug?" as the bowler of the second over, possibly to "Angus?", and the criminally under-rated "left hand boy" sending down the third. Well bowled, though, "Doug?", a wicket and just three runs from your set. A comprehensive inquest into the quality of both scoring and writing of match reports is currently underway. In any event, the scorecard reveals a tight match which see-sawed dramatically - the bowler of the final over of the first innings deserving of special mention, taking two wickets for the concession of just two singles and restricting the batting side to 243 when something well north of 260 looked a certainty. And that over was ultimately decisive, as a steady and well-constructed chase was successful, closing on 252 - but not without its significant drama, a wobble in the last over which could have blown the game as a crucial wicket fell to the third ball. A good recovery from the batters though, not succumbing to a collapse and blocking out the final three balls to see Team 4 safely home.
Many thanks to all who played and supported. Hopefully, the players and parents are all still on speaking terms. We are particularly grateful to Heather and Val who arranged the refreshments and Gregor McIntyre, Harry Simpson, Pete Gill and Mikey Brown for umpiring with great distinction.
Carlton were invited to attend the Hawick U11 Kwik cricket festival on Sunday 14th May at Hawick and Wilton Cricket Club. We sent a strong, if relatively young, team of Isaac, Fergus and Hamish Foley, Sam Northridge, Andrew Lima-Napier, Robbie Murray, Oli Stones and James Stronach. The overnight rain had subsided and the festival was played in glorious sunshine. Dougie Welsh, the Hawick coach, had accurately advised us that the sun always shines in Hawick.
The first match was against Selkirk. The Carlton boys had to adapt to the Borders practice of using tees for a free hit following a wide or no-ball. They got the hang of this pretty quickly. Carlton lost the toss (as they did in each game) and batted first. Robbie and Oli opened the batting and started well, the highlight being an all-run four following a succession of overthrows by the enthusiastic Selkirk fielders. James and Hamish then continued to make good progress, with Fergus and Sam increasing the tempo, Fergus favouring the short leg side boundary behind square. Isaac and Andrew finished the innings strongly. Carlton amassed a respectable 275. This proved more than enough as the Carlton bowling attack was simply outstanding. Bowler after bowler sent down fast accurate deliveries, with very few wides or no-balls. Numerous wickets fell, Isaac picking up three, as the Selkirk youngsters struggled to cope with the Carlton attack, ending in negative territory on 189. A very fine start to the day.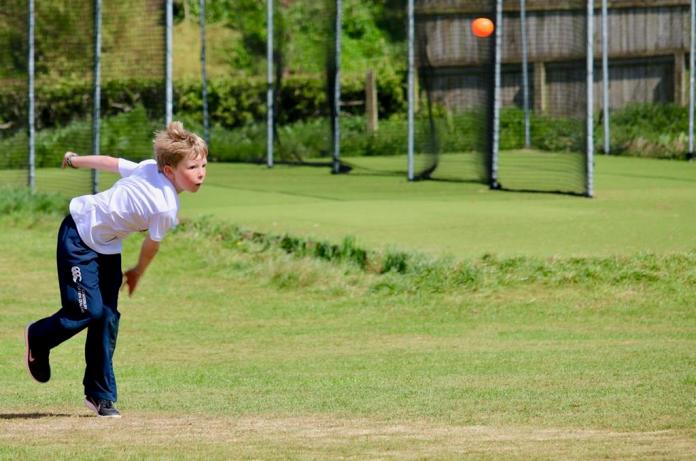 Next up were the hosts, Hawick. Their team was composed of six girls and two boys. The Hawick boys were given very clear directions by their female team mates as to where they should field and what they should do. Excellent preparation for them for adult life! We batted first and produced a stellar batting performance, amassing a huge 324. Sam and Fergus top scored, hitting 40 in their two overs and there were strong contributions from all the pairs. There were numerous sixes, the pick of which was from Hamish, dismissively clubbing a good length ball over cow corner. Our bowling and fielding were again excellent, the highlights being a direct hit run out from Sam and James bowling with real pace and accuracy. Hawick were restricted to 211.
The final game was against Kelso. They only had 7 players so Isaac sportingly agreed to keep wicket for them. Having lost the toss again, we batted first. Oli had an excellent innings with Robbie, hitting some lovely straight boundaries. Hamish and James kept up the good work, with Hamish proving particularly adept at hitting boundaries from the tee and James bashing boundaries at regular intervals down the ground. Sam smashed more sixes and Isaac and Andrew finished up strongly, Isaac hitting the biggest six of the day into the middle of the next pitch. We posted another healthy total of 289. It would have been more but for some excellent fielding from Kelso, including a magnificent diving catch to dismiss Fergus. The form of our bowlers and fielders continued to be excellent. Sam effected another direct hit run out. Robbie took a great diving catch off his own bowling. Hamish took a good catch at cover off a spinning ball, Andrew fielded energetically throughout. Kelso only managed 214, so three big wins out of three.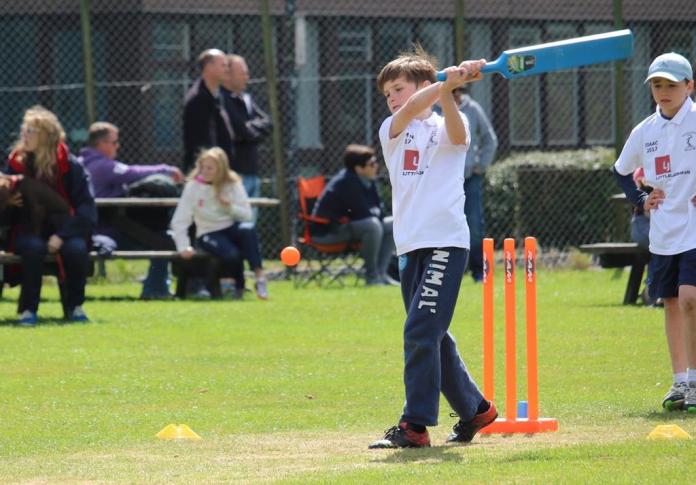 Many thanks to Hawick for hosting a most enjoyable tournament and to all the other teams who played with great enthusiasm and sportsmanship. The boys acquitted themselves very well and each performed to a very high standard. Many thanks also to the parents for making the long, if pretty, drive through the Borders to Hawick.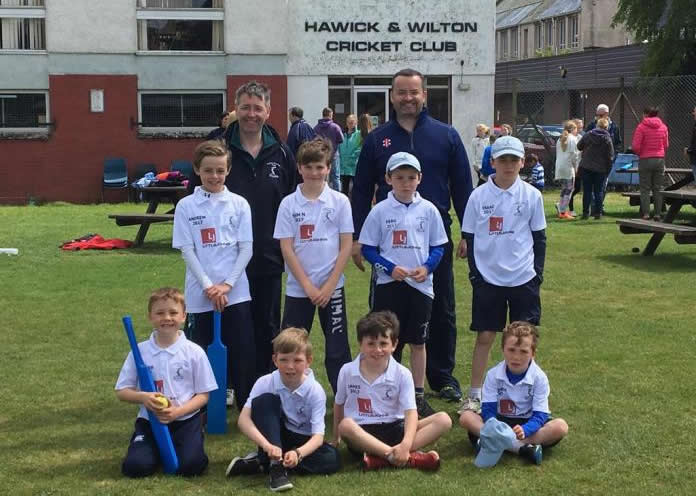 Carlton Panthers – match report
The Carlton Panthers assembled at a sunny Grange Loan for the first Kwik Cricket tournament of the season, keen to do better than the club's three senior teams who had all lost the day before. The Panthers were Robbie Murray, Oli Stones, Sam Northridge, Malachy Baynes, Holly Sladen and Tomos, Osian and Angharad Hunt. Sam and Eliza Ungless who were originally selected for the Panthers sportingly volunteered to play with Murrayfield DAFs who were short of players. Angharad was making her Carlton debut and was content to sit out the first match against Watsons, who had 9 and kindly lent us one of their players, Niven.
Carlton lost the toss and were inserted. The Carlton opening pair of Robbie and Oli made a solid start getting the score to 218, before Sam and Malachy set about the Watsons' attack, pushing the score up to 238, including a big six from Sam. Tomos and Oshie then played sensibly, running well for mainly singles to get to 249, before the final pair of Holly and Niven pushed on to a very respectable total of 267, with no wickets lost. The Carlton attack then got off the best possible start with a wicket first ball for Sam. Malachy followed with a wicket in the next over and further wickets for Holly and Niven restricted the Watsons batters to 242. First blood to the Panthers.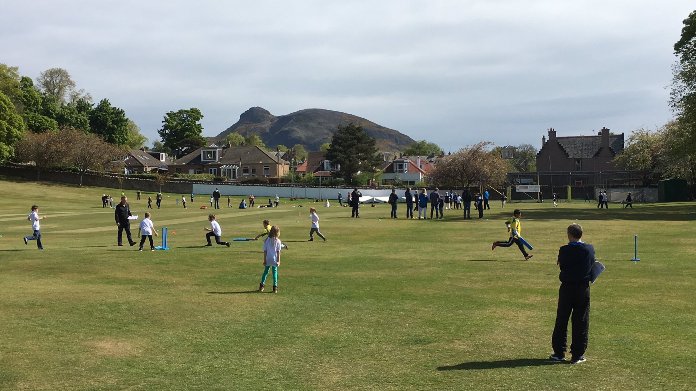 Next up were a strong and well organised Livingston side. Holly won the toss and chose to field first. Livingston got off to a flying start, sitting on 237 after 4 overs, but a superb wicket maiden from Holly pegged them back and when Robbie picked up two wickets and Oli another in the final overs, Livingston were restricted to a manageable 242. The Carlton response started very well, Robbie clouting his first ball for six and hitting a second six in the same over. Tomos and Oshi pushed on, Tomos hitting a glorious cover drive for four. Unfortunately, two wickets fell and Livingston knew they were in with a chance. Undaunted Holly and Agharad steadied the ship, blocking good balls and taking singles when they were available, to push the score on to 241 with the last two overs to go. Some might have looked to play these cautiously, but Sam and Malachy took a different approach, smashing boundaries but also giving chances in almost equal measure. A big six from Sam over the head of the mid-on fielder looked to have won the match, only for another wicket to fall and Livingston were back in it. One final boundary from Sam and some sensible blocking from Malachy brought the Panthers home with a total of 248 to give them their second win.
The final match was against SMRH, who were also undefeated. The Panthers amassed 249, with Robbie and Oli's opening stand of 24 the highlight. However, the runs looked a bit light against a side of SMRH's quality and three wickets had reduced the Panthers' total. The Carlton attack started well with Sam and Malachy restricting SMRH to 209 after two overs. Thereafter, the SMRH batters took charge and scored heavily. Holly again bowled beautifully, but with only one wicket down, SMRH won comfortably amassing an impressive 275 despite Carlton's best efforts.

Overall, a very fine performance by all the Carlton players in the first Kwik cricket festival of the season. There were good contributions from everyone. The standard of fielding was high, with run outs taken, diving stops and good backing up. Many thanks to all the players, parents and visiting teams for their contributions and playing the game in such excellent spirit.
Carlton Leopards – match report
Lining up for the Leopards in the early summer sunshine at GL were: Fergus, Hamish, Kieran, Nicholas, Jake, Hector, Gregory, Hamish, Gabriella and Charlotte.
First match was against Edinburgh South. Fergus and Kieran kindly volunteered to play for a short-handed Murrayfield in their first match, and when skipper Gregory asked Edinburgh to bat the rest of team quickly got into their stride with a good fielding performance. Tight opening bowling from Hector and Nicholas and early wickets for Hamish and Charlotte kept South to a solid 270, with some good outfielding from Jake, Nicholas and Charlotte helping keep the total down. The chase was well on from Carlton's first over in reply, with Gabriella's power hitting through the leg side causing the South fielders difficulties right from the start. The two Hamishes kept up the pressure with plenty of boundaries, and a late cameo from Jake led the Leopards comfortably home on 286.
The next game saw traditional rivals Grange in opposition. Fergus and Kieran returned, and Charlotte and Gabriella stepped up to help Murrayfield with their next game. A successful call at the toss and the Leopards opted to bat first – a great decision, as despite some proficient Grange bowling Kieran and Fergus got the team off to a flying start. Momentum was kept up right through the innings, including a very disciplined partnership between Hector and Hamish, blocking out two superb overs from Grange's best bowlers to let Hamish and Jake accelerate late on. A high quality innings which showcased some fantastic cricket from both teams ended with the Leopards posting a daunting 285. Grange's innings was slow to get going thanks to good overs from Hector, Jake and both Hamishes, and a timely wicket courtesy of Fergus, but the later overs were dominated by the Grange batters' ruthless targeting of the short fine-leg boundary. Thanks to some spectacular fielding from Kieran and Fergus, great work behind the stumps from Nicholas, and a tight last over from Gregory, the Leopards' total was just too much and Grange fell a little short on 275. An excellent match from two very good teams.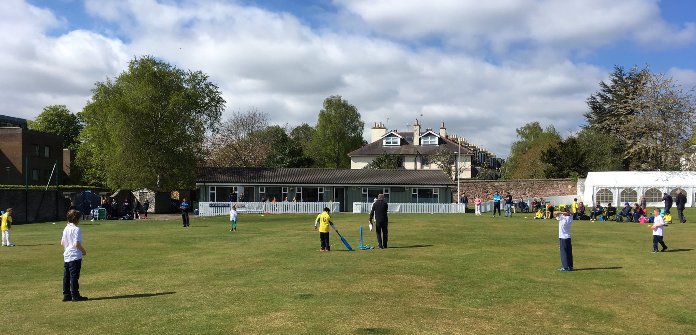 The final match against Murrayfield saw a lost toss, with the DAFS opting to bat first and retaining the services of Charlotte and Gabriella. The third game in a row was starting to test the players' stamina, but accurate opening bowling from Fergus, Hamish and Hector had the Leopards on top early on. There was no let-up in the pressure - Jake, Kieran, Nicholas and Hamish all bowling good sets and Gregory striking in the penultimate over - and with great back-up in the field Murrayfield's total of 226 never looked as if it would be enough. The Leopards' reply got off to a shaky start when Fergus was unfortunate to fall to what must have been catch of the day, but he soon made amends with an array of powerful strokes, setting the tone in partnership with Hamish. Kieran & Jake and Hector & Gregory also piled on the runs, with some aggressive running between the wickets forcing errors in the field from the tiring Murrayfield squad. Hamish & Nicholas saw the Leopards safely home to a good win on 260.
Three wins from three was a justified reward for some fabulous cricket from the Leopards, with all of the players taking it in turn to contribute to excellent all-round performances. Particular thanks to Kieran, Fergus, Gabriella and Charlotte for being so willing to help out by playing for Murrayfield – a great example of the spirit of cricket in action.