Kwik Cricket festivals & fixtures 2016
| | | |
| --- | --- | --- |
| May | 1 | Pre-season warm-up at Grange Loan tbc |
| | 8 | |
| | 15 | |
| | 29 | |
| June | 5 | |
| | 12 | |
| | 19 | Carlton (U9) at Grange Loan |
| August | 3 | Carlton Cricket Week tournament (U12) |
| | 14 | SMRH (U10) |
| | 21 | Penicuik (U10) |
| | 28 | Edinburgh South/Boroughmuir (u10) |
| September | 4 | Players v Parents at Grange Loan |
New to kwik cricket? Read Martin's Beginners' Guide to Kwik Cricket
I have remarked in a previous match report on the way in which languages contain words appropriate to the geographical location in which they are spoken. For example, sub-Saharan languages probably have very many words for "hot", whereas Scottish makes do with just one (unless you count "minging") - and frankly that's overkill. At the other end of the globe, Icelandic is said to have 50 words for "snow"; Greenland's language 50 for "ice"; and German 50 for "winning at football". English, particular the variant spoken in Scotland, is overwhelmed with words describing rain. Recycling previous match report material is a bit of a cheat, but the point here is that the previous match report was for a Kwik Cricket festival at SMRH. By a strange coincidence, this match report, focussing as it does once again on the number of different ways of describing rain, is for a Kwik Cricket festival at SMRH.
Sunday 12 June was the sort of day for which the word "dreich" was coined. The level of moisture in the air was so great that I felt that if it actually started raining, I would be unlikely to get any wetter (a total and complete fallacy, as will be seen later). The air was so wet, that the slugs in my garden were taking shelter under the hostas that they so frequently infest, rather than on top of the leaves, their more usual haunt. Despite this inauspicious start, SMRH bravely decided to go ahead with their Kwik Cricket festival. We met at Merchant Maiden under a gathering smirr. If you squinted a bit, and turned your head just so, you could almost convince yourself that you weren't quite mad to be attempting cricket in these conditions. And yet, our players' enthusiasm seemed completely undimmed by anything as mundane as meteorological conditions. Girls and boys smacked balls with gusto, chased them with enthusiasm and bowled them with a variety of dodgy actions. And that was just the "warm up" (as we coaches style the more-or-less anarchic proceedings before play actually starts). Today, however, the term "warm-up" seemed inappropriate.
We entered three teams - a girls' team and two mixed teams. By now, the conditions were what you might call "seriously wet". All three teams were drawn against our hosts in their first match, and all batted first. Out in the saturated wasteland of pitch 7 (oh to have the luxury of even being able to number a pitch greater than 4), the Unicorns set about the SMRH bowling with gusto, in conditions that can only be described as "get out of here". Meanwhile, the Dragons on pitch 1 attacked the SMRH attack with aplomb, despite batting in a decent rainshower. The girls, benefitting from an astro pitch … found that the rain still came down on them. They battled girlfully and boyfully, but the conditions were against them: rank long hops stopped and died in mid-pitch, rather than sitting up nicely and begging to be hit; full tosses were obscured by the stream of drips dripping off fringes and across the line of sight; bats, normally so firmly fixed to players' grips, became imbued with a life of their own and took off for the boundary without bothering with the niceties of actually connecting with the ball. On the boundary, supporters were cowering beneath hoods, from which a torrent of rainwater fell onto noses, mobile phones ("I'm a parent, get me out of here") and scoresheets. All were fair drookit.
Astute readers will immediately spot that I have finally, after three paragraphs, arrived at an excuse for a complete lack of match report. The only surviving scoresheet is a small pile of pulp, resembling papier maché far more than a usable record of a sporting encounter. Occasionally, small vignettes emerge from the soak, but nothing which would constitute a reliable record of proceedings. I will note that the players displayed considerably more fortitude than their elders: I shall forever be utterly amazed at the level of enthusiasm for playing cricket in Venusian conditions this morning. It's hard to imagine, but players were smiling, running in to bowl, chasing balls in the field, all as if it were a summer day. Which it was of course, just not a very nice one.
The festival was called off after one match. Despite the enthusiasm of the players, it really wasn't cricket weather.
Thank you very much to all who braved the conditions, particularly to Charlie, Keith, Nicholas, Richard & Ruari for umpiring/coaching the teams.
The teams:
Girls: Alice, Eliza, Gabriella, Jane, Jasmine, Mia
Dragons: Gregory, Gruffydd, Hamish, Jack H, Kieran, Manu, Max, Robbie
Unicorns: Chris, Fergus, Leo, Matthew, Nicholas J, Quinn, Sam U, Shourjo
A great day was had by all Carlton Kwik Cricketers who made the journey along the M8 to sunny Livingston.
A strong squad of 10 - mixed in age and experience, but identical in enthusiasm - descended on this three match tournament with high hopes.
First up were the hosts. We allowed them to bat first while their last few stragglers arrived from bed, and set about our bowling and fielding very well. We took a total of 5 wickets in our eight overs restricting Livingston to 243 on their own track. Generally disciplined bowling, dogged fielding and good backing up were the key, but we still had to chase down the total. Our batting was great in this first game - only losing 2 wickets was the difference. Youngsters Ollie and Robbie got us off to a sold start, Max and Rudy upped the run rate next followed up by some great hitting by Sam and Ferg. We were only one run behind with two overs and batsmen to go. In came Will and Isaac - cool heads in the rising heat. We took a sensible single to level the scores before Will hit a great four to put us in the lead. Isaac then blocked two vicious late yorkers from the best Livingston bowler to secure the well earned victory.
Next up Watsonians. We had a slight change in personnel, Jack and Ben joined the team with Isaac and Will sitting out. This proved to be a real nail biter. We batted first, but runs were hard to come by against some good bowling and fielding. Max and Ben got us started well (including a 16 run second over) followed by Jack and Rudy. The dynamic duo of Robbie and Oliver then played sensibly through their two overs - we had still not lost a wicket! Our final pairing was Sam and Ferg against some fierce Watsonians bowling - good running and a couple of boundaries almost saw us through to an impressive wicketless innings, but an unfortunate run out on the last ball saw us take a -5 hit at the death - just to keep things interesting. That said, a sterling performance by all players to reach 246.
Watsonians arrived at the crease looking to knock off the runs to please their hoard of folding chair wielding spectators. Ben and Max started well, but the runs began to flow. Finally a wicket in our third over slowed down the chase, swiftly followed by another in a -3 over. It was all getting very tense...Watsonians reached 242 after a score of 8 in over 7. They needed to 5 to win off the last over.
A single and 2 fours put them in control, but Carlton heads stayed up. Two balls left, dot. With one ball left the famous last "Watsonians" words at the non-strikers end of "we've won" had forgotten that pillar of Kwik Cricket wisdom of "it ain't over til...". A comedy run out on the last ball left the scores tied in an epic match - Carlton's resilience had snatched a draw from the jaws of defeat.
Our final game was against Penicuik. As they had 12 players, we drafted in (unofficial and under-aged) super-sub Hamish to make us 11, with Robbie Murray deservedly getting to bat twice. We went about our business like seasoned pros. Bowling very well, we took 9 wickets in twelve overs including a great caught behind from Max. Penicuik played with great spirit given some inexperienced players, but 228 was never due to be enough against a rapant Carlton in full flow.
Boundaries were the only things raining down (for once) as we batted superbly in the sunshine. Huge sixes headed into the car park from Ben and Isaac, and nicely taken fours crossed the rope from several others. Six year old Hamish hit his first six for Carlton, while fellow youngsters Robbie, Ollie and Will showed that Carlton Kwik Cricket has a bright future. Sam's ball striking was immense with Ferg batting intelligently in support.
A huge finishing total of 302 was the result of a superb innings by all.
The boys were rightly magnanimous after such a big win - something they should be proud of, as much as the great cricket.
Player by player:
Ben - power hitting and tight bowling

Ferg - great boundary catch and a brace of good wickets

Isaac - led from the front with well taken wickets and some big boundaries

Jack - batted smartly and was heroic in the field - diving stops!

Max - the dynamo. Some huge hits and a couple of good wickets. Appeals for everything even if not in the rules!

Oliver - great debut. Batted really well and kept smiling even when bowling was tough

Robbie - intelligent batting and sharp bowling. Future star.

Rudy - batted well, bowled superbly. Great action and height a real threat.

Sam - destructive batter. Some huge boundaries, not that keen on singles!

Will - batted very well and kept a cool head against Livingston to score the winning 4.

(Unofficial) Hamish - bowled really nicely and hit his first 6. Enough said.
A great day - can we have the same weather every week???
How do you write a match report for an entire festival? Particularly one in which Carlton has entered 3 teams? That's 14 matches to write about, 8 of which featured Carlton sides. A blow-by-blow account of each game would be somewhat dull, and yet it feels like the participants deserve their mention in dispatches. In the case of the Carlton under-10 festival, the decision has been made somewhat simpler by my forgetting to collect all the scoresheets, carried away as I was by watching quality Kwik cricket on yet another glorious sunny morning.
It is always tempting to ascribe perfect weather to events long in the past. I, for example, clearly and unambiguously remember playing cricket endlessly in my youth, always on perfect summer days, with only a lazy breeze to ruffle the over-long hair and over-wide flares that graced the players of my teenage years. I imagine (although I choose not to investigate), that this memory would not stand up to any meteorological scrutiny (although alas the long hair and flares are a matter of unimpeachable historical accuracy). The last two years of Carlton Kwik Cricket festivals however, are a matter of instantly verifiable fact: no less an authority than the Carlton CC website (and who could ever distrust anything written in these august pages) asserts as a matter of historical record that all the Kwik Cricket festivals that we have had the pleasure to host in that period have taken place in glorious sunshine. And so it was again at this year's under-10 Kwik Cricket festival.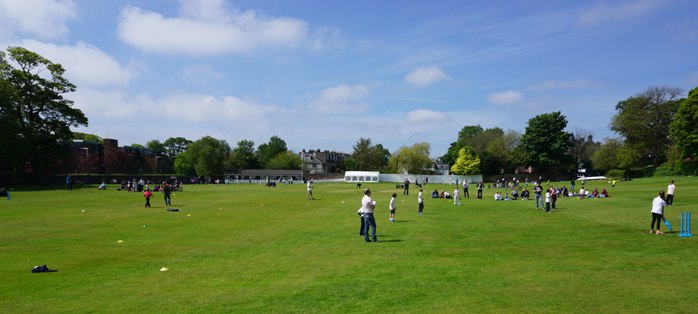 9 teams gathered more-or-less on time at Grange Loan: 3 Carlton teams (we have a hugely enthusiastic group of cricketers this year), Edinburgh South, Grange, Penicuik, SMRH & Watsonians. Cricket, as is its wont, got under way, bang on time, no more than 10 minutes late. The Carlton Eagles kicked off their campaign against our old friends and rivals, Grange, on the sunny uplands of the scoreboard pitch. Grange batted first, and made decent headway (although, as is unfortunately often the case at this level, extras were a significant contributor). Lily & Fergus pegged them back with a wicket each, and Sam bowled a mean over for just 2 runs, to restrict Grange to a manageable 233-2. At the start of a festival, the ground is still damp with overnight dew, which makes scoring runs harder than later in a sun-drenched morning. The Eagles' reply was strong, but a little careless: we scored runs - Sol & Innes top-scoring with 13, but lost 4 wickets, leaving us on 227-4. Students of Kwik cricket mathematics will realise that we actually out-scored Grange (but came second in the match).
Meanwhile, right outside the clubhouse, the Carlton Hawks were taking on a strong Watsonians side. The result of this match is a matter for pure conjecture owing to my dreadful record keeping, but several anecdotes have survived:
(1) Watsonians were unbeaten on the morning, so probably won this game (although, being Kwik Cricket, we can never be absolutely sure).
(2) If there were an award for the team performing the most handstands in the course of a game of cricket, the Hawks would have aced it.
(3) We were a bit late posting a long stop, as a number of byes in the early overs got them off to a good start.
(4) A normally reliable source assures me that Freddie & Robert were our best batters. Due diligence reveals that the source is not obviously related to either of the batters, so is probably OK.
Finally in round 1, in the far-away lands where only third man and long on usually roam, the Carlton Falcons were spreading their wings against an inexperienced but game Livingston. Carlton batted first, and amassed an imposing early-morning 254-3. All our pairs scored well, but our second pair excelled with 26 runs, including a battery of boundaries. The final over was a cricket anecdotalist's dream: wicket, wide, 4, wicket, wide, wicket (I do know who lost the three wickets, but paternal rectitude prevents me from revealing his identity). Livingston's reply was game, but our bowling and fielding were on good form (albeit punctuated by a handstand-aided four-overthrows), and Livingston were limited to a fighting 248-2.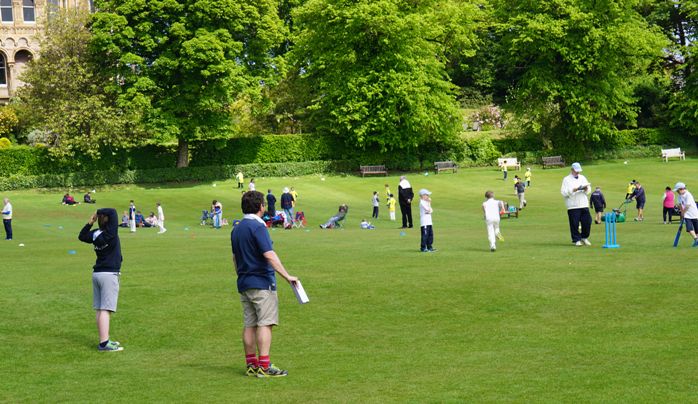 On to round 2. The Eagles had a bye, so the Hawks led off, still on the grandstand pitch, against a tall Edinburgh South squad (including a giant who was about six foot tall). Robbie (on debut) and Archie took wickets, but Ed South's batsmen were strong and frequently found the boundaries. They closed on 247-2 (247 also, coincidentally, being the number of handstands thrown by the Hawks fielders in the course of Ed South's innings). The Eagles batted gamely, but found Ed South's bowlers hard to get away. Robert & Scott led the way with 17, and Sofia was very unlucky with a big hit that would have flown over any other player, but she hit it at the giant who caught it about 10ft in the air. We were neck and neck after 6 overs, but our last pair of Freddie and Archie couldn't get their best bowlers away and we fell short. Ed South's score proved just out of reach, and we posted 232-1.
The Falcons, still marooned in the further reaches of the Grange Loan outfield, took on Penicuik - who had had a number of late call-offs and therefore borrowed players from the team with a bye, in this case our very own Eagles. Penicuik batted first, and racked up a useful-looking 251-5, top scorers being the Eagles' Isaac & Alice, with 24. The Falcons reply started slowly with 8 runs by the first pair, then accelerated smoothly through the middle-order with 15 and 19 from the next two pairs. Our final pair needed 5 runs from the last over to win, and rather overdid it with 18, to complete a rousing victory with 265-2.
Round 3: by this time the sun was well and truly out, the squash was flowing freely from the clubhouse into the grateful mouths of thirsty players, and the cakes were selling like - well, hot cakes. Through all this culinary excitement however, some cricket managed to break out. Right in front of it, in fact, the Eagles and Hawks faced off in an eagerly-anticipated local derby. The Hawks batted first: Robbie & Kieran opened with a strong 12, but alas the Eagles' bowling was too strong for the rest of the pairs, and despite some lusty blows from Freddie and Archie at the death, too many wickets had fallen and the Hawks had amassed a below-par 223-5. The Eagles batsmen were in no mood to hang around: Lily & Fergus opened with 14, to which Tomos and Sam added 12. Innes and Nicholas accelerated with 16, paving with way for Isaac & Alice to clatter 24 to give the Eagles 266-2 and a commanding victory. Once again though, the Hawks set a new world record for handstands during a cricket game - a creditable statistical footnote.
Meanwhile, over in the off-duty fast bowlers' grazing pasture, the Falcons (undefeated) were taking on a strong Watsonians outfit (equally undefeated). Watsonians batted first - our bowlers battled gamely, but Watsonians' batsmen were strong and had a good eye for the right ball to hit (all of them, mainly), and reached a challenging total of 262-2. Our opening pair hit well, scoring 3 6s, but unfortunately also losing 2 wickets. That pattern continued through the Falcons' innings - good scoring shots accompanied by wickets. The Falcons scored a total of 244-5, a good effort against strong opponents.
There was a final bonus round, in which the Eagles played Penicuik, bolstered by a handful of Carlton players, and all fortified by yet more juice and cake. Sadly however, I have no record of this match, despite watching almost all of it. And we ended, somewhat late, but just in time for the afternoon's ladies match to begin.
Congratulations to everyone who took part: a lot of Carlton players were getting their first experience of Kwik cricket, and all looked to have enjoyed themselves and learned a lot. If enjoyment is measured in numbers of handstands performed, and cakes eaten, this particular festival represents some sort of cricketing nirvana. Particular congratulations to Edinburgh South and Watsonians for going through the morning unbeaten.
Thank you very much to: Alasdair & Russell for preparing four excellent Kwik cricket strips; our visitors Edinburgh South, Grange, Penicuik, SMRH & Watsonians for taking part in an excellent spirit; Ben, Dave, David, Ian, Jon & Keith for managing the Carlton teams; Anna, Assunta, Caroline, Gillian, Jane, Ruth, Steven & Su for serving tea, coffee, juice & cake; and last but certainly not least to Dougie for laying out the pitches beforehand.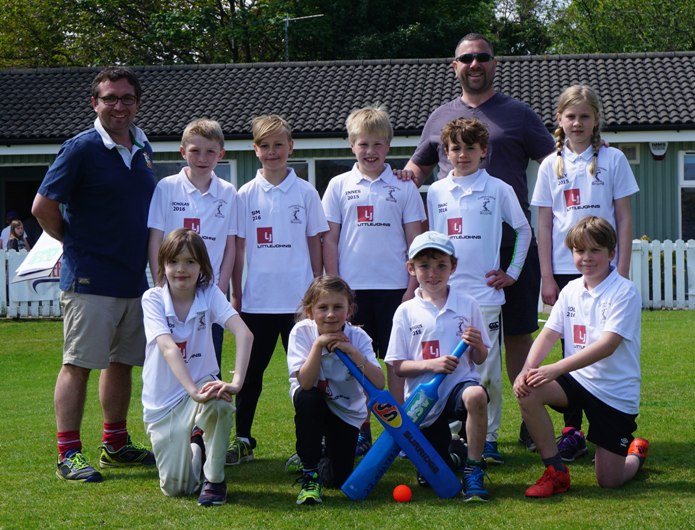 The teams:
Eagles: Alice, Fergus, Innes, Isaac, Lily, Nicholas, Sam B, Solomon, Tomos
Falcons: Andrew, Caitlin, Charlotte, Chris, Dougie, Hamish, Leo, Matthew, Sam N
Hawks: Archie, Freddie, Holly, Jasmine, Kieran, Robbie, Robert, Saskia, Scott, Sofia
There are newspapers that routinely fill column inches with - probably imagined - tales of hearing cuckoos in the most unlikely places, and at the most unlikely time of year, and extrapolating wildly from that to announce the arrival of spring. I'm not aware of any such avian harbinger of summer - on the contrary, the poor old swallow, who might lay claim to being such a messenger, is routinely warned against, presumably by cricketers who have, on sighting a solitary swallow, donned cricket whites and ventured out, only to find winter's northerly winds and hailstorms assailing their practice sessions.
In fact, the only true marker of summer is the arrival of the first Kwik Cricket festival. In Edinburgh, this can be something of an optimistic affair, and Grange's Under-10 festival was a classic example - a dense haar hung over the city first thing in the morning, such that seeing one end of the pitch from the other was a rather more intermittent experience than your average Kwik Cricket umpire/coach would like. Luckily, we Scottish cricketers are hardy folk (at least once we have returned to our cars to don another sweatshirt or two), and not averse to watching our younger players disappearing and reappearing at unpredictable intervals. We are, after all, used to that, just not usually caused by weather.
The climatic conditions also contributed to some extraordinary events at the toss, as will be seen …
Our first match (regular readers will recognise the formula by now: a couple of paragraphs of whimsy, usually dominated by a discussion of the weather, followed by a sudden and unexpected launch into cricket, with little or no warning) - our first match was against a skilful SMRH side. The climatic conditions were at their most unusual for the toss, which didn't involve a coin at all, but rather comprised SMRH's coach expressing a preference for umpiring at square leg to begin with, which necessitated Carlton bowling first. Our bowling went well: Fergus (3), Jack (-1)and Archie (-2) combined for our first three overs to leave SMRH on exactly zero. Later, Robert (-2) & Isaac (-3) reduced them further. However, some redoubtable batting by SMRH's other pairs raised their score to a mildly competitive 237-4, which - with 9 batsmen - seemed eminently achievable. Er, hang on … 9 batsmen? Regular readers (I wonder if there is actually such a beast?) will recall that Kwik Cricket's stipulation of 8-a-side is largely an acknowledgement of the least likely number of players to be actually found on a team at any one time.
Our batsmen however found scoring runs hard against a combination of the accurate SMRH bowling and the slow outfield. The top score by our pairs was 9 (jointly by Isaac/Jack & Fergus/Will), such that after 8 overs we were sitting on 223, requiring our last batsman, Robert, to score 15 to win. He walked in … took guard … and calmly deposited the first ball for 6 over square leg, to the absolute delight of the crowd - not to mention Robert, whose beaming grin let us all know exactly what he thought of that. Briefly, we all though the result was in the bag, but despite his best efforts, he was unable to repeat the feat, and we finished a few runs short on 230-2.
Kwik Cricketers rarely get long to dwell on a defeat (which is often just as well), and today was no exception. We moved straight on to our second match, against a young Watsonians side. The less said about the toss, the better. Suffice it to say that the Watsonians captain unexpectedly called correctly, and elected to bat. Our bowling was sensational: Archie opened with a mean over of dots and singles; followed by Isaac with 2 wickets. After a brief interlude to generously allow our opponents to score a few runs, Ben bowled a devilish over for 0 runs, and Manu & Jack weighed in with 2 wickets each. Nicholas & Robert polished off the tail parsimoniously, leaving Watsonians on a hard-to-defend 204 - which sounds healthy until you remember that Kwik Cricket teams start on 200.
Our batsmen were in no mood to let this opportunity for a win through their fingers. All our batsmen scored well but carefully (mindful of the desire not to lose wickets). Ben & Jack opened with 15, after which the win was never really in doubt. Isaac & Fergus later repeated the feat (it's not always a good idea to let brothers bat together, but in this case we got away with it), and we ended comfortable winners on 239-3.
After a quick interlude for lunch, we faced our hosts, a vocal Grange team. The climatic conditions were still working their unwanted magic on the coin, and we unaccountably lost our second call of the morning. The Grange captain, sensing an early advantage, invited us to bat. By now, the haar had been chased off by the sun, and we found ourselves playing our final game in something that can only be described as sunshine. The sun had also chased off a considerable amount of dampness from the pitch, so that the ball was actually capable of travelling across the outfield - which frankly made for a more entertaining spectacle. Our batsmen had also got their collective eye in by now, and were hitting the ball with considerably more confidence that in the earlier matches. Jack & Ruben opened with a spiky 14, and our other pairs all contributed gamely. However, the real fireworks were provided by our final pair, Isaac & Ben, who had figured out the pace of the pitch by now, and simply laid into the bowling. Pick of the shots was a brutal 6 over long off, picked up off his toes by Ben - but the two overs also included 5 4s and a 5 (try saying that quickly!). Our final score was a challenging 276-3.
Grange's reply was equally solid. Wickets from Ben, Ruben & Isaac (2) kept them under control, but their pairs more-or-less kept pace with Carlton's innings. Of course, this meant that their last pair had to emulate Isaac & Ben: they made a good effort, regularly hitting the ball over the boundary, but a wicket from Fergus early in the last over left them too much to do at the end, and Grange finished on 272-5.
That was an excellent morning's cricket. Archie, Ben, Manu & Will were (I think) making their competitive debuts for Carlton, and several other players have made only a handful of appearances before. Yet all of them got into the games enthusiastically and contributed mightily. The fielding was sharp, and the batting enthusiastic, but best of all, the improvement from game to game was palpable - in the course of a short morning, the team morphed from nervous beginners into confident not-quite-beginners-any-more. Of course there are still things we can improve on (overthrows, anyone?), but that's what Wednesday evenings are for. Very well played indeed to all our players.
Thank you to Grange to putting on a friendly and relaxed festival, and thank you to our opponents for providing three competitive games. Above all, as always, thank you to the parents, siblings, cousins and dogs who turned out in force to cheer the players on.

The team: Archie, Ben, Fergus, Isaac, Jack, Manu, Nicholas, Robert, Ruben, Will
Sunday 15 May 2016: the Flying Scotsman made a historic trip from Edinburgh to Galashiels and Tweedbank. Thousands of railway enthusiasts lined the route, clapping and cheering as the famous train made the short journey into the heart of the Borders - its first for well over 50 years.
Sunday 15 May 2016: the Carlton under-10s made a historic trip from Edinburgh to Hawick. Two wellwishers saw us off in Edinburgh, but a legion joined us to clap and cheer as our intrepid players made the short journey into the heart of Borders cricket - for the first time in two years.
Hawick & Wilton kindly invited us to enter a team in their Kwik Cricket festival. The pace of junior cricket progression being what it is, only two of us had any memory of the previous trip, but that was a very favourable memory, so it was with a great sense of anticipation that we drove down the A68, through the Borders towns and valleys, past places redolent of rugby and long-ago battles against the English (not to mention each other). The morning was beautiful - blue skies and bright sunshine falling on rolling green hills pockmarked with sheep and the occasional happily grazing cow, which heightened the anticipation even further.
Our first game was against an inexperienced Gala team. We ourselves were not overburdened with experience, although Wednesday evening training sessions appear to give us an edge over most opponents. Mindful of the tradition that Carlton captains (at least those of - ahem - lower ranked teams) always lose the toss, captain Dougie generously allowed the Gala captain to call correctly, whereupon he politely invited us to bat. Our first pair, Fergus and Sam, felt their way gingerly through a first over comprising four singles, then cut loose in the second over, Sam being particularly brutal with two 6s and a 4. Our second and third pair were not quite so prolific, leaving us precariously placed on 216-2, but our final pair, Dougie & Freddie worked the short boundaries and uncertain fielders well, to reach 231-2. This wasn't a very promising position given the short boundaries, but our bowlers set to work with gusto: Sam, Fergus, Caitlin & Archie all took a wicket in their overs, to strand Gala on 198-4 at the halfway point. By the time their final pair came in, they needed 16 runs of the bowling of Freddie & Dougie to win. Freddie took a wicket, and Dougie bowled tightly, to restrict Gala to (dramatic pause, fanfare, tenterhooks etc etc) 14! 230-5. We'd won a very tight game by one run!
Our second opponents were Selkirk, fresh from a victory in their own first match. Once again, toss blah blah, meteorological conditions, blah blah, unbalanced coin blah blah, inexplicable occurrence etc etc … Carlton batted first. Our batsmen seemed to find it easier to lose wickets than to score runs. Sometimes, we simply have to accept that it's not our day. Wickets fell. And fell. And fell again. After 3 pairs, we were in the unlikely position of 189-6. After 8 overs, we had scraped into positive territory, at the heady heights of 202-6. Luckily for us, Selkirk had 9 payers, and we had previously agreed that all 9 would bat and bowl. The ninth over yielded a magnificent 10 runs, although even with that scoring largesse, we were still deep in the mire, with a mere 212-6 in the bank. To the great credit of the team however, they seemed totally unfazed by this unpromising position. Hamish opened the bowling with a maiden, followed by Fergus (2 runs), Manu (another maiden) and Archie (3 runs). I wouldn't say I was confident at this point, but I could certainly feel that the team had started to believe. Caitlin took a wicket to restrict the third pair to -1, which inspired Freddie to produce the over of his life (so far). Dot, dot, dot, wicket, wicket … cue pandemonium and anticipation rolled into one. Fielders chirped, batsmen quaked, spectators speculated as to what drinks Freddie would have to buy everyone … Somehow, the batsman evaded the hat-trick ball, but the damage had been done. Even Selkirk's feisty last pair couldn't come back from that. Manu took a wicket in the extra over to consign Selkirk to an unusual sub-200 196-4 and seal the win.
Two out of two, and on to a professional-looking Kelso side, themselves fresh from two wins. The festival was overrunning now, so matches were reduced to 4-ball overs. Anyone familiar with the somewhat breathless nature of Kwik Cricket will recognise that this further Kwikening makes things happen even faster … possibly too fast for your poor umpire/coach to follow. I do understand that it is traditional to discuss the toss and its ramifications, but I'm beginning to realise that there are only a certain number of excuses one can trot out for our captain guessing wrong - or the opposing captain guessing right. This particular toss however was notable for the Kelso captain winning, choosing to bat, then changing his mind in order to allow all but two of Carlton's players to have some lunch. So we went in to bat. Our batsmen accumulated carefully and sensibly: Hamish & Caitlin opened with 4; Archie & Manu followed with 7. Sam & Fergus upped the scoring rate with 15, then Freddie & Dougie applied the gloss by flaying a tiring attack for 19, to reach an impressive 245-1. Kelso's reply got off to the best possible (or worst, if you're a Kelso supporter) start: Hamish bowled a double-wicket maiden. Even allowing for the shortened overs, that's a staggering achievement on his first ever outing for Carlton. Manu chipped in with a wicket, Archie bowled a maiden. Kelso's reply picked up a bit after that, but they'd left their lower order too much to do, and they finished on 211-3.
Three out of three! Our reward was a decider against a similarly-unbeaten Hawick. Regular readers (since mentioning regular readers last week, I have discovered, somewhat to my surprise, that there are in fact two. That's perhaps less surprising than it might at first appear, since my career as umpire/coach and occasional match report writer parallels the careers of my own son and his friends as cricketers. But still, someone does read my ramblings after all! Now. Where was I … ) Regular readers may recall a similar situation unfolding last time we visited Hawick. Our players found this Hawick team no less challenging than their forebears. We batted first, but Hawick simply bowled us out of the game. They took 6 wickets (only Archie and Manu defending stoutly enough to repel their bowlers), and their fielding was tigerish. Despite the noble efforts of all our batsmen, we "amassed" an impossible to defend 180-6. To their credit, our bowlers didn't cave in, and all bowled their best. Manu & Fergus took wickets, and Freddie & Dougie bowled a mean spell at the end. To restrict Hawick's batsmen to 226 was a good achievement. I was impressed with the Hawick team, they played with no coach, and were thoroughly sporting throughout: they were gentle on our less experienced players, and politely competitive with our older lags. Our players should feel proud to have reached a final against Hawick, and to have kept their heads and competed throughout. I'm certainly proud of them.
That was another great day's cricket. 3 wins out of four, and yet more cricketing experience in the bank. Thank you to our hosts for a thoroughly enjoyable day's cricket, and thank you, as ever, to the legions of parents, siblings and dog (only one dog this time, I wonder if we're beginning to lose our appeal to canines) who made the journey to support the team.
Well played the team: Archie, Caitlin, Dougie, Fergus, Freddie, Hamish, Manu, Sam.