| | | |
| --- | --- | --- |
| April | 19 | |
| May | 31 | |
| | 31 | |
| June | 5 | Edinburgh South (friendly) |
| | 7 | |
| | 9 | Boroughmuir (friendly) |
| | 14 | SMRH (u9) |
| | 18 | RH Corstorphine (Friendly) |
| | 21 | |
| | 21 | West Lothian (u10) |
| | 28 | Boroughmuir (u10) |
| July | 19 | |
| | 20 | Watsonians (friendly) |
| August | 5 | Carlton Cricket Week tournament (u10) |
| | 9 | SMRH (u10) |
| | 16 | Carlton (u9) |
| | 23 | MDAFS (u10) |
| | 30 | Edinburgh South (u10) |
New to kwik cricket? Read Martin's Beginners' Guide to Kwik Cricket
Saturday morning was a glorious sunny spring morning, such as occasionally appear at the start of the cricket season to remind us what we love about the game. The blossom shone, the birds sang, the grass sheened and whispered "come and play cricket on me", and you could just about convince yourself to take off just one sweater. Which was all very well for Saturday, but we'd chosen to play an intra-Carlton pre-season Kwik Cricket match on Sunday morning, which awoke in a dampening grizzle. Undaunted, 17 players, a stand-in player (thank you Cameron), a whole posse of umpires and a veritable grandstand of supporters assembled at Grange Loan for a noisy season-opener.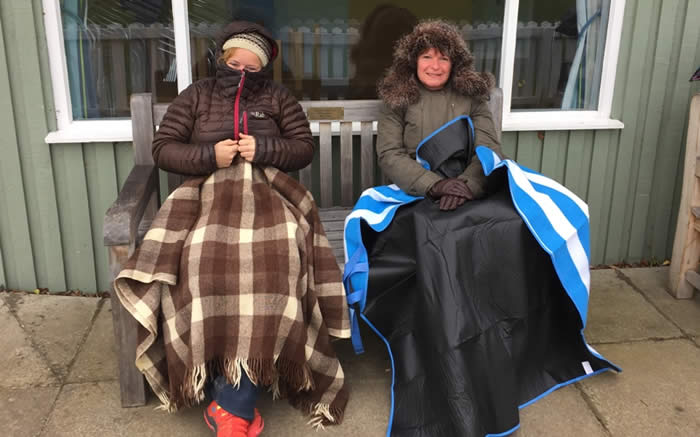 Spectators enjoying the nation's favourite summer sport
In the first match, the Cats & the Cubs faced off. The Cats, batting first, amassed a total of around 250, very respectable given the long boundaries and damp outfield. The Cubs battled hard, but never really recovered from an awkward first over (of which more in a moment), and couldn't quite overhaul that total.
We repaired to the clubhouse to refuel on biscuits and to warm up before resuming for a second game. The biscuits had an immediate re-invigorating effect: long before the umpires or any of the spectators were remotely ready to brave the outdoors again, the players were all back on the pitch "warming up". This activity bears a passing resemblance to cricket, but it's the sort of cricket that a surrealist, or an author of children's stories set in a magical school, might imagine: three bowlers bowling simultaneously from each end. Three batsmen (limited thankfully by the supply of bats) competing to hit the balls. A small fight breaking out any time a ball becomes loose, the winner (obviously) running to a wicket (any wicket) and immediately bowling at a batsman (any batsman). The umpires hastily finished their biscuit, blew on frozen fingers and went outside to restore what we loosely term "order", by sending the players on a run to the scoreboard (I didn't specify back, but they all returned anyway).
A brief discussion resulted in (a) two new teams and (b) two new team names. The Unicorns' captain won the toss and, unusually for this level, invited the Dragons to bat. The Dragons' batting was inventive and resourceful, and resulted in another respectable total of around 250. The Unicorns' reply was equally imaginative, such that when the last man came in, all he had to do was not to lose any wickets - which he duly didn't - to win the match.
Regular readers of my match reports may be wondering at the unusual lack of detail. Where are the stats? Where are the pairs' scores? Where are the over-by-over breakdowns? Spectators will have noticed I was trialling a system of scoring on my iPad. Let's just say that the system shows promise, but requires a bit of fine tuning before it can safely be used in a competitive match. Or to generate a detailed match report.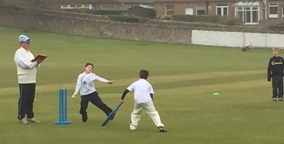 The standard of cricket was of an excitingly high standard. Clearly many players have benefitted from indoor winter coaching and come back better than they ended last season. Fraser opened the bowling in the first match with a fiery double-wicket maiden; Keagan's developed his lovely smooth high action by adding several centimetres of arm, which will make him a formidable prospect for opposing batsmen; Isaac and Ally are in P4, but will trouble any Under-10 batsman. There was some athletic fielding: a sharp stumping followed in the next over by a one-handed catch by Cameron; spectacular diving stops by Dougie & Charlie; sliding saves at the boundary from Rory and Max; and good stops by Archie, Freddie & others. Batting wasn't easy today, but nonetheless there were some fine fours and two sixes. But the highlight of the morning was the Unicorns' quickly-improvised celebration dance whenever a wicket fell. I can't even begin to describe it - but it will live long in the memory of anyone who was there..
That was a good morning's cricket, and bodes well for the season ahead. Thank you to all the players, umpires and spectators who braved the cold, damp morning. And thank you to Alasdair for preparing one of his trademark Kwik Cricket pitches right in front of the clubhouse.
The players: Alex, Ally, Archie, Cameron, Charlie, Dougie, Euan, Fraser, Freddie, Gabriel, Himesh, Isaac, Jack T, Keagan, Kyle, Max d'U, Rory, Sam.
Martin's lack-of-match report from the Kwik Cricket fixtures at Livingston and Melrose ...
I have been struck recently by how many of our Kwik cricketers play musical instruments. Stretching the boundaries a bit to include some of last year's squad who are now playing hardball, with almost no research I found four trumpeters, a trombonist, two violinists, a guitarist, at least three drummers … and I'm pretty sure that a quick straw poll on a Wednesday evening would reveal that that is only the tip of the orchestra-berg.
The connection between Carlton cricket and music runs much deeper than that though - music appears as a regular theme in more august match reports than mine. (Although I've never quite seen Mahler as a cricketer. Many other composers, perhaps: Berlioz surely is the lunatic-fast opening bowler; Wagner is probably the opposing opening batsman, all the shots, but never quite sure which one to use at any given moment; Pachelbel is his more ponderous but reliable opening partner; Paganini is definitely the mystery spinner, magic in his fingers that is so unlikely that he was constantly being reported for his diabolical action; Elgar, a bit of an enigma in the middle order; Papa Haydn must be the benign but firm umpire; and as for Mozart … oh Mozart, what could you have achieved if you hadn't kept getting out in the 30s.)
Where was I? Ah yes. So in an idle moment watching the rain fall down outside, I wondered what an orchestral XI might look like.
1. tuba: utterly reliable opening bat, never takes risks, plods along at a steady one-an-over, but lays down the tempo for the rest of the innings.
2. cello: his opening partner, equally reliable and tempo-setting, but also capable of the occasional elegant flourish to keep the score ticking along.
3. clarinet: versatile number 3, she can play slowly, or soar to glorious heights of improvisation if the tempo needs moving along. Also a cat-like cover fielder.
4. French horn: the star batsman. Generally delivers the most powerful and telling moments, capable of majestic playing which simply lifts the spirits of onlookers and team-mates alike.
5. trombone: unsung middle-order batsman, can keep plugging away almost un-noticed, or surprise with a sudden up-beat attack. Also an excellent fielder in the deep - his slides are timed to perfectly.
6. violin: busy, scurrying, middle-order batsman and part-time bowler (he fancies himself as the complete all-rounder), also the team's eager beaver fielder, always involved in the game. For some reason, always thinks he's the most important player, even though the others all know differently.
7. viola: wicket-keeper. No-one quite knows why she took up the instrument, and no-one quite knows what goes on in her mind, but the team absolutely couldn't function without her.
8. piccolo: spin bowler. An awful lot of twiddling and twirling and showy flourishes and high-pitch appealing. Can, frankly, be a bit over-dramatic, but adds some variety to the attack.
9. bassoon: medium-paced bowler. Looks a bit ponderous and slow, but can surprise unfamiliar onlookers with his range and versatility. Keeps plugging away all day, filling in the gaps when others switch off.
10. sax: the swing bowler. Enough said.
11. trumpet: the fast bowler. Run up as long as the fanfare in William Tell, all bristling aggression and fiery menace. Not a complex individual, you know exactly what is going to happen every time. But that doesn't you enjoying every moment of the show.
Unfortunately, both festivals at Livingston and Melrose were rained off.
Sunday 7th June saw the Carlton under-10 Kwik Cricket festival at Grange Loan. 10 teams, from 9 clubs, assembled to take part in an 8-team festival, which was a bit of a head-scratcher (I'm pretty sure I've previously mentioned the incompatibility between playing cricket and learning maths at school). Luckily however, 4 teams were kind enough to be incomplete, so we hastily merged (just for the morning) Penicuik & Boroughmuir, and MDAFS & RHC. To confuse things further, Edinburgh South were a touch delayed, as their head coach had to find some of his players and entice them away from a Sunday-morning kickabout game of football. Eventually, however, 8 teams assembled and began the festival.
It is, at this point in a match report, traditional to discuss the weather (actually, regular readers of my, and indeed other, match reports, will be quite grateful for a discussion of anything remotely relating to cricket so early, usually by now we're deep in a diversion). Anyone foolish enough to have ventured out of doors on Saturday will remember the 50-mile-per-hour gusts, allied to occasional showers. Sunday was much calmer and sunnier. At first glance, Grange Loan was at its most inviting. The wind however was mild only relative to the previous day's efforts - standing for any length of time towards the Lovers Loan end of the ground rapidly became quite a cold activity. I had the foresight to assign myself to umpiring right outside the clubhouse, where not only was there a modicum of shelter, but warming cups of tea were readily available. None of this was the main problem though. Aficionados of Kwik Cricket (what? eh? but surely there are some?) will know that the bright blue wickets are very colourful, but are made of flimsy plastic, and can't withstand even a gentle zephyr if it is aimed in the wrong direction. So they were frequently blown over, sometimes as a ball passed within a few yards, leading to enthusiastic shouts of "out" (we have yet to teach the kids to appeal properly, I must get Stevie to put that on the session plan for Wednesday) from the fielders.


The Carlton Dragons opened against a strong Watsonians side. Captain Dougie, in his first appearance as Officially the Most Experienced Player in the Team, allowed the opposing captain to call right. In vain did Dougie protest that he would also have called tails - the toss was lost, and the Dragons were invited (with some glee, I might add) to bat. Watsonians' bowling was quick and accurate, which gave our opening pairs some difficulty. Wickets fell at an alarming rate, such that after 4 overs, we'd registered just 1 run. Dougie & Matthew steadied the ship with a determined 18, followed by Ally & Robert who posted a sterling 28, including a towering 6 by Ally off the final ball, to leave the Dragons with a respectable but anxious 246. Watsonians' batting proved no less strong than their bowling; they didn't find it too hard to overhaul our total, despite fighting overs from Robbie (11-1) and Matthew (3-0); and they finished on an impressive 272.

Meanwhile, on the arctic waste that was pitch 3, the Carlton Unicorns were facing the delayed Edinburgh South. Coaches Toby & Pradeep not being quite so obsessed with the result of the toss as … well, pretty much every other Carlton match report writer … the result of the toss is a matter for conjecture. What we do know is that Ed South batted first. Their innings started slowly, Saul (1-0) and Oliver (5-0) kept the opening pair at bay, a pattern continued by Himesh (10-1) in the third over and Finlay (6-1) in the fifth. The other Ed South pairs scored well though, and ended on 256, which looked pretty much like a par score. The Unicorns' reply started slowly, but built nicely with a thumping 25 from our second pair, and an emphatic 14 from our last pair in the penultimate over, to reach the just-winning total of 257 with just one over to go. This is an awkward position for Kwik Cricketers, owing to the subtraction of 5 runs for a lost wicket. This over proved no exception. The first ball was dispatched for 6, but the second - oh woe - was a wicket, leaving the Unicorns in the precarious position of 258 with 4 balls left. Four nervous balls later, that was still the score, making the Unicorns the winners of a tight game.

In round two, the Dragons faced a combined MDAFS-RHC team, a side with probably a record number of initials-that-no-one-can quite-remember-the-origin-of. Once again, Captain Dougie gallantly allowed the opposition to call Tails (although that is exactly what he was going to call), and once again, they invited the Dragons to bat. Matthew & Ally started well with a solid 18, but we then discovered that RoyalHighField had some bowlers every bit as quick and accurate as Watsonians. Lily & Robert were going strongly as the third pair, until an unlucky run-out off their last ball reduced their total to 12. Even with 9 players, the Dragons could muster only 235, which looked a little short. Murray-Phine's reply started slowly, Jack taking 2 wickets and not conceding a single run in his over, so that after two overs they were stranded on 196. However, that turned out to be a false dawn for the Dragons. They all bowled well, but only one further wicket fell, runs leaked steadily and Murray High DAFS ended winners with 265.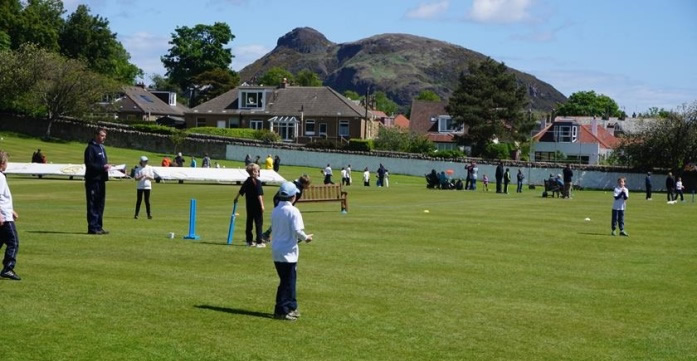 Back at the left-handers' paradise that was the pitch-next-to-the-Sibcas, the Unicorns played Grange. Once again, the toss etc etc etc, and the Unicorns went in to bat. Regrettably, the polar conditions were taking their toll on the scorer's fingers, which were therefore able to record only the sketchiest details. Some vignettes remain: Finlay & Max hit a healthy 21, the other pairs chipped in but couldn't quite match that hitting. The Unicorns' total was an edge-of-seat 246. Grange's reply was steady. Our bowlers worked hard - one bowler whose name has alas been lost to the cold managed 4-1, two others returned 10-1 - but it wasn't quite enough, and Grange ran out narrow winners with 254.

Fortified by a trip to the clubhouse for juice and CAKE, the Dragons reconvened on the warm featherbed that was pitch 2, to face SMRH. Yet again, Captain Dougie generously allowed his opposite number to call Tails, just as he would have done, and yet again both captains were right. On this occasion however, the opposition elected to bat. What a start we had! Lily & Sergi took 3 wickets, and reduced SMRH to 198. Harvey & Robert were learning to control the cross-wind, and were unlucky not to add any further wickets. Robbie bowled a parsimonious over for 4 runs, and Matthew took a wicket for 8-1 - the wicket in question being an extraordinary wind-assisted catch, one-handed, running backwards, by Dougie. Jack (6-0), Ally (5-1) and Dougie (4-1 - another impressive catch, this one caught-and-bowled) followed, but the best was yet to come - Ally bowled the final over for 1-2, including yet more astonishing catching, notably a splendid diving, rolling effort from Robbie at mid wicket. After all this excitement, the score was an eminently-manageable 231. Amply illustrating the adage that catches win matches, the Dragons had taken 8 wickets, which were worth 40 runs. The Dragons reply was determined, all our batsmen scored well. Sergi & Jack opened with a strong 16, but the pick was Matthew, exploiting the short unmanned boundary to a left-hander's leg side, who scored 18 with Robert, then 17 with Lily. In between those innings, Dougie unveiled the reverse sweep he'd been practising at Liberton in the winter, to exploit the same boundary. These pyrotechnics allowed the Dragons to reach a comfortably match-winning 280.

The same juice and CAKE had an equally fortifying effect on the Unicorns, who faced the combined Penicuik/Boroughmuir team in their final game. Awkwardly, the coin used for the toss had been converted into CAKE, and it is really quite hard to conduct a coin toss with CAKE, especially when said CAKE has been swallowed (probably whole). It is not clear by what means the order of business was decided, but the records show that the Unicorns went into bat. The trip to the clubhouse also had a wonderfully restorative effect on the scorer's fingers, so we can piece together almost all the innings. Himesh & Calum started with a steady openers' 15 (including a 6); Jonty & James added 14; which left the stage set splendidly for Max and Oliver, who scored off all-but-two balls, including 2 6s and 3 4s, to register 32; Finlay & Saul, not to be outdone, were equally KP-esque, and scored off all-but-one ball but omitted the second 6 to finish on 31. The Unicorns reached a powerful 293. PeniMuir's reply started slowly, our first two bowlers (I'm sorry to say that frostbite has set in again in our scorer's fingers) restricting the first pair to 5. BoroughCuik's middle order hit freely, to leave them on 262 at the start of the last pair - coincidentally exactly where the Unicorns had been. That was more-or-less as close as they got though, our final pair's bowling was significantly more parsimonious than PenoughMuik's, and they finished on 265.

That was a great morning - 60-70 kids all playing astonishingly good cricket, in a great spirit. Thank you very much to all our visitors for getting into the spirit so enthusiastically and playing their part in an entertaining morning. Special thanks to all who helped - setting up, serving tea coffee & CAKE, umpiring, scoring and clearing away afterwards - we can't run a successful festival without your help. Grateful thanks to Alasdair and Russell for preparing the pitches for us (and a mention to Ryan for his efforts to metricise Carlton). And thank you to our great supporters for encouraging the players, drinking the tea and providing the CAKE.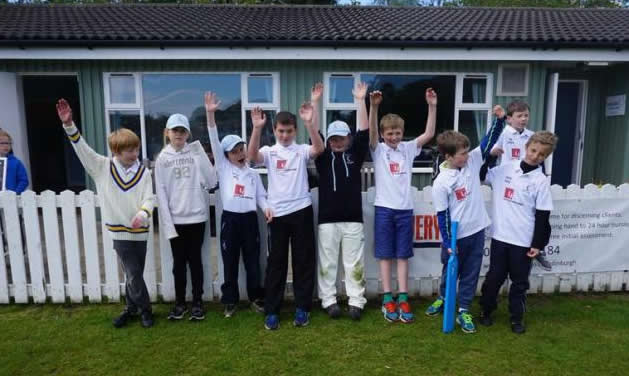 But mainly very well done to 17 Carlton players, many of whom were playing their first mildly competitive fixture for the club. I hope we'll be seeing all of them at Grange Loan for many years to come.

Carlton Dragons: Ally, Dougie, Matthew N, Jack H, Lily, Robert, Robbie G, Harvey, Sergi
Carlton Unicorns: Calum, Finlay G, Himesh, James, Jonty, Max B, Oliver L, Saul
Unfortunately, both festivals at Livingston and Melrose were rained off.
One of the things that amuses me about cricket writing, and match reports in particular, is that they are - perhaps unintentionally but certainly appropriately - Homeric. Of course, the Homeric parallels are many, but the one I'm particularly referring to is the habit of certain nouns always to attract the same adjective. For example, certain of our opponents are always "vocal", others "tall", others again "inexperienced" and so on. And so it is with the prestigious Moira Shaw tournament. I cannot explain why it is prestigious, but I know that it is, as it is always referred to thus. For reasons lost in the mists of time, we are invited to Arbroath's prestigious Moira Shaw (kwik cricket) tournament every year. And we usually go: partly because Arbroath don't schedule a senior match for the same day so it's a rare opportunity to play a more leisurely tournament lasting into the afternoon; partly for the opportunity to meet Bermuda's greatest bowler; and partly (at least in my case) as I welcome the opportunity to see a bit more of Scotland, even if it is only the drive and the cricket ground.
So up we rocked, at ten-ish on Father's Day (what better way is there to celebrate that awkward festival than watching your son play cricket?), to find a tournament being hastily rescheduled owing to some last-minute call-offs. A scrape around for spare players resulted in a team made up of some over-age players from Arbroath, an over-age played from Carlton (thank you Euan & Hal who shared this not-too-arduous duty) and three definitely not over-age players from Forfar, immediately dubbed the "Mixed team". And off we went into a six-team round-robin.
Our first match was against an inexperienced and small Forfarshire team. Forfarshire won the toss, and elected to bat - but they found it hard going against our taller bowlers. Kyle opened with a miserly 2, which Dougie trumped with a wicket maiden. Eric later bowled a maiden and Alex restricted the final pair to 1 run in the last over. All this parsimony resulted in a not very challenging 207. Our reply was firm: Saul and Jack opened mercilessly with 11 in the first over, but that turned out to be a gentle warm-up to the second over, where they hit a savage 29. Euan and Eric continued the theme, with another 11 as a warm up and 24 as the main course. Our other pairs all chipped in, leaving us with a comprehensive 312. Sterner challenges were to come though…
Our next match was against a strong and well-organised Arbroath team, who showed their intent by winning the toss and electing to bat. Jack started well, bowling a tight opening over with a wicket to finish it off. Saul & Kyle kept a lid on the scoring, helped by some sharp and committed fielding, and Alex rounded off the first half of the innings with another tight over, with another wicket to add a cherry to it. At this half-way point, Arbroath were only mildly ahead of where they started, on 206. Their final pairs managed to score a bit quicker, but we were cautiously optimistic of overhauling their total of 221. Their opening bowlers however were tall and quick, and had other ideas. Our reply started in the worst possible way - a wicket on the first ball! But Eric and Euan rebuilt the innings very sensibly, eschewing big shots, nudging and nurdling into the relatively untenanted off-side, and alertly stealing byes and running overthrows at every opportunity. This mature approach rattled Arbroath's bowlers, and they became more wayward, Euan gleefully dispatching a particularly long long-hop for 6. Our other batsmen took their cue from this, and played very sensibly, so we'd reached Arbroath's total after 2 pairs, and ended on a convincing 240.
Two out of two - and a pause for lunch: burgers, sandwiches and a variety of drinks from the bar. I found the cakes, and tried to keep their existence quiet, but I was quickly rumbled by a posse of small cricketers.
Play resumed against the - er, mixed - Mixed team, who duly won the toss and invited us to bat. Unfortunately, we'd switched off over lunch, and gone into full-on kamikaze mode. Our opening pair found a number of increasingly foolish ways to get out, leaving us on a sadly negative score. Euan and Eric steadied the ship with an industrious 26, but thereafter we found it hard to score runs. Oddly, it was the younger, more erratic bowlers we had most trouble with. Somehow when a ball bobbles 3 or 4 times before reaching the batsman, and is therefore creeping only a few millimetres above the grass, it is harder to hit. Nonetheless, we could have done a lot better than our 232. The Mixed team's reply started quickly, stumbled in the middle (Jack took 2 wickets for 2 runs, Alex bowled a wicket maiden, Saul a plain unadorned maiden), but took off when their last pair came in. They proved to be hard hitters, and canny batsmen too. Once they'd exceeded our total, they shut up shop and didn't give us a sniff of the wickets we needed, and they posted a winning 241 (although it will be seen later that their extreme care may have done us a favour).
I'd like to report that a stern team-talk from their coach shook Carlton out of their slumber and back to winning ways. In truth though, the boys knew they hadn't played a good game, and to their credit focussed more clearly in our next game, against a confident-looking Largo. Largo, as tradition by now dictates, won the toss and sent us in to bat. Gabriel and Kyle gave us a great start with 22 runs; all the other pairs batted sensibly, accumulating rather than bludgeoning the ball, and left us on a healthy 254 - crucially not losing any wickets in the process. I tend to think that 250 is about par for Kwik Cricket - although one of the great joys of playing on the outfield of a cricket club (rather than on the football & rugby pitches we sometimes find elsewhere) is that the ball bounces more-or-less true, which tends to increase the score. So we were slightly nervous when Largo went in to bat. We needn't have worried: Dougie opened with 6-1; Jack followed with 1-0; Alex with a sterling 1-1; and Gabriel added another wicket maiden to an already unusually large tally. And so it continued: Eric (5-0), Hal (2-0), Kyle (1-0) and Saul (1-0) wrapped up a comfortable victory in which we'd conceded only 204 runs.
This result left us, the Mixed team, Arbroath and the Arbroath Smokies (Arbroath's girls' team) all on 3 wins out of 4. At this point, we were ahead on runs scored, and therefore in pole position. As luck and the draw would have it, these four teams were playing in two mini-finals - a great way to finish a hugely enjoyable tournament.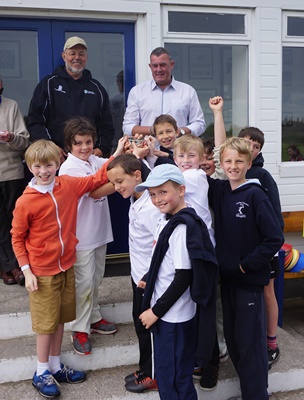 To no-one's great surprise, the chirpy Arbroath Smokies won the toss and chose to bowl. They had some strong bowlers, and a well-drilled fielding unit, but our boys really raised their game for this one - they could feel their hands on the trophy, which is not a position a Kwik Cricketer finds him- or her-self in often. Eric and Gabriel cracked a great 21 to start, including a magnificent 6. Our middle order consolidated (oh alright, lost a couple of wickets), but our last pair, Dougie & Jack blasted 5 boundaries for 24 runs, and a total of 257. In the Smokies' reply, our fielding was as sharp as a razor - Saul and Eric making particularly good sliding stops to save boundaries. The Smokies fell behind the run rate, leaving their strong last pair rather too much to do. Gabriel (1 wicket) and Dougie (2 wickets - including a commanding caught-and-bowled, where he had to fight off half his own team and the opposing batsman to reach the ball) put paid to the late rally, and the Smokies finished on 224.
The other match was still ongoing - the Mixed team were clearly winning, but would it be by enough? After an agonising pause for the official scorer to make sense of some damp scoresheets, rumours started to circulate that we'd done it - by 8 runs. And so it proved, Bermuda's greatest bowler duly announcing the result in reverse order, and saving Carlton for last! Euan and Hal - who had subbed for the Mixed team - were delighted, as they claimed they'd come first and second in the same tournament. There's an anecdote for the sporting CV!
Many many thanks to Arbroath for a friendly and challenging festival, and of course for the trophy. Thank you too to all the other teams for playing the games in a great spirit. Finally, thank you to the players' parents who drove to Arbroath and back, and supported the team loyally, even when rain showers made the pavilion a much more appealing prospect.
The team: Alex B, Dougie, Eric McK, Euan (*), Gabriel, Hal (*), Jack T, Kyle, Saul
(*) Also subbed for the Mixed team.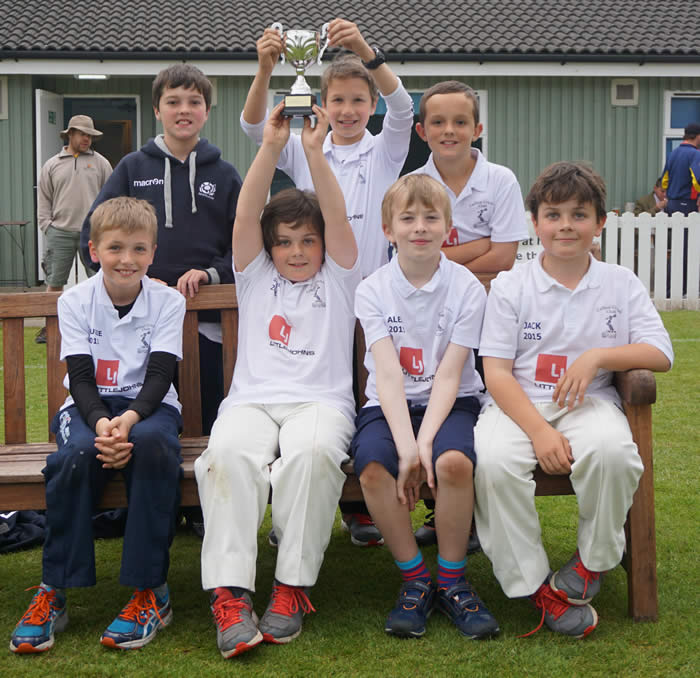 When I was a kid growing up in North London, London Underground had a poster campaign to encourage Londoners to visit various stations in their leisure time. Each one had a slogan designed to summarise the attractions of the area around the station, and to enthuse the casual traveller with thoughts of going there. The slogan which has remained with me most strongly for the intervening [number removed to protect the innocent] years belongs to Hampstead: "Take your son and heir where there is sun and air". I was reminded of this very strongly when I was casting around for cricket fixtures to keep a bunch of cricket-hungry under-10s gainfully occupied during the dog days of July, and I happened upon Ayr CC's Under-10 festival right in the middle of July. So I duly took my son and heir - not to mention 7 of his cricketing friends - to where there is sun and Ayr.
It must be admitted that both the forecast and the drive down were not hopeful of sun. But Ayr CC were hugely encouraging and seasonably optimistic, so we decided that Ayr was enough of a draw without the sun, and off we went. We were rewarded with a friendly welcome, and three matches against new opponents - and, in the end, some sun. Wikipedia assures me that Ayr is the birthplace as such luminaries as Rhona Martin, Mike Scott (me neither: lead Singer of The Waterboys) and Robert Burns - a man who knew a thing or two about cricket ("the best laid schemes o' mice and men, gang aft agley" - I didn't realise that mice played cricket, but he's spot on with the men part). In fact, Burns' birthplace is only a decent slog-sweep from the cricket ground.
We opened against our hosts. A damp mist slunk over the ground as our own fair chieftain Gabriel lined up for the toss, which must have slowed the coin down and reduced its number of revolutions, as Ayr's captain surprisingly called correctly and gleefully invited us to bat. Dougie and Freddie opened confidently, took one ball to get themselves in (no, I don't know how two batsmen get themselves in off just one ball), and thereafter scored off everything - mostly 4s with a smattering of singles just to share the strike - to score a magnificent 32-0. Our middle order did a sad impression of England's top order, but our tail - Jack and Kyle - steadied the innings with a fighting 15 to leave us on 252-5. Ordinarily, I'd regard that as par, but since we were playing on astro, where there is none of that pesky damp grass to slow the ball down, I was concerned that we'd have trouble defending that total. I had reckoned without our players' accurate bowling and tigerish fielding: Gabriel & Gregor restricted Ayr's strong opening pair to 12; Josh & Kyle did even better to hold the second pair to 9; Alex and Freddie gave away a miserly 11; which left the last pair needing 21 to win. This is achievable, but not when faced with Dougie's McGrath-like metronomic accuracy (a mere 4 runs off one scoring shot) and Jack's Marshall-like pace (three wickets in the last over). We never looked in danger, and ran out winners by 27 runs.
Our second opponents, East Kilbride, looked tall and sounded vocal. By now, the sun had come out, and the bright light must have sped up the coin's revolutions fractionally, such that East Kilbride's captain inexplicably called correctly and confidently elected to bowl. Their opening bowlers were tall, and bowled fast and straight. Our opening pair defended mightily, but were left sleekit, cow'rin & tim'rous by the onslaught and were unable to score. At all. Dougie and Freddie made more headway with 16, and the other pairs chipped in, but our total of 231-1 looked hard to defend. Our bowlers, however, were determined not to give in: Freddie and Gabriel opened with a miserly 5-0, followed by Gregor and Kyle with 14-1 and Dougie & Jack with 10-0, leaving the match delicately poised: East Kilbride's last pair needed 3 runs to win, we needed wickets. Alas, they scored the runs, and the ball resolutely avoided the stumps despite several close shaves, and East Kilbride ended on 246-0, and a deserved victory.
Fortified by juice and crisps, we moved on to play a young and inexperienced, but enthusiastic, Uddingston team. Finally, the climatic and meteorological conditions combined to cause the coin to execute exactly the expected number of revolutions, and Uddingtson's young and inexperienced captain called (enthusiastically) wrong. Captain Gabriel was momentarily nonplussed by the unusual turn of events, but recovered his poise to elect confidently to bowl. Our bowlers were by now getting into their stride: Freddie & Alex opened with a stingy 7-0; Gregor & Gabriel continued with 8-2 (including a maiden over from Gabriel); Kyle & Josh were similarly parsimonious with 0-2; Dougie & Jack finished off with 10-1, all of which left Uddingston on a hard-to-defend 209-5. Openers Alex & Kyle racked up 23 runs to put the win beyond reasonable doubt; our middle order added a further 33; which left the stage set for an astonishing battering by Freddie and Jack, who - illustrating man's inhumanity to man - hammered 37 runs, including 3 6s, to reach a total of 293-3.
Meanwhile, East Kilbride and Ayr had completed a tense match, ending in a close victory for Ayr, which left our hosts, East Kilbride and us on 2 wins out of three. In a repeat of the tense finish at Arbroath a few weeks ago (albeit without a trophy), we were declared winners on run difference.
The sun by now was out to play (note: not a Burns reference). The team split into cultural and playful factions and repaired to Robert Burns' birthplace and the beach - for fish and chips, ice cream and a paddle in the sea - respectively.
Another great morning's cricket. Thank you very much to Ayr for inviting us to take part in their festival, and for welcoming us so warmly (if a little surprised). Thank you to all our opponents for proving challenging but sporting foes. Finally - as usual - thank you to all the parents who once again got up early on a Sunday, delivered their players on time to the festival, and stayed to watch and support.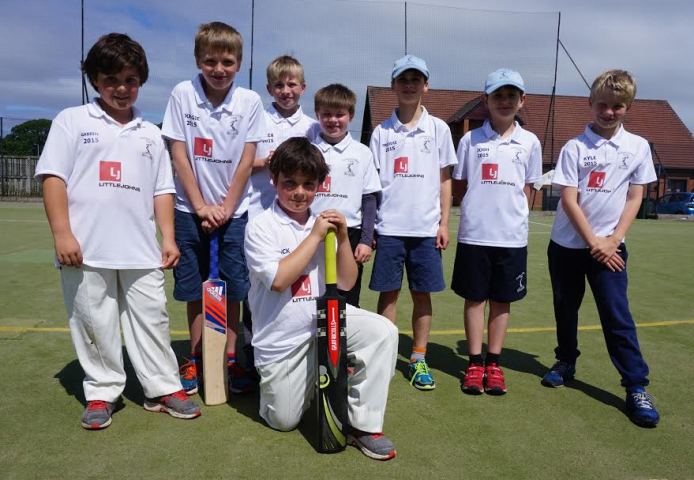 The team: Alex, Dougie, Freddie, Gabriel, Gregor, Jack, Josh, Kyle.