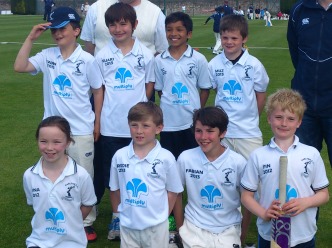 On a rather rainy evening the last outing of the season for Carlton's newest and youngest team, the U-8s, was a big success. Invited along to Boroughmuir's last practice night of the season, they played matches against two different Boroughmuir teams. Although they were a lot younger than many of the opposition players they won both games convincingly.
Everyone played well despite the wet conditions, showing good application and listening well to the coaches between innings and matches. Most importantly, they all thoroughly enjoyed themselves and their enthusiasm and behaviour were a credit to Carlton.
Thanks to our hosts and neighbours Boroughmuir for organising this event. It's been a real pleasure to see them developing their new junior section so quickly and successfully this year. They have been a welcome presence at kwik cricket festivals this year and are always a formidable opposition. Thanks also to Alan (Gavin's dad) and Alastair (Euan K's dad) for coaching.
Carlton players: Euan K, Finlay P, Freddie, Gavin, Max, Rory L, Thomas and Toby.
It was a day of mixed fortunes for the Kwik Cricket team at the Penicuik festival, winning two matches and losing two. With enough Carlton players for two teams, duties were shared across 4 games and we were also able to supply three players to a short-handed Livingston side.
On a blustery day which made it difficult for the umpires with the stumps blowing over at regular intervals, first up was a mixed Watsonians team. In what proceeded to be a low scoring affair, Carlton ran up 125 runs with the partnership of Steven and Ross top scoring with 15 runs. Carlton were ultimately undone by two wickets in two balls in an excellent over by one of the Watsonians girls and Watsonians were able to run up 141 runs in their innings, but not before Billy took two wickets in an over, Freddie picked up a wicket and Steven bowled a maiden.
Next up was the hosts' Pythons team which featured a mix of youth and experience. Carlton batted first and Fabian and Jamie were immediately up against it facing two of the more experienced Penicuik players. Having got those out of the way, Steven and Dylan steadied the ship while the pairings of Cameron and Billy (23) and Euan and Muz (31) were able to allow Carlton to rack up an impressive 269. What followed was an excellent display of tight bowling and fielding by Carlton. Dylan set the standard with a great catch off Cameron's bowling off the third ball. Penicuik were able to keep the score ticking over until a first ball wicket from Fabian started to stem the tide, but that was nothing compared with what was to come. First Steven bowled a two wicket maiden; then Jamie followed that up with a second two wicket maiden. Then came Dylan – guess what – two wickets, including caught and bowled, all at the expense of one no ball – at one point Carlton had taken 5 wickets in 15 balls! Last up was Ewan H – a wicket maiden with a magnificent one handed fingertip catch, tumbling backwards but still managing to hand on. Two run outs in that over from sharp fielding further limited the score, with Penicuik ending on 181.
The next game was against a Livingston team featuring Carlton players Dylan, Steven and Billy. Carlton batted first, but none of the pairings were able to make real progress on the score and tight bowling in the last two overs left Carlton on a modest 231. Livingston never really looked in trouble reaching the total, although Harry picked up a wicket and Freddie bagged a run out. Joe was the pick of the Carlton bowlers with only one run and a wide in his over.
The final play-off round game was against Boroughmuir. All the pairings managed to score regularly in this game with Cameron and Fergus opening with 23, Harry and Euan hitting 20, Fabian and Joe 38 and Muz and Jamie 36, leaving Carlton on an impressive total of 317. It was always going to be a difficult score to chase and Boroughmuir finished on 250 with wickets for Joe and Fabian with sharp work from Fabian and Muz also yielding a run out.
All in all a good performance all round from all the players that turned out for Carlton, and good preparation for our own festival in two weeks' time on 1 September.
Results
Game 1
Carlton 125 for 2
Watsonians 141 for 3
Game 2
Carlton 269 for 4
Penicuik Pythons 181 for 11
Game 3
Carlton 231 for 3
Livingston 264 for 2
Game 4
Carlton 317 for 0
Boroughmuir 250 for 4
Carlton squad: Alasdair, Billy, Cameron, Dylan, Euan K, Ewan H, Fabian, Fergus, Freddie, Harry H, Jamie, Joe, Muz, Neil, Ross and Steven
The Carlton Kwik Cricket team enjoyed their participation in SMRH's second festival of the summer on a lovely sunny Sunday morning. The first game was against hosts SMRH and Carlton through excellent bowling and fielding restricted SMRH to a total of 204. All the Carlton batsman were involved in helping Carlton post a total score of 252 to win by 48 runs. Good contributions were made by Nina, Alasdair and Rua in this game.
Next up were Watsonians who fielded a team with a variety of ages and abilities. Carlton's fielding, particularly where there was the possibility of run outs, was not its usual high standard and that allowed Watsonians to post a total of 242. This was always going to be a difficult total to beat and despite trying their best Carlton were defeated by 23 runs.
On to play Edinburgh South, a team appearing in only their second kwik cricket festival. It is great to see our neighbours building up their Juniors section so quickly. Carlton won the toss and strong betting performances from Cameron, Dylan, Harry and Robbie (making an impressive debut), saw a total score of 242 posted. Excellent bowling from Ruari, Steven, Neil and Joel restricted Edinburgh South to 209 and Carlton won by 33.

In the final, Carlton were back playing Watsonians who again proved too strong (although borrowing two Carlton players) and eventually beat Carlton by 23 runs.
The squad members ended the Festival looking forward to the Carlton 150th Anniversary week and to playing some Kwik cricket on their home ground.

Carlton players: Alasdair, Cameron, Dylan, Harry H, Joel, Neil, Nina, Robbie, Rua Mc, Ruari S and Steven. Thanks to Alastair K for umpiring and managing again.

Despite some early dark clouds over a windswept Myreside, the sun finally shone through for an extremely well organised Watsonians Kwik Cricket festival. The Watsonians organisers skilfully managed to accommodate 10 sides, who all played four matches including a play-off round. The tournament was a great success for the Carlton squad – fielding two teams, the Cats and the Cubs, we took both first place (Cats) and third place (Cubs).
This was particularly pleasing because (for the second time this season) we had been able on short notice to field a second side to allow the organisers to have two balanced groups. Remarkably, in a promising sign of things to come, of the 16 Carlton players taking part in this U-10 tournament, 10 are in fact eligible for U-9, including four eligible for U-8!
From the coaches' perspective, the highlight was the Cats' performance in the final against a Grange team who had two particularly strong players. With their backs to the wall after a relatively weak batting display, they showed real resilience and discipline to produce some fine attacking cricket in the field and run out comfortable winners.
Well done to everyone who played – all were a credit to the Club. The Cats were Brodie, Cameron, Ewan H, Fabian, Fin, Joel, Muz and Zack. The Cubs were Freddie, Guy, Harry H, Jamie, Ralph, Rory L, Rua Mc and Steven. Special thanks go also to Iain (Muz's dad) and Simon (Ralph's dad) for coaching the two teams so successfully.
Carlton Cats

First up for the Cats was Murrayfield. The Cats won the toss and opted to bat. Some good bowling coupled with a run out kept Carlton's score in check until the third pair of Cameron and Ewan H came in and hit 25 off some of the less experienced bowlers. That left final pair Zack and Brodie to run up 39 runs off the final two overs with 4's and 6's interspersed with the odd single. The Cats never really let Murrayfield get going in reply and wickets from Brodie, Ewan H, Joel (on his debut) and Muz, coupled with tight bowling all round, resulted in a comfortable opening win.
Next up was one of the two teams from hosts Watsonians, with the Cats again batting first having won the toss. The score ticked along nicely throughout the Carlton innings with Zack and Brodie adding a well-timed 21 off the final two overs. The same pairing then opened the bowling with Brodie starting with a wicket maiden. As in the first match, Watsonians were never allowed to get going and wickets from Joel, Fabian and Muz in the final three overs saw the Cats comfortably home.
The final game of the group stages was against Livingston and the Cats were in the field first for this one. Brodie and Zack did well to restrict the two opening batsmen, but it was Ewan H and Cameron who put the brakes on with a wicket in each of their overs. Fin then chipped in with a maiden and Joel picked up another wicket. Fabian and Muz faced a big-hitting final pair with Fabian taking two wickets leaving Livingston on a good, but beatable score of 247. In reply, Muz and Fabian struggled a little against the strong Livingston openers before the pairings of Fin and Joel, and Ewan H and Cameron both started to rack up the score. By the time Zack and Brodie came in the Livingston score had been surpassed. So "nothing silly, just defend your wicket" … not a chance! The pair put on a total of 47 for the final two overs - after a slow start of a single and a dot, six 6's in succession put paid to any possible collapse and the win was sealed.
With three strong victories the Cats were through to the final against old foes Grange. Batting first the Cats' total of 231 didn't look anywhere near good enough. Muz was bowled in the first over and Fin and Joel lost 3 wickets with only a couple of 4's and some well run singles as compensation. Ewan H and Cameron steadied the ship with some good runs and preserved their wickets, while Brodie and Zack were also able to add a valuable 9 against a strong final bowling pair. The Cats coach was a little worried at the change of innings, but he needn't have been as the Cats always believed they could do it!
Brodie opened the bowling securing two wickets in his first four balls, one a great heads up run out by Cameron and next bowler Zack got two wickets in his last two balls, including another run out, leaving Grange on a negative score under Kwik Cricket rules (lose 5 runs for a wicket). Tight bowling by Ewan H and Cameron didn't allow Grange back into it, while Fin almost got a maiden and was unlucky with a caught and bowled chance. Fabian picked up a wicket in the penultimate over, well caught behind the stumps, and with Muz securing a caught and bowled in the final over, Carlton ran out winners by 21 runs. The most pleasing aspect was the way the team fielded in this final game, putting pressure on the batsmen, protecting the boundary and backing up well. Fin will also feel unlucky that a superb diving catch effort saw him get his hands under the ball only for it to bounce out as he hit the ground.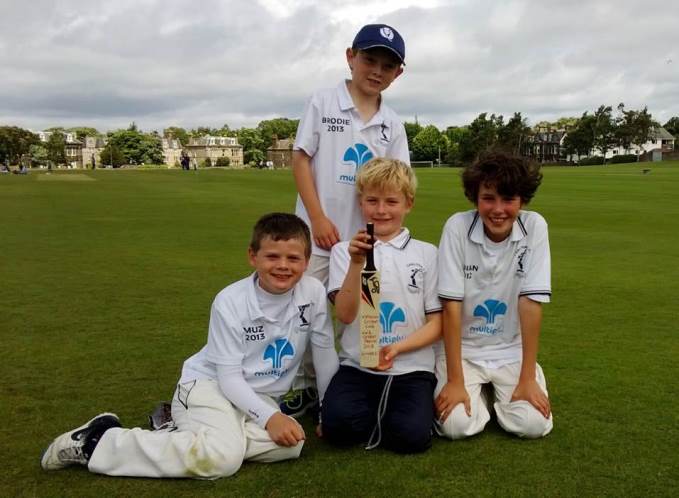 Carlton Cubs

In their first game the Cubs took advantage of a short boundary and short deliveries to see off Penicuik with a 26 run victory. Particularly impressive was Rory L (one of the U-8s), who responded with aplomb to a late call-up by hitting his first ball for a stylish four through the covers. The Grange team however predictably provided a sterner test and the opening pair managed to put on some 30 runs in the first two overs and go on to build an impressive total which the Cubs could not match, falling short when batting second by 71 runs.
After the wake-up call of the Grange, our own Cubs began bowling straighter, which is tough to do in a strong cross-wind with an 'air-ball'. Having amassed a strong score batting first against Boroughmuir, and only losing 3 wickets, they defended their total well, backing up the straighter bowling with tighter fielding. They won the game by 71 runs, coincidentally, the same amount as the loss to Grange.
Two wins and one loss saw the team into the third-place play-off round against an all-girl, well-drilled Watsonians team (who took two good catches). Concentrations by this point were beginning to peak. Carlton Cubs did not build a large score batting first (61); despite being behind the run rate until the last 3 overs, Watsonians, chasing the game, took advantage of some 'lack-of-body-behind-the-ball' fielding, leaving the girls requiring 2 runs off the last ball to win…. to which Guy, whose bowling improved with each game on his debut, kept it straight, and knocked down the stumps – it doesn't get much closer than that (unless you are an U13 Carlton Charger playing Grange).
Results
Qualifying matches
Carlton Cats 288-1 defeated Murrayfield 235-4
Carlton Cats 262-1 defeated Watsonians Boys 229-4
Livingston 247-5 lost to Carlton Cats 298-1
Carlton Cubs defeated Penicuik
Grange defeated Carlton Cubs
Carlton Cubs defeated Boroughmuir
Play-offs
Carlton Cats (First) 231-6 defeated Grange (Second) 210-6
Carlton Cubs (Third) defeated Watsonians Girls (Fourth)

Apart from the First XI, the kwik cricket team were the only Carlton team who managed to complete their fixtures this weekend. It was an act of hope rather than expectation to leave Edinburgh, where it was pouring, in the first place. But in Linlithgow the rain held off until about 20 minutes before the end of the last match and West Lothian hosted another successful event.
The first Carlton success of the day was the fact that all of the players arrived on time - despite the coach's incompetent directions (there are two mini roundabouts on the way in to Linlithgow, and two tunnels under the railway line before you get to the ground…). Unfortunately things went downhill from there, as the Carlton team seemed to be still half asleep for the first part of the morning. They suffered two clear defeats in the group stage but then came to life and redeemed themselves with a good victory against Grange in the play-off round.
In the first game against West Lothian Warriors, the main difference between the two sides was in the bowling control. Carlton conceded 11 wides and 4 no-balls, compared with 3 wides and 2 no-balls by the Warriors. At 2 runs each, that difference accounted for almost all of the 21-run margin of victory. Notable exceptions were Jamie and Saachin who bowled with great control and Ewan who took the only wicket to fall. The fielding was good with Steven's excellent backing-up setting a good example. Alastair and Fabian batted well with an opening partnership of 22 but overall Carlton fell well short of the Warriors' total.
There was an improvement in the second game against Livingston (fielding a strikingly different team from previous weeks' kwik cricket events). Carlton again bowled first. In his debut tournament Harry H impressed by taking a wicket and an excellent catch. But some stout hitting by the Livingston batsmen to take advantage of a short leg-side boundary took them to a challenging total. There were good opening and closing partnerships between Alastair and Fabian, and Dylan and Cameron, with plenty of boundaries. But the middle of the innings foundered as a result of over-aggressive hitting and Carlton again fell short of the target.
In the final game, Carlton again fielded tightly to take advantage of some adventurous running by the Grange batsmen early in the innings. Tight bowling then shut the innings down, with Ralph and Cameron the pick of the bowlers with 2 wickets each, to restrict Grange to a net score of 207. Sensible batting from all the Carlton batsmen this time saw them pass that total with ease.
Carlton players: Alastair, Cameron, Dylan, Ewan H, Fabian, Harry H, Jamie, Ralph, Saachin and Steven
Results
West Lothian Warriors 253-1 defeated Carlton 232-1
Livingston 247-4 defeated Carlton 230-4
Grange 207-7 lost to Carlton 247-2
At very sunny Inverleith, Carlton's U9 squad achieved an outstanding 4 wins out of 4 in their four-way tournament against Grange, SMRH 'A' and Watsonians. With ten players in the squad, the coaches implemented a strict squad rotation system with each pair sitting out out one match, illustrating the strength in depth that is coming off the Grange Loan conveyor belt.

In the first match, Grange batted first and were restricted to 225 by some accurate bowling, with 2 wickets, 4 boundaries and only 4 wides, an accurate final over from Ewan and a maiden over from Harry in his first tournament match. Despite losing a wicket on the first ball of the innings, Carlton went on to score 241, with 5 boundaries and only one wicket lost.
Carlton then fielded first against SMRH 'A', and again took 2 wickets and a maiden for Joe, Carlton's other debutant. Strong partnerships by Ruari and Jamie (18) and Harry and Joe (17) saw Carlton to a total of 244 and a win by 29 runs.
In the third game, Carlton batted first and amassed a huge total of 283, most impressively without losing a single wicket. Strong batting from all partnerships: Freddie & Ralph (29, 4 fours), Fergus and Steven (18, 4 fours), Ewan & Saachin (17, 3 fours) and Joe & Harry (19, 3 fours).

In the final, Carlton faced a re-match against a young Grange side from the first match. Put into bat, Ruari and Jamie took the attack to the bowlers with a partnership of 20, including a majestic lofted straight six from Ruari and an elegant sweep from Jamie for four. More fours from Harry & Joe, with steady batting from Freddie and Ralph brought the total to 241, but one wicket and some accurate 'death' bowling by Grange restricted the total to 237. Carlton took to the field with an increased sense of purpose and pulled out a fantastic display of bowling and some very sharp fielding to take four wickets (2 run out, 2 bowled with Saachin & Jamie both hitting middle stump) to keep the final Grange total to 211.

A really very impressive squad performance, with sensible batting, accurate bowling and some great concentration in the field. Well done everyone!
What is thought to be the first Carlton U-8 team (at least, in living memory) made a promising debut at the Carlton Girls tournament. The request to provide a boys' team at the tournament presented the ideal opportunity to "blood" some keen players who wouldn't otherwise have had the chance to play competitive matches for some time. Everyone performed impressively well, especially considering that many of them had only started cricket at the primary school coaching sessions this term.
In their first game, the boys lost narrowly to a strong Watsonians team. After restricting them to a chaseable total, the boys made a good start but sensible bowling pinned them down and they fell just short. The next game was a Grange Loan derby as the boys faced the Carlton Girls team. They took advantage of a short boundary, with 9 fours and 3 sixes, to reach a strong total. The girls managed 8 fours and a six in reply but the boys just held them off to record a first victory. In their last game the boys played a very strong Hawick & Wilton team. They were technically skilled as well as athletic and it was no surprise that they won all their matches comfortably. The boys managed a respectable total of 228 but H&W were just too strong and hammered 273.
Many thanks especially to Eric and June for the exemplary organisation and delicious catering. It was a particular treat to retire to the pavilion for refreshments between matches 2 and 3. The girls' events seem so much more civilised than we're used to and we'd be delighted to be asked back!
Carlton boys: Dougie, Freddie, Gavin, Himesh, Max, Saul, Thomas, Toby and Rory.
The sun finally broke through to give a glorious end to the Livingston Kwik Cricket tournament which saw Carlton win all four games played. The combination of a dry spell(!!) and a some heavy repair work had made the outfield pitches more than a challenge for both bowling and fielding; nevertheless the team acquitted themselves extremely well.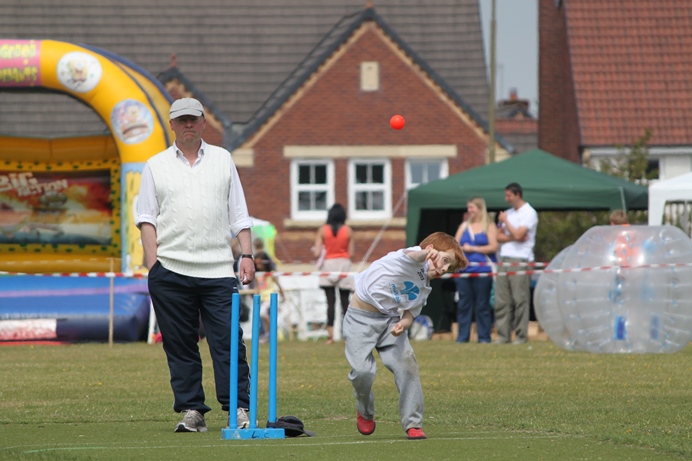 First up was a relatively inexperienced Watsonians side who were clearly still learning the game and a comfortable victory ensued with the whole team playing well to restrict the Watsonians score.
Next up were old foes Grange who lost by a 3 run margin. The team showed great maturity in the last over; with Carlton leading, both batsmen played sensibly, calmly and took no risks to see the team through to victory.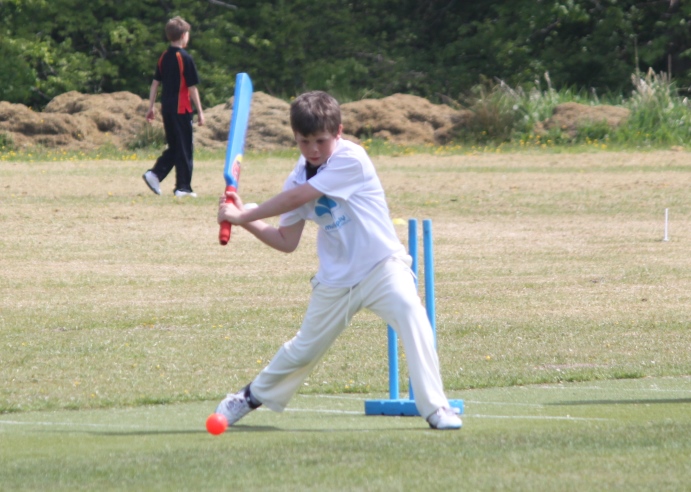 The third match against Murrayfield DAFS resulted in a comfortable victory for Carlton - there was good hitting and boundaries from both sides, but some tight bowing from Carlton saw them safely home. Ralph was also kind enough to play for the short-handed Murrayfield team for this match.
The final game against Penicuik was played on the club's artificial wicket which allowed for some more accurate bowling, but ended up being something of a one sided affair - Carlton ran out winners by 39 runs, with the first two pairs effectively posting enough runs to secure victory. Special mention to Jamie for a great catch behind the stumps (wicky in the making??).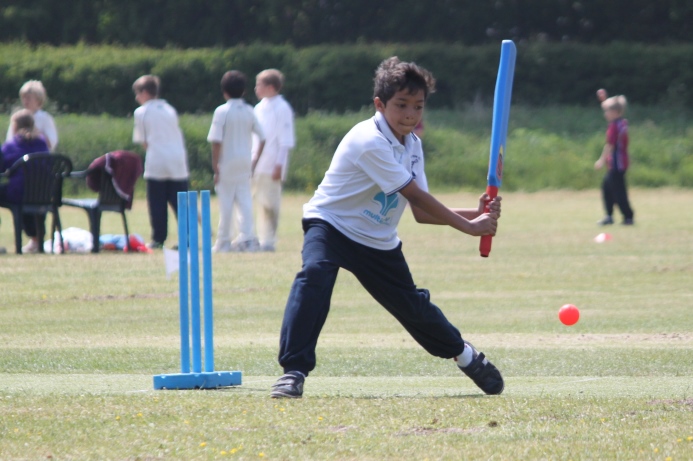 Overall the tournament was played in good spirit with good backing up, encouragement and great team spirit from Carlton. Well done to Cameron, Ralph, Steven, Saachin, Ruari, Rua, Jamie and the late arriving Muz. Thanks to Alastair and Iain for coaching - a partnership with a 100% record.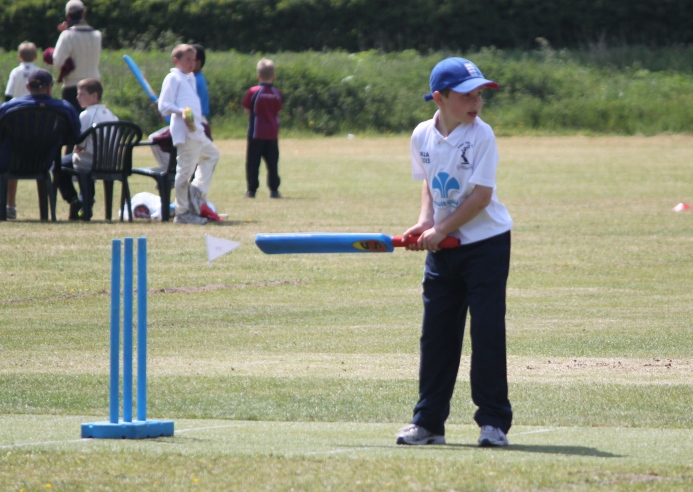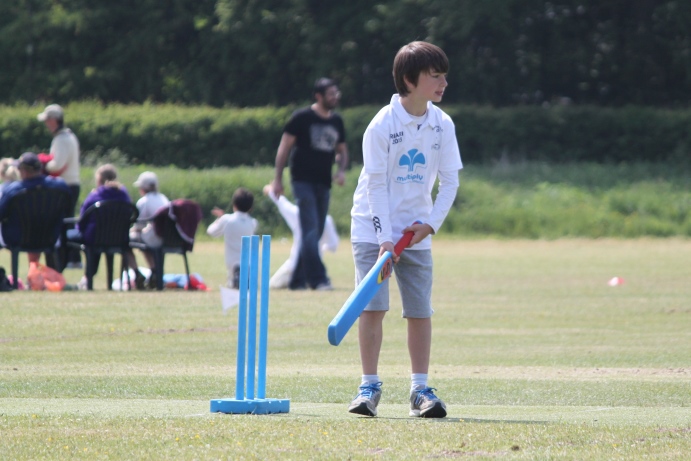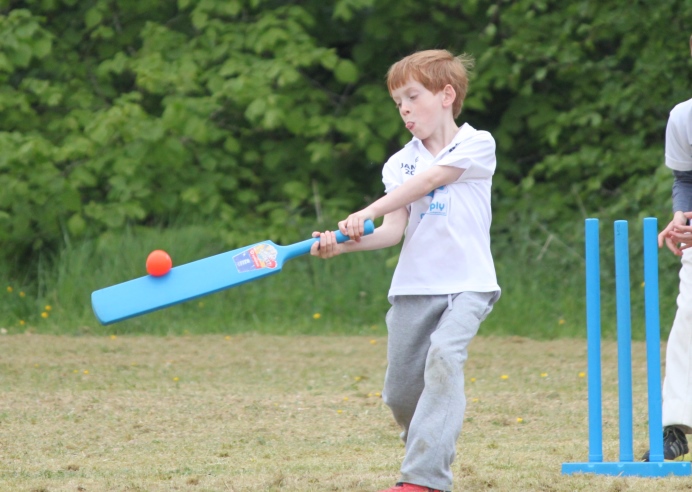 The 2013 kwik cricket season finally arrived in style at a sun-washed Portgower Place. An enlarged U-10 tournament of twelve teams was a big success with cricket being played until after 4pm.
The strength-in-depth of this year's kwik cricket squad was apparent and a promising sign of things to come. On only 48 hours' notice, we were able to field a second side to allow the organisers to have two balanced groups. Not only that, of the 18 players who played, nine are in fact eligible for U-9.
Well done to all squad members who played, split into Carlton Cubs and Carlton Cats: Saachin, Nina, Ruari S, Fabian, Fin, Muz, Brodie, Ewan, Zack, Rua Mc, Jamie, Cameron, Billy, Alasdair, Dylan, Fergus, Hal, Neil and Ralph. All were a great credit to the Club. Particular mention goes to Nina who was singled out in the awards presentation by the Grange organisers for her excellent bowling and all-round play.
Carlton Cubs: Group A

A fairly inexperienced but enthusiastic Cubs team played five enjoyable and competitive matches.

First up were a well organised SMRH team but tight bowling and some excellent team work saw the Cubs register their first win. Next opponents were Watsonians who fielded an experienced team with players who had been playing for a while. Despite some excellent fielding and team work from the Cubs, the Watsonians team were just too strong for them.

On to face Murrayfield DAFS and this was a very close game. It was a game the Cubs could have won but they did not manage to take any wickets which ultimately led to a narrow defeat.

The fourth game up was against West Lothian and this was again a very even game which the Cubs, through some great batting, eventually won.

The final game was against a strong Grange Stags team who were ultimately the winners of the tournament. The Cubs batted very well but even some good bowling was not enough to restrict the Grange team who made a high total that the Cubs could just not overtake.
All in all a great experience for the squad.

Carlton Cats: Group B
The Cats had a very successful day, winning five of their six matches and finishing in third place overall. Only a very narrow loss to a well organised Arbroath team (who lost the final to Grange Stags) kept them out of the final.
Arbroath and the Cats were joint top of Group B with 8 points each, and Arbroath went through on the head-to-head. The most impressive feature of the Cats' performance was the backing-up in the field, with only one run lost to overthrows all day.
The coaches' champagne moment award goes to Ewan for his demonstration of the Spirit of Cricket: with the best view of a close run-out appeal at a very tight stage in the match, he was quick to confirm that the Arbroath batsman had been in his ground.
In their first game, the Cats defeated a good Grange Panthers side. Their strong total of 271 included 3 sixes from the closing partnership of Brodie and Zack and they fielded very well to restrict the Panthers to 233, with Ruari (2), Rua, Fabian and Zack all taking wickets.
Their second game was against an inexperienced but spirited Penicuik team who could not restrict some heavy hitting, with boundaries from all four Cats batting partnerships. Again wickets were evenly spread, among Saachin (2), Fin, Ruari, Nina, Brodie and Zack; but the most striking thing was the keen fielding which gave Penicuik no chance of reaching the target.
The Cats next played another Grange team and recorded a second victory, this time against the Grange Gators. The Cats made another good total of 261, led by a partnership of 32 (including 3 sixes and 2 fours) between Fin and Fabian. At first the Gators looked on course to reach that target, having made 249 at the end of the fifth over. But more tight fielding and controlled bowling by Fabian, Zack and Brodie produced 6 Grange wickets in the last 3 overs, leaving the Cats comfortable winners.
The Cats' only loss of the day was in their next game against Arbroath. Muz and Ewan stepped in as Zack and Rua had to leave early. The Cats' total of 255 always looked a bit short: after a good start, particularly a partnership of 26 between Ruari and Ewan, they lost their way (and some daft wickets) in the middle overs. The last pair of Muz and Brodie played very sensibly, with straight bats and intelligent running, and managed to pick up 6 valuable runs against good fast bowling – proof that kwik cricket can also be proper cricket. When Arbroath batted things were tight all the way until the last Arbroath pair managed a couple of sixes to take them a mere 4 runs past the Carlton total.
The Cats' last group match was against Livingston, who batted with great determination, only giving away 2 wickets (to Saachin and Muz). But in response all the Cats batted well, posting 3 sixes and 16 fours to pass the target.
In the third-place play-off, the Cats were too strong for Watsonians. They posted a strong total of 274, with Nina and Brodie particularly enjoying the chance to show some of their older school-mates what they were made of, and Fabian and Fin again having a heavy-scoring partnership of 29. Watsonians started strongly in response but after 2 wickets from Ruari's bowling and 3 from Brodie's they were always struggling and fell well short in the end.
Results
Group A
Carlton Cubs defeated SMRH
Carlton Cubs lost to Watsonians
Murrayfield defeated Carlton Cubs
West Lothian lost to Carlton Cubs
Grange Stags defeated Carlton Cubs
Group B
Carlton Cats 271-1 defeated Grange Panthers 233-5
Carlton Cats 298-1 defeated Penicuik 186-7
Carlton Cats 261-1 defeated Grange Gators 231-6
Carlton Cats 255- 3 lost to Arbroath 259-3
Livingston 234-2 lost to Carlton Cats 300-1
Third-Place Play-Off
Carlton Cats 274-4 defeated Watsonians 241- 7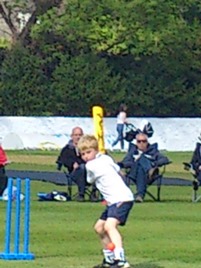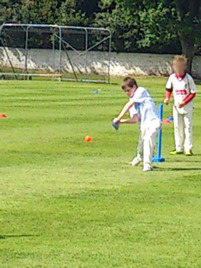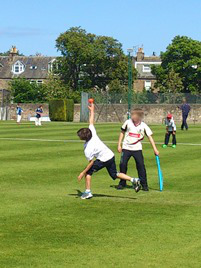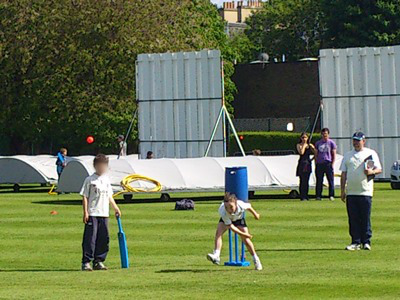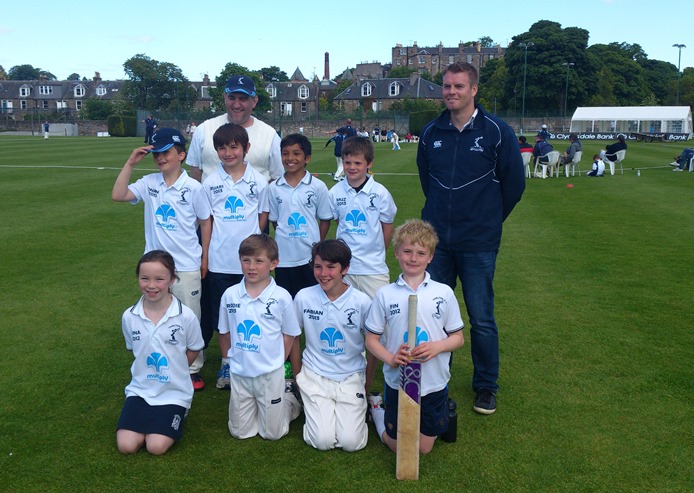 The 2013 kwik cricket season got off to a successful start with the remarkable sight of Grange Loan on a Sunday morning swarming with 30+ kwik cricketers, in a joint event with our friends Grange. Both clubs fielded two teams, who played two matches each. Of the four matches played, Carlton won three, although all the matches were both competitive and played in a sporting spirit. The rain stayed off until midway through the second round of matches, although even then none of the players seemed to notice it!
The Carlton players were split for the day into Cats and Cubs. Carlton Cats won both their matches. In the first game the Cats lost the toss and were put into bat with Zack and Cameron opening the batting and putting on 27 in their two overs. Harry and Fergus then Nina and Ruaridh McI all batted well and assisted the team in reaching a total of 255. Good bowling, wicket-taking and tight fielding saw Grange restricted to 232 runs, a victory for the Cats by 23 runs. For the next game the Cats were joined by Freddie and Ryan. Again, the Cats lost the toss and this time saw Grange decide to bat. Good catching in the field and all-round team work saw Grange limited to 240 runs. With their confidence high, the Cats saw all their eight batsmen contributing to an impressive total of 271 to win by 31 runs and win both their games. There were impressive debuts from Fergus, Cameron, Harry and Freddie (who took a spectacular catch).
Carlton Cubs won their first match. A very strong batting performance in the first innings put the match beyond Grange's reach. Ruari S impressed with a perfect straight bat, while the old hands Gregor and Fabian were ruthless in punishing any loose bowling. They followed that with tight bowling. After Saachin took two wickets in the first over of the innings, Grange were always struggling to catch up and Steven also picked up two wickets, on his debut. In their second match, although the Cubs didn't take any wickets bowling first, the bowling was accurate, especially by Jamie, Dylan and Ewan who all had mostly "dot" balls. Even more impressive was the fielding, with careful backing-up, and Grange were restricted to 244. It looked as if the Cubs would comfortably reach that target but they ran out of steam at the end and fell just 5 runs short. Dylan, Steven and Ruari S all did very well on their debuts.
Among the parents, thanks to Alastair, who carried off his successful debut as the Cats' umpire/coach with great aplomb and to John, Phil and Ed for helping out with coaching. But the best coaching decision of the day was a last-minute impulse buy of Haribo multipacks on a special at Sainsbury's. The "E" numbers made no discernible difference to the players' energy or skills.
Teams
Cats team: Nina, Ruairidh McI, Fergus, Cameron, Harry, Zack, Freddie and Ryan (guest)
Cubs team: Saachin, Ruari S, Jamie, Dylan, Ewan H, Gregor, Steven and Fabian
Scores
Carlton Cats (255) defeated Grange 1 (232)
Grange 2 (240) lost to Carlton Cats (271)
Carlton Cubs (263-2) defeated Grange 2 (215-5)
Grange 1 (244-0) defeated Carlton Cubs (239-2)